Last Updated on May 19, 2020 by Chef Mireille
Tang Yuan are traditional Chinese New Year Dumplings – usually stuffed with either Red Bean Paste, Peanut or Black Sesame. Check out the Black Sesame version!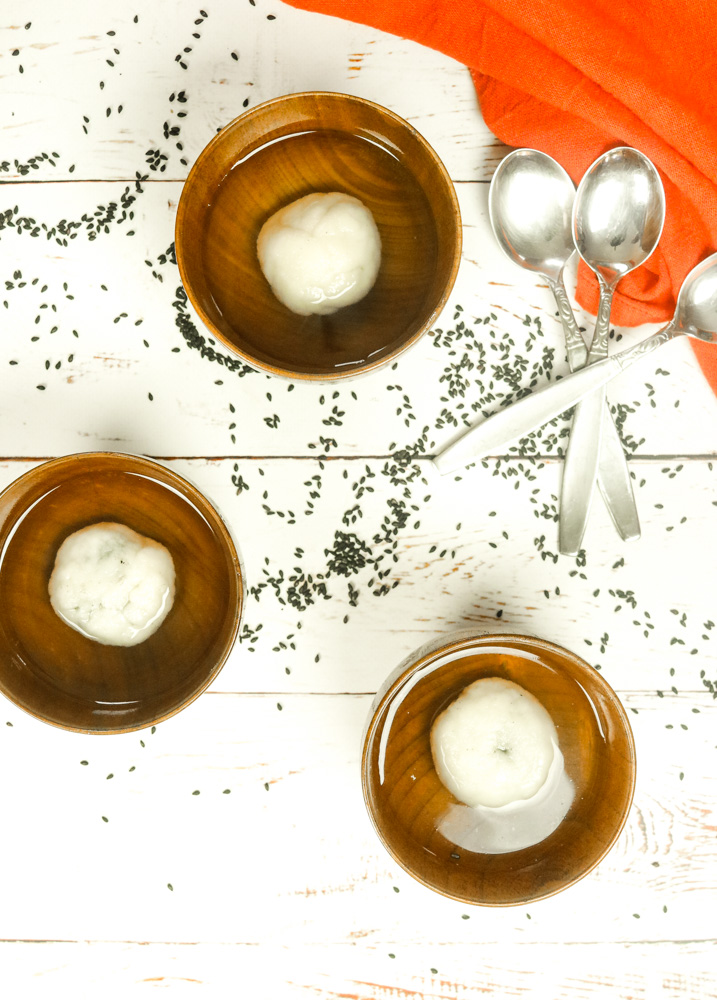 This post may include affiliate links.
Since Chinese New Year officially starts next week, I thought it would be fun to explore some Chinese Street Foods.
But what is street food?
What is Street Food?
Different people have different definitions of street food. It depends on the city where you live.
I was once watching one of the kid competition shows on the Food Network and the theme was street food. I recall one of the kids being totally lost because she came from a place with no street food culture. To her, it was unfathomable to imagine people selling and eating food in the street. She couldn't imagine people eating as they walk, like we do in NYC.
However, most large cities have big street food cultures. Street food is usually foods that are easily mobile so that people can eat as they walk. Here in my home city of NYC, the first street foods were pretzels, knish and hot dogs introduced by German and Eastern European immigrants in the 1800's.
Then Halal carts started to pop up everywhere in the 2000's. Now NYC street food has evolved so that every cuisine is represented. Now, in addition to the corner street carts, there are also places where many food carts are collected in one place and there is seating available like Red Hook Park. Just like restaurants are rated with how many Michelin stars they have, food carts now have Vendy Awards.
So is that still street food? Well by my definition, yes. As long as it is not being cooked in an indoor restaurant, this is street food to me.
DO YOU LIVE IN A CITY WITH A STREET FOOD CULTURE? WHAT IS YOUR DEFINITION OF STREET FOOD? LET ME KNOW IN THE COMMENTS BELOW!
Now Asian street food is on a whole other level. Pretty much anything edible is sold on the street in Asian countries from China to Thailand to Sri Lanka. In Thailand, huge cauldrons of hot curries simmer inside and outside of temples.
RELATED: JUHU BEACH – MUMBAI'S STREET FOOD CENTER
Sticky Rice and Fried Chicken are sold in little plastic bags, as are hot curries!
You can't walk more than 1 block without seeing something sold on the street, whether it is fresh fruit juice, grilled bananas or hot curry.
Chinese New Year
Are you celebrating Chinese New Year? Or maybe your work or kid's school is having some Lunar Festival Festivities? Tang Yuan is one of the most traditional foods you can whip up to impress this year!
It is traditionally eaten the eve of the first day of Chinese New Year to symbolize harmony and unity.
I have already made a fried version of these using a peanut filling here. The fried sesame version is known as Jian Dui. The other fillings are usually red bean paste or black sesame. I utilized a black sesame filling here in these more common steamed version, as I am not a fan of sweet red bean paste. However, if you would like to try it with the red bean paste filling, you can try this recipe here.
The Lunar Festival Festivities have already begun. Whether you are in the smaller Chinatowns we have in Sheapshead Bay and Sunset Park or you are in Manhattan's larger Chinatown, little red money envelopes and huge red and gold lanterns have already begun to make the street vendor stalls bright and colorful!
At this time of year, the foods that the street side vendors sell change to represent Chinese New Year traditional foods. Longevity Noodles, Dumplings and Tang Yuan – Black Sesame Sweet Rice Balls are easily bought and eaten on the street.
Street Food Party
…before we get to today's recipe – Are you hosting a party soon? Maybe for Superbowl Sunday? How about a street food party? Now doesn't that sound like a great idea!
Here are some ideas with inspiration from around the world to help you plan your Street Food Menu!
Street Food Recipes
Making Tang Yuan
The black sesame seed filling is pretty easy to make and you can even buy it ready made in Asian supermarkets or online. See links below.
Filling and sealing the balls without breaking the outer layer takes a little bit of practice with this super sticky dough. I would suggest having a practice run first if you plan on making these for a party.
However, after a few mistakes, you will get the hang of it and be able to fill and seal the balls easily.
These soft dumplings with the luscious black sesame filling makes a delicious #glutenfree way to celebrate Chinese New Year!
Now are you ready to celebrate the Lunar Festival this year? It's time to try your hand at making Tang Yuan!
Tang Yuan – Black Sesame Sweet Rice Balls
Tang Yuan – Black Sesame Sweet Rice Balls – These traditional sweet rice dumplings are made for Chinese New Year, signifying unity and harmony. This is a required food to be eaten on the eve of the first day of Chinese New Year
Instructions
To make the sesame seed filling, dry roast sesame seeds until they start to plump up.

In a coffee/spice grinder, grind the sesame seeds with the sugar.

Transfer to a small bowl. Add melted butter and salt.

Mix until thoroughly combined.

Place in the refrigerator for about ½ hour until it is firm enough to roll into balls.

Roll into 17 evenly sized balls.

In a bowl, add 1 cup of the flour with the boiling water.

Mix until thoroughly combined.

By hand, knead in the additional flour. Knead for a good 5 minutes until the dough is very soft and smooth.

Divide the dough into 17 equal sized portions. Cover with a damp cloth as you make all of the balls.

On a lightly floured surface, knead one of the dough balls into a circle about 3-4" in diameter.

Place one of the sesame seed balls in the center of the rolled out dough.

Bring the dough around the sesame seed filling. If there are any cracks in the dough, seal with a little water. Continue until you have all of the balls stuffed.

Bring a pot of water to a boil.

Gently add the dumplings into the water.

Cook until they rise to the top. After they rise to the top, cook for an additional 2-3 minutes.

Using a spider, gently remove the balls.

Serve, with some of the boiling liquid.

They must be kept in water in order to keep the dough moist, so they do not dry out!
Notes
Food Coloring or fruit extracts are commonly added to the dough to make different colored Tang Yuan.
Nutrition
Calories:
101
kcal
|
Carbohydrates:
14
g
|
Protein:
2
g
|
Fat:
4
g
|
Saturated Fat:
2
g
|
Cholesterol:
5
mg
|
Sodium:
1
mg
|
Potassium:
31
mg
|
Fiber:
1
g
|
Sugar:
2
g
|
Vitamin A:
62
IU
|
Calcium:
45
mg
|
Iron:
1
mg
Did you try this recipe? Leave a comment below.
Please follow me on Instagram @chefmireille or tag me #chefmireille with your pics! I'd love to share them!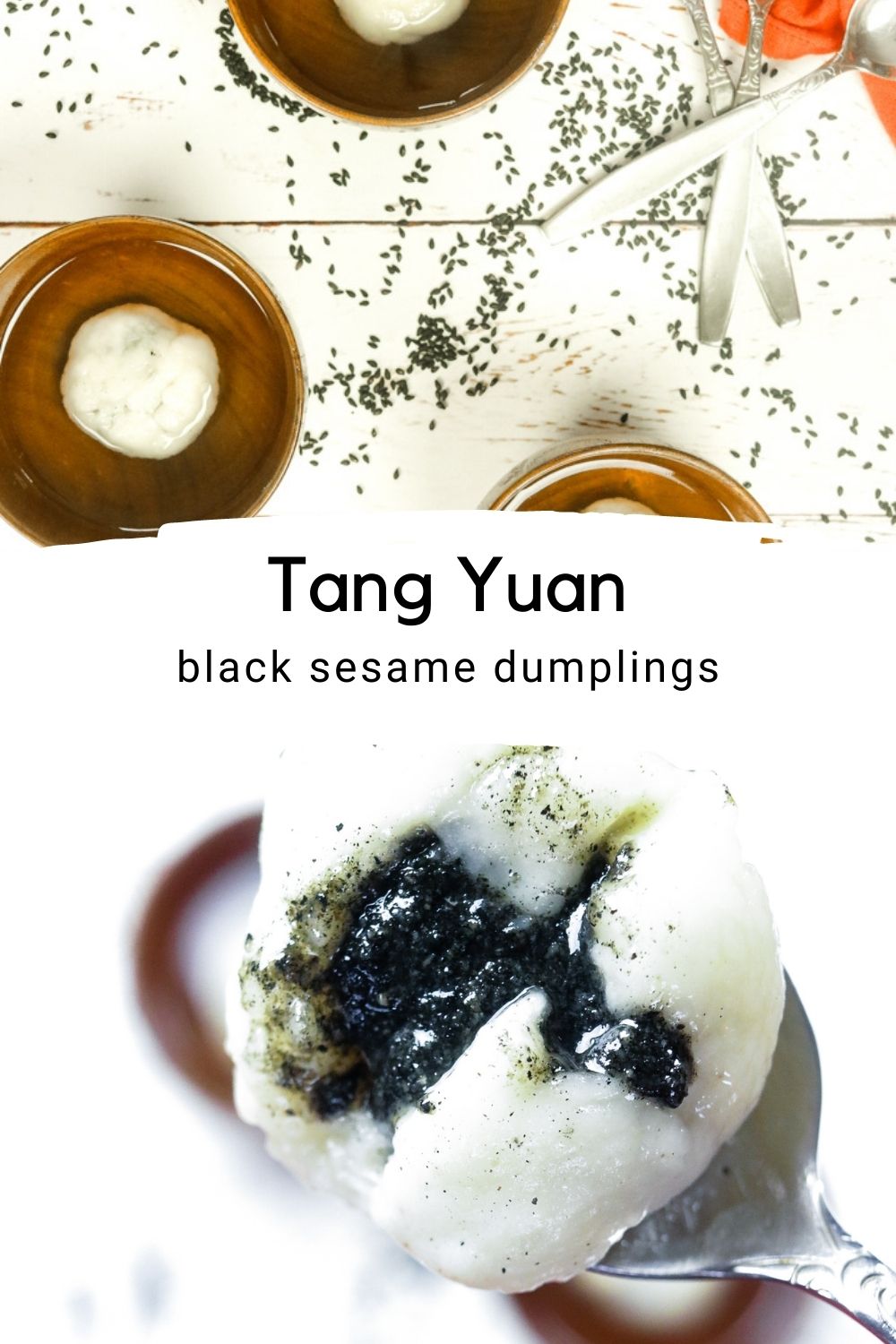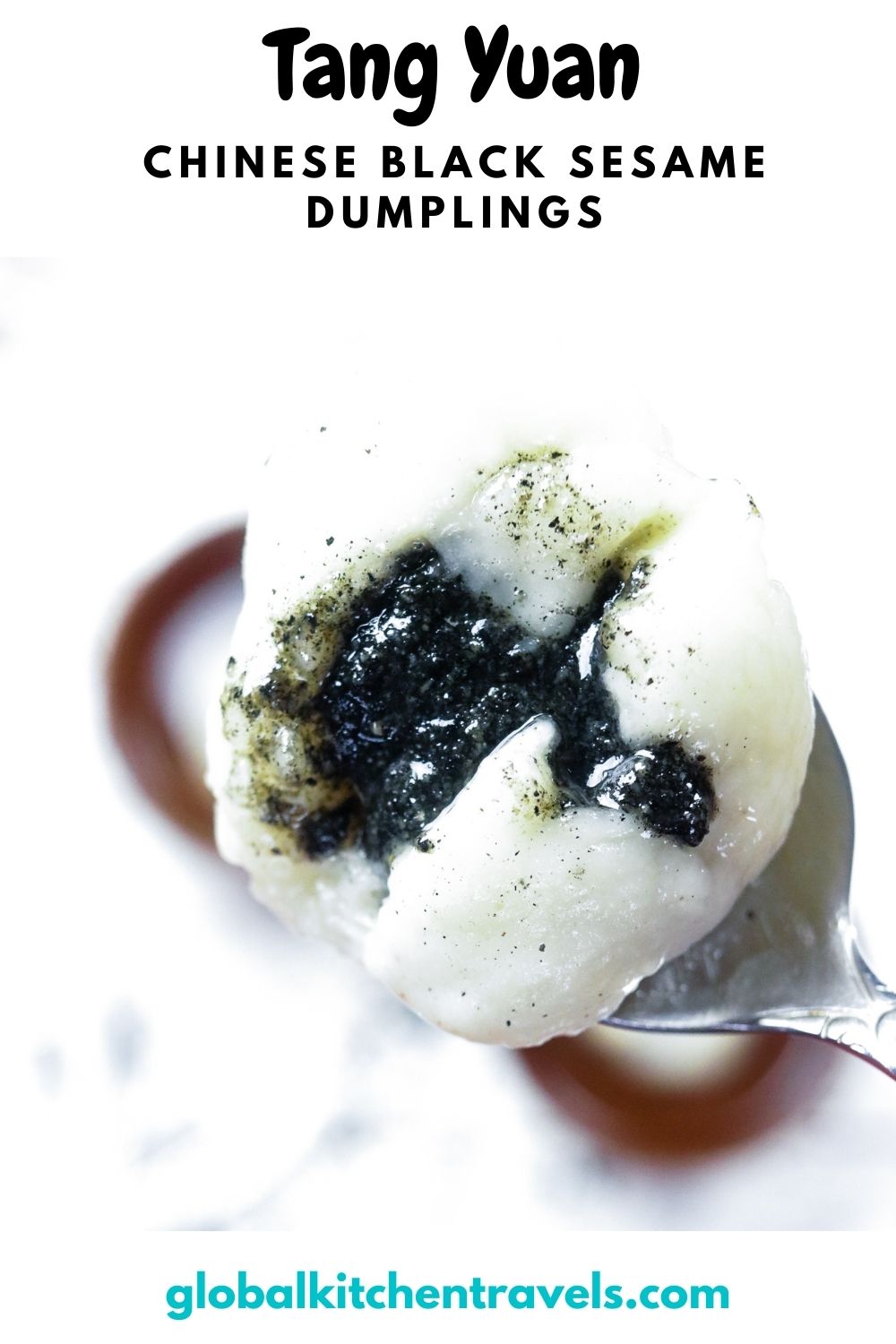 DO YOU YUM? SAVE IT BELOW!
Yum