Last Updated on January 12, 2020 by Chef Mireille

K is for Korea…
Bindaetteok are a very popular street food in Korea. Although many traditional versions are made with 100% mung beans, sometimes these are very difficult to keep together when making them. As this was my first time making them, I opted for the version that includes a little sweet rice that helps bind the pancakes. Many modern Korean cooks use this easier methodology.

You will most likely see two versions of bindaetteok in Korea and I've made both versions here – the Vegetarian version as well as the pork version.
Bindaetteok
Ingredients:
2 1/2 cups yellow mung beans
1/2 cup sweet rice/sushi rice
1 teaspoon soy sauce
1/4 cup kimchi liquid
1 teaspoon sesame oil
4 scallions, finely chopped
2 red chiles, finely chopped
1 cup kimchi, finely chopped
3/4 teaspoon salt
Pork Ingredients:
1/2 lb. ground pork
1/2 teaspoon sesame oil
1/2 teaspoon cooking wine
1 clove garlic, finely chopped
1/8 teaspoon salt
1/8 teaspoon ground black pepper
1/8 teaspoon ground ginger
Soak mung beans and rice for at least 6 hours.
If doing the pork version, combine pork with all pork ingredients and stir to combine. Place in refrigerator and marinate until ready to use.
In a blender,combine rice and mung beans with 1/2 cup water, soy sauce, kimchi liquid and sesame oil. Grind to a barely smooth batter. Add scallions and chiles. Blend for a few seconds.
Transfer to a bowl. By hand, fold in the kimchi, until thoroughly combined.
If doing the pork version, divide the batter in half.
To half the batter, add the marinated pork. Stir to combine.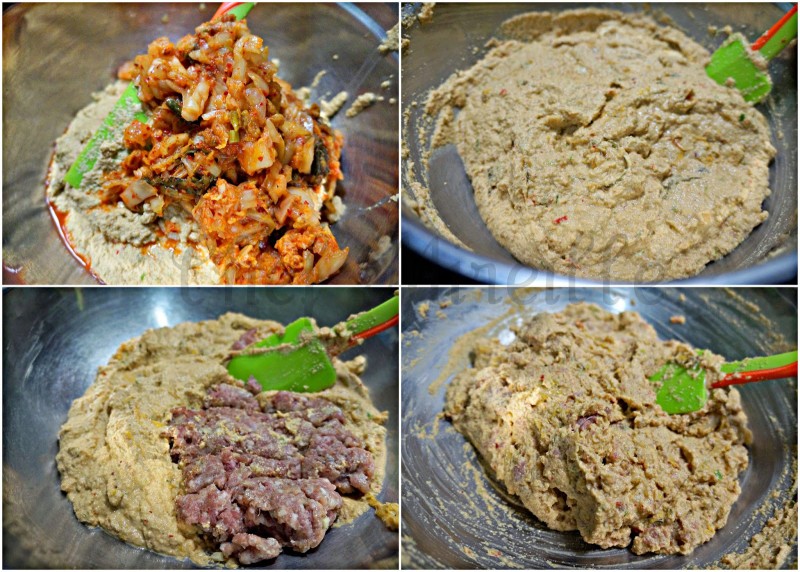 Heat 2 tablespoons of oil in a large skillet. Add 1/4 cup of batter for each pancake and fry until golden brown on both sides.

Drain on paper towels. Serve with Dumpling Sauce.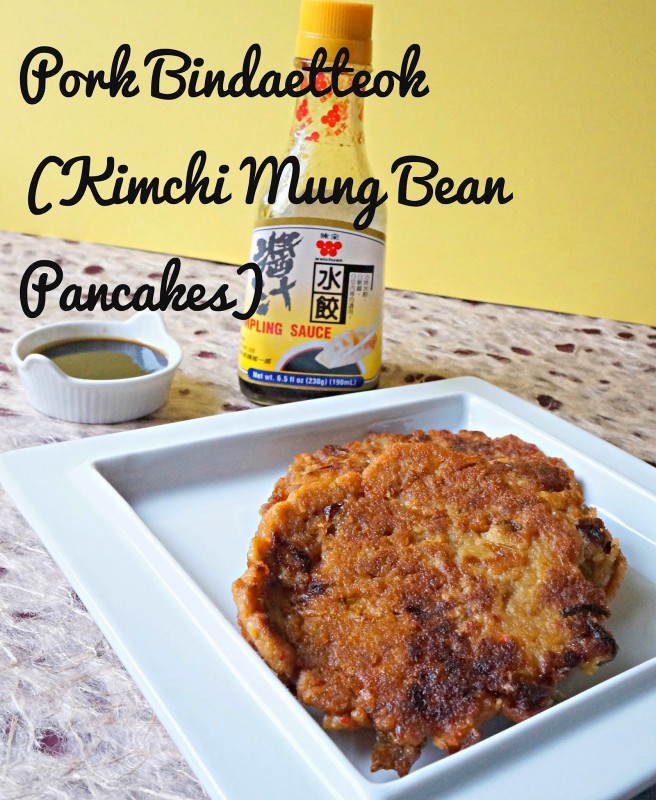 They were both really delicious with the briny taste from the kimchi, but the Vegetarian version is more dense.
A combination of both made a really delicious lunch with some fresh cucumber slices.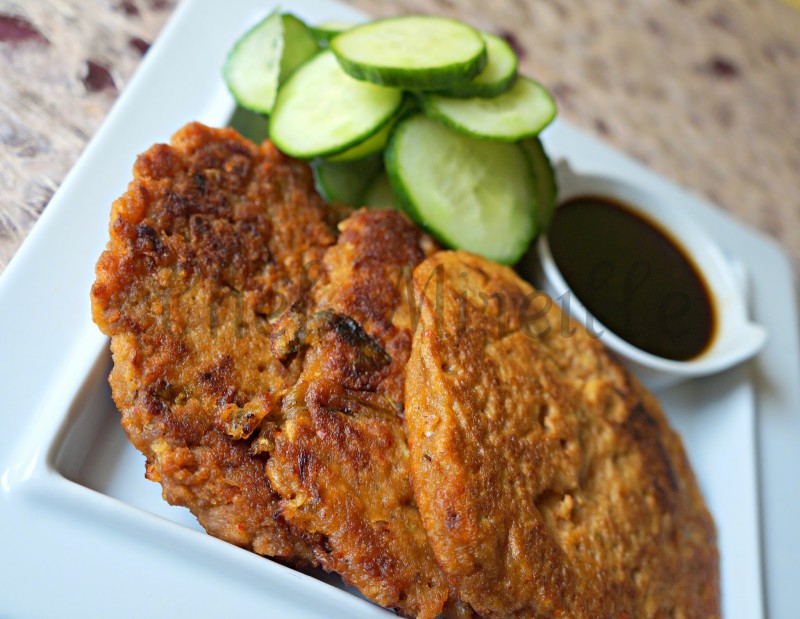 Boy, have I been on a Korean kick lately so don't forget to check out my other Korean recipes:
Bibimbap – Korean Rice Bowl
Korean Cauliflower Stir Fry
Korean Roast Cornish Hen
Do you know anyone else who likes learning about international food, culture, history and travel? Bring them over here to join the party! Don't forget to use those share buttons!
Start Here to find out how the Schizo Chef can help you with your cooking, travel and other needs!
If you like this recipe, PLEASE LEAVE A COMMENT & SUBSCRIBE!
Check out the Blogging Marathon page for the other Blogging Marathoners doing BM# 44