Last Updated on June 27, 2021 by Chef Mireille
Pastechi – Empanadas Arube Style – Aruba is one of the most multi cultural Caribbean island with African, Dutch, Indonesian and South American influences. Their version of empanadas is full of the complimentary and contradictory flavors of this fusion cuisine.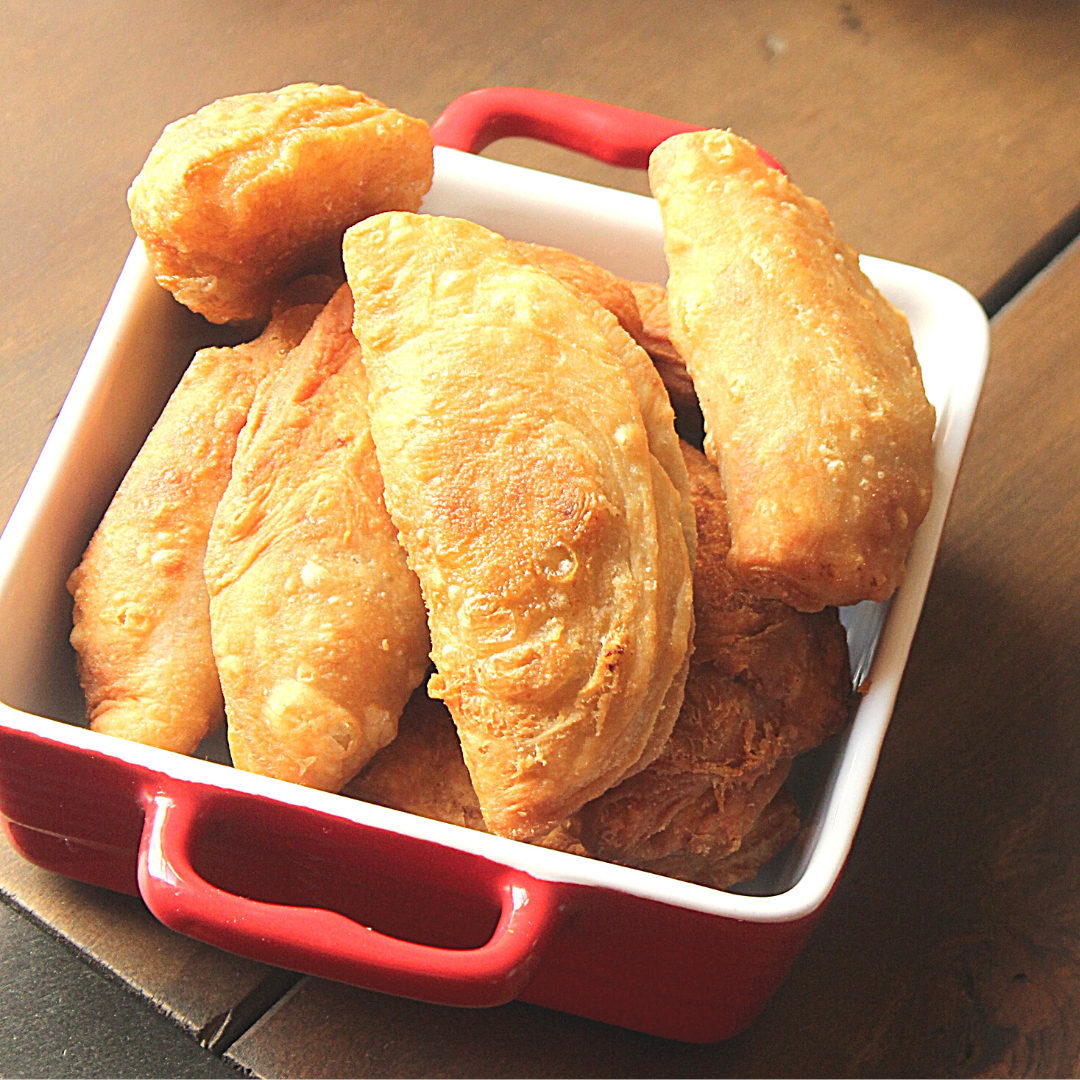 This post may include affiliate links.
Aruba is very close to Venezuela. In the past before Venezuela's current economic problems, my cousins would fly to Caracas just for the day to go shopping. As such, there is a lot of South American influence on our cuisine. That's where we get our Pastechi and Empana from. The difference is that empana are made with a cornmeal crust and pastechi is made with a plain short crusty pastry shell. However, the fillings are very different in our Aruba version.
Aruba is one of the most diverse islands due to our Dutch history. Any Dutch colonized country has Indonesian influences as they were also colonized by the Dutch. Our pastechi fillings represent the cultural diversity on the island with influences from Africa, Indonesia and the Netherlands. Try our Pastechi – Aruba Style Empanadas and you will fall in love with our cuisine. Ok I am a little biased as my Mom is from Aruba so for me any Aruban cuisine is comfort food to me.
Aruba Day
March 18 we celebrate Aruba Day. There are several islands that make up the Netherland Antilles, but Aruba is the only one that is autonomous, which was achieved in 1986. This was a long time in coming in that a petition was presented back in 1947 with over 2000 signatures requesting autonomy and it took 40 years for Arubans to achieve. On Aruba Day, we celebrate our autonomy, the origins of our own flag and National Anthem, Aruba Dushi Tera, which means Aruba Sweet Land in our native language of papiamento. On this day, there are lots of cultural festivities throughout the island. At all of the events, there are lots of great foods sold like Keri Keri (Minced Shark), Panlevi (Sponge Cookie), Cocada (Coconut Fudge), Keshi Yena (Stuffed Cheese), Cabrito Stoba (Goat Stew) and Pastechi.
True to our multi cultural population, it can be served with a variety of condiments from mustard to sambal olek (Indonesian chili paste). Here I served it with ketchup, mustard and chili paste.
Don't forget to check out Pastechi Recipe with Tuna also!
Pastechi – Aruba Style Empanada
These Aruba style empanadas are filled with so many contradictory, yet complimentary flavors from raisins to eggs with Aruba's multi cultural flavors combined including influences from Indonesia and the Netherlands.
Ingredients
Dough Ingredients:

7 1/2

cups

all purpose flour

1 1/2

teaspoon

salt

1 1/2

cups

cold unsalted butter

chopped

3

beaten egg

1 1/2

cups

cold water

Filling Ingredients:

2

tablespoons

oil

1

chopped onion

1

chopped red bell pepper

3

finely chopped garlic cloves

1 ½

lbs.

ground turkey

or beef

2/3

cup

frozen carrots and peas

defrosted

1

tablespoon

capers

2

tablespoons

raisins

2

tablespoons

ketchup

2

tablespoons

mustard

3

tablespoons

Worcestershire

3

tablespoons

tomato sauce

1

tablespoon

Sambal Olek

2

chopped hard boiled eggs

salt and pepper

to taste
Instructions
To make the dough, combine flour and salt in a bowl. Use a whisk to combine and remove any flour lumps.

Add butter and using a pastry blender or fork, cut the butter into the flour until it is the size of small peas. Add egg and mix with a spoon.

Add water a little at a time, as needed, and mix. Start kneading by hand until the liquid forms into a ball of dough.

Wrap in plastic wrap and chill for 1 hour.

To make filling, heat oil. Add onion, bell pepper and garlic. Saute until softened and onions are translucent.

Add meat and cook until meat is cooked through, about 5 minutes.

Add carrots and peas along with capers and raisins. Cook for 3 minutes, until the vegetables are heated through.

Add ketchup, mustard, Worcestershire, tomato sauce and sambal. Stir to combine and cook for 5 minutes.

Add eggs and stir to combine.

Adjust salt and pepper as necessary.

Chill in the refrigerator.

Divide dough in half. Leave the other half refrigerated while you work with the first half.

On a lightly floured board, roll out dough as thin as possible without the dough breaking. Using a 4 1/2? cookie/biscuit cutter, cut out circles. Place about 1 1/2 tablespoons of filling for each circle. Brush the perimeter with milk. Fold over and seal, using the tines of a fork. Place on prepared cookie sheet. Repeat until all the dough has been used.

Heat enough oil for deep frying. Fry until golden brown on all sides.

Alternately, you can bake them. Preheat oven to 400 F.

Place prepared pastechi on a parchment paper lined cookie sheet.

Brush the tops with milk and bake for 20-25 minutes, until golden brown.

Serve with ketchup, mustard and chili paste.
Notes
Any kind of leftover cooked meat can be used as well. Often it is made with leftover roast chicken or pork.
Nutrition
Calories:
249
kcal
|
Carbohydrates:
26
g
|
Protein:
10
g
|
Fat:
12
g
|
Saturated Fat:
2
g
|
Polyunsaturated Fat:
3
g
|
Monounsaturated Fat:
5
g
|
Trans Fat:
1
g
|
Cholesterol:
40
mg
|
Sodium:
299
mg
|
Potassium:
162
mg
|
Fiber:
1
g
|
Sugar:
1
g
|
Vitamin A:
590
IU
|
Vitamin C:
6
mg
|
Calcium:
18
mg
|
Iron:
2
mg
Did you try this recipe? Leave a comment below.
Please follow me on Instagram @chefmireille or tag me #chefmireille with your pics! I'd love to share them!
DO YOU YUM? SAVE IT BELOW!
Yum
Don't forget to visit the RECIPE INDEX with over 1000 recipes from around the world including lots of Vegetarian Recipes and Gluten Free Recipes!