Last Updated on November 13, 2019 by Chef Mireille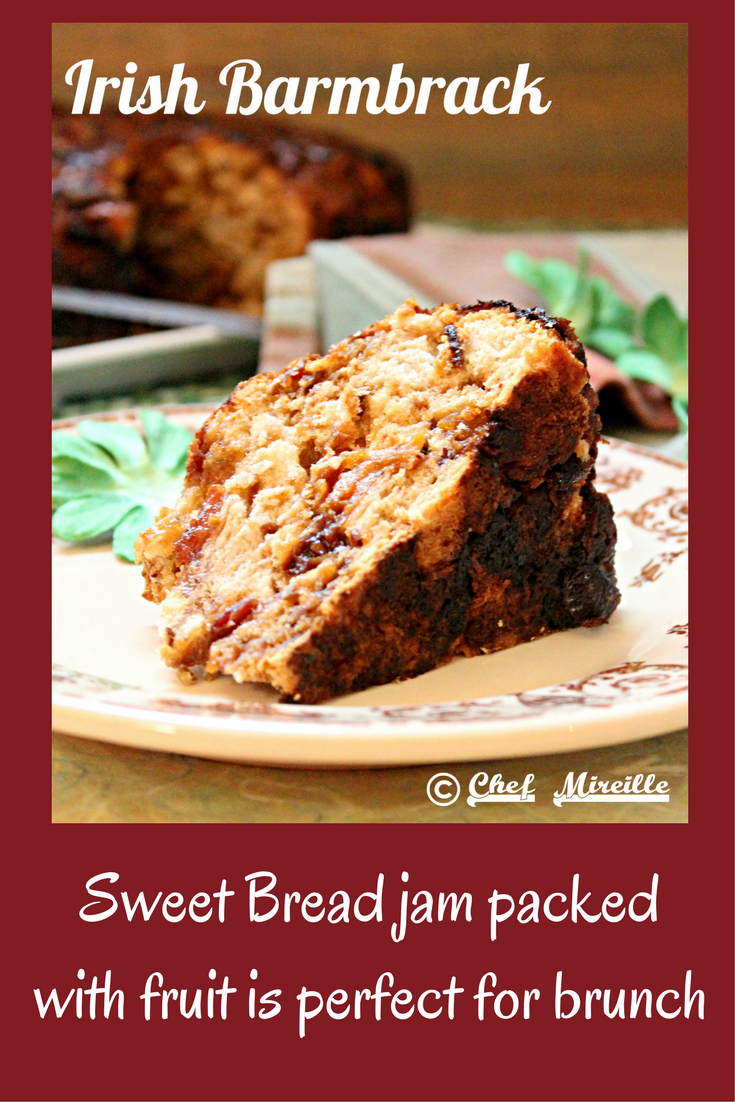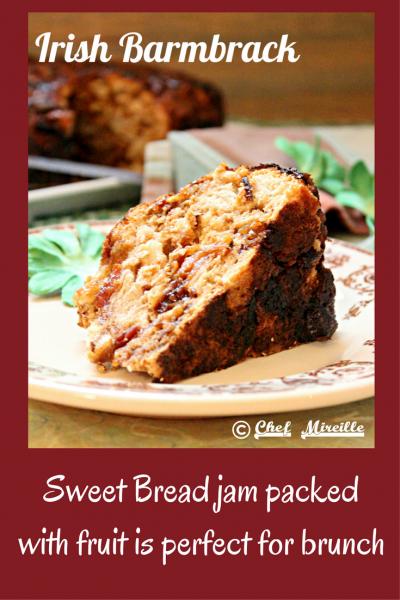 Known as Bara Brith in Wales and Brack or Barmbrack in Ireland, this is a tea bread loaded with dried fruits. There are modern versions that use chemical leaveners (baking powder, baking soda, self rising flour) which I have already demonstrated in the Welsh version here. To celebrate St. Patrick's Day this month, today I am presenting the more traditional yeast risen version of Irish Barmbrack for #BreadBakers.
What does St. Patrick's Day mean to you? For me, it used to mean freezing my butt off marching in the St. Patrick's Day Parade down 5th avenue when I was in the high school band. Then in college it meant drinking the night away in an Irish pub after a meal of Shephard's pie. As I got older, the drunk people starting in the am hours on the subway got on my nerves and now I head straight home to avoid them. During all the different phases of my youth how I celebrated St. Patrick's Day, good Irish food is something that I could always appreciate at any age. Check out the links below for some of my other Irish recipes:
This month's #BreadBakers theme hosted by Wendy is St. Patty's Day, so that means something Irish or green. Don't forget to check the breads posted by my other bread baking buddies posted on the bottom of the page!
#BreadBakers is a group of bread loving bakers who get together once a month to bake bread with a common ingredient or theme. You can see all our of lovely bread by following our Pinterest board right here. Links are also updated after each event on the #BreadBakers home page.
We take turns hosting each month and choosing the theme/ingredient. If you are a food blogger and would like to join us, just send Stacy an email with your blog URL to [email protected].
Irish Barmbrack is perfect for breakfast with some cheese, preserves and coffee.
https://www.flickr.com/photos/[email protected]/33431309845/in/dateposted-public/