Last Updated on November 13, 2019 by Chef Mireille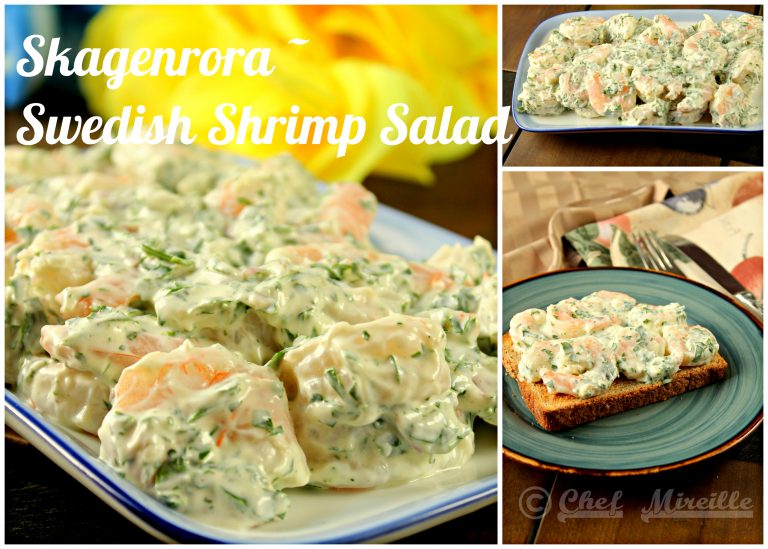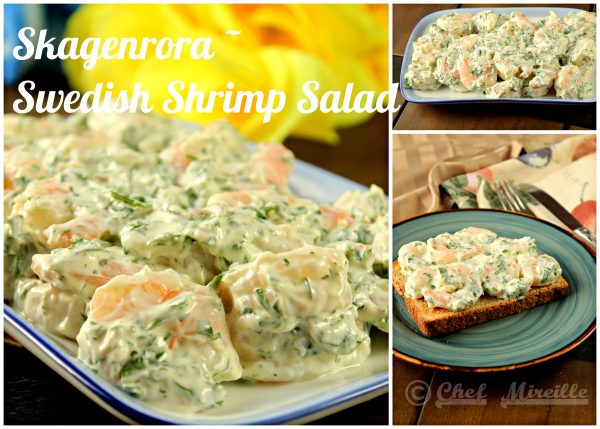 Shrimp Salad is very popular in Sweden and throughout Scandinavia. It is often eaten with potatoes or on toast as an open faced sandwich called Raksmorgas. It is also one of the components of the popular street food, Turnbrodsrolle, which I will be presenting tomorrow. You can also toss it with a green salad for a healthy lunch. Skagenrora – Swedish Shrimp Salad has traveled across borders and oceans and is eaten in many countries, including right here in the good ol' US of A!
Skagenrora is usually flavored with dill, but I am not a dill fan so I used parsley instead. I always believe recipes should serve as a guide but not a Bible. They are meant to be adjusted according to personal preference as I did in my version of Skagenrora.
If you are using frozen pre cooked shrimp, make sure you drain it before adding it to the salad. You do not want the salad to be too watery. In America, shrimp salad is often made with baby shrimp. However, they can turn mushy and again make the salad too watery. It is better to use medium sized shrimp and leave them whole.
Sweden is basically an archipelago, with many coastal islands and lakes. With all the water around them, seafood is a major component of their cuisine in many forms. Fish and seafood is dried, smoked and cooked fresh. This is just one of the many examples how seafood is used in Swedish cuisine.
This week I will be presenting a few Swedish recipes as part of my BM theme, but don't miss the other Swedish recipes I've already presented in the past.
Uppakra – Swedish Potato Cookies
Swedish Braised Lamb Chops in Lingonberry-Currant Gravy
Check out the Blogging Marathon page for the other Blogging Marathoners doing this BM#74
Skagenrora - Swedish Shrimp Salad
a simple salad that can be served as is, on toast or tossed with a green salad. Versatile lunch option.
Ingredients
3

tablespoons

mayonnaise

3

tablespoons

sour cream

1

teaspoon

lemon juice

3

tablespoons

finely chopped parsley

2

teaspoons

minced red onion

Salt and ground white pepper

to taste

a few drops

hot sauce

12

oz.

cooked medium shrimp
Instructions
In a small bowl, whisk together the mayonnaise, sour cream and lemon juice until well blended.

In a large bowl, combine parsley, lemon juice, salt, pepper and hot sauce.

Add mayo dressing and mix to combine. Taste and adjust seasoning, as necessary.

Add shrimp and mix until well incorporated.

Serve chilled.
Did you try this recipe? Leave a comment below.
Please follow me on Instagram @chefmireille or tag me #chefmireille with your pics! I'd love to share them!