Last Updated on March 11, 2023 by Chef Mireille
Swedish Hot Dogs are really a complete meal in one. Served on a rye flatbread with a hot dog, mashed potato, shrimp salad, lettuce and condiments – it will become your new way of serving hot dogs!
Are you a hot dog fan? Look no further than this Tunnbrodsrulle recipe guide! Learn how to create the ultimate Swedish-style hot dog, complete with traditional toppings like mashed potatoes and shrimp salad. Rye Flatbread recipe included!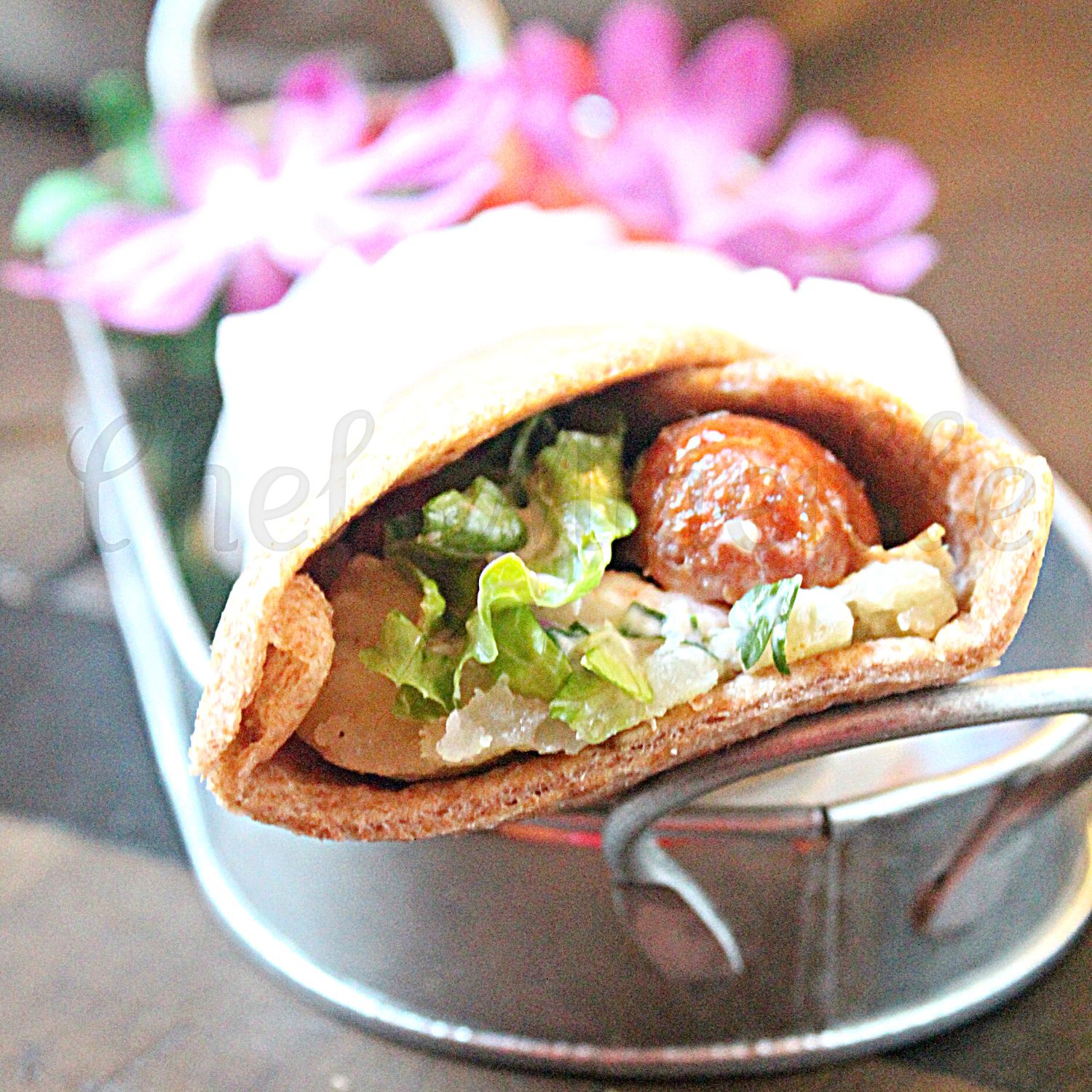 Tunnbrod is a kind of Swedish flatbread. Literally translated, it means thin bread. They can be made with a variety of grains that can include any combination of oat flour, rye flour, barley flour and wheat flour. Rye is the required grain and some versions will be made with 100% rye flour.
Due to the whole grain nature of this bread and the fact that rye is a low gluten grain, this bread is made with both yeast and baking soda, for additional leavening. Keep on reading and I will guide you how to make Tunnbrodsrulle – Swedish Street Food Rye Wraps – this is a wholesome hearty sandwich not to be missed!
What is antler salt?
On a side note, I discovered some interesting trivia when doing research for this recipe. I noticed some versions had something called antler salt. Of course, curious me had to research what in the heck that was. Well did you know before there was baking soda, people would use the ground up antlers of a male deer, which later became known as Hartshorn.
If the antlers weren't available, it was also sometimes made from distilled hair or decomposed urine. Thank God, scientific innovation persevered and chemically reproduced this baking aid as baking soda. So we can be sure there is no longer decomposed reindeer urine in our baked goods.
Variations
There are two versions of Turnbrod. One is rolled paper thin and baked crispy in the oven into crackers. These are often heavily spiced with fennel, anise, black pepper, cardamom and/or caraway. This version will also often include seeds like sunflower, poppy seeds or pumpkin seeds.
Then there is the plain version that does not include all of these extra ingredients and is cooked stove top into a soft tortilla like bread. They are both usually rolled with a textured rolling pin that is used in many Swedish breads/crackers like Knakkebrod, which create great air pockets and a decorative appearance. Since I did not have this, I simply pierced the dough with a fork after rolling.
Although I did not get it, if you would like to achieve the authentic results by using the textured rolling pin, you can get it from Amazon here.
My Indian readers might refer to this as the Swedish paratha!
A few years ago I was watching an episode of the TV show Street Eats, where episodes explore street food throughout the world. I made notes so that I can later try to recreate some of what I saw. I remembered the Tunnbrodsrulle, which includes just about everything stuffed into a sandwich. I finally got the opportunity to recreate the Tunnbrodsrulle, after making the Tunnbrod.
To make the Tunnsbrodrulle with this bread, you will need:
Now is that a sandwich or what?
Tunnbrodsrulle – Swedish Hot Dogs
Tunnbrodsrulle is a very popular Swedish Street Food. It is a delicious hot dog wrap on a rye flatbread with shrimp salad, mashed potato more. Enjoy this Swedish hot dog!
Ingredients
Instructions
Heat milk to 110-115 F. Add sugar and stir to combine. Sprinkle yeast on top and leave for 10 minutes until it turns foamy.

In the bowl of an electric mixer, combine rye flour, 3 cups of the wheat flour, honey, salt, fennel seed and baking soda. Knead for 5 minutes until dough is soft and elastic.

Place in a greased bowl and cover with plastic wrap sprayed with non stick spray and a kitchen towel. Leave for 1 hour. Due to the low gluten content of rye, it will only proof about 50% of original volume.

Divide into 16 portions and roll each into a ball.

On a lightly floured surface, roll each into a 6" circle.

Heat a skillet and lightly grease it with the butter. Fry breads until air pockets form. Flip on the other side and cook 1-2 minutes more until brown spots appear. Continue to brush the skillet with more butter after each bread. Repeat until all the breads are cooked.

To make the turnbrodsrolle, spread butter and mashed potato on turnbrod. Add some shrimp salad, sausage and lettuce. Drizzle some ketchup on top. Wrap and enjoy!
Notes
Breads should be stored in the refrigerator. To make them soft again, simply wrap in paper towels and reheat in the microwave for 30 seconds.
Nutritional Info is only for the rye turnbrod recipe.
Nutrition
Calories:
189
kcal
|
Carbohydrates:
32
g
|
Protein:
6
g
|
Fat:
5
g
|
Saturated Fat:
3
g
|
Polyunsaturated Fat:
1
g
|
Monounsaturated Fat:
1
g
|
Trans Fat:
0.1
g
|
Cholesterol:
12
mg
|
Sodium:
290
mg
|
Potassium:
206
mg
|
Fiber:
5
g
|
Sugar:
5
g
|
Vitamin A:
146
IU
|
Vitamin C:
0.03
mg
|
Calcium:
56
mg
|
Iron:
1
mg
Did you try this recipe? Leave a comment below.
Please follow me on Instagram @chefmireille or tag me #chefmireille with your pics! I'd love to share them!
Don't forget to visit the RECIPE INDEX with over 1000 recipes from around the world including lots of Vegetarian Recipes and Gluten Free Recipes!