Last Updated on March 26, 2020 by Chef Mireille
being Bhutte Ka Kees – Savory Corn Pudding – is a popular street food in the Indian state of Madhya Pradesh, especially in the largest city of Indore.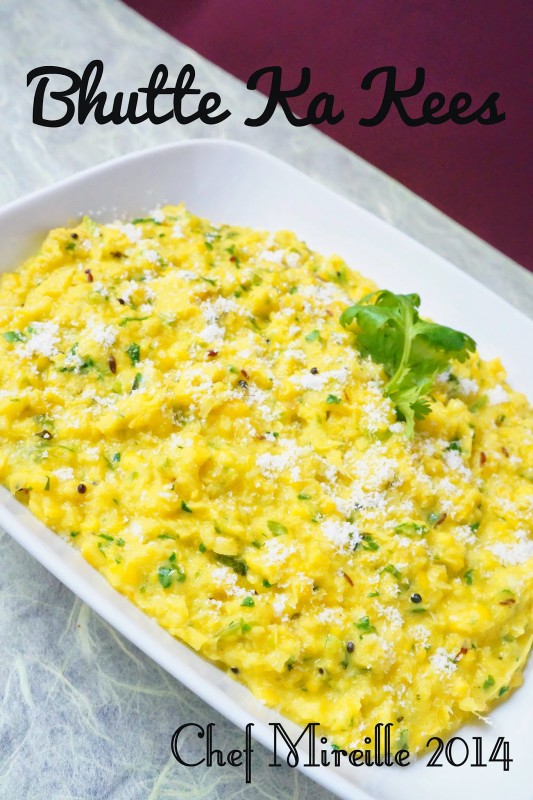 Madhya Pradesh has been nicknamed the Heart Of India, due to it's central location. The state is located right in the middle of India. How about trying this delicious street food that represents The Heart Of India!
Happy Passover to all those who celebrate it! While Ashkinazi Jews won't consume corn during Passover, Sephardic Jewish Law does not prohibit it. Try adding this delicious Indian side dish to your Passover meal for a change!!!
Google has really transformed our lives in so many ways – that it is now a verb. Think about it – when someone asks you a question and you don't know the answer, what's the first thing that comes to mind – "I'll just google it." Thanks to Google, the world has gotten smaller and we can learn about recipes from around the world. Whether it is by watching you tube videos and seeing this Bhutte Ka Kees – Savory Corn Pudding being prepared on the streets of Indore and researching different recipes for different dishes.
This comes from Malwa cuisine. Malwa is the volcanic upland areas of western Madhya Pradesh and southeastern Rajasthan. The distinct Malwa cuisine is influenced by Maharashtrian, Gujarati and Rajasthani cuisine. The people of this area are mostly vegetarians and eat many grains, particular to the area like tapu. Due to the dry climate of the region, their diet mostly consists of grains and legumes.
This is one of the most popular street food items in Indore, the largest city in Madhya Pradesh.
IN THE MAKING – HOW TO MAKE BHUTTE KA KEES – SAVORY CORN PUDDING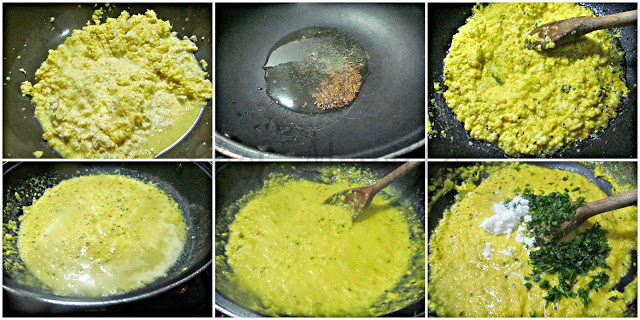 This makes a delicious summer snack, when corn is in season!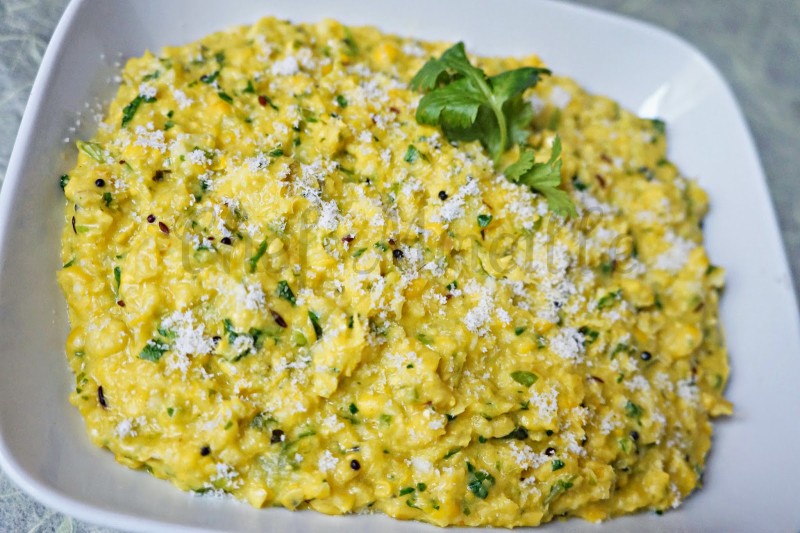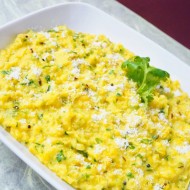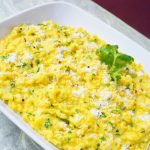 Print Recipe
Bhutte Ka Kees – Savory Corn Pudding
Bhutte Ka Kees - Savory Corn Pudding is a delicious street food from the Heart of India - Madhya Pradesh!
Ingredients
4

corn cobs

grated

1

cup

milk

2

tablespoons

coconut

freshly grated (or frozen grated coconut, defrosted)

3

tablespoons

cilantro

finely chopped

2

tablespoons

ghee

2

green chiles

finely chopped

1

inch

piece of ginger

grated

a pinch of asoefetida

1/2

teaspoon

cumin seed

1/2

teaspoon

mustard seed

1/4

teaspoon

red chile pepper

cayenne pepper

1/4

teaspoon

ground turmeric

3/4

teaspoon

salt

1/2

teaspoon

sugar

1

teaspoon

lemon juice

2

tablespoons

dessicated coconut
Instructions
Grate the corn into a bowl, reserving all the liquid and the corn.

Heat ghee. Add asoefetida, cumin seed, mustard seed.

After they start to splutter, add chiles, ginger, turmeric, cayenne, salt, and corn. Cook for about 2 minutes.

Add milk and sugar. Bring to a boil. Reduce to a simmer and cook for 10 minutes, stirring frequently.

Add lemon juice, cilantro and freshly grated coconut. Cook for 2 more minutes.

To serve, garnish with cilantro and dessicated coconut.
Nutrition
Calories:
135.8
kcal
|
Carbohydrates:
7.81
g
|
Protein:
2.88
g
|
Fat:
10.94
g
|
Saturated Fat:
7.21
g
|
Sodium:
245.55
mg
|
Fiber:
1.21
g
|
Sugar:
5.34
g
Ready to make this recipe? I would love to see your photos! Tag me on Instagram @chefmireille #theschizochef with your pics!
Do you know anyone else who likes learning about international recipes, culture, history and travel? Bring them over here to join the party! Don't forget to use those share buttons!
Start Here to find out how the Schizo Chef can help you with your cooking, travel and other needs!
If you like this recipe, PLEASE LEAVE A COMMENT & SUBSCRIBE!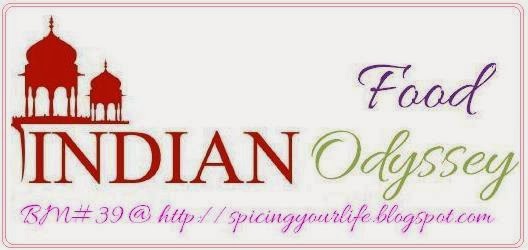 Check out the Blogging Marathon page for the other Blogging Marathoners doing BM# 39
Sign up for our updates!
Subscribe to get our latest content by email and get your FREE Pantry Cheat Sheet - Learn the basics to cook any International cuisine!