Last Updated on December 14, 2020 by Chef Mireille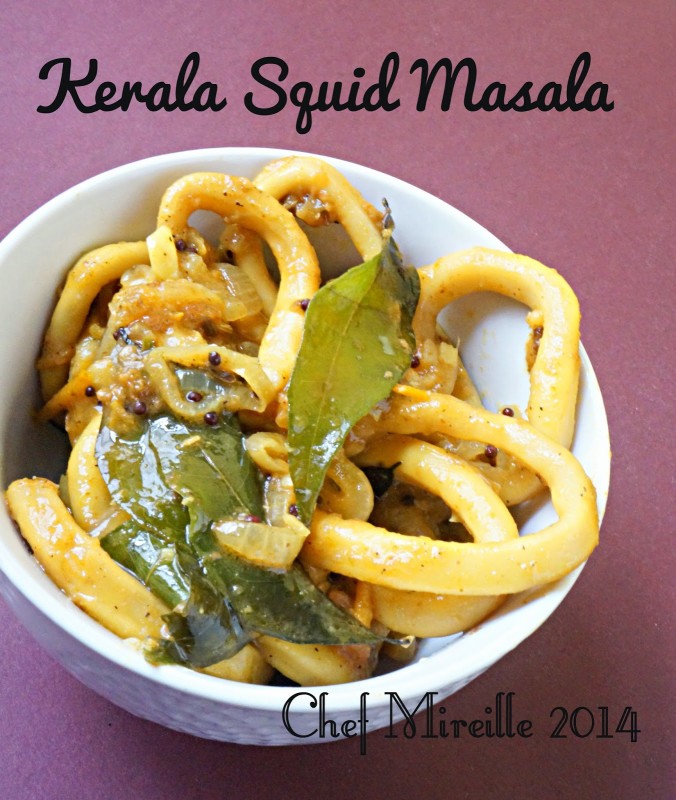 Kerala is a culturally diverse state with a Jewish & a Syrian Christian community, in addition to the native Hindu and Muslim communities. To learn more about the "Land of Coconuts", visit my post here where I previously explored Kerala cuisine.
Kerala is one of my favorite cuisines and I had so much fun when I explored this state several months ago and made Kootu Curry, Syrian Okra Curry and Ghari. Since it is a coastal state, it's only natural that seafood plays a major part in Kerala cuisine.
I love seafood and immediately wanted to try it when I came across it on Preetha's site. This is a VERY SPICY curry so I reduced the chile a little for my own taste and made a few slight adaptations according to my own preference. You can hop on over to Preetha if you would like to try her original version. This homestyle curry was so delicious with Rice & Red Lentil Kadhi.
Kerala Masala Squid
Marinade Ingredients:
1 lb. squid rings
1/2 teaspoon ground turmeric
1/2 teaspoon ground black pepper
1 teaspoon red chile powder (cayenne pepper)
1 sprig curry leaves
1/4 teaspoon salt
1 tablespoon coconut oil
Curry Ingredients:
3 tablespoons coconut oil
1 teaspoon brown mustard seeds
1/4 teaspoon fennel seed
2 onions, thinly sliced
1 green chile, finely chopped
1 large tomato, chopped
1 inch piece of ginger, finely chopped
1/4 teaspoon turmeric
1 teaspoon red chile powder (cayenne pepper)
1/4 teaspoon ground black pepper
salt, to taste
3 cloves garlic, finely chopped
2 sprigs curry leaves
Combine all the marinade ingredients in a bowl and toss well with the squid. Leave to marinate for 1/2 hour.
Heat 1 tablespoon of the coconut oil. Add squid and stir-fry for 5 minutes on low heat. Remove from pan and add another tablespoon of the oil.
Add mustard seed and fennel seed. As soon as it becomes fragrant, add onion, ginger and garlic.
When the onion turns golden, add turmeric, chile powder and black pepper. Add tomato and cook until it turns mushy, about 5 minutes.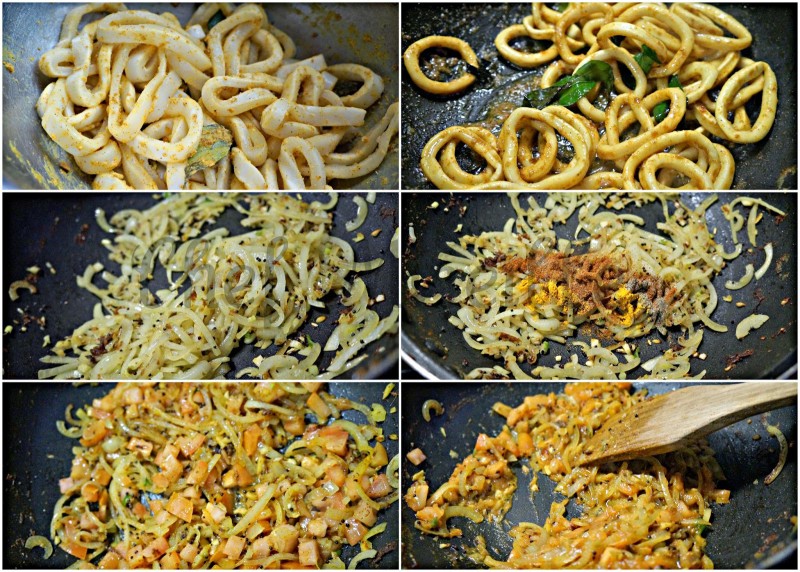 Add 1/4 cup water, squid, curry leaves and salt. Cover and simmer on medium heat for 5 minutes.
Turn off the heat, add the remaining tablespoon of coconut oil, cover and let is sit for 10 minutes before serving.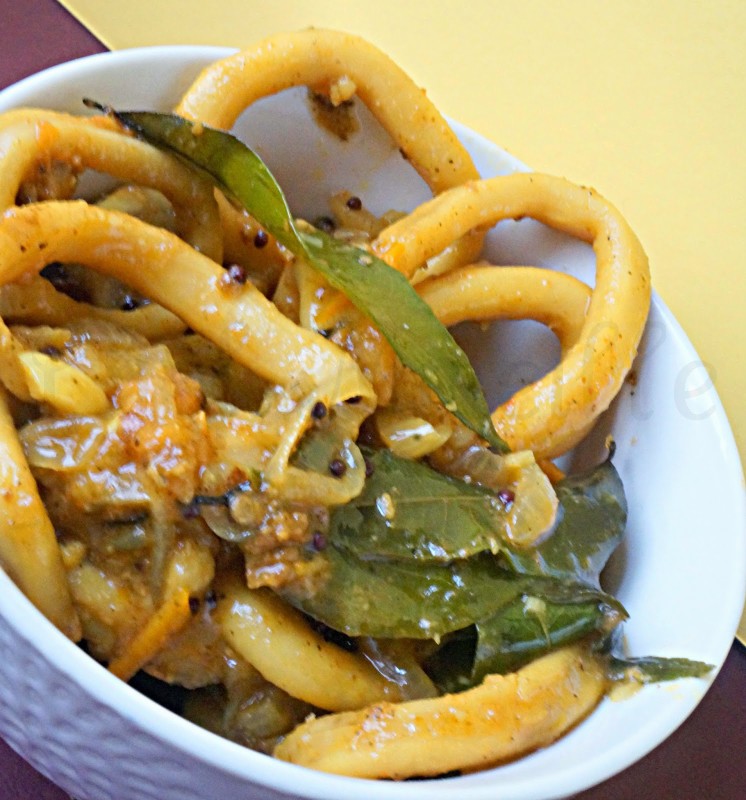 Serve with rice and this delicious red lentil kadhi for a complete meal.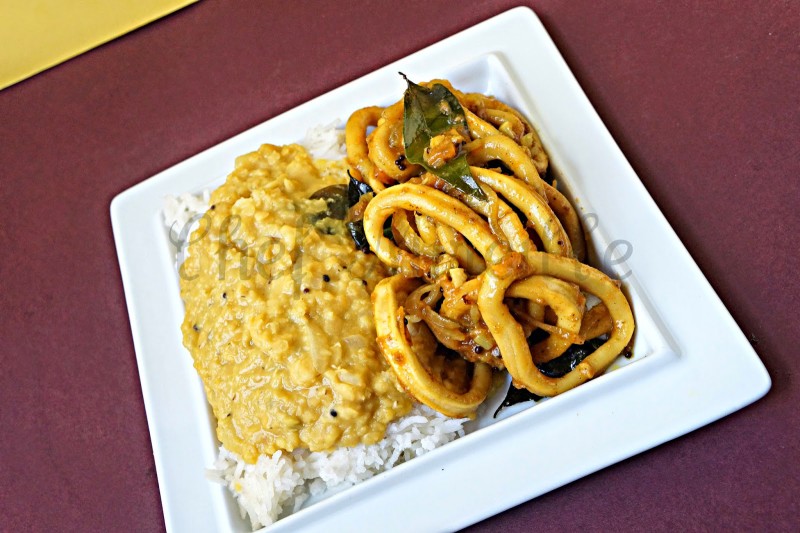 Check out the Blogging Marathon page for the other Blogging Marathoners doing BM# 39
LIKE THIS RECIPE? LEAVE A COMMENT..I LIVE FOR THEM!
Chef Mireille