Last Updated on December 16, 2020 by Chef Mireille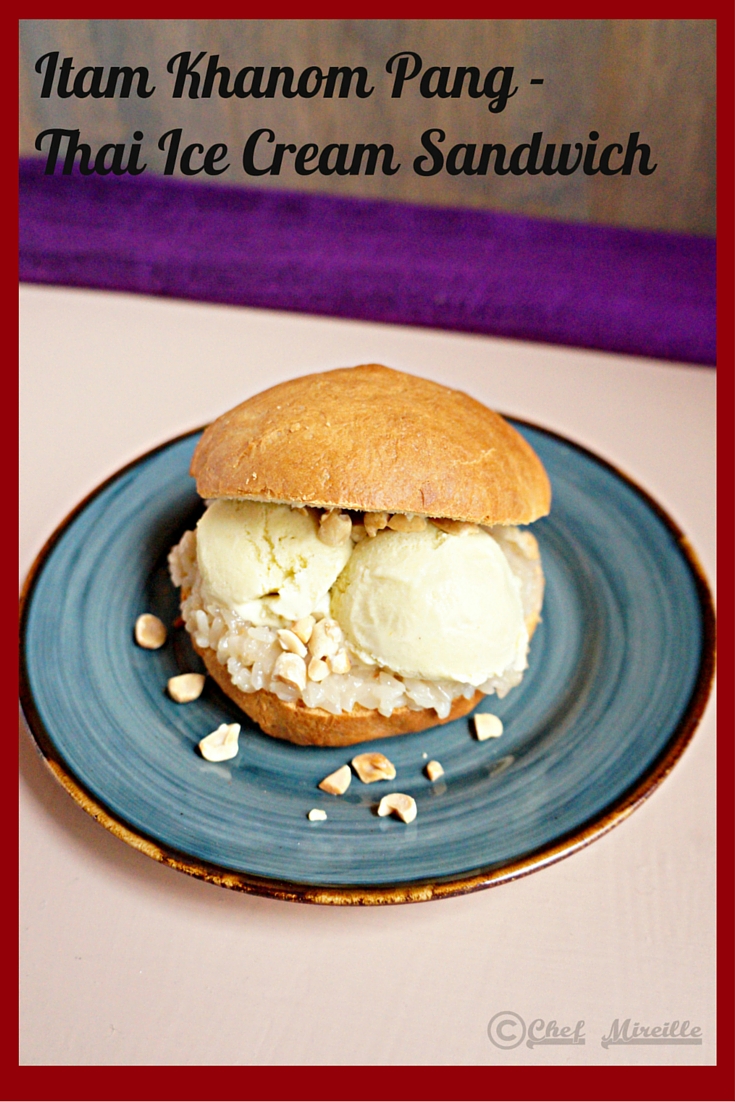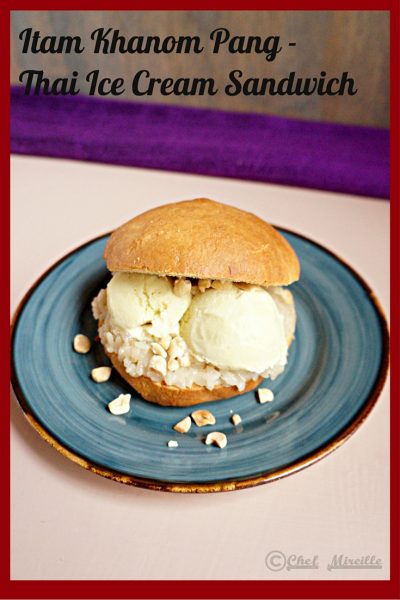 If you are just joining me 11 days in, I am in the middle of a mega marathon – blogging for the whole month alphabetically, with each week presenting recipes from a different country. Last week it was all about Finland and now I am taking you to the other side of the world into the food mecca that is Thailand. All over the world, Thai food has become one of the most popular cuisines with their multi faceted flavor profiles of sour, sweet, salty, bitter and spicy. I hope to bring you that umami into the recipes presented this week.
As many of you know, I was in Thailand in February and I never noticed this ice cream sandwich. However, usually after a delicious filling meal, I did not do a whole lot of snacking while there except for the fresh fruit juices that are available on each street corner. So you ask how do you know about this ice cream sandwich? It's all thanks to Mark Wiens – Mark has a blog here and a fabulous you tube channel where he takes you to all the places he eats mostly in Thailand where he lives…but also to India, Africa, Europe and beyond… when he travels. He provides you so much info – what train to take, what exit to depart, what to order and how much it will cost. He was my eating guide in Thailand and I od'd on his videos prior to leaving. From one of his videos, I learned about this ice cream sandwich and this is my attempt at duplicating it.
What we call an Ice Cream Sandwich here in the West is not what you get in Thailand. There it is a true definition of the phrase with ice cream served in between a sweet bread roll.
Although you can use basic store bought vanilla ice cream, I went with local Thai flavors and made the ice cream myself- see here for my Lemongrass Ice Cream recipe.
Sweet Coconut Bread Rolls
Prep Time:1 hour 45 minutes
Cook Time: 35 minutes
Yield: 6 rolls
Ingredients:
1/2 cup warm water
1/4 cup sugar
2 1/4 teaspoons dry active yeast
3/4 teaspoon salt
1/4 cup melted butter
1/2 cup coconut milk
3 – 3 1/2 cups all purpose flour
In a shallow bowl, whisk water and 1 tablespoon of the sugar together. Sprinkle yeast on top and leave 5-10 minutes, until foamy.
Transfer to the bowl of en electric mixer with the remaining sugar, salt, butter, coconut milk and 2 cups of the flour. Using a dough hook, start to knead until the dough becomes shaggy. Slowly add the rest of the flour as needed and knead for 5 minutes, until the dough is soft, smooth and elastic.
Place in a lightly greased bowl and cover with plastic wrap sprayed with non stick spray. Cover with a kitchen towel and leave to rise until doubled in size, about 1 hour.
On a lightly floured board, divide dough into 6 equal sized pieces.
Place a piece of parchment paper on a cookie sheet and spray with non stick spray. Roll the 6 pieces into buns and place on cookie sheet. Cover with a clean kitchen towel and leave to rise until doubled in size, about 30 minutes.
Preheat oven to 375 F. Brush rolls with coconut milk.
Bake for 30 – 35 minutes, until they sound hollow when tapped.
Sticky Rice
Prep Time:15 minutes
Cook Time: 15 minutes
Yield: Serves 4
Ingredients:
1 cup sticky rice
1 cup coconut milk
1 cup water
a pinch of salt
2 tablespoons palm sugar
Combine rice, milk, water and salt in a rice cooker. Cook until done.
Add sugar and stir to combine. Leave for 15 minutes.
Thai Ice Cream Sandwich
Yield: Serves 1
Ingredients:
1 sweet coconut bread roll
2 scoops ice cream
1/4 cup sticky rice
1 tablespoon chopped dry roasted peanuts
To assemble, split roll but leave end in tact.
Add sticky rice to bottom of roll. Add ice cream on top. Sprinkle peanuts on top.
Enjoy!
Check out the Blogging Marathon page for the other Blogging Marathoners doing BM# 63
[inlinkz_linkup id=601059 mode=1]