Last Updated on November 14, 2019 by Chef Mireille
Lekach – Jewish Honey Cake
Lekach – Jewish Honey Cake – is a traditional Rosh Hashanah (Jewish New Year) cake flavored with smoky spices, orange juice, brandy and coffee.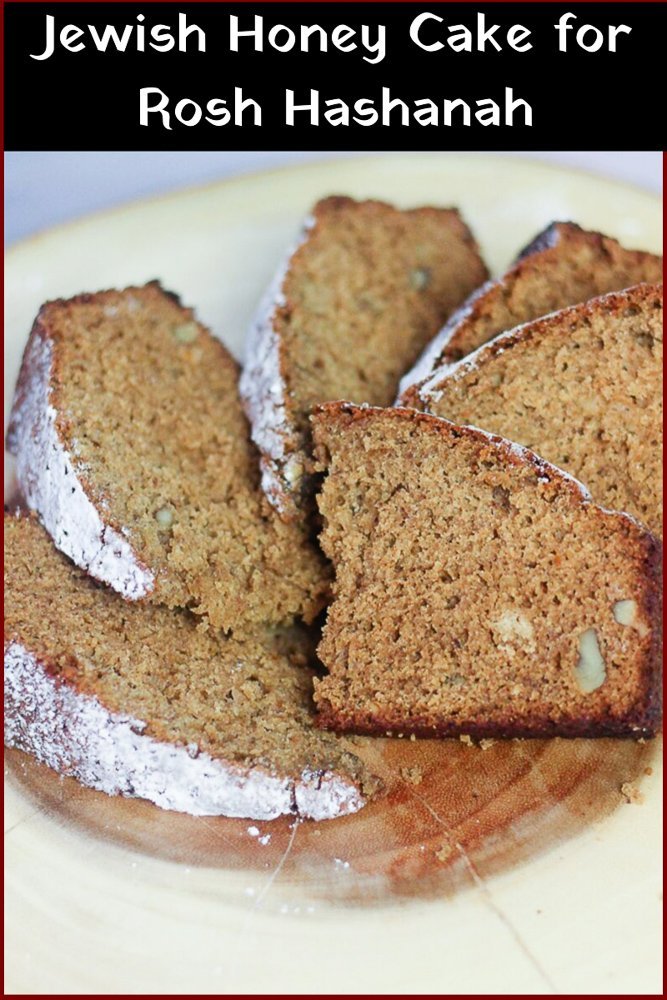 I had to skip last month's #FoodoftheWorld. After coming back from a trip to Asia, I just didn't have time to whip something up for Russia before the date of posting. I was a bit too unrealistic and how quick I could bounce back from jetlag after returning from half way around the world. I was really upset as I had picked out a fabulous recipe to try. Oh well, it will have to be done in the future. Until then, we are off to Israel this month.
Israel is a multi cultural country that includes Arabs, Christians and Jews. However, the Jewish community is the largest. Many years ago, I worked as a registrar for a Jewish company that organized volunteer and birthright trips to Israel. For those that don't know, every person born of at least one Jewish parent anywhere in the world is entitled to a free 10 day trip to Israel when they are between the ages of 18-25. There are several companies that organize birthright trips and I worked for one of them.
Multi Cultural Israel
Working with a lot of Israelis, I learned a lot about Israeli culture and cuisine when working there. We always had potluck lunches for all the Jewish holidays, so I would have to do research to figure out what to bring. Our company was pluralistic, in that we had employees from the complete range of the Jewish faith – those that were strict Orthodox to those that were secular (non practicing), as well as employees of different faiths. However, we always had to be mindful of Jewish dietary laws for the Orthodox employees. For example, dairy and meat couldn't be mixed in the same meal. So no one was bringing lasagna to the potluck!
While there, I learned how all encompassing the Jewish faith is. I was surprised to learn there are so many Jewish people from countries like Ethiopia, Uganda, Morocco and India – not countries that usually come to mind when you think of Jewish people. So what is an Israeli recipe – really it could be any kind of recipe from the Jewish communities of these countries. What I found interesting was depending where someone's family was from often altered what was eaten. I had a Moroccan Jewish coworker, but she was married to an Israeli of Egyptian origins. I can't recall which holiday it was, but she was having a disagreement with her new husband who always ate dairy on the holiday, but in her Moroccan Jewish family, dairy was forbidden. What to do? I'm not sure how that issue ever got resolved 🙂
Rosh Hoshanah is the Jewish New Year and it is traditional to eat honey on this day so that sweet things will come to you in the new year. After the prayer, honey is eaten with apples. However, honey still continues to make its appearance throughout the holiday meal. Lekach is a recipe that comes from the Ashkinazi Jewish community of Eastern Europe. I found different recipes online that used different flavorings from coffee to orange juice. I then called a friend of my Mom's who has a Jewish settlement cookbook that dates back to the 1930's and in that recipe, lemon and citron is used to flavor the cake. However, the more recipes I consulted, coffee seems to be a modern common innovation, so decided to include both citrus and coffee. Some recipes are made with only honey and then I also found others that were made with honey, brown sugar and white sugar. Liquor is a common addition and some are egg rich with up to 6 eggs, while others only had 2 eggs. With so much variation, what to do. It seems like recipes will vary from family to family, so I combined the elements I liked from many different recipes and came up with my own version.
Depending how religious you are, dairy and meat cannot be eaten within 4-6 hours of each other, so this cake is made with oil so that it can be eaten at a meal with meat. By Jewish dietary laws, eggs are not considered dairy, but parve. Parve are neutral foods that don't interfere with either dairy or meat restrictions.
IN THE MAKING – HOW TO MAKE LEKACH – JEWISH HONEY CAKE
All those spices make this a perfect holiday cake…who says you have to be Jewish to enjoy it. It will make a great Christmas cake also…or whatever holiday you celebrate…
what a soft and porous crumb…
or enjoy it at tea time…
Lekach – Jewish Honey Cake
This traditional Jewish Honey Cake is perfect for any holiday infused with coffee and smoky spices.
Ingredients
2 3/4

cups

all purpose flour

1

teaspoon

ground cloves

2

teaspoons

ground allspice

2

teaspoons

ground cardamom

1

teaspoon

baking powder

1

teaspoon

baking soda

1

teaspoon

salt

4

eggs

separated

1/4

cup

oil

1

cup

honey

2

tablespoons

orange juice

2

tablespoons

apricot brandy

1/2

cup

brewed coffee

2

teaspoons

grated orange zest

2

teaspoons

grated lemon zest

1/2

cup

chopped walnuts
Instructions
Preheat oven to 350 F. Spray a bundt pan or springform pan with non stick spray or brush with oil.

In a bowl, mix together flour, cloves, allspice, ginger, baking powder, baking soda and salt. Sift.

Using the bowl of an electric mixer, beat sugar, egg yolks, oil, honey, orange juice, apricot brandy and coffee. Beat well until light and fluffy, about 3 minutes on high speed. Add zests and mix until thoroughly combined.

Add flour mixture in 3 batches, mixing well after each addition. Add walnuts and mix until thoroughly combined.

In a small bowl, beat egg whites until stiff peaks form. Fold into cake batter until thoroughly incorporated.

Pour into prepared cake pan. Bake for 1 hour, until knife inserted comes out clean.
Did you try this recipe? Leave a comment below.
Please follow me on Instagram @chefmireille or tag me #chefmireille with your pics! I'd love to share them!
SHARE THIS DELICIOUS RECIPE WITH YOUR FOODIE FRIENDS
Don't forget to visit the RECIPE INDEX with over 1000 recipes from around the world including lots of Vegetarian Recipes and Gluten Free Recipes!