Last Updated on December 4, 2021 by Chef Mireille
Chinese Peanut Sesame Dumplings are a delicious sweet treat for Chinese New Year of any holiday occasion!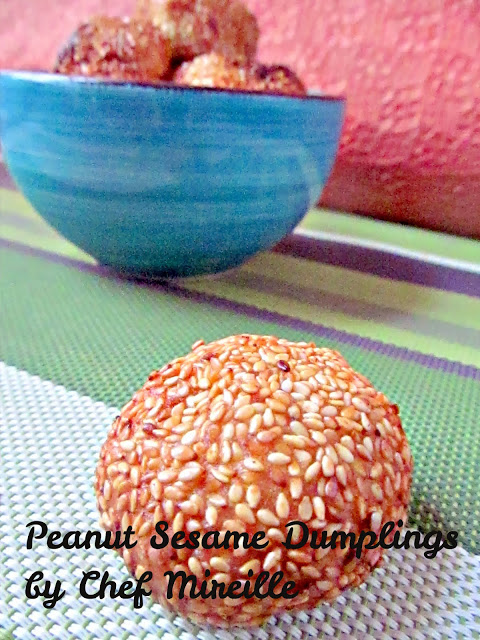 A few weeks ago I came home from the library with this cookbook, Lemongrass & Ginger by Leemei Tan. It includes recipes from all over Central Asia & Southeast Asia. I photocopied the recipes that I want to try and this is the first one I am trying from the book.
These balls are basically a stuffed dumpling made with glutinous rice flour. Many Asian desserts are made with glutinous rice flour. The first time I experienced this was several years ago when a Chinese friend introduced me to Japanese mochi, ice cream covered with this gelatinous rice flour dough and I fell in love with them. I like the texture, however some who are not used to it may not be a fan of the gooey texture.
This year Thanksgiving was spent with my extended family – at least those that live in the NY area. There were about 20 of us. I contributed three things to the meal – samosas, the cranberry sauce and these rice balls. I come from a very large family. My mom is 1 of 25 children. We are all loud, sarcastic, practical jokers who don't mince words. We say what we feel. If you are a very sensitive person who takes things to heart and can't laugh at yourself, you won't survive long at the table. One person will make a stray comment and it will build and build around the table until everyone is laughing at you for one reason or another – and I mean AT you, not WITH you. Some might find this crazy, but I love these family times with 5 different conversations going on simultaneously around the table. In fact, this is one of the reasons my aunt starting hosting these dinners because she said it was way too quiet when it was just her, my uncle and their two kids. It did not have the feel of a holiday. They missed the loud, rambunctious, laughing group of people that added to the festivities.
When one of my aunts tasted these rice balls, she exclaimed – "That is so disgusting" I explained to her that it is a Chinese dessert and the texture is supposed to be like that – that's how many of their desserts are because of the nature of glutinous rice flour and she responded "I feel sorry for the Chinese if they have to eat that." So these weren't a hit with everyone – it got about 50/50 positive/negative reactions. However, I liked them and since my aunt who hosted the dinner had made four pies and brownies, no one lacked dessert at the end of the meal!
Thank God I have a tough skin after living with my blunt relatives my whole life and did not take it personally that she does not like the texture of glutinous rice flour!
How to make Chinese Sesame Balls
Make the Peanut Filling. For a modern, short cut, some people just use peanut butter.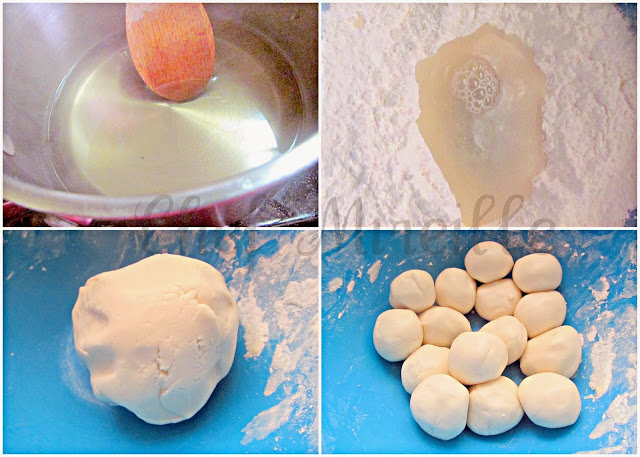 Now we stuff the balls with the peanut filling.
Then roll them in sesame seeds.
Deep fry them in golden brown.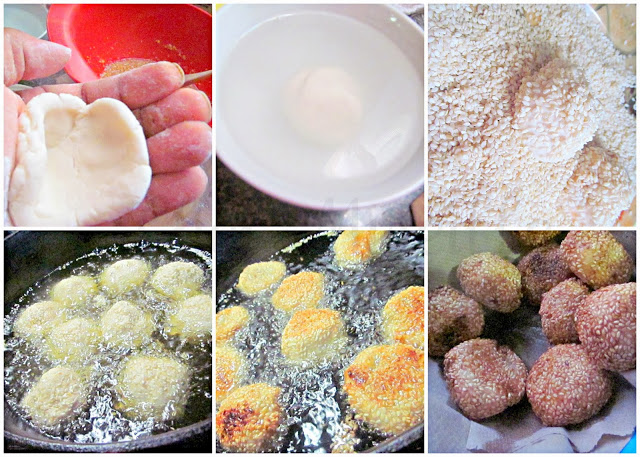 Perfect to serve for the Lunar Festival – Chinese New Year!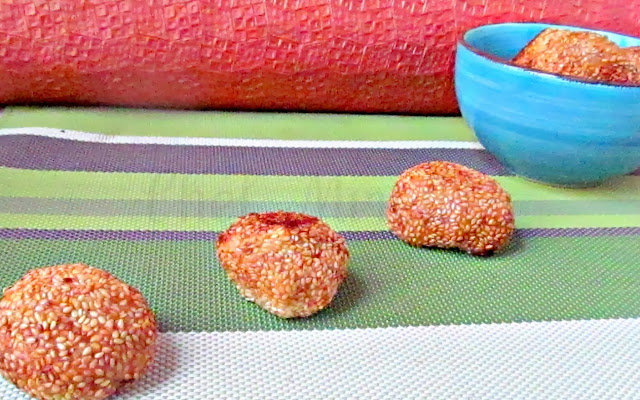 Chinese Sesame Balls
Chinese Sesame Balls with Peanut Filling and deep fried to golden deliciousness. They are a delicious sweet treat for Chinese New Year.
Ingredients
1/3

cup

sugar

separated

1

cup

water

2 1/3

cups

glutinous rice flour

1

cup

sesame seeds

peanut oil

for frying
Filling Ingredients
2/3

cup

dry roasted peanuts

1/3

cup

sugar

2

tablespoons

oil
Instructions
Coarsely chop the peanuts in a food processor. Add 1/3 cup of the sugar, oil and 3 tablespoons water. Mix to form a paste.

Now let's make the dough.

In a saucepan, heat 1/3 cup of the sugar with the water until the sugar dissolves.

Place the flour in a large bowl and make a well in the center. Add the sugar water a little at a time, until you have a soft dough. Knead for a few minutes. Divide into 15 equal sized balls.

Place the sesame seeds on a plate.

Make a cup in your hand with one of the balls of dough and put 2 teaspoons of the peanut filling into the cup. Bring up the dough around the filling to seal.

Dip the ball in the bowl of water and then roll in the sesame seeds. Repeat with the remaining balls.

Pour oil about 1″ deep in a large skillet or wok. Place the balls in the hot oil and fry until golden brown on all sides. Drain on paper towels.

Serve warm or at room temperature.
Notes
You may have some leftover filling, but it is better to have too much than too little filling.
I found a great use of the leftover filling is to add it to plain yogurt for a delicious snack.
Nutrition
Calories:
281.87
kcal
|
Carbohydrates:
31.88
g
|
Protein:
4.84
g
|
Fat:
15.75
g
|
Saturated Fat:
2.43
g
|
Sodium:
2.94
mg
|
Fiber:
2.27
g
|
Sugar:
9.24
g
Did you try this recipe? Leave a comment below.
Please follow me on Instagram @chefmireille or tag me #chefmireille with your pics! I'd love to share them!