Last Updated on November 13, 2019 by Chef Mireille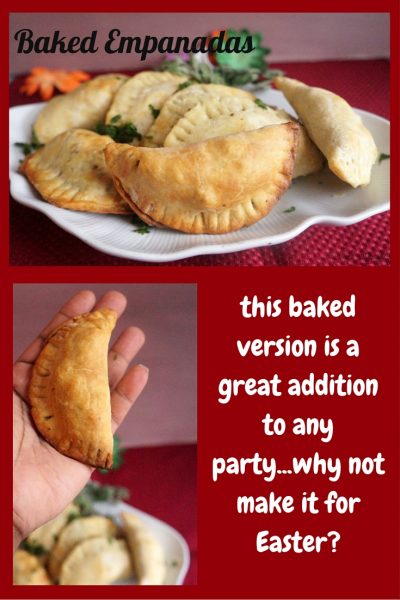 Happy Sunday all!
Well after having a really bad cold and being not myself for 5 days, I am back. I am the first to admit my posts have been far from my best this week. Having camera issues and not having the energy to sit in front of the computer had me so out of my element. I've started to catch up with my personal and professional obligations. Additionally, I have come back from vacation with some personal goals – some of which will be revealed to you over time. One of those is to eat healthier and make exercise part of my daily routine. To that end, my last street food post for this week is a slightly healthier adaptation to the traditional empanada.
Most countries have some sort of stuffed meat pie. In Latin America, they are known as empanadas and the most traditional fillings include ground meat, cheese or dessert versions often include sweet plantains or guava paste and cheese. There are slight variations from country to country and this easy to eat as you walk food has become very popular here in New York. There are places that make nothing but empanadas, some offering as many as 20-25 different varieties. Traditionally in most Latin American countries these are fried, but the baked ones have become very popular on some street food carts. It's healthier and can be produced in quantity in advance without losing quality, if kept in a warmer. There are even different kinds of crusts you can get – gluten free, cornmeal, whole wheat, quinoa…the varieties are now endless…
Here's my version of a baked empanada.
Baked Empanadas
Prep Time: 1 hour 45 minutes
Cook Time: 25 minutes
Yield: 16 empanadas
Crust Ingredients:
2 1/2 cups flour
1/2 teaspoon salt
1/2 cup cold unsalted butter, chopped
1 beaten egg
1/2 cup cold water
Filling Ingredients:
2 tablespoons oil
1 chopped onion
3 finely chopped garlic cloves
1 lb. 5 oz. ground meat (I used a combination of turkey and pork)
1/4 lb. baby spinach leaves (2 cups)
1 teaspoon finely chopped fresh oregano
1 teaspoon ground cumin
1/2 teaspoon ground black pepper
1 teaspoon salt
1/4 cup finely chopped cilantro
To make the dough, combine flour and salt in a bowl. Use a whisk to combine and remove any flour lumps.
Add butter and using a pastry blender or fork, cut the butter into the flour until it is the size of small peas. Add egg and mix with a spoon.
Add water and mix. Start kneading by hand until the liquid forms into a ball of dough.
Wrap in plastic wrap and chill in refrigerator for 1 hour.
Meanwhile, make the filling.
Heat oil in a skillet. Add onion and garlic and saute until it starts to change color.
Add meat and cook until the meat is browned and cooked through, about 10 minutes.
Add spinach, oregano, cumin, pepper, salt and cilantro. Stir to combine and cook until spinach wilts, about 2 minutes.
Set aside to cool.
Preheat oven to 400 F. Spray a cookie sheet with non stick spray or place a piece of parchment paper on the cookie sheet.
Divide dough in half. Leave the other half refrigerated while you work with the first half.
On a lightly floured board, roll out dough as thin as possible without the dough breaking. Using a 4 1/2″ cookie/bisuit cutter, cut out circles. Place about 1 1/2 tablespoons of filling for each circle. Brush the perimeter with milk. Fold over and seal, using the tines of a fork. Place on prepared cookie sheet. Repeat until all the dough has been used.
Brush the tops with milk and bake for 20-25 minutes, until golden brown.
Notes:
Vegetarians can substitute beans or soya chunks for the meat.
This is a very resilient dough and easy to work with.
You will have extra filling (approximately 1 cup). Add it to rice for a quick one pot dish. It can be frozen for later use.
Healthier than the fried version, who can say no to this?
Check out the Blogging Marathon page for the other Blogging Marathoners doing this BM#62