Last Updated on January 20, 2021 by Chef Mireille
Noordin Mews Hotel Review – Boutique Hotel on Penang Island with 5 star service, walking distance to bus depot and excellent cuisine. A great central location.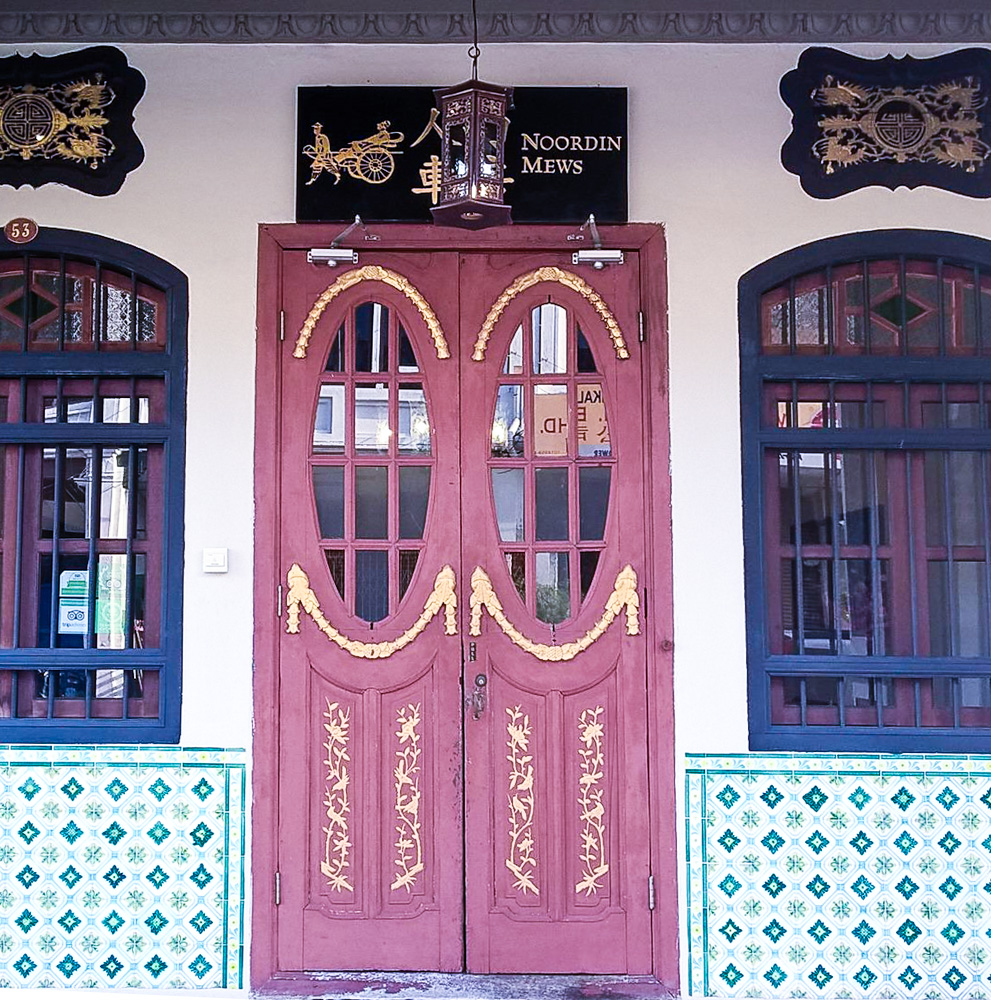 Penang is a great island to visit when you are in Malaysia, especially if you are a foodie as Penang is regarded as the culinary capital of Malaysia.
During my most recent trip to Asia, I spent 3 days on Penang Island. It was a wonderful introduction to the country and I definitely plan on returning and exploring Malaysia more. However, my home away from home for those 3 days was a heavenly oasis in the middle of bustling Georgetown. You won't be disappointed if you stay at Noordin Mews – Penang, Malaysia
Depending what type of vacation you are looking for will depend what part of Penang Island you stay in. If you are looking for a beach vacation, the northern coast of Penang should be your choice which is quite a distance away from Georgetown, the capital city of Penang. However, if you are a foodie and interested in exploring the different cultural pockets of multi-cultural Malaysia and exploring the city, Georgetown is the place for you.
Penang Sights
If you've never been to Penang, you may be asking well what can I do if I stay in Georgetown. First, you will be able to explore the different neighborhoods including Little India and Chinatown. You will also be in close proximity with the use of public transportation to Kek Lok Si, the largest temple in Penang. It is a beautiful Buddhist temple with gorgeous gardens and a lake. Read all about my visit to Kek Lok Si temple. From there you can take the funicular train to the top of Penang Hill, to see the gorgeous landscape from the highest point in Penang. From Georgetown, you can take the city bus to night markets and the Chinese jetty's. There's also a large wet market where you can discover food products to bring back home. If you are as much of a foodie as I am, you may also want to take a local cooking class, which is what I did.
RELATED: VISITING KEK LOK SI TEMPLE
So I've tempted you to come and visit Georgetown…but where to stay? Read on in this Noordin Mews Hotel Review to find out why I loved it so much. Noordin Mews is a boutique hotel located in a historic building (UNESCO heritage site) in an ordinary side street.
NOORDIN MEWS HOTEL REVIEW
While the block is non-descript, your world will change once you cross the threshold and are immediately greeted with the floral scent of essential oils.
With old world charm, the hotel is decorated with historic dark wooden furniture and doors. The decor is quaint old Asian charm.
There are chairs set up where you sit down and leisurely handle the business of checking in and throughout the hotel there are little alcoves and lots of small seating areas so you can always enjoy the open air feeling of the hotel.
Your luggage will be taken to your room as you check in. The hotel may be historic, but your room will have all modern amenities including a flat screen TV, air conditioner and a coffee/tea station. A platter of fresh fruit and juice was waiting for us as we entered the room.
The only thing it did not have was a telephone, but if you need anything no matter where your room is located in this small two story hotel, it's a short walk to the front desk. There is a laptop set up for guests to use and it's very easy to print anything you need like boarding passes for your next flight etc. The hotel also has very reliable free wifi. I had not a single problem with accessing internet via my laptop or phone in my room. The hotel rooms are very spacious and very clean. Every day when your room gets cleaned, essential oils are lit so you walk into a floral oasis as you step in away from the Malay sun.
CUISINE
The $70 hotel rate (average) is worth every penny as it includes daily breakfast and tea time. Breakfast isn't coffee and muffins. You get a complete either western or Asian breakfast. The western breakfast will include things like eggs, French Toast, etc.
The Asian breakfast will change daily. In multi-cultural Malaysia, it may be Chinese one day. What could be better than Dim Sum for breakfast!
…and it might be Malay Indian the next with this delicious Chicken Curry & Paratha
Also included with your breakfast is fruit and unlimited refills of coffee/tea and juice.
CUSTOMER SERVICE
Tea Time is a smaller deal with just a few snacks. This hotel goes above and beyond. When we had to leave at 5:30am on our day of departure, since it was too early, they packed us breakfast to go which included coffee, juice, muffin, granola bar and 2 fruits.
Another example of them taking customer service beyond most establishments occurred on my friend's birthday. Her birthday occurred while we were there and we returned to our room to find it decorated with balloons and streamers. She received a birthday card, personally signed by each member of the staff. There were also moon cakes there for us, with a great card detailing the cultural significance of moon cakes for birthdays. It was such a surprise. It didn't feel like we were staying at a hotel, but instead a friend's house.
There is a lounge area for guests to read or just lie about. You can also spend all day lounging in the cafe. They won't kick you out, even long after they have finished serving breakfast.
There is also a pool, with towels poolside. It's small but adequate for the size of the hotel.
Located right next to the bar/restaurant, you can enjoy your wine while hanging out in the pool. They will serve you any drinks or snacks poolside, so you don't have to leave the pool.
LOCATION
The hotel is centrally located, just three blocks from two huge malls and the central bus depot. From there, you can take a bus to pretty much any destination you want to visit in Penang. The hotel staff is very knowledgeable, especially Malvyn. She will tell you exactly what bus you need to take, where to get off and will map for you exactly how to walk to get to your desired destination. If you are not sure what to do, she will give you a list of ideas.
There is a nice restaurant just two doors down from the hotel. If you are more interested in street food, a hawker stand sets up every evening just two blocks from the hotel. You can bring your food back and the hotel will provide you plates, cutlery, etc. to savor the food either in the dining room or your own room. They have no problems with you enjoying outside food in their dining room.
The door to the hotel gets locked in the evening, but there is a 24 hour attendant. I felt safe and there was always someone to assist you…even at 5am when I was suffering from jetlag and needed some help figuring out the coffee machine.
There are luxury hotels located just a block away, but for a fraction of the cost, this hotel provides most amenities you will need. OK so there isn't 24 hour room service, but you also won't get the personal attention to detail at those other skyscraper hotels.
Malaysia is a great introduction for those new to Asia. Formerly a British colony, most people speak English so it is very easy to communicate. They have a good and frequent bus service, so it is an economical way of getting around, without having to take taxi's.
I give this hotel 5 stars * and would definitely stay again.
RELATED: HANDS ON COOKING CLASS IN PENANG, MALAYSIA