Last Updated on November 8, 2021 by
This Kale Wheat Berry Salad is a hearty grain salad full of healthy fruits and vegetables with Middle Eastern spices. Try it for yourself as it might be the best vegan kale salad recipe you could ever have!
After eating anything I wanted for a few weeks while on vacation, it's time for conscious eating again.
Today's wheatberry recipe is a versatile salad that can be eaten warm, chilled, or at room temperature. This whole-grain salad makes a wonderful side dish.
Or, you can add to it some protein (beans, or grilled chicken or shrimp if you're not necessarily vegan or vegetarian, or even vegan mock meats) and transform this easy dish into a one-pot meal.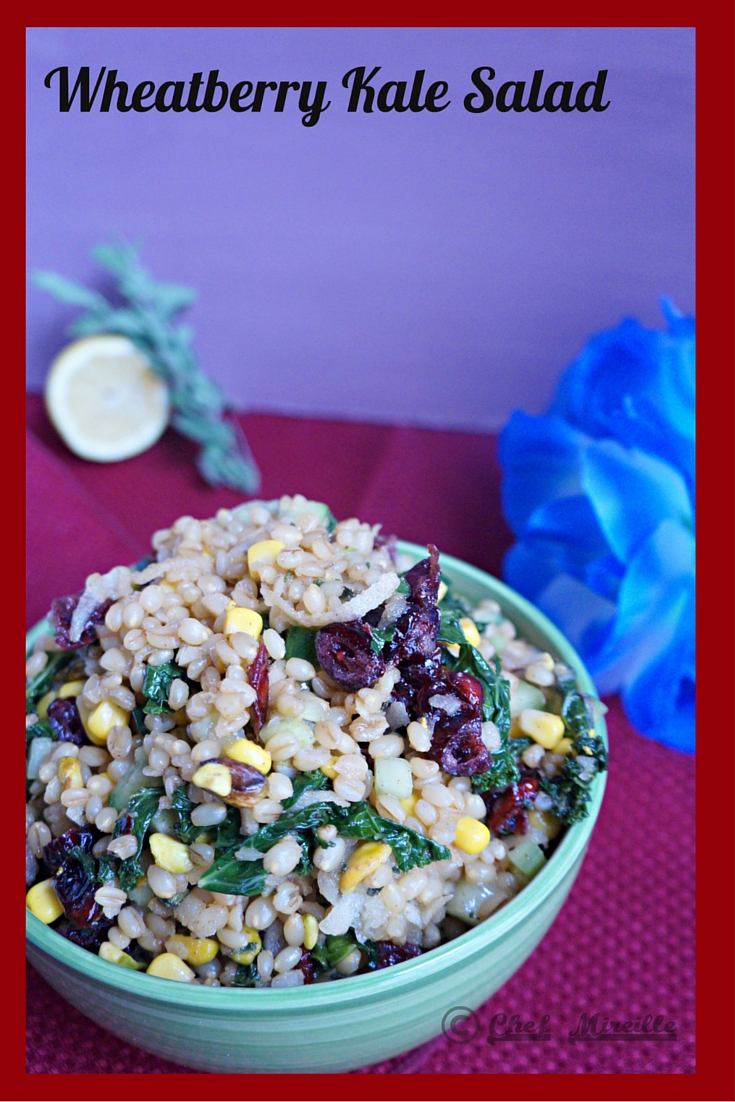 This post may include affiliate links.
Why Are They Called Wheat Berries?
Wheat berries are literally wheat berries. That means they're berries coming from the wheat plant, and these are whole grains. They are unprocessed wheat kernels.
With wheatberries, you could still see all three parts of the wheat grain. What you don't see is the outermost hull, which, after all, is not edible.
By the way, people sometimes spell wheat berries out as "wheatberries." Again, they are the most natural, least processed form of wheat.
Are Wheat Berries Good for Weight Loss?
Wheat berries are rich in fiber and complex carbohydrates. So, they can make you feel fuller for longer and you won't be craving as much snacking as you should.
These grains may also help regulate blood sugar levels and boost your metabolism. In this sense, eating wheat berries may aid in weight loss.
Why Eat Fibrous Grains: Fiber Benefits and Sources
Whole grains are a great way to get extra fiber into your diet. Wheatberries, Quinoa, Millet, Amaranth are all great sources of whole-grain fiber. Why do we need fiber?
Other carbohydrates break down into sugar as the body processes them. However, fiber does not convert to sugar as it passes through the body undigested.
Fiber also makes you feel more full than simple carbohydrates. As you feel more full, you will eat less. This, therefore, leads to assisting you in your weight loss goals.
Other sources of fiber:
Legumes
Carrots
Fruits
Nuts
Carrots
Cucumbers
Why Combine Wheat Berries with Kale?
Kale is super rich in antioxidants that help the body maintain optimum functioning and fight against diseases.
If you want to have a boost of both macros and micronutrients, you would want to pair the fiber- and carbohydrate-rich wheatberries with the vitamin-loaded kale.
Kale has vitamins C and K, calcium, and iron—nutrients that are known to have health-boosting benefits to the human body.
Ingredients for the Best Vegan Kale Salad with Wheatberries
wheatberries
olive oil
garlic cloves
kale leaves
cucumber
green apple
lemon
canned corn
fresh oregano
dried cranberries
ground allspice
shelled pistachios
How to Make Kale Wheat Berry Salad
Cook the wheatberries.
Saute garlic and kale.
Combine all ingredients in a large mixing bowl.
Leave for a few minutes before serving.
Every foodie I know can testify that we eat with our eyes first. Now this colorful salad is so inviting—who could resist?
Do You Soak Wheat Berries?
Wheatberries don't actually need overnight soaking before cooking.
You can simply boil them for 1 hour. That will be enough to soften the wheat kernels and will produce the familiar chewy texture people love.
Can Wheat Berries Be Cooked in a Rice Cooker?
Yes. For a softer texture, you can match 2.5 cups of water for every cup of wheatberries.
You can then cook the wheat berries just as you would your rice in the rice cooker. Depending on the rice cooker, it may take about 45 minutes to an hour to cook.
Can You Cook Wheat Berries in a Pressure Cooker?
You can cut cooking time if you cook wheat berries in a pressure cooker. An Instapot or a similar kitchen appliance can cook these grains in under half an hour.
To cook, set the manual timer on high pressure for 27 minutes.
Once cooking is done, allow the pressure to naturally release for 10 minutes before you do a quick release for the remaining pressure.
This salad has a lot of varying flavors with smoky spices and fruit. It's delicious and will satiate every palate.
It definitely is a delicious way to celebrate clean and healthy eating!
Can I Freeze Cooked Wheat Berries?
Yes! Freezing cooked wheatberries is much like freezing other grains.
First, drain the cooked wheat berries.
Divide them into small portions, depending on how much you plan to cook every time.
Transfer each portion into a freezer-safe and airtight container.
You can keep these containers in the freezer for up to 2 months.
To thaw, you can simply use a bowl of hot water. Place a freezer bag in the bowl for about 15 minutes. Your frozen wheatberries will then be ready for reheating or for a new full-grain, high-fiber dish.
How Long Do Cooked Wheat Berries Last in the Fridge?
If you choose to store your wheatberries in the fridge, they'd last for less than a week. A good practice is to keep them there only for up to 3 to 4 days.
Hearty Grain Salads
Looking for some more hearty grain salads to complete your meal? Try one of these!
Moroccan Couscous Salad — Have a bowl full of veggie delights when you try this Moroccan recipe. It fits the holiday season and it's something even kids would love.
Tabbouleh — Now this is an Arab dish that's full of fiber and essential nutrients. It's easy to prepare and it's best served chilled.
Quinoa Corn Salad — Here's another fiber-filled salad that can help you maintain a healthy weight.
In the meantime, enjoy your wheatberry kale salad and have a blast at a bowl full of fiber, vitamins, and minerals!
Wheatberry Kale Salad
This vegan Kale Wheatberry Salad is a hearty grain salad full of lots of healthy fruit and vegetables with Middle Eastern spices.
Ingredients
2

cups

wheatberries

4

tablespoons

olive oil

divided

3

finely chopped garl;ic cloves

10

kale leaves

thinly sliced

1

cucumber

chopped small

1

green apple

peeled and grated

1

lemon

1

cup

canned corn

drained

1

tablespoon

finely chopped fresh oregano

1

cup

dried cranberries

1

teaspoon

paprika

1/2

teaspoon

ground cumin

1/4

teaspoon

ground allspice

1/4

teaspoon

crushed red pepper

1/2

cup

shelled pistacchios

1

teaspoon

salt
Instructions
Combine wheatberries and 6 cups of water in a large saucepan.

Bring to a boil and cook until tender, 45 minutes – 1 hour. After 30 minutes, start stirring frequently until all of the liquid has been absorbed.

Meanwhile, heat 2 tablespoons of the oil in a large skillet.

Add garlic. As soon as it starts to change color, add kale and mix until kale gets coated with all of the oil.

Add 1/2 cup water and cook for 5 minutes, until all of the water has evaporated.

In a large bowl, combined wheatberries, cucumber, corn and apple. Squeeze juice from 1/2 of the lemon directly over the apple.

Add the remaining ingredients and the cooked kale. Stir to combine.

Add juice of the other 1/2 of the lemon and remaining olive oil. Stir to combine. Leave for at least 15 minutes, for flavors to combine.
Nutrition
Calories:
294.94
kcal
|
Carbohydrates:
54.45
g
|
Protein:
6.41
g
|
Fat:
8.34
g
|
Saturated Fat:
1.16
g
|
Sodium:
341.29
mg
|
Fiber:
8.92
g
|
Sugar:
13.9
g
Did you try this recipe? Leave a comment below.
Please follow me on Instagram @chefmireille or tag me #chefmireille with your pics! I'd love to share them!
Don't forget to visit the RECIPE INDEX with over 1000 recipes from around the world including lots of Vegetarian Recipes and Gluten Free Recipes!