Last Updated on January 28, 2020 by Chef Mireille
A hands on cooking class and market tour is one of the best ways for foodies to spend a day in Penang!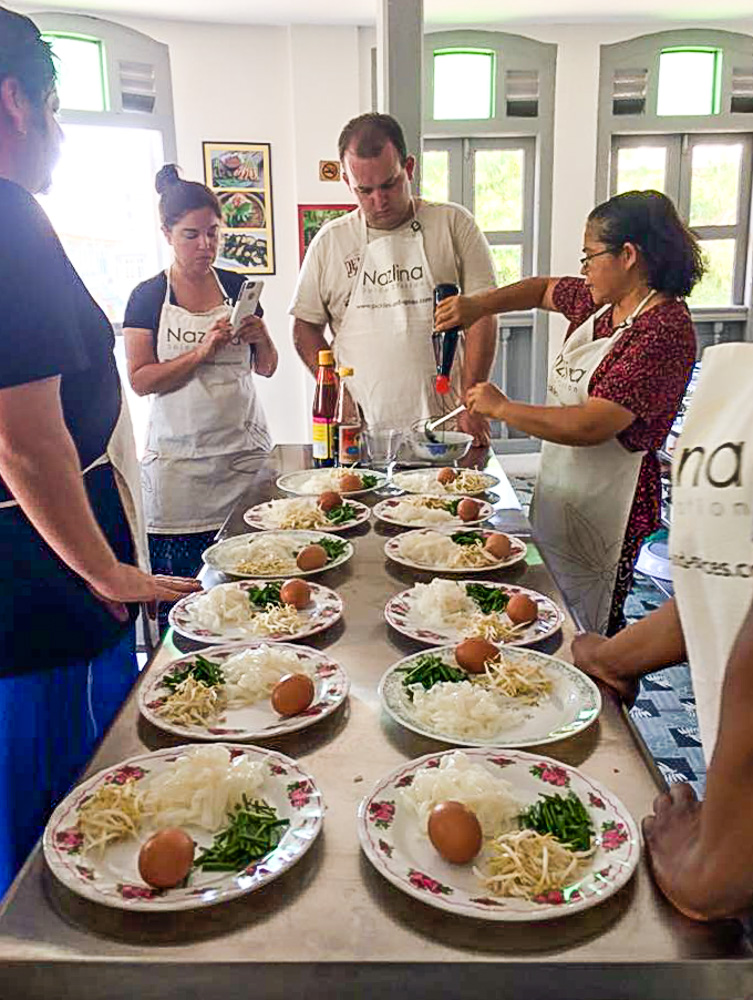 A cooking class is one of the best ways to gain cultural insight into the local culture when traveling. Not to mention, you'll learn some delicious recipes along the way. If you are a traveling foodie like me, spend a day at Nazlina's Spice Station and you won't be disappointed.
There are two class options – the morning class which also includes a market tour or the afternoon session which only includes the cooking class. I highly recommend doing the morning program that includes the market tour.
How to Get There
You can either arrange your own transportation to Nazlina's Spice Station, which is centrally located or you can add an extra $10 to the class cost and she will provide a hotel pick up for you.
After you arrive and meet the other's in the class, your breakfast is arranged. After you specify which kind of Roti Canai you'd like, Nazlina's assistant goes downstairs to the local street market to get your breakfast.
I am always one to try something new, so I opted for the Banana Roti Canai with Potato Curry. This mix of sweet and savory was so delicious and the perfect way to start the busy day.
Campbell Street Market & Chowrasta Market
After breakfast is finished, we go on the tour of the local markets. There are two markets that neighbor each other. As they spill from the indoor section to the street, you will hardly notice when you go from one market to the other. Campbell Street Market is housed inside a UNESCO World Heritage site. It is believed to originally be a Malay cemetery.
The Campbell Street Market is mostly food and there is a wet market in the indoor section, in the mornings. This is where people buy fresh meat and fish, to be butchered. If you are vegetarian, the raw meat might disturb you.
You will also find a large selection of fruits and vegetables. I saw many things that were totally new to me, despite being a chef.
Chowrasta Market is a hodgepodge of everything from food to clothes and souveneirs, typical of Asian markets.
While her assistant gives us detailed information about some of the food products at the markets and had some tastings for us, Nazlina is purchasing some of the ingredients we will need for the cooking class.
There are a lot of cooking staples that are easier for people to buy at the market than do themselves at home like fresh chili paste and freshly grated coconut, both ingredients used widely in Malaysian cuisine.
However, she hasn't left us completely and every once in a while she pops back into the group to impart her vast culinary knowledge on us.
What we Sampled
Freshly made spring rolls from this old man who has been making it for decades. These peanut stuffed fresh spring rolls were so delicious!
Did you know that nutmeg actually comes from a fruit? We got to sample the nutmeg fruit, which tastes like a nutmeg flavored pear as well as preserved nutmeg? No wonder nutmeg always compliments pear desserts so well!
After the market samples and breakfast, we were fortified to start cooking, so it was back to Nazlina's Spice Station.
Cooking Class
It's a large open space with air coming from the windows and ceiling fans. However, make no mistake it will get hot in there, so make sure you have a water bottle with you to keep you hydrated in the hot Malay temperatures.
She has about 8 cooking stations set up. You will take turns and everyone will have the opportunity to participate. While half the class is making the food at the stoves, the others are making chili paste, the salad, etc. and then you switch.
I never felt like I was not fully participating in the class, even when I was just pounding chilies in the mortar and pestle for the fresh chili paste.
I, as well as each student, later had the time to participate in making the main courses also.
You will get to participate in making a full menu. Boy does she pack a lot into one day. So what did we make?
The Menu
Chicken Curry Kapitan
Beef Rendeng
Four Angle Beans Salad
Sambal Belachan (chili condiment)
Char Koay Teow
Buah Melaka
While most of the dishes are made together as groups, each person will get to make their own individual Char Koay Teow (Shrimp & Noodle Stir Fry)
Not everyone got to make the Buah Melaka. It was not included in the menu for the day. However, Nazlima does not kick you out at the end time of the class. If you have time to linger and she has some extra ingredients around, she will show you something else and that is how I got to make this dessert, with freshly grated coconut we picked up from the market. It also utilized fresh pandan leaves.
Most of the class was part of a group. They had to leave to stay on schedule (one of the reasons I dislike organized tours) and then it was just 4 of us remaining. It was a great opportunity to learn so much more Malay culinary history and knowledge from her. She is a treasure trove of information.
Although she has menu's posted on her website, you can request special items or special menu's.
Nazlina, Chef Instructor Extraordinaire
Nazlina was such a great chef instructor and went above and beyond. When we mentioned that we were planning on visiting one of the night markets that evening, she told us the one that we mentioned was usually just full of tourists and overpriced. It's better to go to one of the rotating local ones. Different days they rotate to different locations.
After we asked, she kindly said she would call us at our hotel later and let us know where to go that evening for the night market. About an hour later, she came back in person to tell us where to go and also told us which bus and how to get there.
Additionally, my friend was having some foot problems. Her feet were quite swollen (she's diabetic). Nazlina took her to the Chinese herbalist and because she knew what to ask for, helped my friend with a special tea blend.
This definitely was not in her role as chef instructor. She is the best host and will gladly share any information about navigating Penang with you.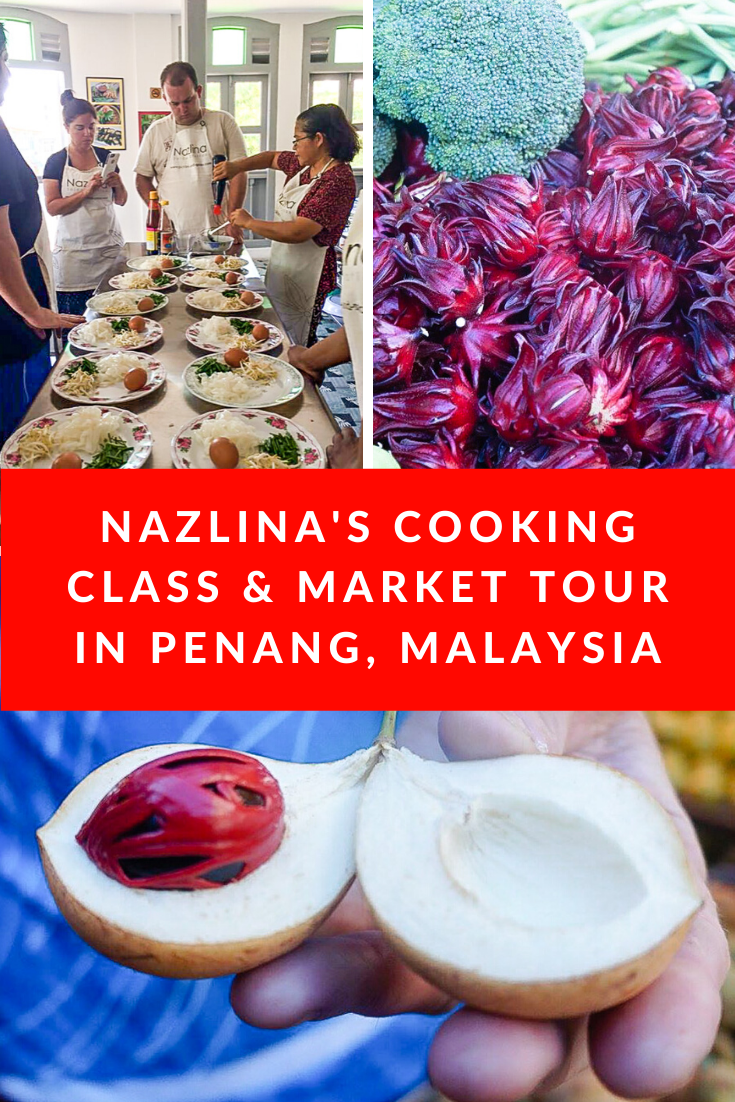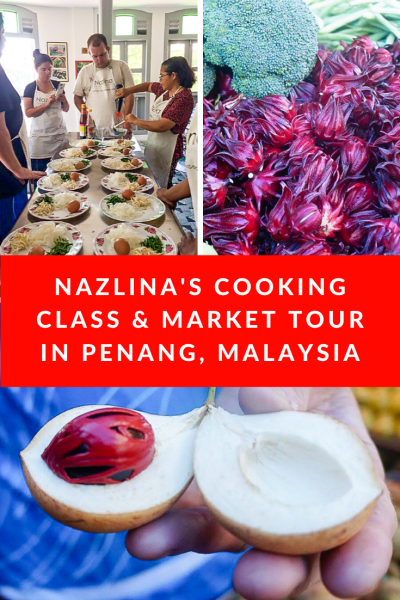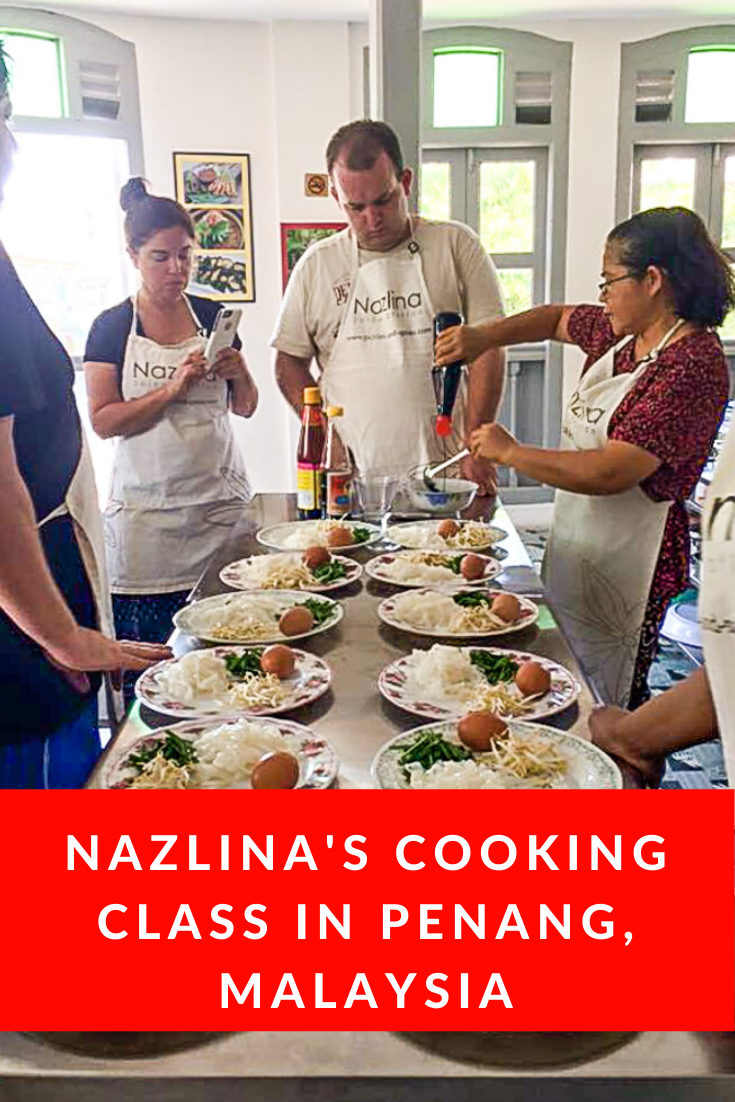 This post may include affiliate links.