Last Updated on January 12, 2020 by Chef Mireille
Scallion Pancakes – A classic Chinese flatbread full of flaky layers make a great holiday appetizer.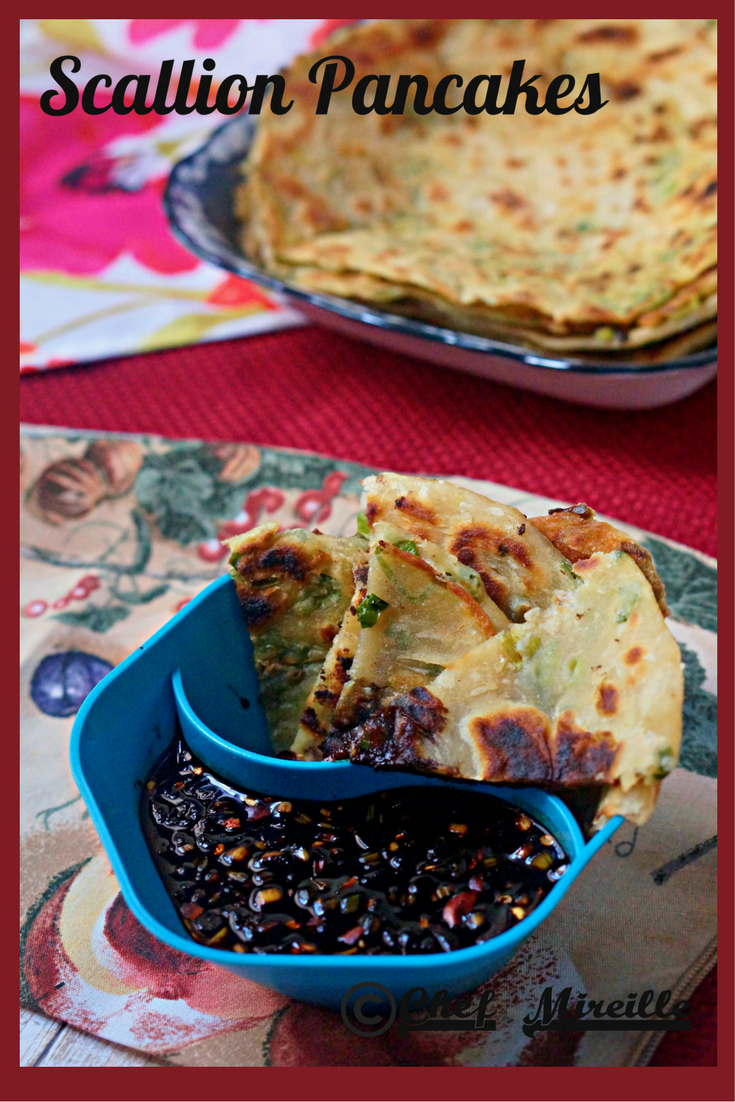 Well, it looks like I am continuing my flatbread theme from last week. Although called pancakes, these are really more of a flatbread. Scallion Pancakes are a standard at most Chinese restaurants and here you will find the step by step instructions so you can make this easy finger food at home yourself. This is a great option to present at your upcoming holiday party.
I am not big on onions. While I use onions in most of my cooking, I use it more as a seasoning than a vegetable. You will never see me eating onion rings or anything with the main ingredient being onions, although lately I have gained an appreciation for caramelized onions. Usually when I use onions, they are chopped finely so they generally disappear into the sauce or gravy of what I am making. With me, my dislike is more about texture than taste, so this suits me perfectly. This goes for most types of onions be it plain yellow onions, red onions, shallots or pearl onions. The one exception is scallions and no food better represents the spring flavor of this genre of onions than Scallion Pancakes.

I will always remember the first time I had these while at an upscale Chinese restaurant with a friend and her parents when I was in college. Scallion pancakes are not generally something you will find at fast food Chinese restaurants, but any more formal Chinese restaurant and it is a required menu item. Crispy flaky layered dough simply flavored with scallions and salt dipped into an infused soy sauce and I was hooked. I guarantee even if you are not an onion lover like me, this is one way where you will fall in love with at least, spring onions.
IN THE MAKING – HOW TO MAKE SCALLION PANCAKES
Serve with sauce.
Flaky layers make a great snack. Why not make these for a change the next time its Family Movie Night at home, instead of boring old popcorn?
Scallion Pancakes
Ingredients
2 1/2

cups

all purpose flour

1/2

cup

canola oil

any neutral oil can be used - corn/vegetable/safflower/sunflower/rice bran

2

tablespoons

sesame oil

2

teaspoons

salt

1

cup

thinly sliced scallions

Dipping Sauce Ingredients:

1/4

cup

soy sauce

2

tablespoons

rice vinegar

1

teaspoon

crushed red pepper

2

teaspoons

sugar

1/4

cup

sliced scallions

1

teaspoon

minced ginger
Instructions
First make the sauce to give the flavors time to infuse while you make the pancakes.

Combine soy sauce, vinegar, pepper and sugar in a bowl. Whisk to combine. Add scallions and ginger. Stir to combine. Set aside until ready to use.

In a large bowl with the flour, add 1 cup of warm water. Knead to make a stiff dough. Cover with a damp towel and leave to rest for 30 minutes.

In a small bowl, combine the canola and sesame oil and mix to combine.

Divide the dough into four equal portions and roll into balls.

On a well floured surface, roll out one of the balls into a rectangle as thin as possible, approximately 9x12"..

Brush the top with oil. Sprinkle with 1/2 teaspoon of the salt and 1/4 cup of the scallions.Starting at the long end, roll tightly. The dough will elongate as you roll to about 18". Cut into two pieces and roll into a coil. Repeat with the other 3 pieces of dough, cleaning the board with a paper towel before each dough you roll out to remove any oil.

Flour the board well. Take one of the coils and roll into a 8" circle.

Heat a skillet with just enough oil to coat the bottom of the pan.

Add rolled out dough the pan and cook until golden brown on both sides. Repeat until all the dough has been cooked.

Serve with sauce.
Did you try this recipe? Leave a comment below.
Please follow me on Instagram @chefmireille or tag me #chefmireille with your pics! I'd love to share them!
Do you know anyone else who likes learning about international food, culture, history and travel? Bring them over here to join the party! Don't forget to use those share buttons!
Start Here to find out how the Schizo Chef can help you with your cooking, travel and other needs!
If you like this recipe, PLEASE LEAVE A COMMENT & SUBSCRIBE!
Check out the Blogging Marathon page for the other Blogging Marathoners doing this BM#66