Last Updated on January 31, 2021 by Chef Mireille
Malaysian Chicken Satay
Satay is one of the most common street foods throughout Southeast Asia. Malaysian style is unique in that it does not include coconut milk and is chunkier than the more common Thai version!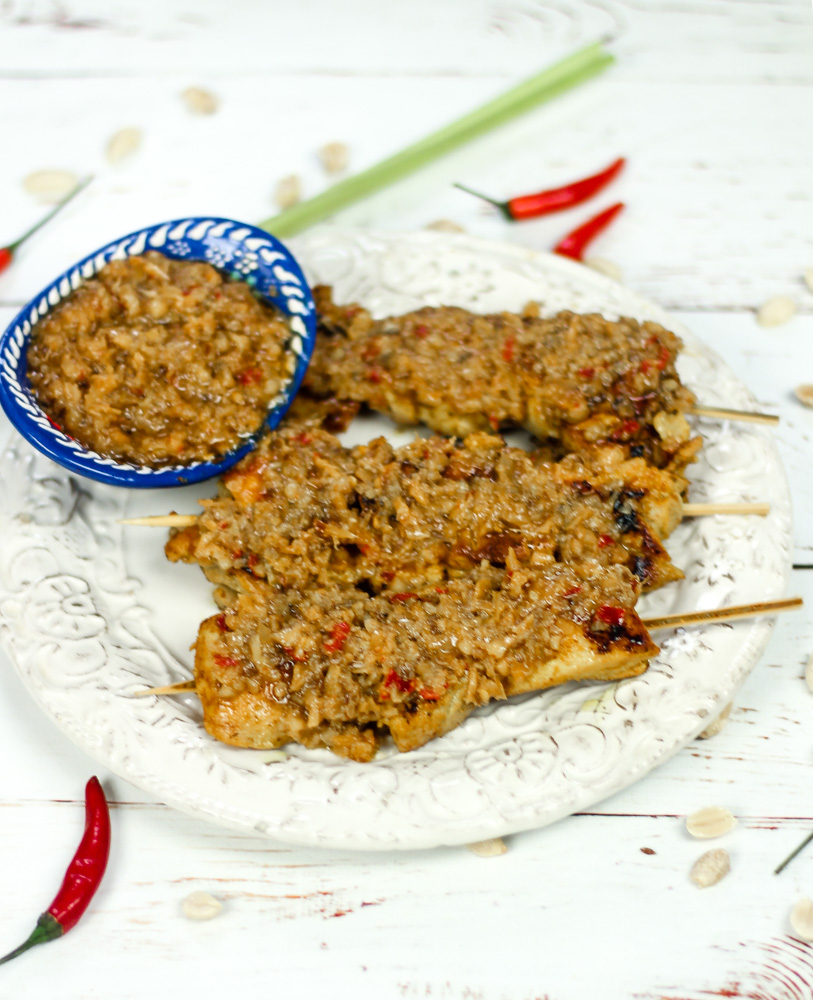 This post may include affiliate links.
Chinese New Year is coming up next week. So this week I am presenting some delicious street food from countries with large Chinese populations to celebrate the Lunar Festival.
When I visited Penang a few years ago, it was at the tail end of the Lunar Festival, so I missed out on a lot of the festivities. However, I was still able to enjoy lots of delicious Malaysian street food!
Whose planning on visiting Malaysia soon? Don't skip out on Penang! Did you know that Penang is home to the largest Buddhist temple in all of Southeast Asia? You can read all about my experience visiting Kek Lok Si Temple here!
RELATED: NOORDIN MEWS – PENANG BOUTIQUE HOTEL
Satay has become very popular in recent years. It is often included in the appetizer section at restaurants and bars. Bars that feature small plates in tapas style establishments often include satay on their menu.
Satay Varieties
Thai Satay is the most popular version in the west. However, satay is popular street food in most Southeast Asian countries. There is variety in the satay sauce from country to country. The only requirement is that the main ingredient should be peanuts.
Thai Satay Sauce is very mild, smooth and creamy with the main ingredients being peanut butter (or smoothly ground peanuts) and coconut milk. Indonesian Satay is very bold and spicy with Sambal Olek (chili paste) and Kecap Manis (sweet soy sauce).
Today's Malaysian Style Satay is very different from these other Satay Sauces in that there is no coconut milk and it is very chunky with coarsely ground peanuts. Malaysian Style Satay is more of a paste than a sauce.
Once you learn how to make this Malaysian Style Chicken Satay, you can use the sauce with any variety of grilled meats including beef, lamb, pork or shrimp. You can even make Vegetarian Satay with tofu.
Malaysian Style Chicken Satay is a great recipe to serve at parties. Most of the prep work can be done the day before, so all you have to do is grill up the chicken the day of the event. Perfect for GAME DAY!
Recipe Tips
There are three components to this recipe and most of it can be done in advance. You can even marinate the chicken overnight in the refrigerator.
Lemongrass Oil – Brush the chicken with this while it is grilling for additional flavor
Satay Sauce
Marinade for the Chicken
Both the Lemongrass Oil and Satay Sauce can be made in advance. Then all you have to do is cook up the chicken!
Also remember, to soak the skewers the night before in water, so they don't burn when placed on the grill. Alternately, you can cook up the chicken on a grill pan and place the meat on the skewers after it is cooked.
The flavor of the coriander seed and the lemongrass really shine through, especially when you brush on all that lemongrass oil, while the chicken is cooking!
These would great to make for summer barbecues also. Just make the sauce beforehand and then brush on after you grill up the chicken!
Have you tried instacart yet? It's how I get all of my fresh grocery items delivered within 2 hours!
Malaysian Style Chicken Satay
Malaysian Style Chicken Satay – Satay is one of the most common street foods throughout Southeast Asia. Malaysian style is unique in that it does not include coconut milk and is chunkier than the more common Thai version!
Ingredients
Marinade Ingredients:
2

lbs.

chicken thighs

boneless and skinless

Juice of 1 lime

¼

teaspoon

ground turmeric

¼

teaspoon

galangal powder

¾

teaspoon

lemongrass powder

3

red bird's eye chillies

finely chopped

2

teaspoons

sugar

2

teaspoons

salt
Satay Ingredients:
2

tablespoons

tamarind paste

2

stalks

lemongrass

1

cup

oil

1

tablespoon

coriander seed

1

teaspoon

cumin seeds

2

"

galangal

1

shallot

3

cloves

garlic

5

red bird's eye chillies

½

cup

peanuts

4

tablespoons

peanut oil

2

tablespoons

palm sugar

½

teaspoon

salt
Instructions
Cut the chicken into large pieces.

Squeeze the lime juice over the chicken pieces.

Toss chicken with the turmeric, galangal powder, lemongrass powder, chillies, sugar and salt.

Leave to marinate for at least 30 minutes while you prepare the oil and sauce.

Place the tamarind paste in a bowl and add 4 tablespoons boiling water. Set aside.

Now let's prepare the lemongrass oil.

Remove the root end and use the top 1/3 of the lemongrass stalks, about 5".

Cut into slices and set aside. This will later be used to make the satay sauce.

With the bottom 2/3 of the lemongrass, first pound it with a mallet to release the flavor.

Cut into 3" strips.

Place the bottom strips in a cup of oil in a saucepan. Bring to a boil.

Turn off the heat.

Once this has cooled, store in a glass jar with the lemongrass included. The lemongrass will continue to infuse the oil.

For the satay sauce, combine coriander seed and cumin seed in a food processor and grind the seeds.

Add sliced lemongrass from reserved from above, galangal, shallot, garlic, and chillies.

Process until well chopped to a paste.

Remove spice paste to a bowl.

In the food processor, pulse the peanuts until they are well chopped, but before the oils have released to start making peanut butter.

Strain the tamarind paste, squeezing out as much liquid as possible. Discard the paste and save the tamarind extract.

In a pot, heat the peanut oil.

Add spice paste and stir fry for about 5 minutes, until the vegetables have cooked.

Add peanuts, tamarind extract and 1 cup water. Bring to a boil.

Add palm sugar and salt.

Reduce heat and simmer on low for 3-4 minutes, until the sugar has melted.

Skewer the meat onto wooden/bamboo sticks.

Grill chicken on a grill pan or charcoal grill outside, until the chicken is cooked through.

While the chicken is cooking, brush with the lemongrass oil.

Coat the skewers with the satay sauce and serve some more of the sauce on the side.
Notes
If using French shallots, use 1. If using Asian shallots, use 2.
Galangal can be substituted with ginger.
Nutrition
Calories:
418
kcal
|
Carbohydrates:
9
g
|
Protein:
21
g
|
Fat:
33
g
|
Saturated Fat:
7
g
|
Cholesterol:
111
mg
|
Sodium:
825
mg
|
Potassium:
353
mg
|
Fiber:
1
g
|
Sugar:
6
g
|
Vitamin A:
88
IU
|
Vitamin C:
1
mg
|
Calcium:
30
mg
|
Iron:
2
mg
Did you try this recipe? Leave a comment below.
Please follow me on Instagram @chefmireille or tag me #chefmireille with your pics! I'd love to share them!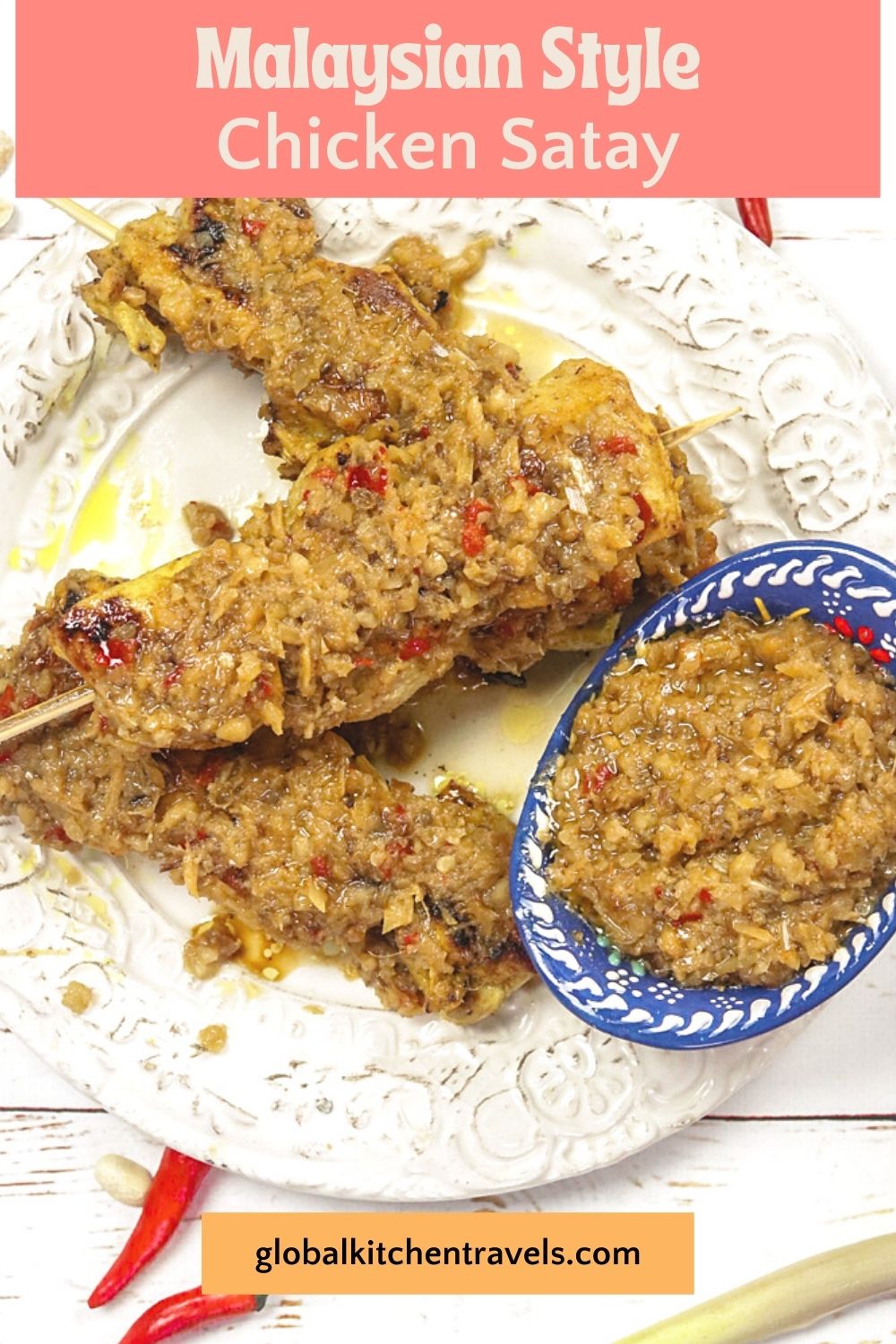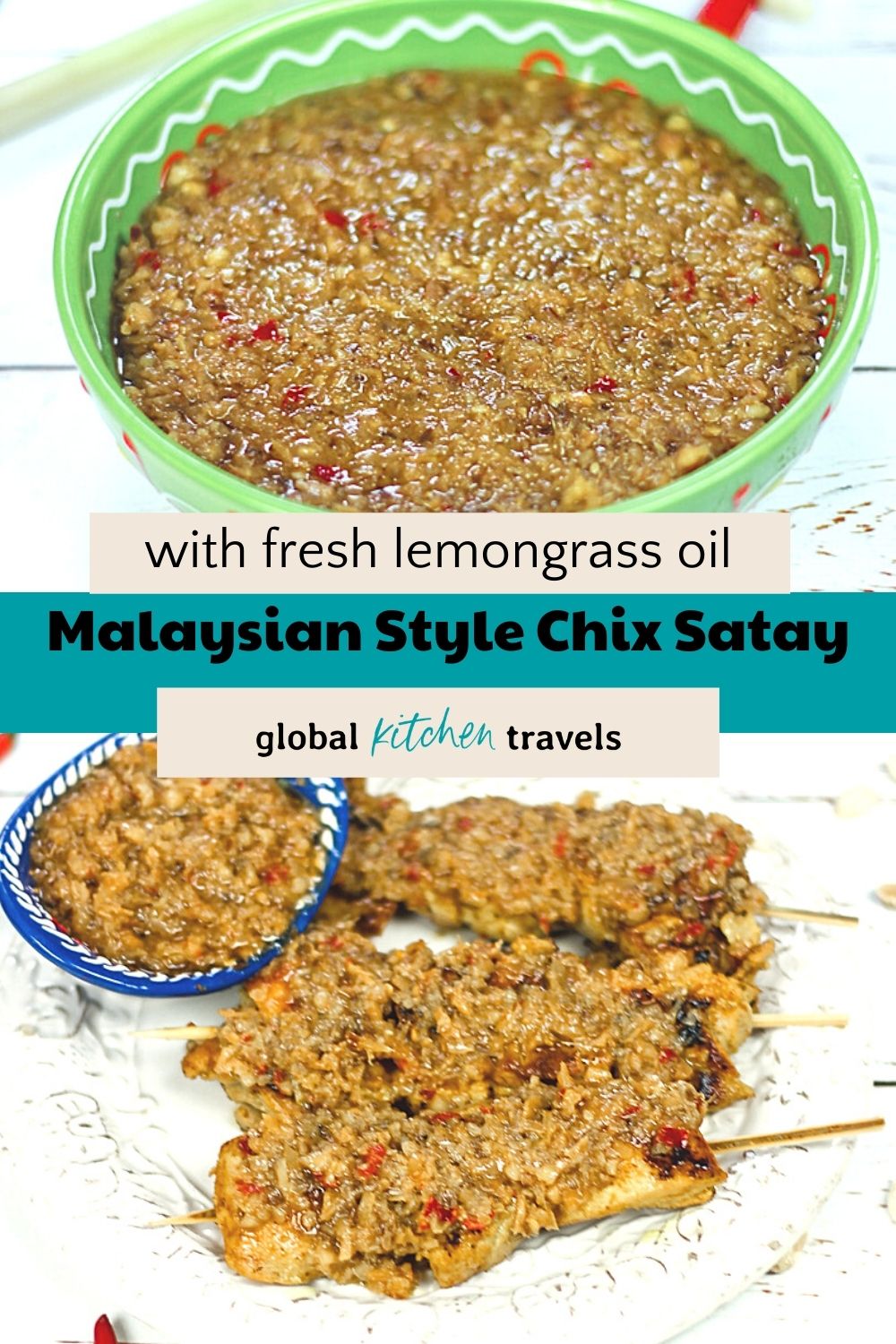 Don't forget to visit the RECIPE INDEX with over 1000 recipes from around the world including lots of Vegetarian Recipes and Gluten Free Recipes!