Last Updated on December 27, 2020 by Chef Mireille
Hong Kong Noodle Soup – This super simple soup is  fast and easy to put together. Low on effort, but high on flavor!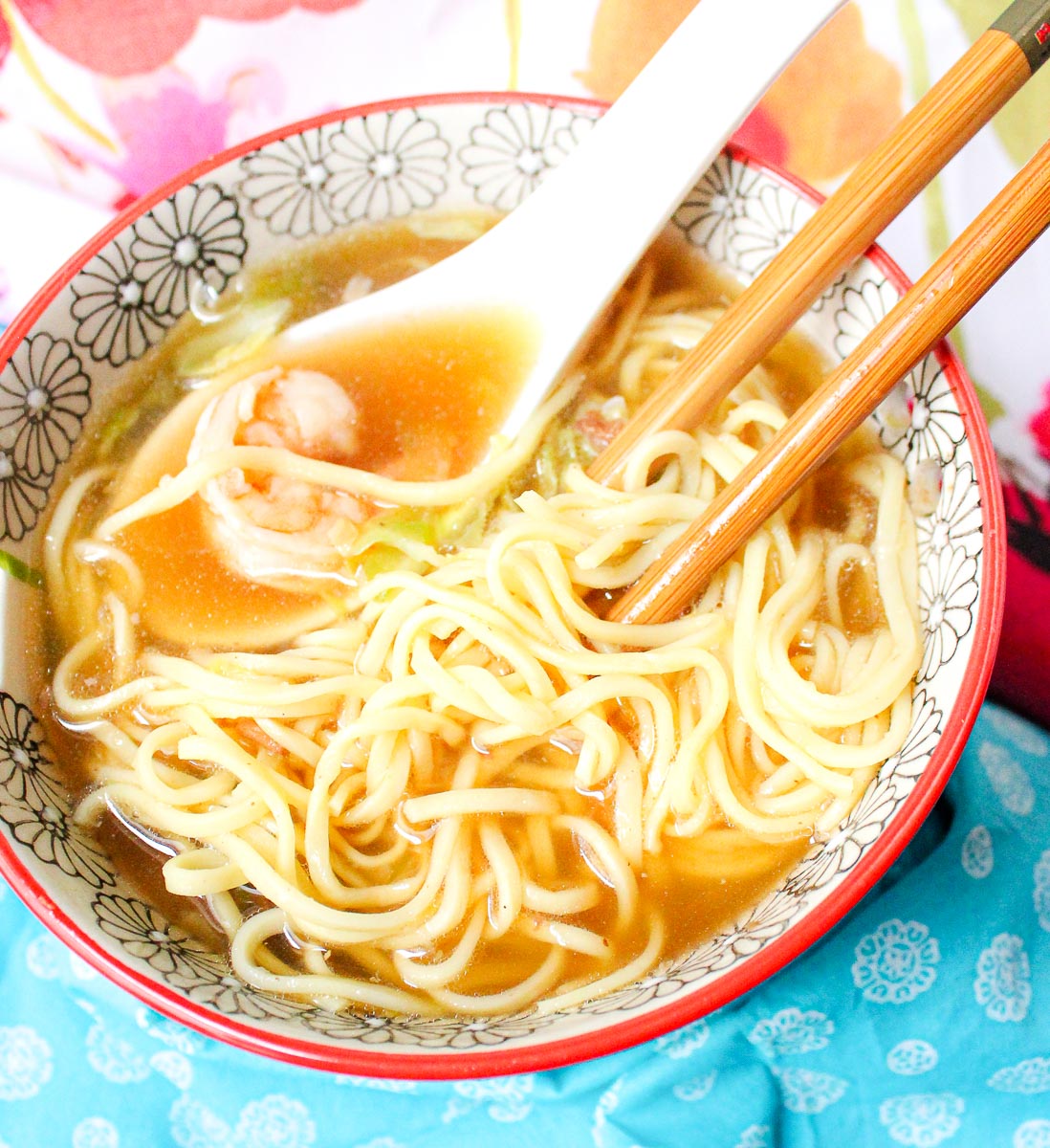 This post may include affiliate links.
I am always inspired to learn about other cultures through food, hence the inclusive global theme of this blog. As such, the world is full of so many new and delicious recipes to try. Because of this, I rarely do a recipe more than once.
With the 1000+ recipes on the blog, I can probably count on one hand the number of recipes I have made more than once. One of these is char sui. Although I had grown up eating char sui with the large Chinese population in the Caribbean, when I developed the recipe for making the home made marinade instead of using the store bought jarred version, there was no comparison.
I have made char sui several times since so when I had some leftover in the fridge, it was the perfect time to try the recipe for this Hong Kong Noodle Soup.
This recipe I adapted from  Entree to Asia, which I received as a housewarming gift many years ago from a co-worker. This book includes recipes from all throughout Asia including China, Thailand, Malaysia and Singapore. Once you have your char sui already made, this soup is put together very quickly.
For other uses of leftover char sui, you can also try Char Sui Nasi Goreng.
However, if you don't have char sui or don't eat pork, you can easily substitute with whatever cooked meat you have about – chicken, roast beef, lamb – can all be added into this delicious noodle soup.
If you would like to make a vegetarian version, omit the meat and the shrimp all together.
Chinese New Year
For Chinese New Year, it is good luck to eat noodles for longevity. So why not whip this bowl of soup not only for a for a delicious dinner any time of year, but for some good luck to go with it during the lunar festival.
If you would like to check out some other Chinese Recipes to add to your Lunar Festival Menu or whenever you are just in the mood for Asian Food!
Chinese Recipes
If you want to check out a quick video on how I arrange the soup in the bowl, check it out here!
This soup has all those different flavors that Asian cuisine is known for – salty, sweet, spicy – the perfect bowl of soup on a cold winter night. The noodles are hiding out at the bottom of the bowl…like a noodle surprise 🙂
Now let's check the ingredients you will need to make Hong Kong Noodle Soup.
The Ingredients
2 teaspoons sugar
2 teaspoons salt
scallions
brussel sprouts or bok choy
 shrimp
char sui or any leftover cooked meat like roast pork or chicken
fresh noodles (dried noodles can also be substituted)
Have you tried instacart yet? It's how I get all of my fresh grocery items delivered within 2 hours!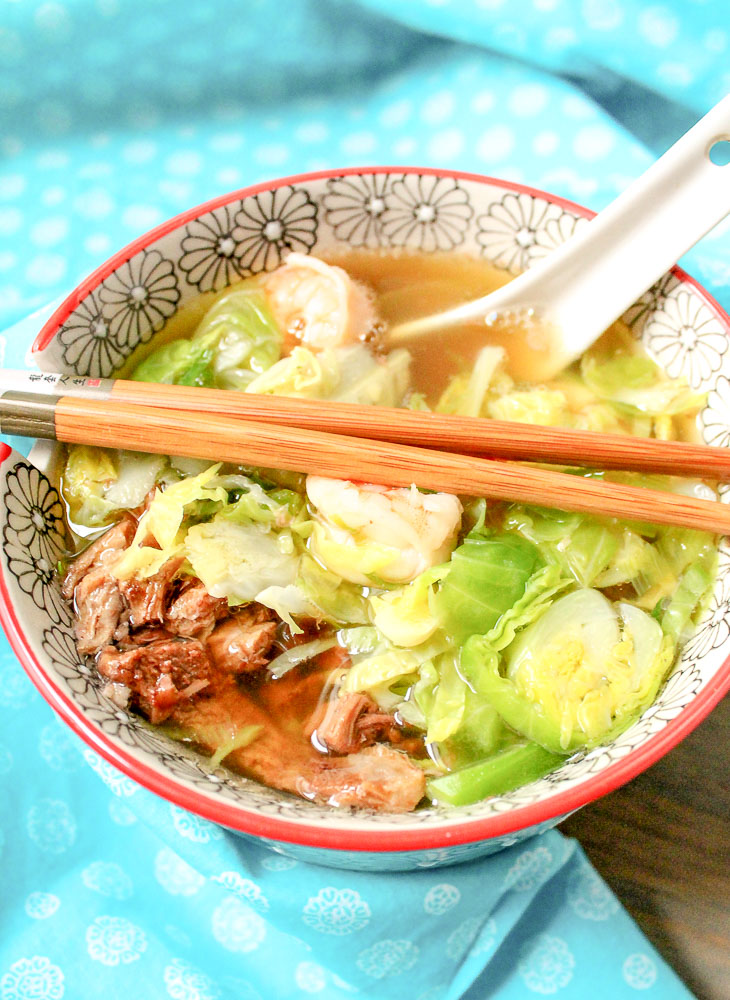 Hong Kong Noodle Soup
Noodle Soup to celebrate Chinese New Year means longevity. Made with shrimp and char sui pork, it is a filling soup that can serve as a meal.
Instructions
In a large pot, combine 8 cups of water with soy sauce, rice wine, sugar, salt, oil, pepper and scallions. Bring to a rolling boil.

Add brussel sprouts and cook for 2 minutes. Add shrimp and cook for 1 minute more. Using a spider or a slotted spoon, remove brussel sprouts and shrimp.

In another pot of boiling water, cook noodles for 2 minutes until tender.

To serve, place a portion of noodles in the bottom of the bowl. Add a little bit of the pork, brussel sprouts and shrimp. Ladle about 2 cups of the broth for each serving.
Notes
Bok choy was used in original recipe, but any member of the cabbage family can be substituted.
If you don't eat pork, any leftover cooked meat can be used instead of the char sui.
Nutrition
Calories:
325
kcal
|
Carbohydrates:
50
g
|
Protein:
19
g
|
Fat:
5
g
|
Saturated Fat:
1
g
|
Cholesterol:
131
mg
|
Sodium:
1116
mg
|
Potassium:
288
mg
|
Fiber:
3
g
|
Sugar:
7
g
|
Vitamin A:
336
IU
|
Vitamin C:
27
mg
|
Calcium:
90
mg
|
Iron:
2
mg
Did you try this recipe? Leave a comment below.
Please follow me on Instagram @chefmireille or tag me #chefmireille with your pics! I'd love to share them!
Yum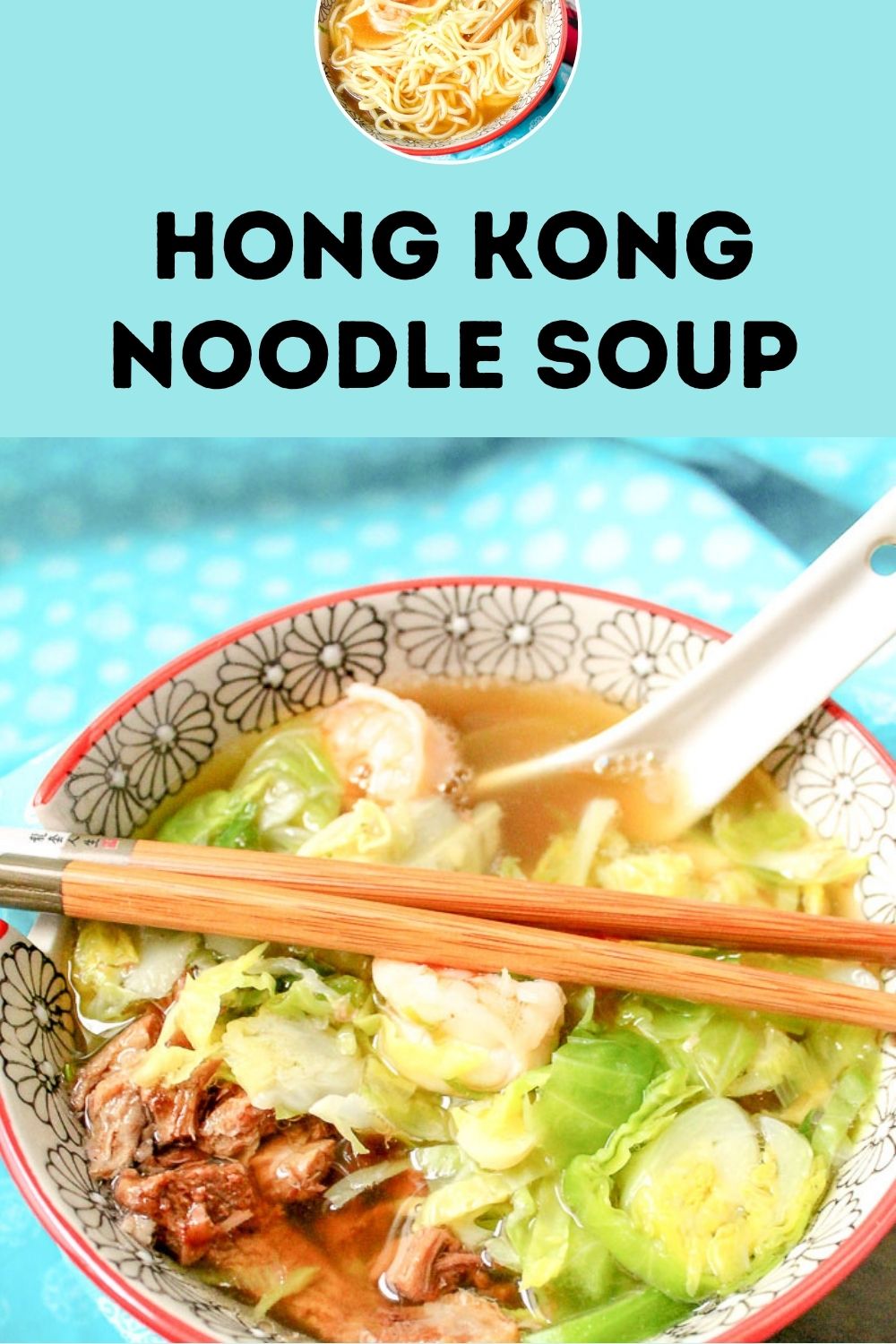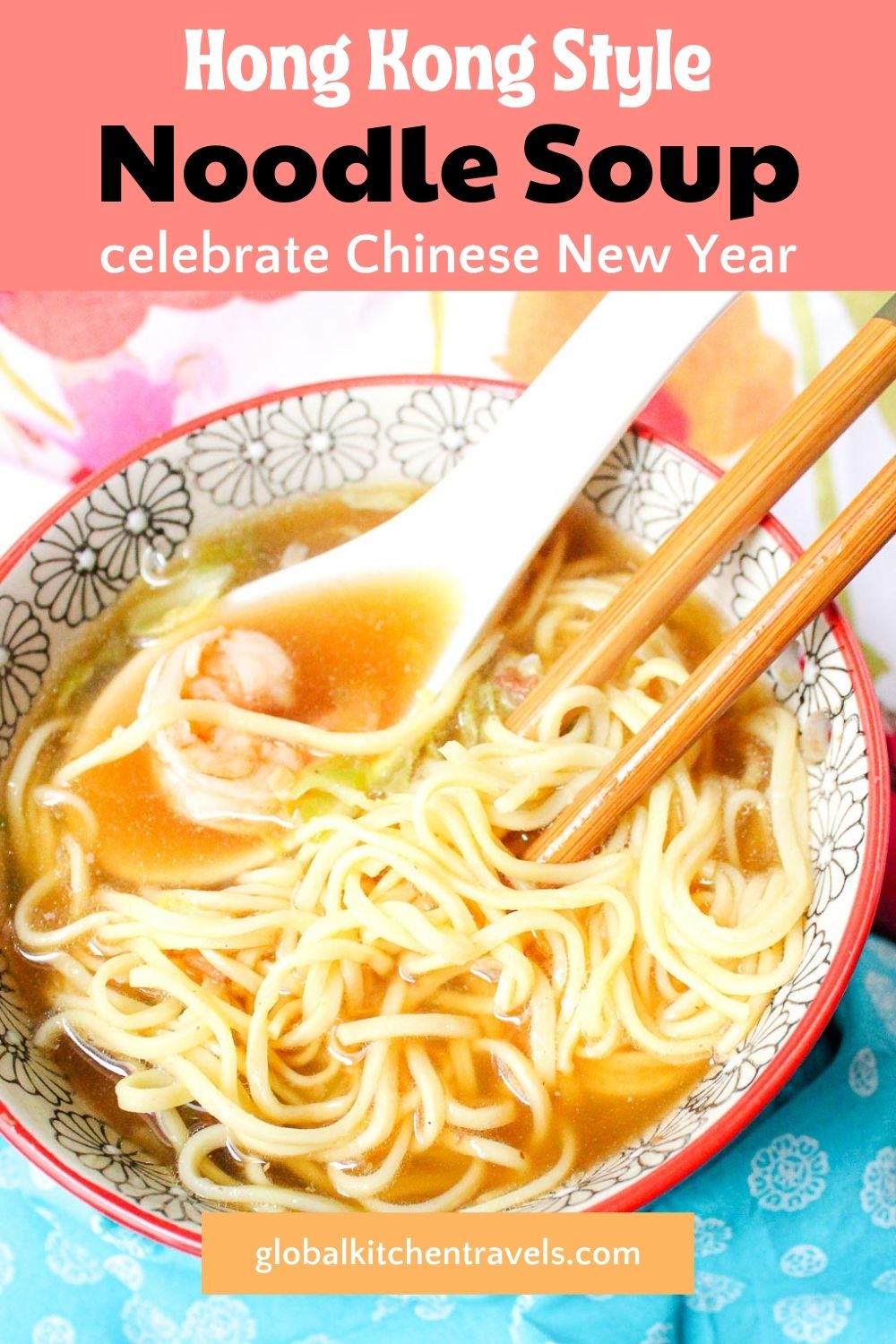 Don't forget to visit the RECIPE INDEX with over 1000 recipes from around the world including lots of Vegetarian Recipes and Gluten Free Recipes!