Last Updated on January 11, 2023 by Chef Mireille
Pandan Sponge Cake is one way to celebrate Chinese New Year – Malaysian style. These steamed pandan sponge cakes are light and fluffy, and are a delicious snack for any time of the day. Enjoy making this easy Malaysian Puteri Ayu recipe for all of your celebrations!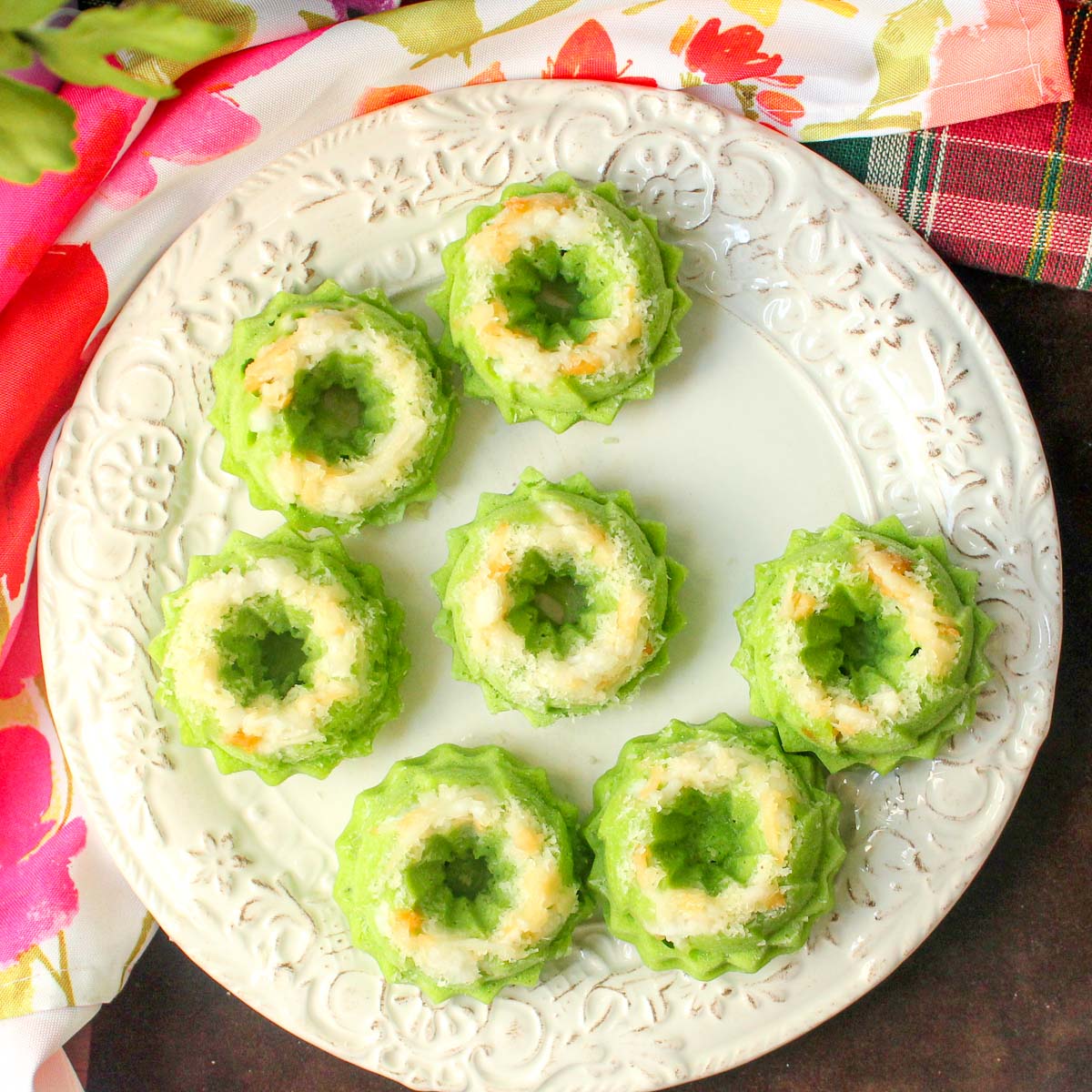 This post may include affiliate links.
Chinese New Year is celebrated around the world in many countries with large Chinese populations. One of those countries is Malaysia, which I was lucky to visit in 2016.
I only visited Penang island, as this is the culinary capital of Malaysia. This island is part of Malaysia and one of the main things I wanted to bring back home from my trip was a Roti Jala bottle. This is a special bottle with multiple spouts to make the famous Malay pancakes/flatbread.
Malaysian Puteri Ayu
Malaysian cuisine is one of my faves and I had been wanting to try Roti Jala for awhile. After checking out the malls and seeing no sign of it, I asked my hotel and they told me to try Chowrasta Market. Chowrasta is the largest community market where you can get everything from clothes to fresh fish. I looked and not a sign of it.
Finally, strolling around I came upon completely by accident a culinary superstore called POTS. Any type of culinary gadget you need for either home use or commercial can be found at POTS. I got my Roti Jala mold and when strolling around the store also picked up the molds to make these Malaysian Puteri Ayu – a.k.a. Steamed Pandan Sponge Cake.
When I picked up these molds, I had never heard of the dessert before and had no idea how to actually use them. However, since I knew I wouldn't have the opportunity again to visit the store again, I wanted to pick up other things that were small and easy to pack and unique to Malaysia. There were so many things I was tempted to get, but I had to be mindful of the space in my suitcase.
GKT Traveling Tip
When you are traveling around 4 countries on one trip, you want to pick up unique things from each country. From blue pea flower to Thai curry paste and gifts to bring back home, my suitcase was practically bursting at the seams.
When I saw the label that said Kuih Ayu mold, all I knew is that I am sure it would be something interesting and delicious – after all it's Malay cuisine – one of my faves! After doing a bit of research, I learned that it is more commonly called Puteri Ayu and I adapted this recipe to finally try working with the molds.
What Does Steamed Pandan Sponge Cake Taste Like?
Pandan is a popular ingredient used in Malaysian cooking. It's a leaf that's dark green in color, and has a strong taste that's somewhere in between vanilla and coconut. When cooked the pandan adds a great earthy, slightly sweet flavor that's unique and really delicious.
In this recipe, pandan is combined with shredded coconut, coconut milk, and basic pantry staples to create a soft and fluffy, tender steamed sponge cake. They are not too sweet, but are packed with lots of bright flavors.
Steamed Pandan Sponge Cake is a great treat for Valentine's Day…for those non chocolate lovers. It's quick and easy and works just as well in silicone muffin molds. As far as sweet treats go, this is a pretty low fat option so your waistline does not have to suffer…just because it's Valentine's Day! Truth be told, these light and airy sponge cakes are perfect for any occasion!
Possible Substitutions
You are likely to find fresh leaves and pandan paste at a local Asian market. However, in a pinch vanilla paste can be used as a substitute. You can also include a sprinkle of matcha powder to add some of that grass-y flavor and green color.
Ingredients to Make Malaysian Puteri Ayu
Here is what you need to make these delicious low fat Pandan Cakes:
eggs
3 pandan leaves
pandan paste or green food coloring
frozen grated coconut
Have you tried instacart yet? It's how I get all of my fresh grocery items delivered within 2 hours!
How to Make Gluten Free Malaysian Puteri Ayu
Use rice flour instead of all purpose flour. This is a variation popular in the Philippines.
Equipment Needed
Unfortunately, I don't know where you can get the Malaysian Puteri Ayu mold in the US, so when you make it to Malaysia be sure to find a cooking store so you can get them. In the meantime, you can use silicone muffin molds as a substitute, although they won't have the traditional shape to it. Indonesia also has a lot of similar dishes to Malaysia with slightly different names, so you might be able to find it if you visit Indonesia, but I can't guarantee it!
Silicone Muffin Molds
How to Store Steamed Pandan Sponge Cakes
For the best taste, let the cakes cool down completely and then individually wrap in plastic wrap. Place them in an airtight bag or container together, and keep in the refrigerator for up to 5 days. Unwrap and reheat for 10-15 seconds in a microwave before enjoying.
These Malaysian Puteri Ayu also freeze very well. Store cooled and wrapped cakes in the freezer for up to 3 months, and defrost in the fridge overnight.
Malaysian Puteri Ayu – Steamed Pandan Sponge Cake
Malysian steamed sponge cakes
Instructions
Combine pandan leaves and ½ of the coconut milk in a blender or food processor. Blend for a few minutes. Strain with a fine mesh strainer and reserve the coconut milk.

In a small bowl, combine coconut, 1 teaspoon sugar and cornstarch.

Brush the molds with oil. Sprinkle a little of the coconut mixture into each mold. Sprinkle the dessicated coconut.

Press one mold into each other so that the coconut really sticks to the bottoms.

In a large bowl, whisk the eggs and 1/2 cup sugar until light and fluffy.

Add baking powder, cream of tartar, flour, salt and pandan coconut milk. Whisk until thoroughly combined. Add additional coconut milk and whisk until smooth.

Fill each mold with some of the batter.

Cook in a bamboo steamer for 10 minutes.
Notes
My coconut layer got a little brown because I had used non stick spray. If you just brush with oil, this should not happen.
Use rice flour instead of all purpose flour to make it gluten free.
Nutrition
Calories:
106
kcal
|
Carbohydrates:
18
g
|
Protein:
2
g
|
Fat:
3
g
|
Saturated Fat:
2
g
|
Cholesterol:
25
mg
|
Sodium:
56
mg
|
Potassium:
99
mg
|
Fiber:
1
g
|
Sugar:
8
g
|
Vitamin A:
37
IU
|
Vitamin C:
1
mg
|
Calcium:
14
mg
|
Iron:
1
mg
Did you try this recipe? Leave a comment below.
Please follow me on Instagram @chefmireille or tag me #chefmireille with your pics! I'd love to share them!
You might also like:
Don't forget to visit the RECIPE INDEX with over 1000 recipes from around the world including lots of Vegetarian Recipes and Gluten Free Recipes!