Last Updated on January 12, 2020 by Chef Mireille
Kuih Dadar – Bujang Dalam Selimut – Asian Stuffed Pandan Crepes – These Coconut Stuffed Pandan Crepes are a very popular street food in Malaysia and Indonesia as well as hawker food in Singapore.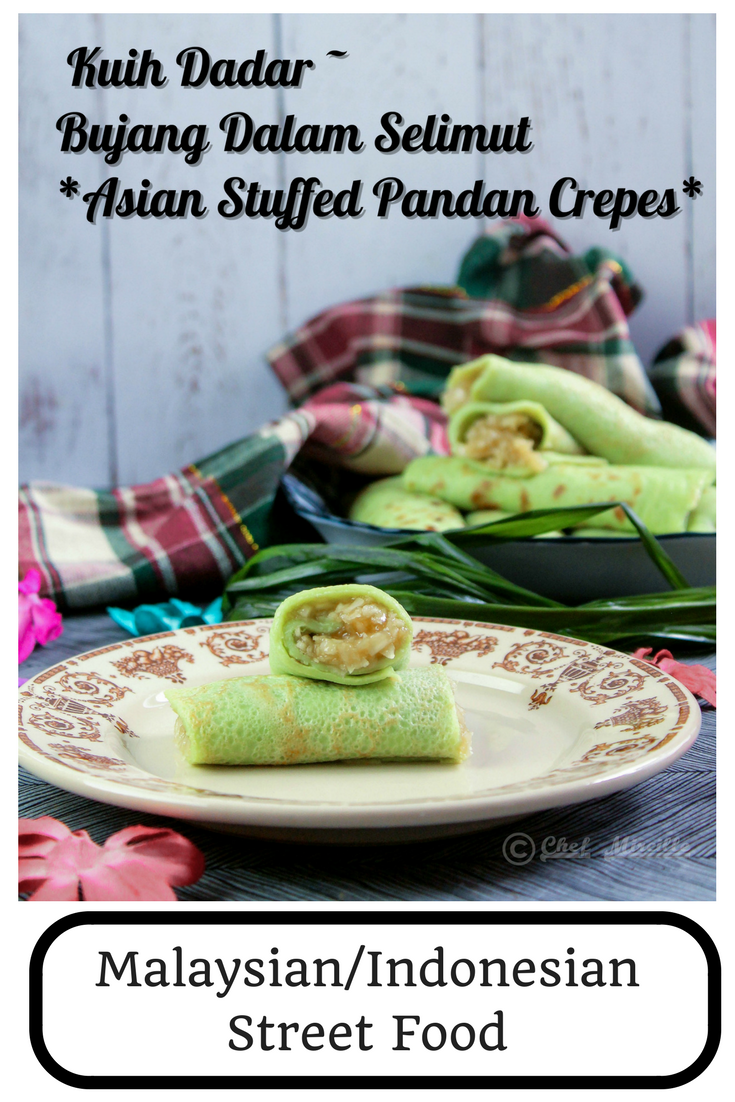 Today is #ShroveTuesday #MardiGras #FatTuesday and #PancakeDay – so the #BreadBakers group is celebrating our love of pancakes. Pancakes are essentially skillet fried bread, so why not? Pancakes come in various forms – from thin crepes to yeast risen high and fluffy pancakes. They can be sweet or savory. I have about 2 dozen pancake recipes already published here from Sri Lanka, Thailand, Korea, Sweden…not to mention a bunch of varieties of the all American pancake. Do you think I love pancakes 🙂 – So I am so glad that Wendy picked this theme – the chance to make yet another pancake.

Malaysian cuisine and Indonesian have many similar dishes and they all meet together in Singapore, so these can be found in any of these countries. Known as Kuih Dadar in Malaysia and Bujang Dalam Selimut in Indonesia, these are popular street food items in these countries, except Singapore where selling food on the street is illegal. There you will have to go to a hawker center to find them.

A few things to know before we get to the recipe. Pandan is the most popular seasoning used in sweets in Southeast Asia. It is extracted from the leaves of the Screwpine tree, also known As Bai Toey in Vietnam. It is used in these countries the way we use vanilla extract and it is sold in various forms. If you have a really good Asian market that sells Southeast Asian products, you can usually find the leaves in the frozen section. You can also get the extract, essence or paste. I love the flavor of pandan. It's one of my top three spices, along with saffron and cardamom that I find just intoxicating with their heady aromas. Once you try something made with pandan, you will forget all about vanilla extract. If you can't find it in a market near you, you can also order the paste from Amazon or Walmart. Pandan is what gives many sweets and breads from Southeast Asia its characteristic green color. You may have seen these crepes with a brighter green color. In those cases, usually food coloring is added. It should only be a subtle green color.
Crepes are a little more challenging to make than pancakes. You can't just drop spoonfuls of batter onto the skillet and let them puff up. Here are a few basic tips to help your crepes comes out perfect.
Crepe Making Tips
The pan should be heated, but not smoking. If the pan is too hot, the crepe will cook too fast before you have time to spread the batter.
Once the pan is heated, crepes should be cooked on low heat.
Use a pastry brush to oil the pan. You want just enough oil to barely coat the pan.
Use a ladle for pouring batter. This will make it easier to slowly pour the batter as needed for making crepes.
Start in the middle and slowly let a little bit of the batter in the center of the skillet. Slowly drizzle the batter in a circular motion slowly filling in a circle from the inside out, while rotating the pan to get the crepe as thin as possible.
Use a skillet as flat as possible with virtually no sides.
IN THE MAKING – HOW TO MAKE KUIH DADAR
Chinese New Year is on Friday and this is one of the popular street foods Malaysians will be celebrating the holiday with.
Kuih Dadar – Bujang Dalam Selimut – Asian Stuffed Pandan Crepes
These coconut stuffed pancakes are popular in Malaysia, Indonesia and Singapore
Ingredients
1

cup

all purpose flour

1

lightly beaten egg

1 ¼

cups

coconut milk

3

tablespoons

pandan extract

A few drops of pandan paste

oil

for cooking crepes.

Filling Ingredients:

1

knotted pandan leaf

½

cup

palm sugar

½

cup

water

14

oz.

package frozen grated coconut

defrosted (or freshly grated coconut)

1

tablespoon

tapioca starch

or cornstarch
Instructions
To make the filling, combine pandan leaf, palm sugar and water in a saucepan. Cook until the sugar is all melted.

Remove pandan leaf. Add coconut and tapioca starch. Mix until thoroughly combined.

Cook on a medium simmer for 5 minutes, until thickened.

Let it cool for a bit white we make the crepes.

In a large bowl, sift flour and salt.

Add egg, coconut milk, and pandan extract.. Mix until thoroughly combined.

Add the pandan paste and mix until thoroughly combined. Add more if you prefer a more vibrant green color.

Heat a skillet with low sides.

Using a pastry brush, coat the pan with a little oil.

Using a 2 oz. ladle, slowly drizzle the batter starting in the middle of the pan and then moving in a circular motion from the inside out, while simultaneously slowly rotating pan.

Cook 1-2 minutes on each side until set.

Remove from pan and repeat until all the batter has been used.

Divide coconut filling into 8 portions.

Spread one portion on the end of one pancake and roll up into a roll.
Did you try this recipe? Leave a comment below.
Please follow me on Instagram @chefmireille or tag me #chefmireille with your pics! I'd love to share them!
Don't forget to check out the pancakes from my other #BreadBakers pals!
#BreadBakers is a group of bread loving bakers who get together once a month to bake bread with a common ingredient or theme. Follow our Pinterest board right here. Links are also updated each month on this home page.
We take turns hosting each month and choosing the theme/ingredient.
Do you know anyone else who likes learning about international food, culture, history and travel? Bring them over here to join the party! Don't forget to use those share buttons!
Start Here to find out how the Schizo Chef can help you with your cooking, travel and other needs!
If you like this recipe, PLEASE LEAVE A COMMENT & SUBSCRIBE!