Last Updated on May 2, 2018 by Chef Mireille
#TravelTuesday – Restaurant Review – Samrat – Mumbai, India – To experience a full traditional thali experience, Samrat is a must in Mumbai. You will get to experience the full nuances of Gujarati cuisine!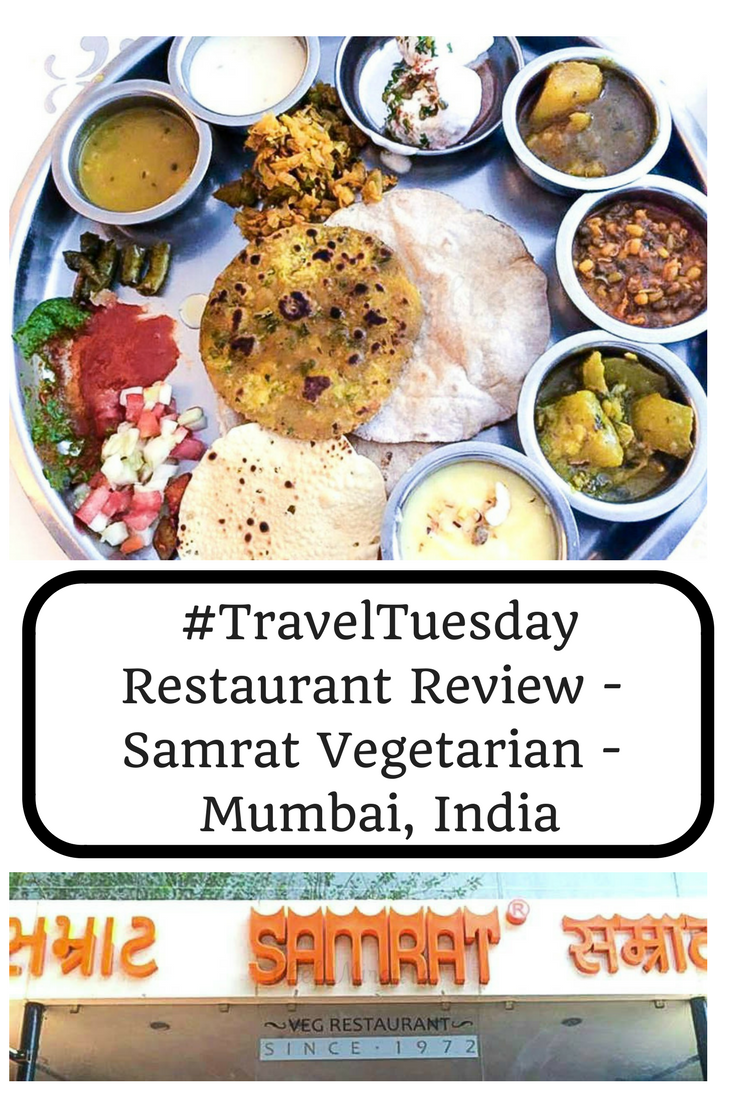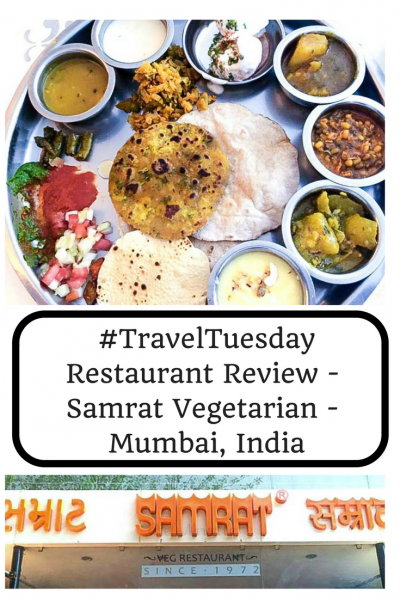 My first trip to India was a whirlwind 3 days in Mumbai. Via my food blogging tribes, I have a bunch of Indian based food blogger friends so when the cheapest return flight from my trip to Thailand had a return trip via Mumbai, I jumped on it as it would FINALLY give me the opportunity to meet a few of my food blogger friends. Pradnya was so gracious and invited me to stay with her.
Flying Air India (something I wont be repeating), the flight was characteristically delayed by 3 hours, but with no complaint there was Pradnya waiting for me at the airport at 1am with her husband and son in tow. I was a little out of it the first day as I had had an accident in Bangkok the day before and had stitches in my foot and I was walking with a limp. We drove to a wholesale spice market and that was enough activity for me on day 1.
By Day 2, the pain in my foot had stopped and I was ready to dig into the assault of the senses that is Mumbai. Coming from "the city that never sleeps" I am used to big city life, but Mumbai is on a whole other level. The amount of people and non stop traffic and activity on the streets is just amazing. With little regard to traffic lights, I still wasn't able to exactly figure out how to cross streets on foot. My one complaint about my blogger friends in Mumbai was that they were too nice and wouldn't let me pay for ANYTHING. Because of that, I researched the price after I came back so I can let you know. I was stunned when I saw the price – All of this food and an awe inspiring experience was less than $10 USD for our amazing lunch! In NYC, something like this would have run about $30+. This was an experience that truly will let you dig deep into Indian regional Vegetarian cuisine.
India has a very large Vegetarian population as many strict Hindu's don't eat meat. With so many Vegetarians, they have developed complex cuisines that are so flavorful, even carnivores like me don't miss the meat. Pradnya and another of our Mumbai based blogger buddies took me to Samrat. As I stepped off the noisy, busy Mumbai street, the peace, quiet and serenity of Samrat let me know that I was in for a treat.
We were seated and immediately greeted with cool water and Masala Chaas, a spiced buttermilk drink. As this cooled us off from the hot and humid and Mumbai heat, the staff started loading up the table in the blink of an eye. Although Samrat has menu items that you can order by entree, the girls had decided we would have the traditional thali meals featuring Gujarati cuisine. Thali's are Indian meals where many small portions of food are served instead of 1 main course. I have presented many thali's here on this blog from different states of India.
CHAAS
A few crunchy snacks with the requisite chutneys and pickles and then they started filling up our thali platters with the empty bowls.
I knew I was in for a treat as one by one the bowls started filling up. Large spoonfuls of Rice & Kichdi (rice and lentil porridge) in the center of the plate and I thought it was time to dig in, but then there was still the breads. Paratha and Thepla (fenugreek flatbread) and you think that's it but then the Poori (baloon fried bread) came.
You are not even finished eating and the staff is constantly coming around trying to refill your thali with more rice and breads. You can't even finish what's in front of you and here they are trying to fill you up with even more food. Each dal and curry was flavorful and unique on its own, with each having different flavor profiles. I had thoroughly enjoyed my meal and was ready for a nap 🙂 …but then there was still dessert…
We had a choice of 1 of 2 desserts and I had the smooth and silky Mango Shrikhand.
To experience traditional Gujarati cuisine in an upscale setting with excellent customer service and attention to detail, I highly recommend Samrat.
This restaurant gets the full 5 stars in my opinion!
Samrat
Ground Floor, Prem Court Building
Jamshedji Tata Road
Churchgate, Mumbai
91 22 4213 5402
Ready to book your trip to Mumbai?


If you like this post, PLEASE LEAVE A COMMENT & SUBSCRIBE