Last Updated on May 19, 2020 by Chef Mireille
Appelsinris – Norwegian Rice Pudding creates a delicate balance of rich and luscious cream with refreshing citrus.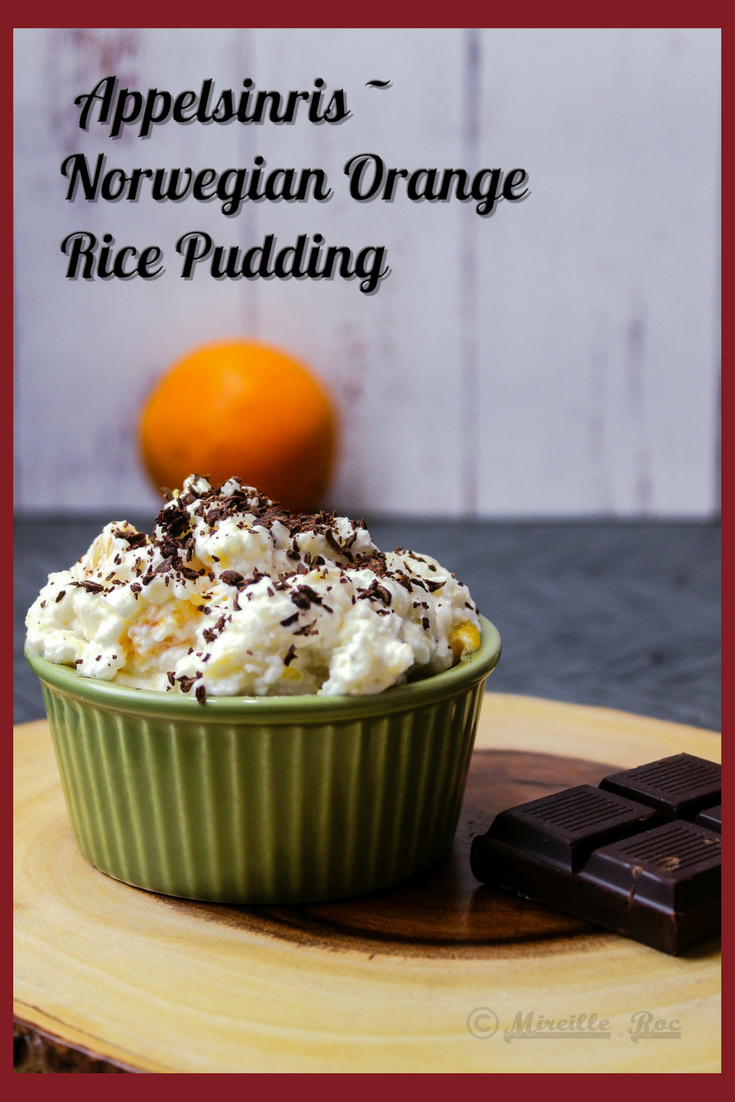 Almost every country in the world has a version of rice pudding and I am a rice pudding fanatic and have been on a mission to try every country's version of rice pudding. Some countries even have several versions of rice pudding and Norway is one of those countries.

Plain rice pudding which is pretty standard in most countries with just rice cooked with milk, sugar and usually cinnamon is known in Norway as Risengrynsgrot. Usually, leftover of this pudding is used to make Appelsinris, but I have created this version without having the reserved Risengrynsgrot.

Oranges are very common in Norway and it is one of their top imported products. It's very common to take oranges on skiing trips and orange flavoring in breads and sweets is very common, especially during Easter. In Norway, the appearance of oranges in every type of dessert signifies the switch of seasons when winter is just about over and it's time for Easter. Every Easter cake or bread in Norway is flavored with orange. So I am presenting this orange flavored rice pudding to you just in time for Easter, adapted from Arctic Grub.
Vanilla sugar is quite a common supermarket ingredient in Europe, but here it is not available unless you go to one of those specialty shops that sells flavored salts and sugars. I make my own by scraping out the insides of a vanilla bean, then chopping the bean into pieces. Combine in a food processor with 4 cups of sugar to grind the vanilla. Keep it in your pantry and you will find yourself adding it to all sorts of things. I put in my coffee and it's great sprinkled on strawberries. You can also just use regular sugar in this recipe and add a little vanilla extract.
You can also skip the beginning of the recipe if you have leftover rice pudding. Just add the cream and orange and you've repurposed plain old rice pudding into something fantastic. This makes a great #glutenfree dessert.
…and if you're as much a fan or rice pudding take a look at some of my others…
Rice Pudding Recipes
IN THE MAKING
This pudding is rich and creamy, but it is so well balanced with the citrus that it doesn't feel heavy and rich. Instead it goes down like a light and fruity summer dessert.
It can be garnished with more pieces of orange and/or grated chocolate.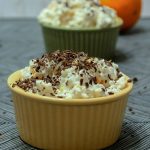 Print Recipe
Appelsinris – Norwegian Orange Rice Pudding
This gluten free dessert is so well balanced. The refreshing citrus mutes the rich and luscious cream.
Ingredients
2/3

cup

long grain rice

1 ½

cups

milk

¾

cups

water

1

cup

heavy cream

2

tablespoons

vanilla sugar

3

tablespoons

sugar

2

large oranges

supremed with each supreme cut in half

Grated chocolate garnish
Instructions
Combine rice, milk and water in a saucepan. Bring to a boil. Reduce to a simmer, cover and cook until the liquid has been absorbed, about 15-20 minutes. Set aside to chill.

Whip heavy cream with the sugars until whipped cream consistency.

Add orange supremes and rice. Using a rubber spatula, fold into the whipped cream.

Garnish with grated dark chocolate.

Serve chilled or at room temperature.
Do you know anyone else who likes learning about international food, culture, history and travel? Bring them over here to join the party! Don't forget to use those share buttons!
Start Here to find out how the Schizo Chef can help you with your cooking, travel and other needs!
If you like this recipe, PLEASE LEAVE A COMMENT & SUBSCRIBE!
Check out the Blogging Marathon page for the other Blogging Marathoners doing this BM#78
Sign up for our updates!
Subscribe to get our latest content by email and get your FREE Pantry Cheat Sheet - Learn the basics to cook any International cuisine!