Last Updated on December 16, 2020 by Chef Mireille
Malaysian Chicken Curry Puffs can be either fried or baked. They are a delicious snack for any time or a great party dish!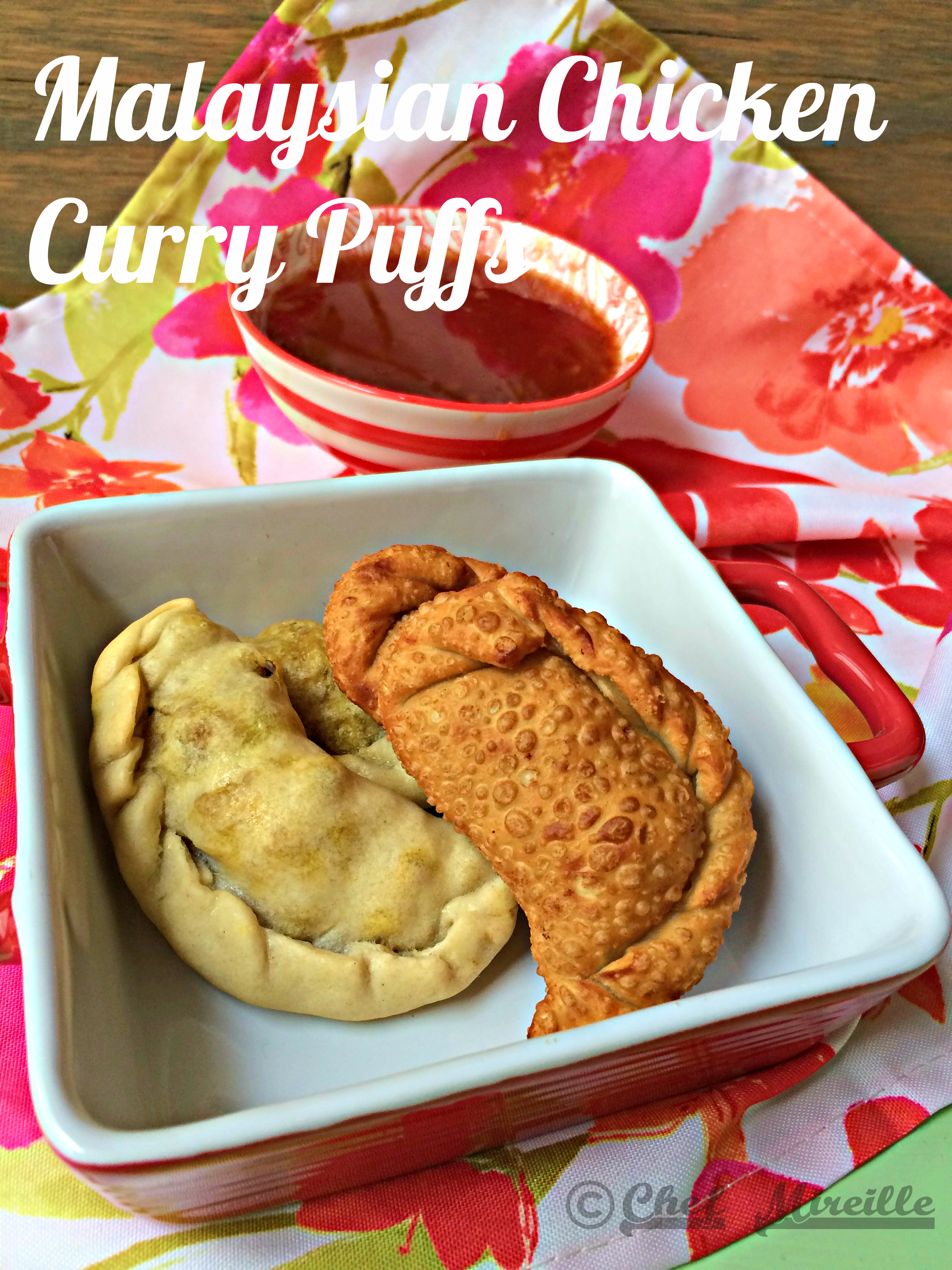 Malaysian Chicken Curry Puffs are one of the most popular snack foods in Malaysia – from night markets to tea houses, they can be found everywhere. The first time I had them was at a tea house here in Chinatown NYC. They were good, but paled in comparison to the ones I had when I visited Malaysia. The difference is the curry powder. Every country and in some countries, every region has its own curry powder. Curry powder is not a universal ingredient that can be used for any cuisine that requires curry powder. They each have their own unique flavor profile. Some are more herbaceous, some use more smoky spices, some include rice and lentils, some include coconut and the varieties are endless. When possible, try to obtain the curry powder for the cuisine you are cooking. Many of the recipes can be found online if you cannot buy the pre made curry powder where you live.
Chinese curry powder is very yellow in color. It includes a lot of turmeric and is very mild in flavor. Malaysian curry powder is a bright orange-red color and they are partial to nutmeg and mace. It has more spice and more smoky spices, which led to the difference in flavor to the puffs I got here in NYC. In Malaysia, there are three types of curry powder sold – meat curry powder, seafood curry powder and vegetable curry powder. If you have a good Asian market with a good Southeast Asian section, you should be able to get the Malaysian curry powder here in the US. I get it from Asia Market Corp here in NYC.
Although Malaysian Chicken Curry Puffs are usually fried, I baked most of them for a healthier version. However, they were delicious both baked and fried eaten with Sweet Chili Sauce.
I adapted this recipe from this Malaysian cookbook I have been using for many years. If you've never had Malaysian cuisine, its really one worth exploring – a fusion cuisine of Chinese, Indian and native Nyonya flavors. It's one of my favorite cuisines and if you live in NYC, I highly recommend visiting Nyonya Restaurant.
or take a look at some of my other Malaysian recipes for inspiration…
Malaysian Recipes
Malaysian Chicken Curry Puffs
Malaysian Chicken Curry Puffs are great for any party or a delicious savory
tea
time snack.
Ingredients
5

tablespoons

oil

1

diced onion

1

tablespoon

grated ginger

4 ½

teaspoons

Malaysian meat curry powder

½

teaspoon

red chile powder

½

teaspoon

ground turmeric

1

large potato

about 11 oz., peeled and diced

2

teaspoons

sugar

½

teaspoon

freshly ground black pepper

2 ½

teaspoon

salt

2

cups

skinless and boneless chicken

chopped into small pieces

Pastry Ingredients:

3 ½

cups

all purpose flour

½

teaspoon

salt

5

oz.

cold butter

cut into small pieces
Instructions
Heat oil in a deep skillet. Add onion and ginger. Saute until golden brown.

Add curry powder, chile powder and turmeric. Stir fry for 3 minutes, until fragrant.

Add potatoes, sugar, pepper and salt. Stir fry for 10 minutes.

Add chicken and ½ cup water. Simmer for 10 minutes, until chicken is cooked through and mixture is almost dry. Set aside to cool.

To make pastry, combine flour and salt in a large bowl.

Using a pastry blender, cut butter into flour until it is the size of small peas. Add water a little at a time until the dough comes together (approximately 1 cup). Knead for a few minutes. Cover with a damp cloth. Leave to rest for 30 minutes.

Divide dough in half. On a lightly floured surface, roll out one half of the dough to a large circle about 1/8" thick.

Using a 4" biscuit/cookie cutter, cut out circles of the dough. Place 1 1/2 tablespoons of the chicken filling on each circle. Fold over to form a half circle and seal the dough by twisting the perimeter in a wave pattern. Make sure it is sealed well..

Repeat until all the filling and pastry have been utilized.

Heat enough oil for deep frying to 350 F. Place each puff in the oil and fry until golden brown on both sides. Alternately, brush the tops with milk and bake in a 350 F oven for 30 minutes.
Did you try this recipe? Leave a comment below.
Please follow me on Instagram @chefmireille or tag me #chefmireille with your pics! I'd love to share them!
Do you know anyone else who likes learning about international food, culture, history and travel? Bring them over here to join the party! Don't forget to use those share buttons!
Start Here to find out how the Schizo Chef can help you with your cooking, travel and other needs!
If you like this recipe, PLEASE LEAVE A COMMENT & SUBSCRIBE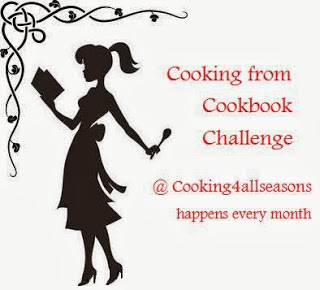 …linking to Cookbook Cooking Challenge