Last Updated on January 29, 2021 by Chef Mireille
Char Siu Pork is a classic Chinese dish that you can eat on its own or add to your fried rice, lo mein and more. If at no other time, you must make it for Chinese New Year!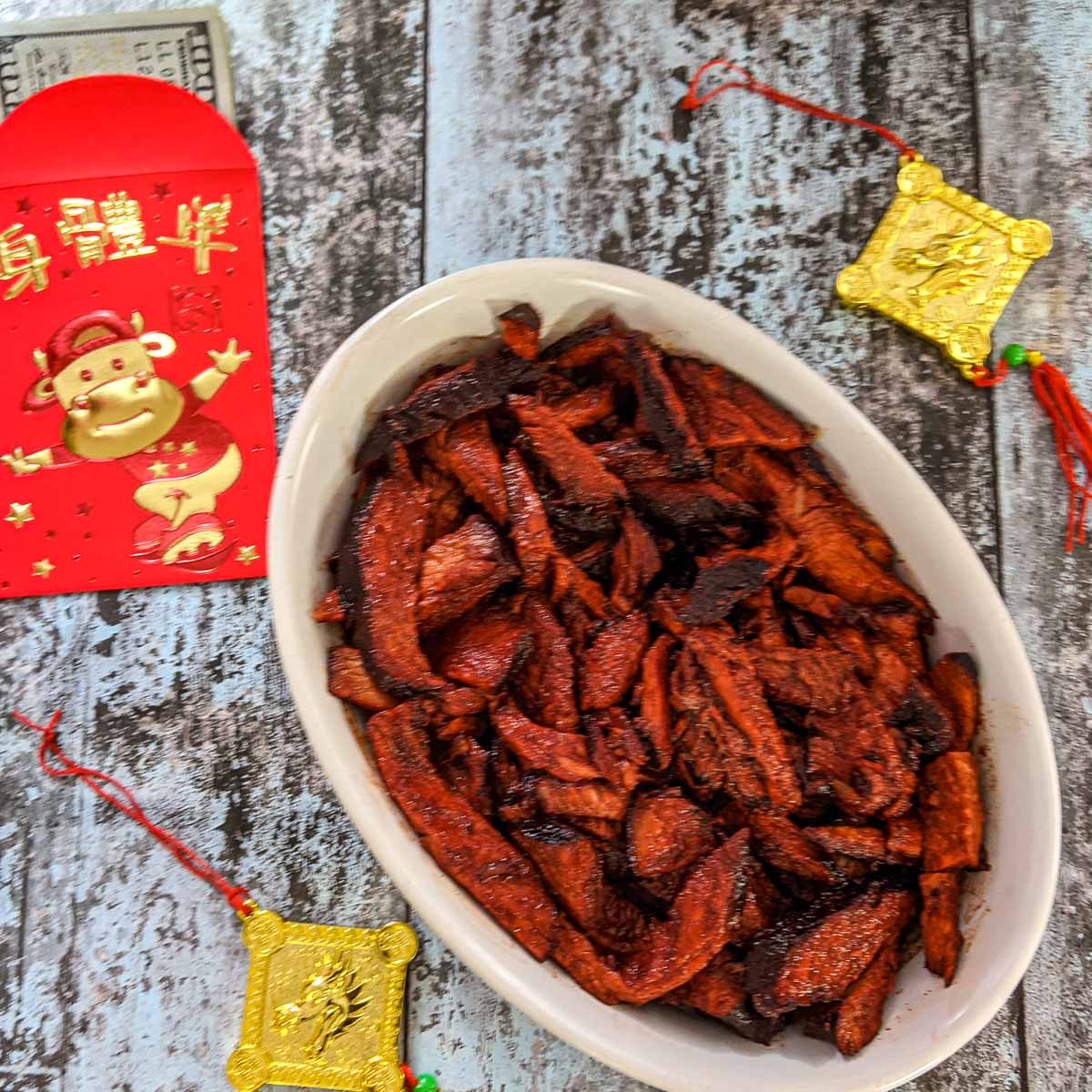 This post may include affiliate links.
Do you eat Chinese take out? Even in these challenging times, Chinese take out is still super popular here in NYC. You can almost call it comfort food – NYC Style!
Have you ever wondered how the heck do you make those strips of sweet red pork that is in your fried rice and lo meain?
Well I am here to show you how they get that smoky, sweet flavor and bright color into the pork. It's really not rocket science. The color comes from food coloring. No exotic ingredient – just your basic red food coloring.
The most difficult part of this recipe is gathering all of the ingredients. Depending how large your local Asian market is, you may have to order one or two of the ingredients online.
Most Chinese even often purchase Char Siu. Very few people make it at home themselves. Everything tastes better when made at home, so you'll do better than the Chinese even if you follow this delicious recipe.
One of the main reasons many purchase it is that it is traditionally made on a barbecue/grill. Here in NYC and in many places, having access to a grill would make it challenging.
That is why this oven method of Char Siu Pork is so easy, almost anyone can make at home – as long as you have an oven. More people have an oven than have a grill so I know you will love this accessibility of this recipe!
Celebrate Chinese New Year with a traditional recipe!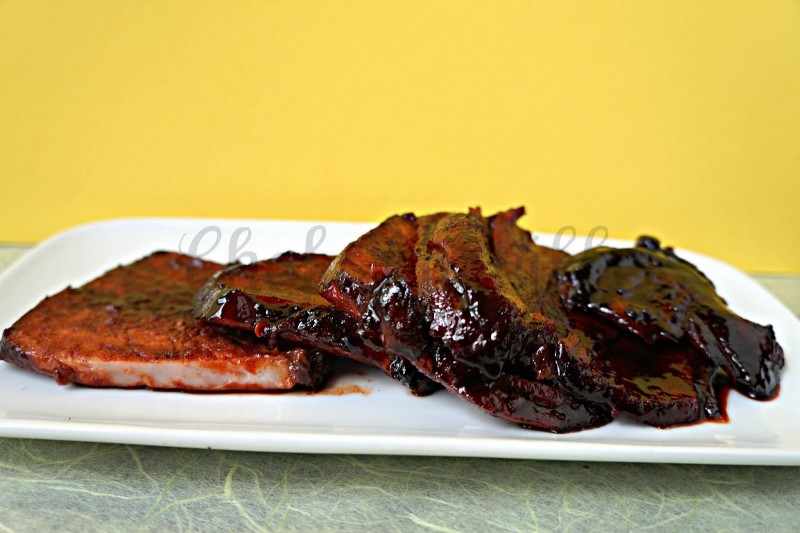 Although the best way to make char siu is on a grill, if you don't have one, this is the best alternative.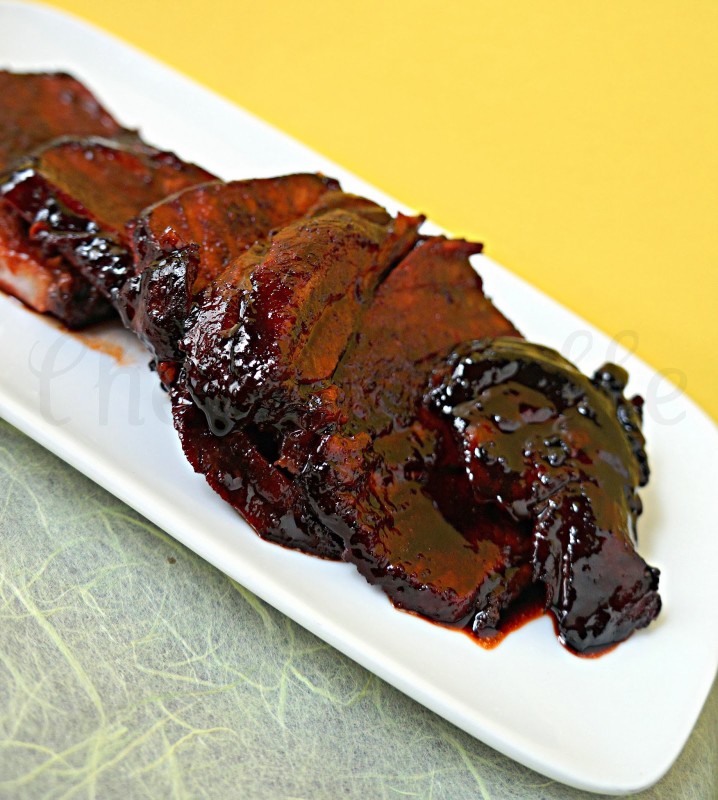 Char Siu Pork Ideas
There are many ways you can utilize Char Siu Pork. So don't worry if you think this is a huge amount.
First of all, it freezes well so you can definitely use this as a make ahead recipe and defrost as needed. However there are still many uses to Chinese BBQ Pork
What are some other ideas you think Char Siu would go great in?
Here are some other recipes you might want to include on your menu! Not only in China, but Chinese New Year is celebrated throughout Southeast Asia. So you can try some of these both Chinese and Malay Recipes for your holiday menu.
Chinese New Year Recipes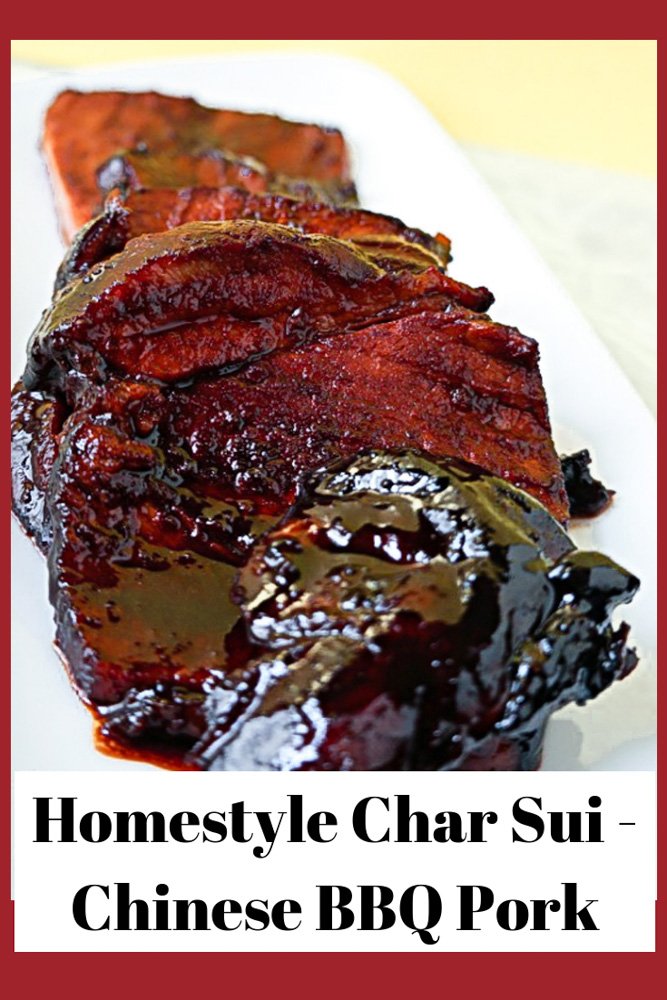 What kind of pork should you use?
Pork Shoulder/Butt/Picnic Ham is the pork you should purchase.
As you can see from the different look of some of the images, I have made it a variety of ways – using bone in pork shoulder as well as boneless picnic ham.
The flavor in the bone in pork shoulder is definitely superior. However, if your local market only has the boneless, you can use that as well.
Methodology
Depending which pork I am using, there is a slight difference in how I prepare the meat.
When using the bone in pork shoulder, make slits in the meat and insert the sliced garlic cloves.
When using the boneless pork, it is not thick enough, so then just include the sliced garlic in the marinade. However, still make some slits in the meat to ensure the flavor of the marinade gets in to the meat well.
Now, it's time to check the pantry and make sure you have all the ingredients ready!
Like the saying goes, the secret's in the sauce. So all you need are these Char Siu Sauce Ingredients and the pork!
Ingredients
pork butt/pork shoulder
garlic
salt
Have you tried instacart yet? It's how I get all of my fresh grocery items delivered within 2 hours!
How to make Char Siu Pork
Put together the marinade ingredients.
Reserve half of the marinade.
Add meat to the rest of the marinade. Coat well and refrigerate overnight.
Remove the meat from the marinade.
Place on a baking tray. (use aluminum foil for less clean up afterwards)
Baste frequently with the reserved sauce.
After you take the meat out of the oven, it is VERY IMPORTANT you let it rest for 15 minutes before slicing.
You want the muscles to relax so that the meat can retain its juicyness.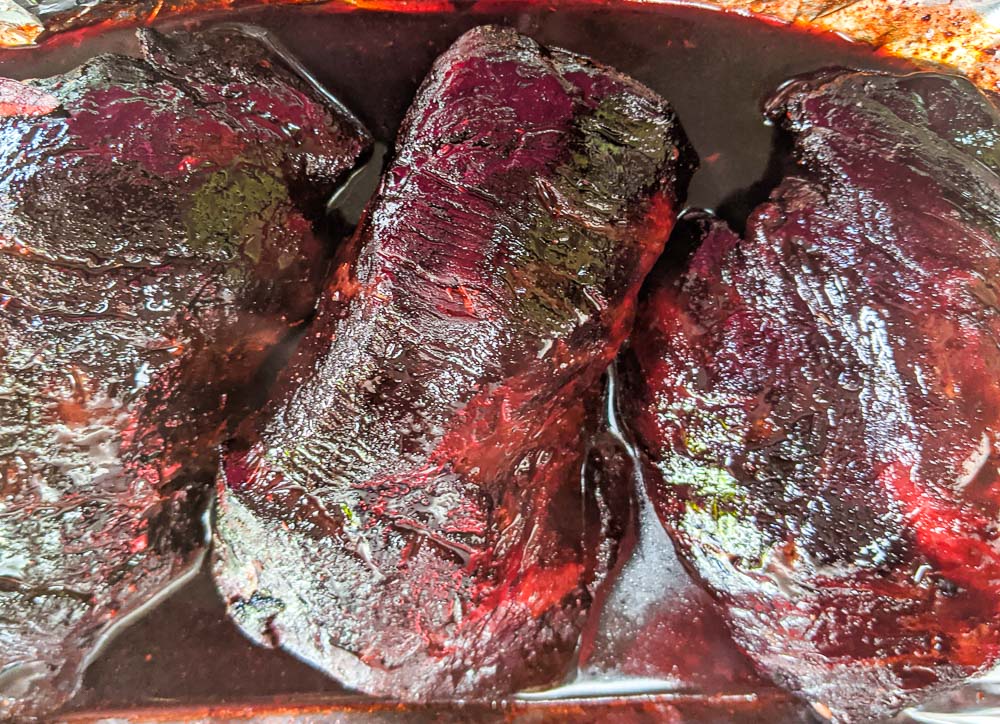 Now you can slice it, after you have let the meat rest,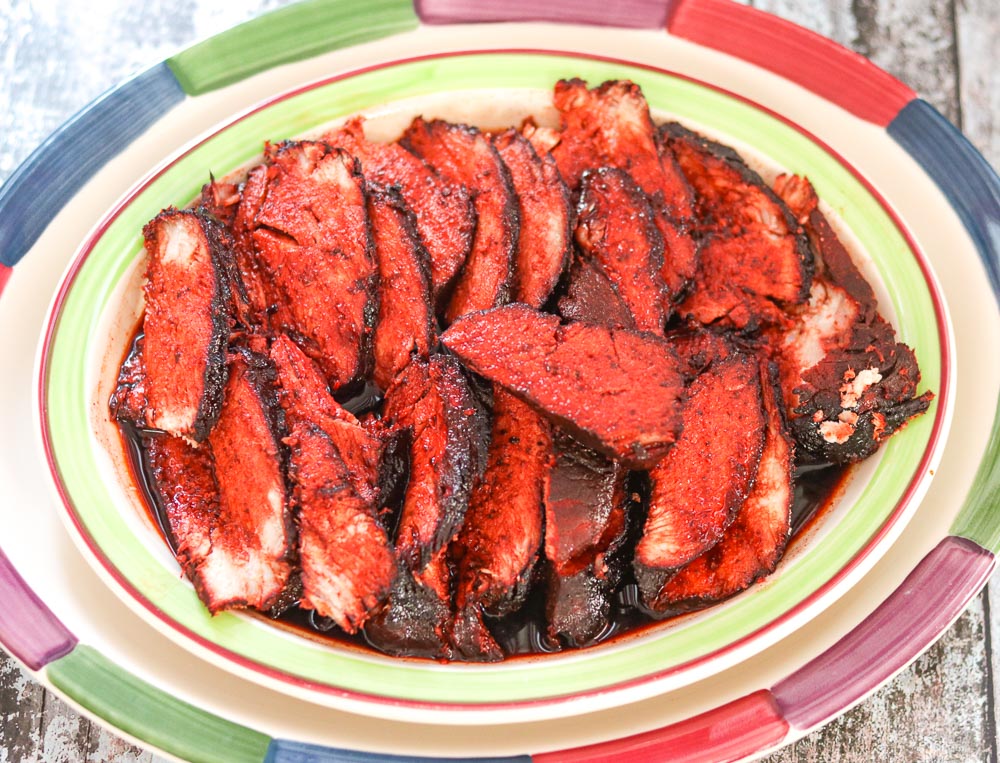 Now it's ready to add to all of your Chinese recipes!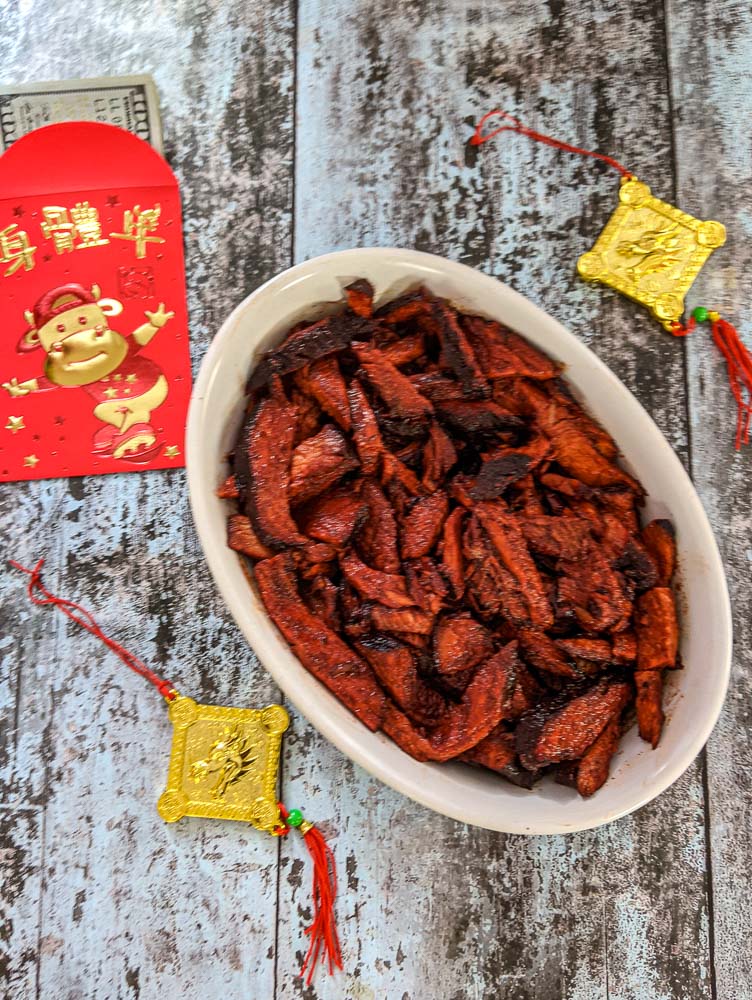 If you would like to learn more about the history, traditions and symbolism of the Lunar Festival (Chinese New Year), check out this Chinese New Year post which includes a Chinese New Year Infographic you can print.
Now whose up for making homemade Char Siu for the Chinese New Year?
Char Siu – Chinese BBQ Pork
Oven method for cooking classic Chinese Red Pork or Char Siu Pork with homemade Char Siu Sauce
Instructions
Combine all the ingredients except the pork and the food coloring in a saucepan. Heat for 1-2 minutes until everything is melted and you have a smooth sauce.

Remove most of the top layer of fat from the pork. Pierce the pork all over with a fork. Season gently with a little salt. Place the pork in a bowl.

Add food coloring to the sauce and stir to combine.

In a large bowl, combine 1 cup of the sauce with the pork. Rotate the meat several times so it is well coated on all sides with the sauce.

Cover and put in the refrigerator overnight.

Reserve the rest of the sauce for cooking the next day.

Preheat oven to 350 F.

Shake off the excess sauce. Place pork on a rack in a roasting pan lined with aluminum foil.

Roast for 2 1/2 – 3 hours, until internal temperature is 140 F. Baste it every 1/2 hour with the reserved sauce. SEE NOTES.

Let it rest for at least 15 minutes. Slice and brush with the remaining sauce. Smoky, sweet and luxurious!

Serve with rice, noodles, soup and more.
Notes
If using boneless pork, the cooking time will be greatly reduced. You do not want to overcook the meat, so check the internal temperature after 45 minutes.
Although this may appear to be a gluten free recipe, many of the Asian condiments include wheat/gluten, so please make sure to purchase wheat free versions for gluten free Char Siu Pork.
Nutrition
Calories:
446.13
kcal
|
Carbohydrates:
17.82
g
|
Protein:
27.48
g
|
Fat:
28.61
g
|
Saturated Fat:
9.64
g
|
Sodium:
606.24
mg
|
Fiber:
0.35
g
|
Sugar:
15.36
g
Did you try this recipe? Leave a comment below.
Please follow me on Instagram @chefmireille or tag me #chefmireille with your pics! I'd love to share them!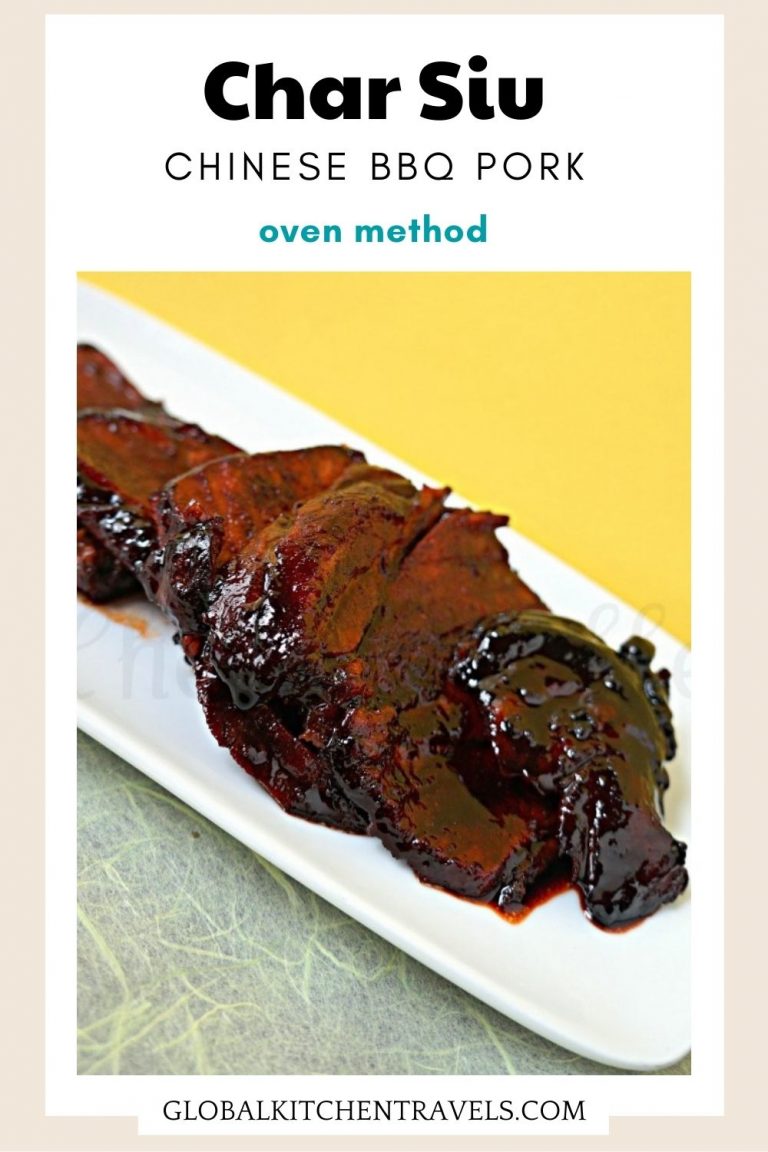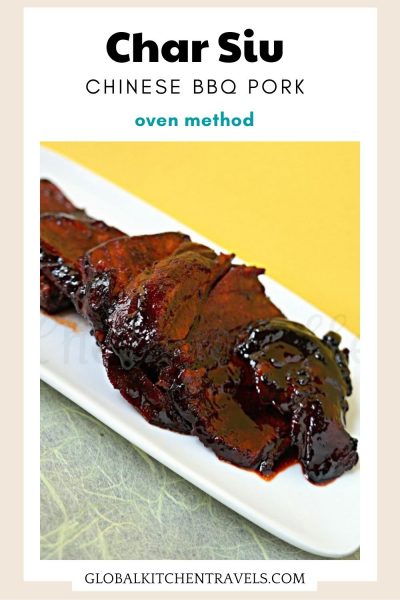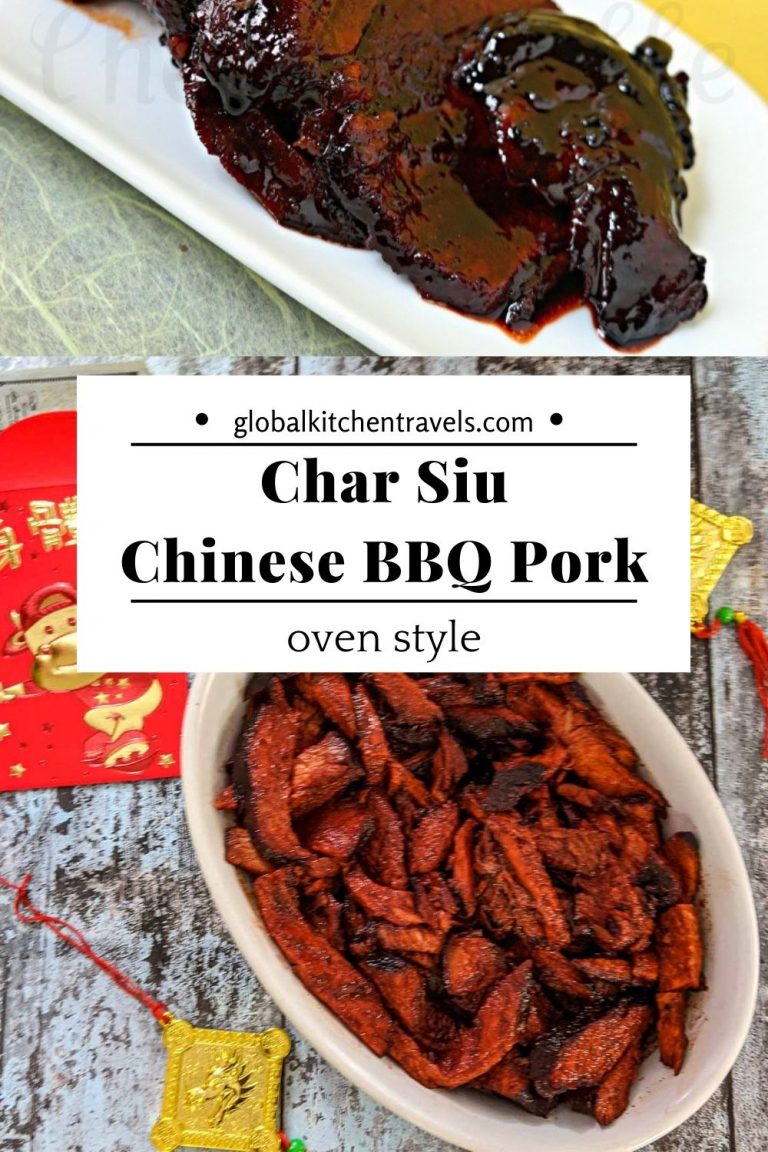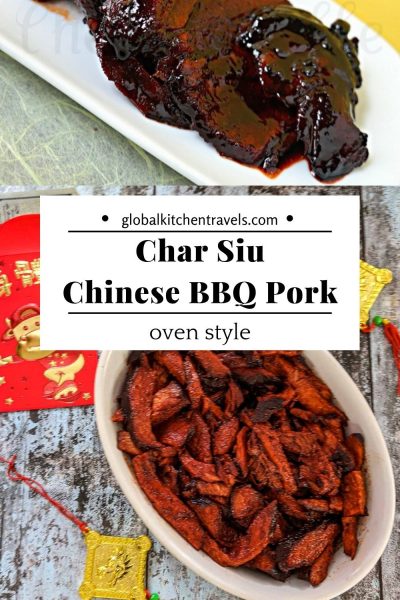 Need more culinary inspiration? Check out the Recipe Index with over 1500 Recipes from Around the World with lots of Vegetarian 🥕🍆🍅and Gluten Free Recipes!