Last Updated on November 19, 2019 by Chef Mireille
Lamb & Bok Choy Noodle Stir Fry
This quick and easy stir fry gets dinner on the table in less than 1/2 hour, with some help from a trip to the Asian supermarket.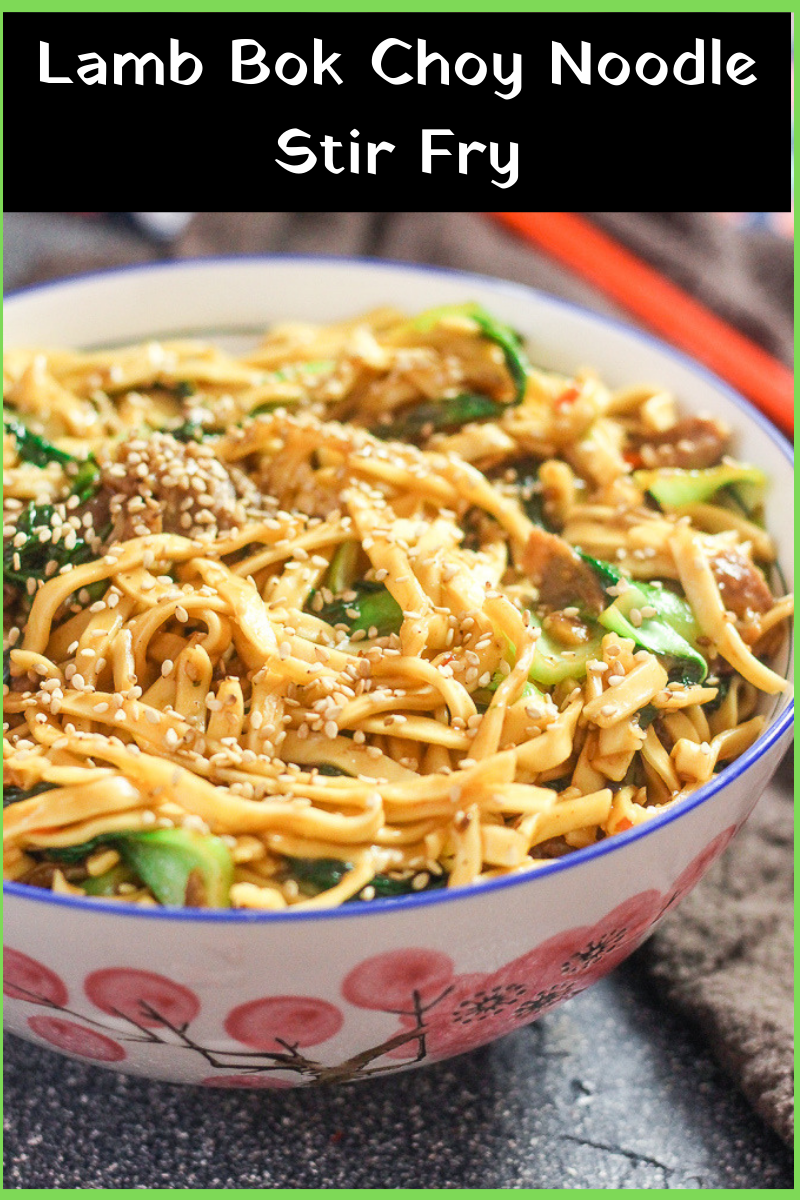 There are a few staples you should buy if you don't already use them. Make sure you pick these up on your next Chinatown or Asian supermarket trip!
Thinly Sliced Meat
One of the things I always purchase when I go to the Asian supermarkets is thinly sliced meat. You can find packages of meat sliced paper thin. There are usually at least four varieties that will include chicken, pork, lamb, beef and sometimes duck.
Soy Sauce, Rice Vinegar, Noodles and many other Asian products are readily available at most supermarkets. However, there are some ingredients that you can only get at Asian supermarkets and it's worth a trip to make your meals come together super quick and easy.
Since they are sliced so thin, they defrost quickly and cook even quicker. It's a great staple to keep in your freezer when you need dinner ready in a jiffy.
Fresh Noodles
Instead of dried noodles, fresh noodles just take literally a few minutes in boiling water to cook, but what's even better is to buy stir fry fresh noodles.
Packages labeled Stir Fry Noodles require no pre boiling at all. Just stir fry in the pan and they can easily be added to a one pot meal.
Oyster Sauce
Oyster Sauce is such a necessity in life, as far as I'm concerned. It is so full of balanced flavor that you need nothing else. Unlike soy sauce, there is no other ingredient necessary for balance.
I often use it to make veggie dishes. All I do is stir fry a little garlic with the veg of the night and then add a little oyster sauce and veggie side dish is done.
Once you start using oyster sauce on a regular basis like me, you will wonder how you survived before.
Now let's get to making this quick and easy one pot dinner in a bowl!
A quick drizzle of fish sauce at the end and this is the perfect one pot meal!
Lamb Bok Choy Noodle Stir Fry
Lamb Bok Choy Noodle Stir Fry is a quick and easy one pot meal that gets done in less than 30 minutes!
Ingredients
2

tablespoons

oil

3

finely chopped garlic cloves

3

finely chopped bird's eye chiles

4

oz.

thinly sliced lamb

1 1/2

lb.

Shanghai Bok Choy

chopped

2

tablespoons

sesame seeds + extra for garnish

3

tablespoons

oyster sauce

8

oz.

stir fry noodles

Fish sauce

for serving
Instructions
In a wok, heat oil.

Add garlic, chiles and lamb. Saute until lamb is cooked through, about 3-5 minutes.

Add bok choy and oyster sauce.

Add ½ cup water, cover and cook for 5 minutes until bok choy wilts.

Add noodles and sesame seeds. Stir fry and toss well until noodles are well coated with the sauce.

Cover and cook for 5 minutes until noodles are tender.

To serve, garnish with more sesame seeds.

Serve with fish sauce.
Did you try this recipe? Leave a comment below.
Please follow me on Instagram @chefmireille or tag me #chefmireille with your pics! I'd love to share them!
Ready to make Lamb Bok Choy Noodle Stir Fry? – I would love to see your pics! Tag me on Instagram @chefmireille #theschizochef with your delicious photos!
SHARE THIS DELICIOUS RECIPE WITH YOUR FOODIE FRIENDS
Don't forget to visit the RECIPE INDEX with over 1000 recipes from around the world including lots of Vegetarian Recipes and Gluten Free Recipes!
Check out the
Blogging Marathon page for the other Blogging Marathoners doing this BM#101