Last Updated on July 9, 2022 by Chef Mireille
If you're looking for a delicious and healthy vegan side dish, this Wild Rice Pilaf recipe is a great option. It's easy to make and can be served with any main course. Plus, it's packed with nutrients and flavor. So give it a try the next time you're in the mood for something new!
This vegan side dish is the perfect addition to any holiday table that everyone – both vegans and carnivores alike can enjoy. Whether it's the table for Easter, Christmas or Ramadan, no one can say no to this healthy and tasty bowl of deliciousness. This Wild Rice Pilaf recipe is perfect for both holidays and easy weekday meals!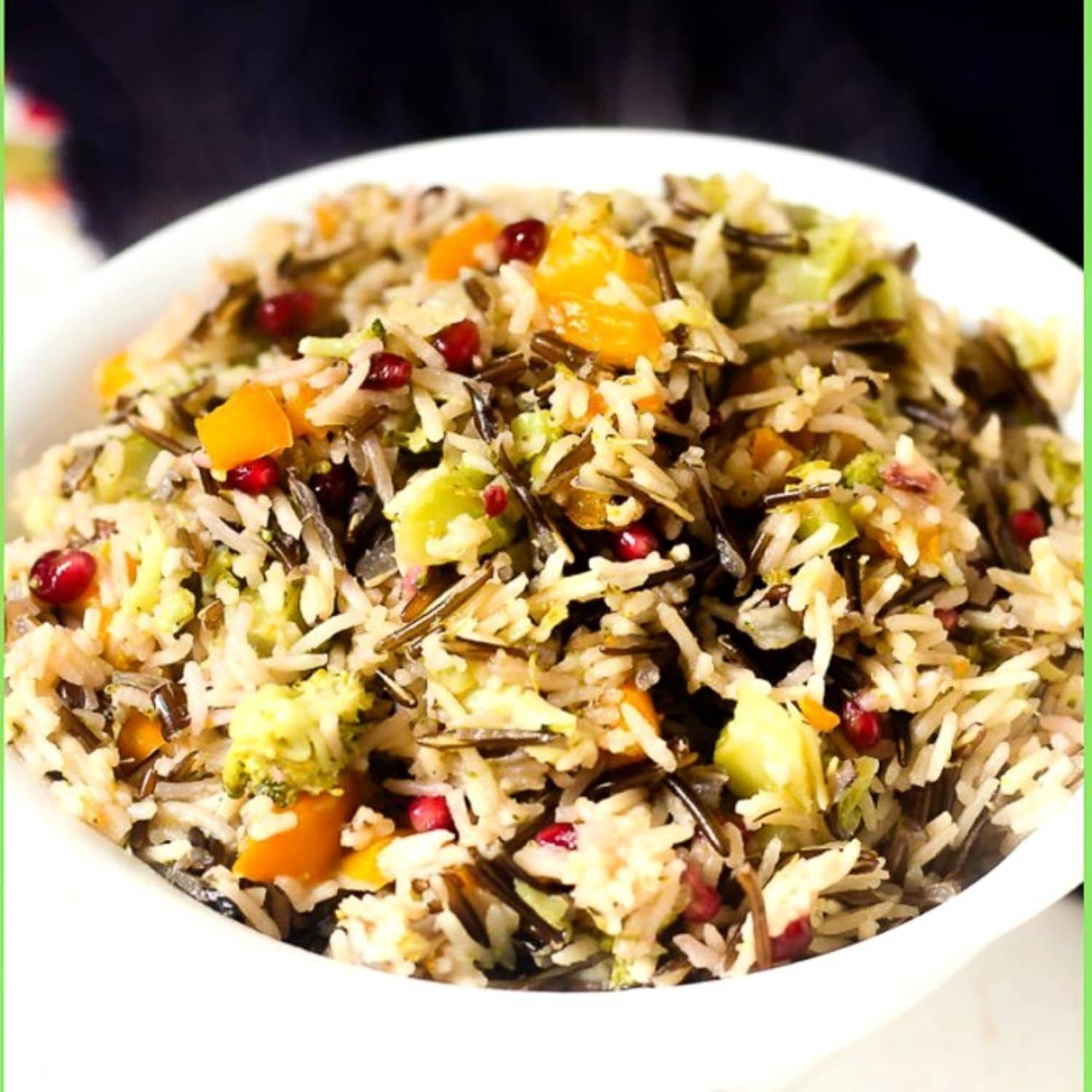 This post may include affiliate links.
Side dishes are usually the afterthought. If you are planning a traditional meal that includes the basics of meat, vegetable, and starch, the meat dish is usually the star and gets most of the attention. Many times the side dishes just end up being plain steamed rice or roasted potatoes.
This Homemade wild rice is also way better than the wild rice blend you see on supermarket shelves. Those often include a seasoning packet that has more salt than anything else. So reduce your sodium intake for the day with this homemade version of Wild Rice Pilaf.
This is an easy way to make rice a lot more interesting. You can add whatever vegetables you have that need to be used up. I used broccoli and bell pepper because that is what was in my fridge that needed to be utilized.
I really try to practice no waste, so you can easily add whatever veggies happen to be in your refrigerator or leftover cooked veggies.
This fluffy rice with vegetables is a healthy side dish that's gluten free and vegan – what can be better! It will be a welcome addition to your dinner table.
Another great thing about this Wild Rice Pilaf is that it can be enjoyed warm or at room temperature. For this reason, it's also makes a delicious side dish for summer picnics and barbecues as it can easily be left out for several hours.
You know I'm always encouraging you to Travel Your Tastebuds and explore different cuisines. Due to the simple ingredients in this Wild Rice Side Dish recipe, it can be adapted by adding cuisine relevant spices so that you can enjoy it with just about any meal – Middle Eastern, Latin, African, Greek or Caribbean.
Add some Peri Peri or Berbere Spice Mix and you have transferred this simple Wild Rice Pilaf into a new recipe!
Before we get to the recipe, did you know that wild rice is actually not a rice? So what exactly is wild rice?
Let's learn all about it and what health benefits it provides!
Health Benefits of Wild Rice
What is wild rice?
Wild rice is actually an aquatic grass that grows in shallow waters along lakes and streams. It is native to North America, where there are three native species.
Northern Wild Rice, the most abundant species, has historically grown in the Great Lakes Area, the Dakotas and parts of Ontario and Manitoba, in Canada. Another varietal species grows in Florida and another one in Texas.
There is also a fourth species grown in China, but there the plant stem is eaten as a vegetable.
It has always been a common food with Native Americans. Several Native American tribes including the Ojibwa tribe consider it a sacred food. They call in mannomin, which means harvesting berry.
Due to it's nutritional value and taste, it became popular in the late 20th century. In order to keep up with the increased demands, wild rice is not harvested from paddy's in Minnesota and California.
Native Americans continue to harvest the wild rice that grows wild.
Benefits of Eating Wild Rice
Wild Rice is a healthy low fat food. It's high in manganese – an anti oxidant which keeps your cells healthy and contributes to a healthy metabolism. It's also a good source of iron and B vitamins.
It's a low calorie food with a healthy mix of protein and fiber.
It's also gluten free, so good for people on a restricted diet and even those with Celiac's disease.
Frequently Asked Questions
Why do I have to cook the wild rice separately?
Wild rice takes longer to cook than white rice so if you cook them in the pot together, the wild rice will still be half raw by the time the white rice has completed cooking.
Is wild rice healthier than brown rice?
Actually, wild rice is a misnomer as it is actually not a rice at all, but a grass species. It has about 30% fewer calories than brown rice and 40% more protein as well as more fiber and potassium.
So yes, wild rice is healthier than brown rice, in my opinion.
Do I have to soak wild rice prior to cooking?
Technically no, however, the cooking time will be reduced if you soak it first.
In this recipe, the rice is first preboiled and then finished cooking in the pilaf. If you presoak your wild rice for 4 hours, the 30 minutes will cook the wild rice completely.
Variations
Although this version only has broccoli and bell pepper, just about any other vegetables can be added like butternut squash, roasted brussels sprouts, mushrooms, green beans or summer squash. You can also use leftover previously cooked vegetables.
Pomegranate adds a tart-sweet flavor which can easily be substituted with dried cranberries.
If you have leftover cooked rice, you can just saute the vegetables and add everything else together.
To make this even healthier, you can switch out the white rice with brown rice or other grains like wheat berries, barley, quinoa or millet.
If you're not Vegetarian, you can use chicken broth or beef broth instead for more flavor.
You can easily turn it into a complete meal by adding grilled chicken or mushrooms (for Vegetarians).
So let's check the pantry for everything we need for this Easy Wild Rice Pilaf! It only takes a few ingredients!
Ingredients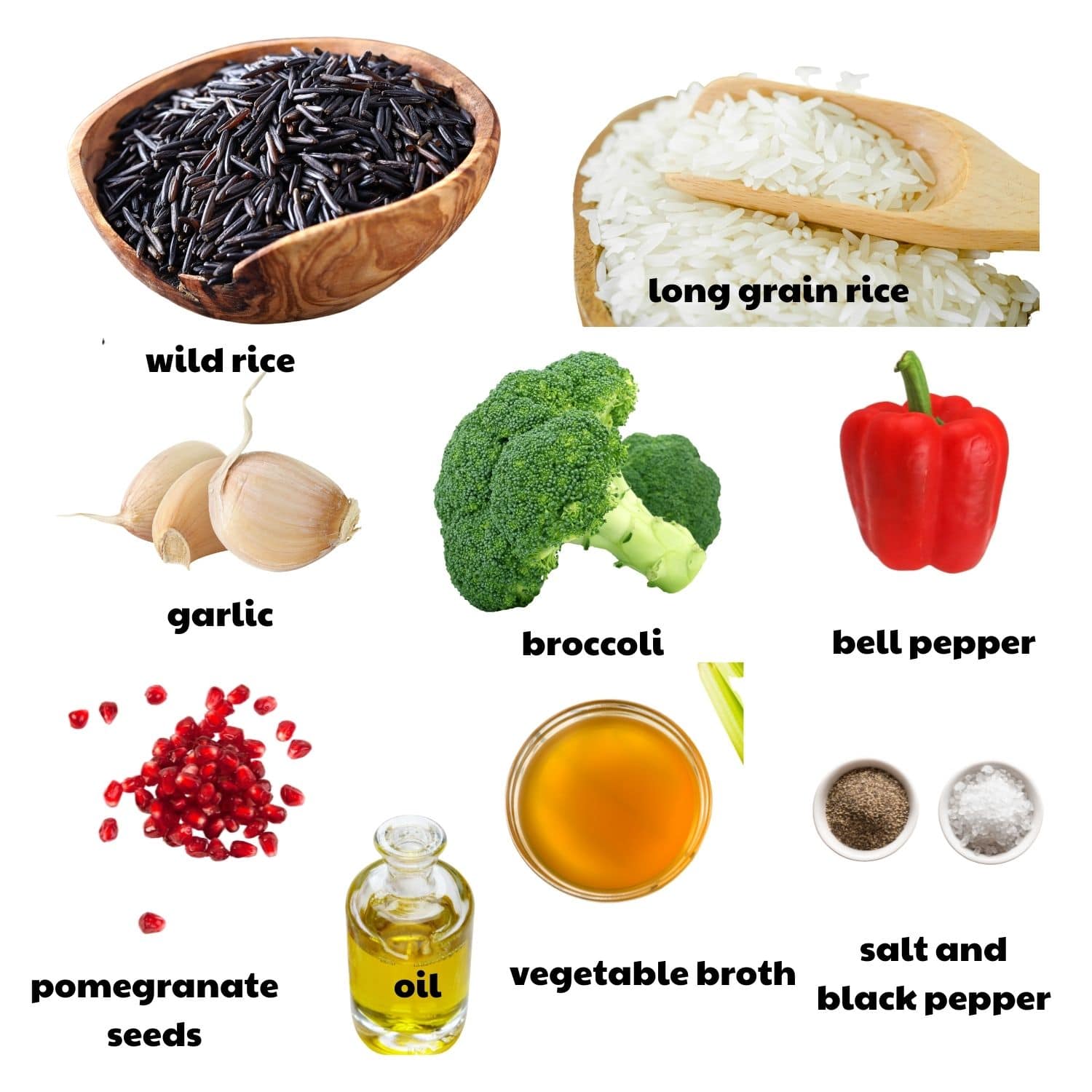 oil
garlic cloves
bell pepper
broccoli
long grain rice
salt
pomegranate seeds
vegetable broth
Have you tried instacart yet? It's how I get all of my fresh grocery items delivered within 2 hours!
How to Cook Wild Rice Pilaf
Boil the wild rice until almost done.
In a large pot, saute your veggies.
Add the pre cooked wild rice and the white rice.
Simmer until cooked.
Add your pomegranate seeds and fluff the rice with a fork.
Serve warm, however it can also be served at room temperature.
This is such a flavorful wild rice dish that everyone will love it!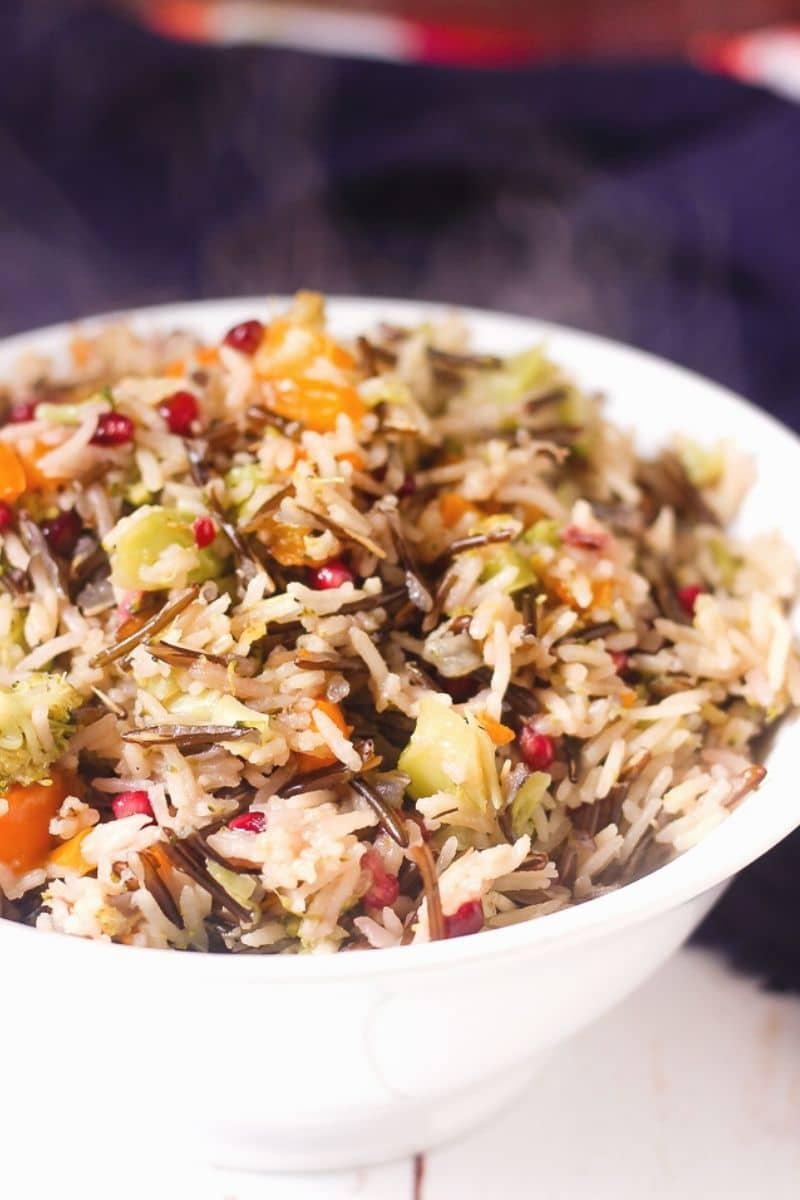 TO REMEMBER
Always fluff your rice with a fork. A spoon will crush the rice and make it stick together.
What goes with Wild Rice Pilaf
If you're Vegetarian, you can complete the meal with some fried tofu or beans like this Itakiet Stew.
If you're a meat eater, you can enjoy this with Chimichurri Lamb Chops or Persian Roast Chicken.

Wild Rice Pilaf
Wild Rice Pilaf is an easy side dish to go with any meal. Perfect accompaniment to holiday meals or every day meals.
Ingredients
Instructions
In a large pot of boiling water add wild rice and boil for 30 minutes.

In a large pot, heat oil.

Add garlic, bell pepper and broccoli. Saute for a few minutes until vegetables are softened.

Add vegetable broth and bring to a boil.

Add rice, wild rice and salt. Give it a quick stir to combine.

Cover, reduce heat to medium low and simmer until rice is cooked through, about 20 minutes.

Fluff with a fork.

Add pomegranate seeds and black pepper.
Notes
You can add any variety of vegetables you happen to have about.
This recipe can also be easily adapted to the Instant Pot, using IP wild rice and long grain rice cooking times.
Nutrition
Calories:
236
kcal
|
Carbohydrates:
47
g
|
Protein:
7
g
|
Fat:
3
g
|
Saturated Fat:
1
g
|
Polyunsaturated Fat:
1
g
|
Monounsaturated Fat:
1
g
|
Trans Fat:
1
g
|
Sodium:
29
mg
|
Potassium:
404
mg
|
Fiber:
4
g
|
Sugar:
4
g
|
Vitamin A:
942
IU
|
Vitamin C:
88
mg
|
Calcium:
53
mg
|
Iron:
1
mg
Did you try this recipe? Leave a comment below.
Please follow me on Instagram @chefmireille or tag me #chefmireille with your pics! I'd love to share them!
Don't forget to visit the RECIPE INDEX with over 1000 recipes from around the world including lots of Vegetarian Recipes and Gluten Free Recipes!