Last Updated on January 13, 2023 by Chef Mireille
This post may include affiliate links.
Hup Toh Soh – Walnut Cookies are traditional Chinese Walnut Cookies always made to celebrate the Lunar Festival to symbolize happiness. These delicious Shortbread cookies are often just called Chinese New Year Cookies or Chinese New Year Biscuits.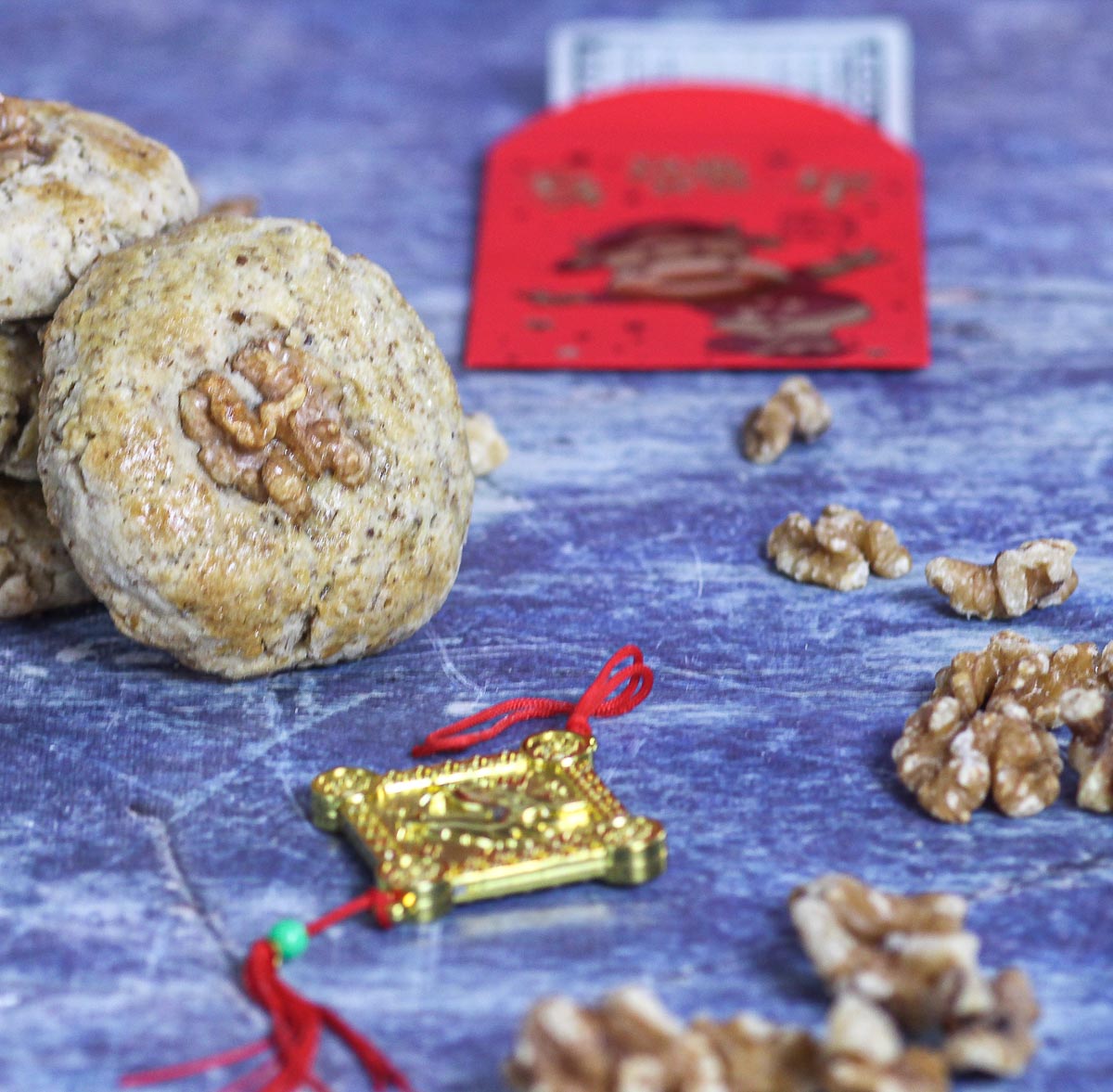 Chinese New Year
In a few days, people of Chinese origin will be celebrating the Lunar New Year. This is the most important holiday for most Chinese. Many traditional foods are eaten during the 2 week holiday that symbolize wealth, prosperity, good fortune, longevity and hapiness. These Lunar Festival Walnut Cookies symbolize hapiness and have a lovely shortbread like texture.
The Lunar Festival is celebrated in many countries with Chinese descended populations. Even here in NYC, we have a Lunar Festival parade every year in Chinatown. In Malaysia and the Phillipines, it is one of the biggest festivals of the year. There are variations to these cookies that exist in these other countries, where peanut is more often used than walnut.
Chinese New Year Traditions
There are 12 Chinese zodiac symbols that are repeated every 12 years. This is the Year of theOx (2020) so just count back every 12 years to figure out if this is your year or not. In Chinese astrology, it is believed that you will have bad luck in your birth year because you are offending Tai Sui, the God of Age. This is why many of the foods made for Chinese New Year are meant to symbolize good luck to safeguard against the bad luck that is predicted.
Since red is a color of good luck in Chinese culture, it is often recommended to wear red in your birth year to bring on good luck. Red socks, a red belt and red underwear especially is seen as very lucky. However, there is a caveat. Someone else must buy you the red underwear. You cannot buy it yourself. Otherwise, it wont ward off the predicted bad luck. You can also wear jade accessories to ward off the bad luck.
If you would like to learn more check out these 10 Chinese New Year Recipes with a downloadable one sheeter to teach your kids (and yourself 😊) all about this holiday.
Chinese New Year Infographic
Walnut Meal
Walnut Meal is the most traditional version of this cookies. However, in some countries where walnuts are harder to come by, peanut meal or almond meal is used.
Just like with regular nuts, walnut meal or any nut meal will go rancid if not utilized in a short period of time. For this reason, once opened, you should store the nut meal in the refrigerator until you finish it.
Since walnut meal is not that common, here are a few other recipes you can try that use walnut meal.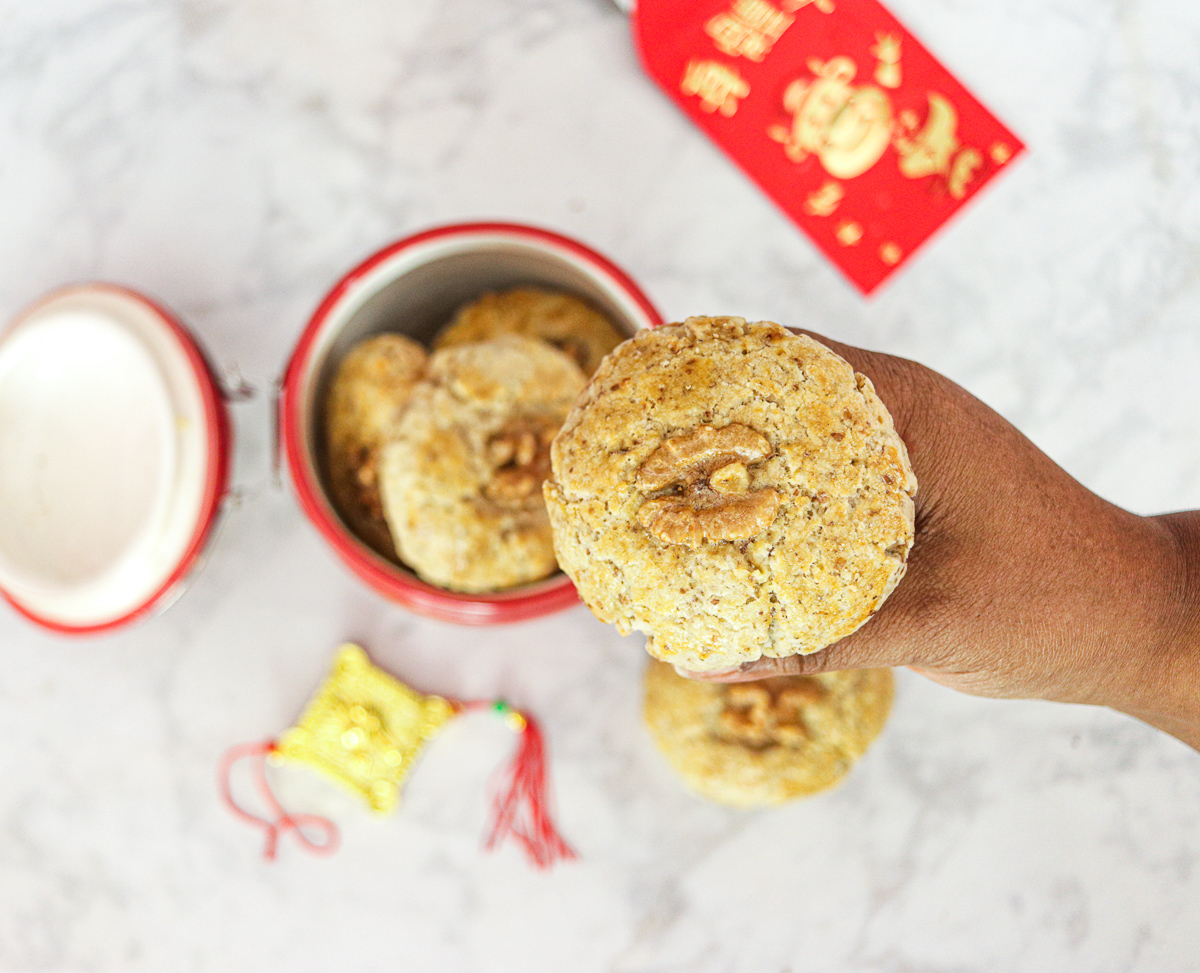 Now let's go over what else you need to make these delicious Chinese Walnut Cookies.
Ingredients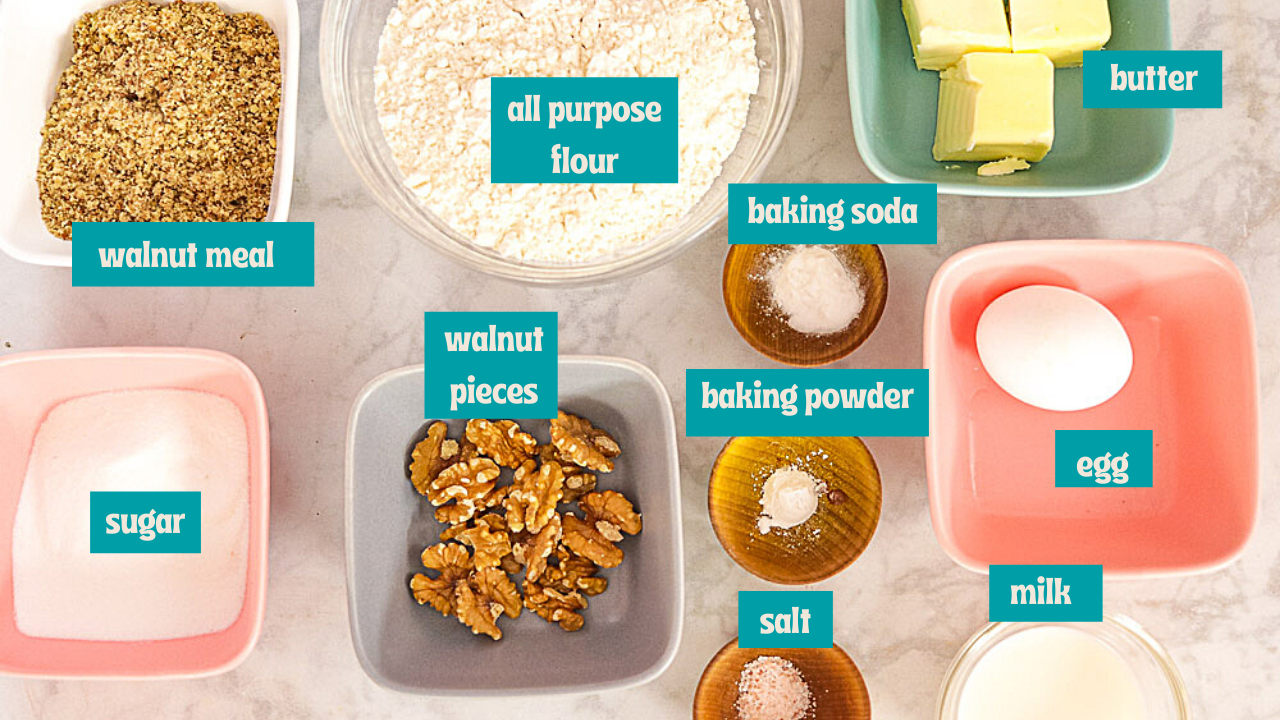 butter – at room temperature
walnut meal – almond meal or peanut meal can also be substituted
egg – can be substituted with 1/3 cup heavy cream
milk
Have you tried instacart yet? It's how I get all of my fresh grocery items delivered within 2 hours!
TO REMEMBER
These are basically a shortbread type of cookie, so the batter is a bit on the dry side, but do not be tempted to add more liquid. The cookies will bind and come together with the heat of your hands.
How to make Chinese Walnut Cookies
Mix the flour with baking powder, baking soda and salt and mix.
Beat the butter and sugar until creamy. Use the paddle attachment of an electric mixer or by hand with a wooden spoon.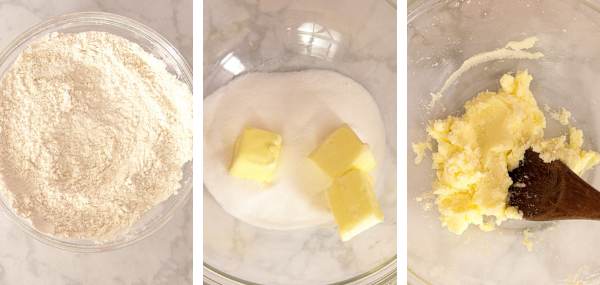 Add walnut meal.
Add 1/2 of the beaten egg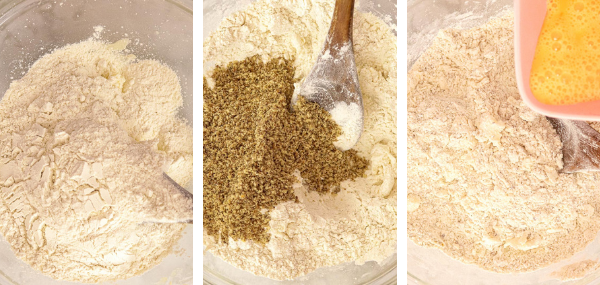 Add milk and mix until thoroughly combined.
The batter will be quite dry.
By hand, form the cookies into balls. The heat of your hands will bind the cookie mix.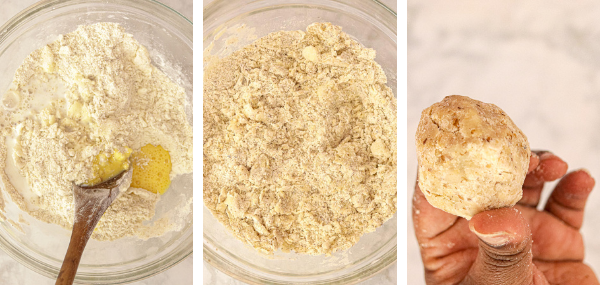 Flatten the balls a bit and press a walnut piece in the middle of each cookie.
Brush the tops with the remaining 1/2 of the egg.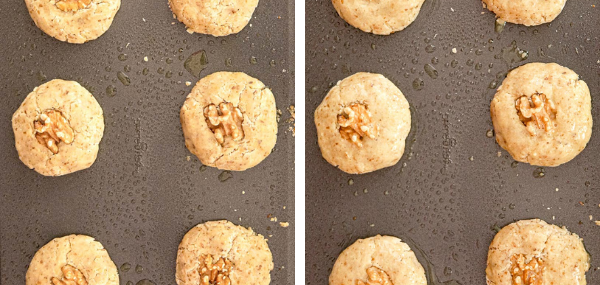 These walnut cookies are super fast and easy to put together, so you still have time to get them made before the New Year begins.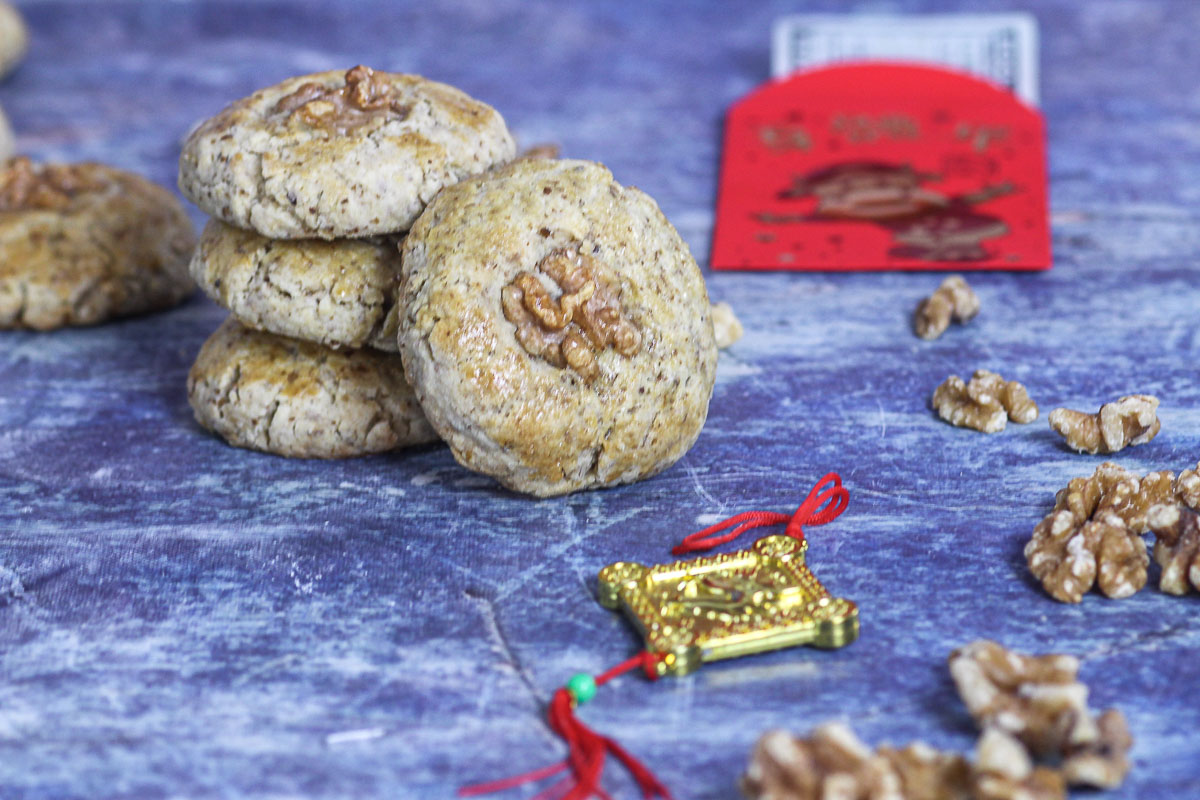 For some other sweet treats to celebrate the Lunar New Year, try these other Chinese New Year specialties I've made:
Chinese New Year Recipes
Chinese Walnut Cookies – Hup Toh Soh
These cookies are traditionally eaten during the Lunar Festival, also known as Chinese New Year
Instructions
In a bowl, combine flour, baking soda, baking powder and salt. Mix to combine.

In the bowl of an electric mixer, beat butter and sugar using the paddle attachment until creamy. You can also mix by hand with a wooden spoon or use a handheld electric mixer.

Add flour combo and mix to combine.

Add ½ the egg and milk. Mix until thoroughly combined.

Add the nut meal/ nut flour and mix until thoroughly combined.

It is a dry looking dough, but do not be tempted to add more liquid. The heat from your hands will provide the additional moisture to make the cookies come together.

Place a piece of parchment paper on a cookie sheet. Spray with non stick spray.

Form walnut sized balls. Make an indent and place a walnut piece in the center. Place on prepared sheet. Repeat until all the cookies have been formed. Leave to rest for 15 minutes.

While the cookies are resting, preheat the oven to 350 F. Brush cookies with the other half of the egg.

Bake for 15-20 minutes, until golden brown. As soon as you take them out, press the walnut cookies into the dough again if necessary. Some may have risen a bit. Leave on the cookie sheet for 10 minutes to set.
Notes
If you don't have access to walnut meal, dry roast ¾ cup walnut pieces and then grind coarsely. If using freshly ground walnuts, there will be more moisture and you might be able to omit the milk. First test one cookie and see if it will bind. If it does not, then add the milk.
Store leftover walnut meal in the refrigerator.
Yield: 10-12 cookies, depending on size.
Nutrition
Calories:
212
kcal
|
Carbohydrates:
25
g
|
Protein:
4
g
|
Fat:
11
g
|
Saturated Fat:
5
g
|
Trans Fat:
1
g
|
Cholesterol:
31
mg
|
Sodium:
159
mg
|
Potassium:
67
mg
|
Fiber:
1
g
|
Sugar:
9
g
|
Vitamin A:
229
IU
|
Vitamin C:
1
mg
|
Calcium:
19
mg
|
Iron:
1
mg
Did you try this recipe? Leave a comment below.
Please follow me on Instagram @chefmireille or tag me #chefmireille with your pics! I'd love to share them!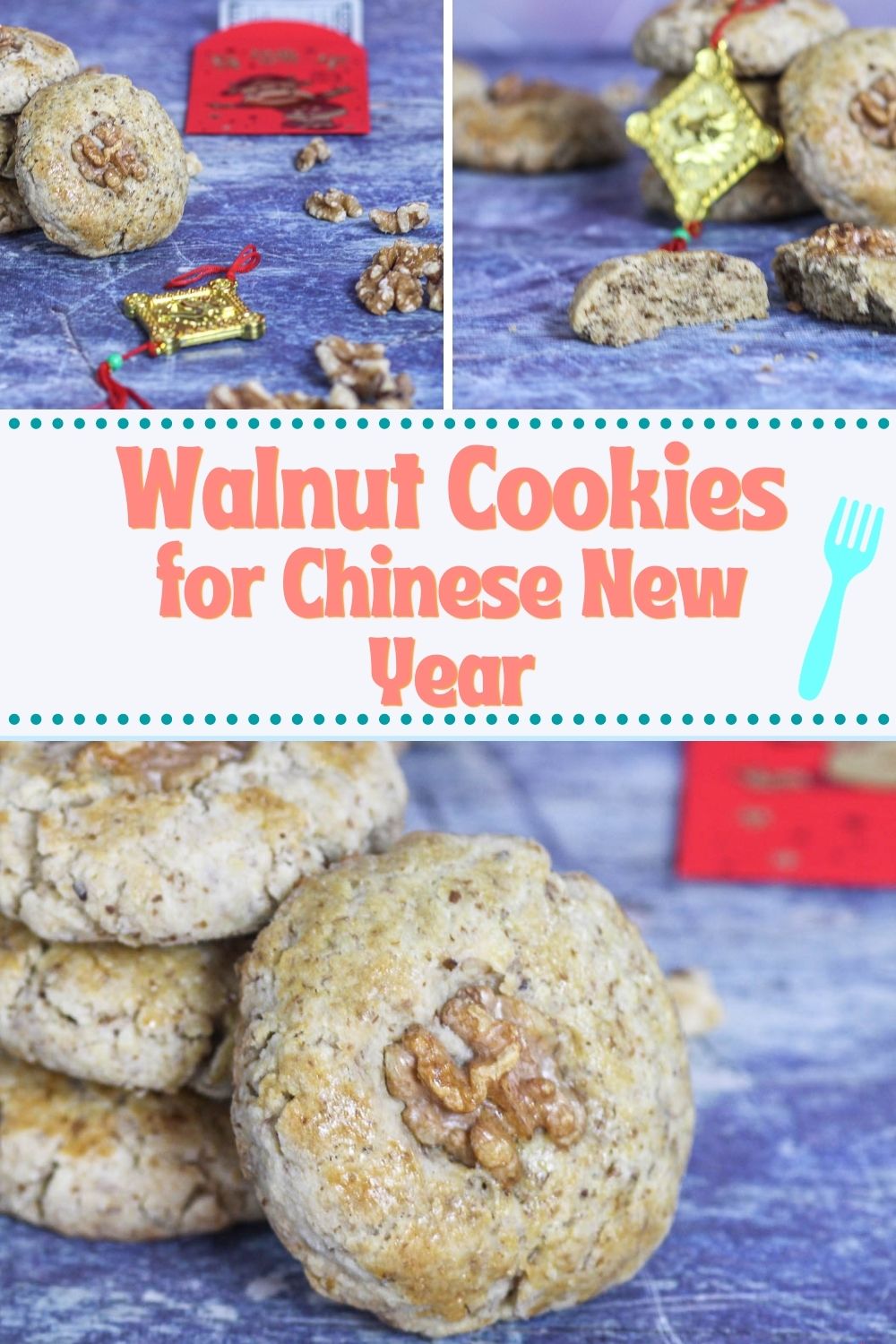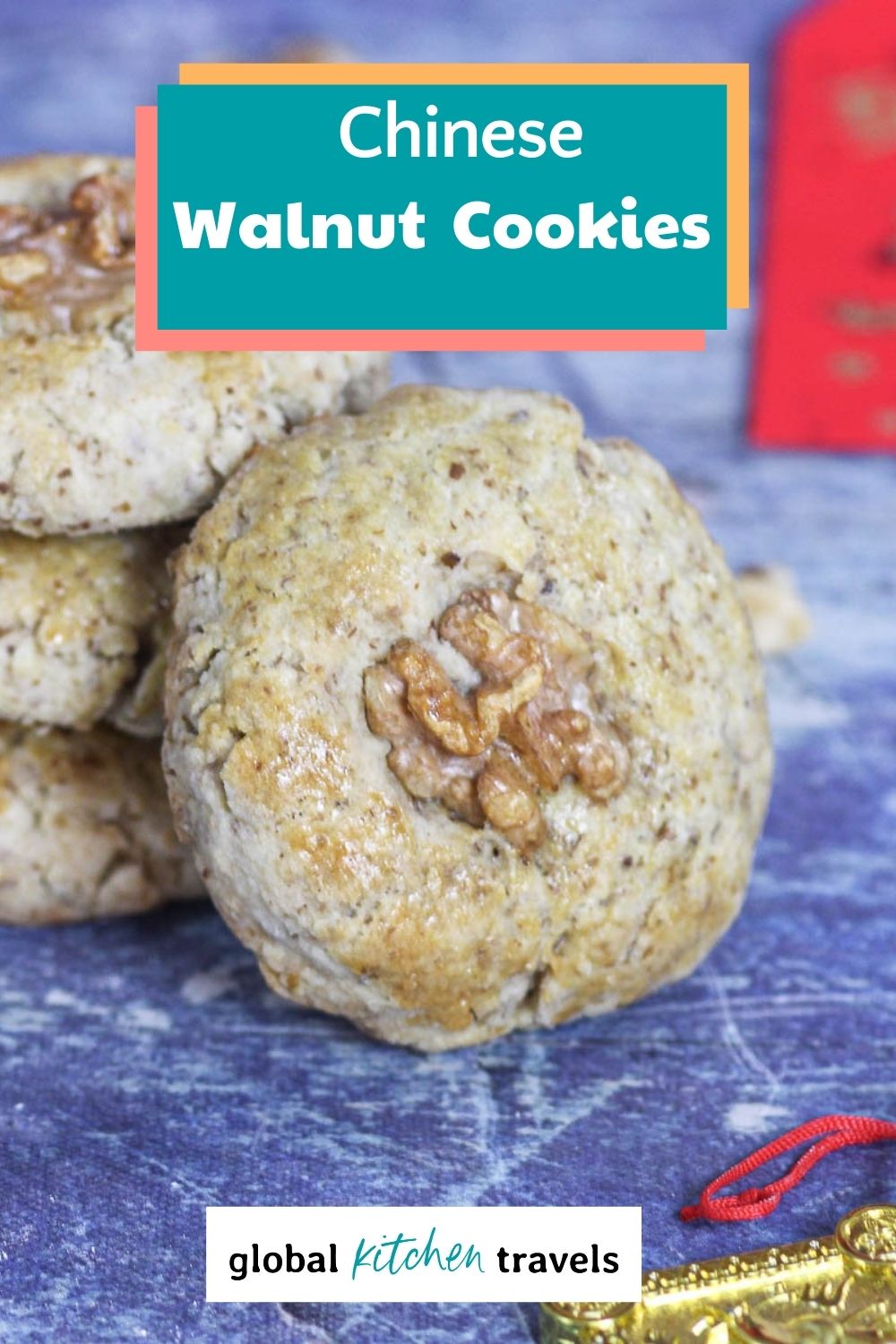 Don't forget to visit the RECIPE INDEX with over 1000 recipes from around the world including lots of Vegetarian Recipes and Gluten Free Recipes!