Last Updated on November 13, 2019 by Chef Mireille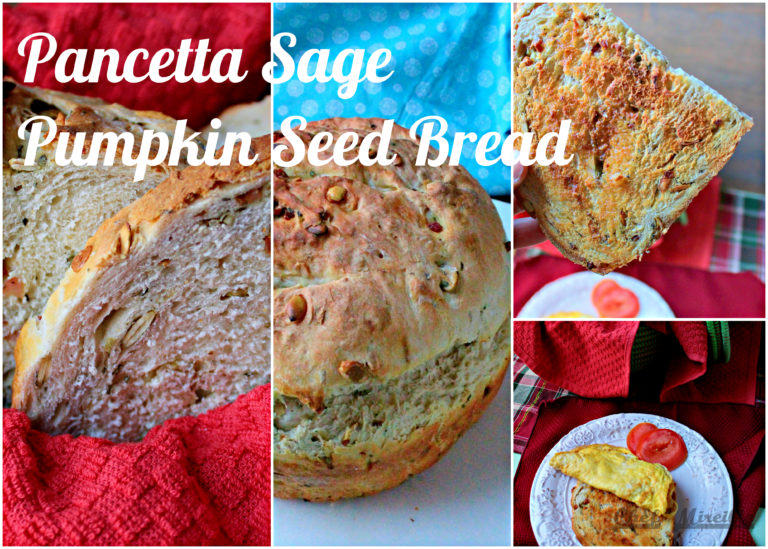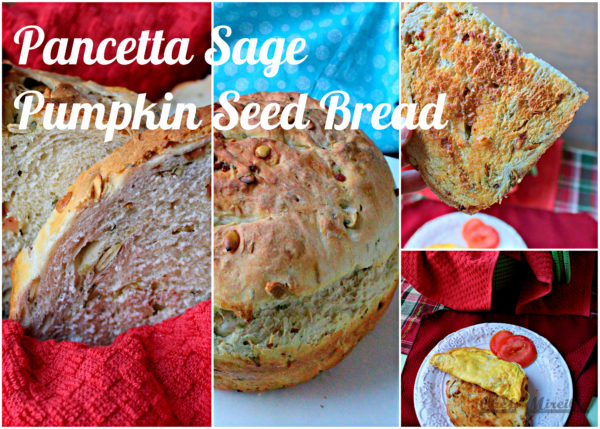 This is another recipe from my old 1998 edition of the Best of the Best Cookbook. This recipe is from What You Knead by Mary Ann Esposito, who was a host at the time of PBS' Ciao Italia. There are several recipes created from a basic Sponge Dough and a basic Straight Dough. This is one of the varietal recipes based on the Sponge Dough. This Pancetta Sage Pumpkin Seed Bread embraces all the flavors of fall/winter with smoky herbaceous goodness.
With this basic sponge bread, you can change up the fillings if you like but since I liked the flavor combination, I went with what was in the book. Parmesan and Roasted Pine Nuts I think would be a great combo as well for this bread.
It's perfect to accompany winter soups and stews. It makes a great vehicle for sandwiches and serves as a great accompaniment to your breakfast omelette. This is a bit of a labor and time intensive recipe, but oh boy, is it worth the effort. Perfect if you're snowed in – just make sure you stock the ingredients in advance if you can't get out to the store. I only made some minor adjustments in methodology, but other than that, stayed pretty true to the original recipe. This is my submission for the Cookbook Cooking Challenge this week.
Since it is winter, I do suggest you use bread flour and not all purpose flour to get a better rise out of the bread if you live in a cold climate.
…linking to Cookbook Cooking Challenge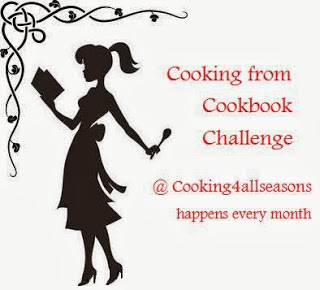 https://www.flickr.com/photos/132661972@N04/32319871202/in/dateposted-public/
Pancetta Sage Pumpkin Seed Bread
A sponge Artisan bread
Ingredients
Mother Sponge Ingredients:

1/2

teaspoon

instant yeast

3/4

cup

potato water *see note*

1

cup

bread flour

Second Sponge Ingredients:

3 1/2 - 4 1/2

cups

bread flour

2

teaspoons

½salt

1 1/2

cups

potato water *see note*

1

teaspoon

instant yeast

1

teaspoon

olive oil

Bread Ingredients:

1

cup

hulled pumpkin seeds

1/4

lb.

pancetta

diced

1/3

cup

fresh sage

minced
Instructions
To make the mother sponge, heat potato water to 110 – 115 F.

In a large bowl, combine flour and yeast. Add potato water. It should be the consistency of thick pancake batter. Cover tightly with plastic wrap and leave for at least 3 hours and even overnight. It is ready when it smells yeasty and is bubbly on the surface.

Now we are ready to make the second sponge. Heat potato water to 110 – 115 F. Sprinkle yeast on top and leave for 5 minutes, until foamy.

In the large bowl of an electric mixer, combine 3 ½ cups of the flour and salt. Add mother sponge, proofed yeast and olive oil. Using dough hook, knead until the dough is smooth and does not stick to your hands, adding additional flour as necessary.

Transfer dough to a lightly floured work surface. Knead by hand for 5 minutes. Cover with a

tea

towel and let it rest for 5 minutes. Repeat 3 times.

Transfer dough to a lightly oiled bowl. Turn the dough over so that all sides have been coated with the oil. Cover tightly with plastic wrap and a

tea

towel. Leave until double in size, about 1 ½ hours.

The sponge is now ready to make our bread.

In a dry skillet, toast pumpkin seeds until golden. Remove to a bowl and let them cool.

Saute pancetta until browned and crispy. Allow to cool. Mince.

Spray a Dutch oven with non stick spray.

Transfer dough to a lightly floured surface. Knead for a few minutes until it is smooth and no longer sticky. Roll into a 14" circle.

Sprinkle pumpkin seeds, pancetta and sage over the dough. Tightly roll the dough and pinch the seam closed. Fold the dough in half and knead the dough until the filling ingredients are evenly dispersed. Form into a round loaf and place in prepared pot. Cover and leave to rise until doubled in size, about 40 minutes.

Preheat oven to 425 F.

Make three shallow slashes across the top of the dough with a sharp knife. Sprinkle a little water on top.

Bake for 40 minutes until bread sounds hollow when tapped.
Notes
To make potato water, save water from boiling potatoes. You can also bake covered for 40 minutes and then uncover for 10 minutes. This is normally how it should be baked, but I forgot to cover it so mine doesn't have the lovely air pockets associated with artisan breads.
Did you try this recipe? Leave a comment below.
Please follow me on Instagram @chefmireille or tag me #chefmireille with your pics! I'd love to share them!