Last Updated on August 20, 2021 by Chef Mireille
This protein packed Chicken Soup has extra doses of both protein (from the mushrooms) and fiber (from the wheat berries) to make a filling meal. Not only is it the most delicious best chicken soup ever, but it is also filled with natural ingredients that will help boost your immune system and battle any colds or infections.
Just about every culture in the world has some kind of food, usually soup, that is meant to be the cure all for any kind of common illness like colds, sinus infections and the like.
In many cultures, it is some variation of Chicken Soup, which is also known as the Jewish mother's penicillin.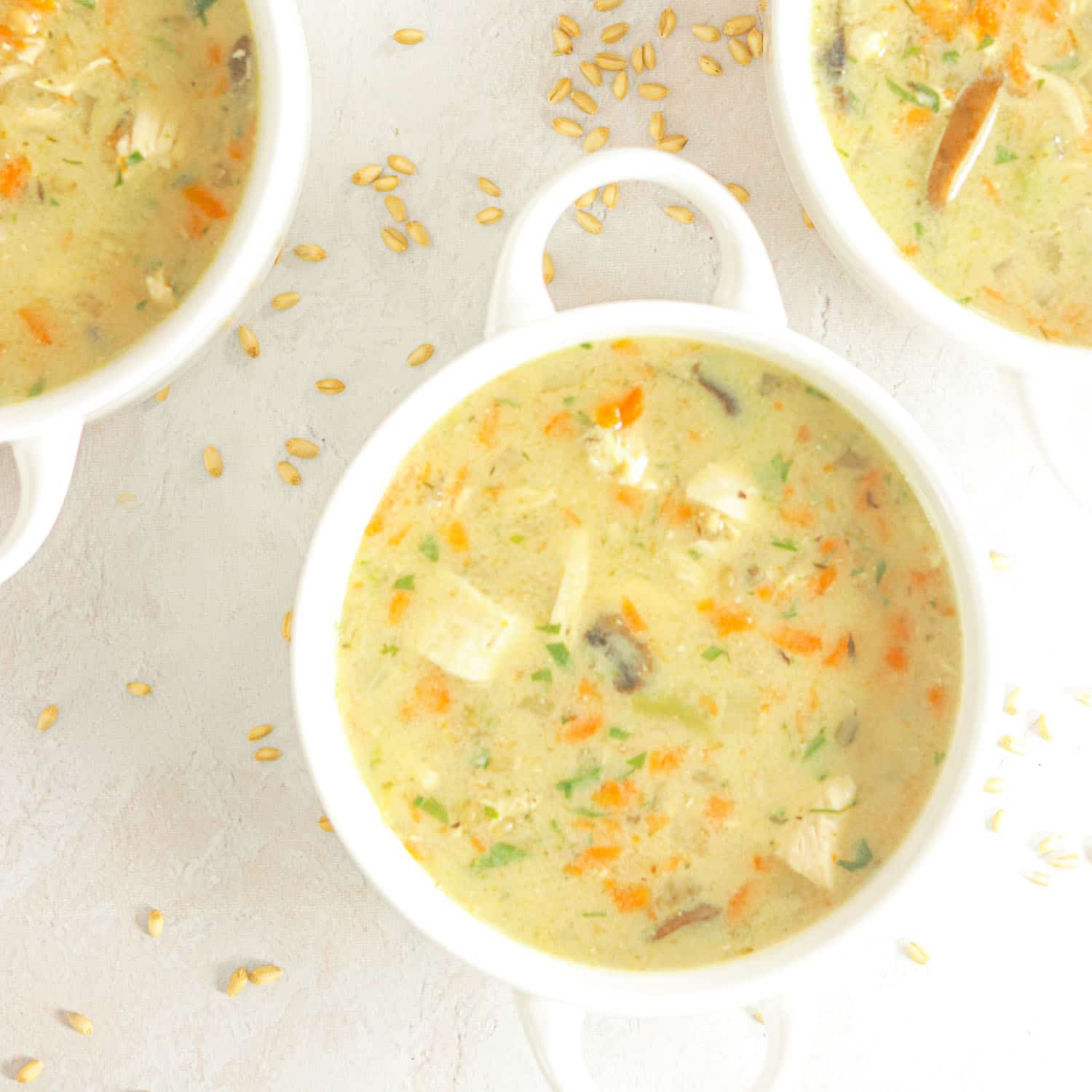 This post may include affiliate links.
So why is Chicken Soup so good for us?
Why is Chicken Soup the best soup for a cold?
Hydration. When you have a cold, it is important to stay hydrated. The broth is warm and comforting and it provides the necessary hydration. The steam from a bowl of hot soup will also help with blocked nasal passages.
Vitamins. Beta-carotene, Vitamin A, Vitamin C & Vitamin K are all great to boost your immune system. All of these nutrients are provided by basic vegetables included in most chicken soups like garlic, onions, carrot and celery.
Spices. Although I kept this one simple as not everyone enjoys a lot of spices, , even the salt included in some of the ingredients like the condensed soup helps because many people suffer from a loss of appetite when they have a cold. If you are not eating, you are also not getting the nutrients needed to battle the cold. Anything that aids in the flavor will make you eat more of it. 

Also any type of hot pepper, like the crushed red pepper used in this chicken soup, will help open up your sinuses and aid in congestion. Some extra hot sauce, if you have the palate for it, will also be good.
Other spices that help boost your immune system are turmeric and ginger. Adding these spices to this soup would also help you get better faster, to make this indeed a chicken soup for a cold 🙂
Carnosine. Chicken has a good quantity of carnosine, a compound that helps reduce congestion. Studies suggest that it reduces inflammation in the respiratory system.
These are just some of the reasons why chicken soup is healing. Even before you get a cold, having a bowl of chicken soup during the winter season will help boost your immune system, so maybe you don't get a cold this winter!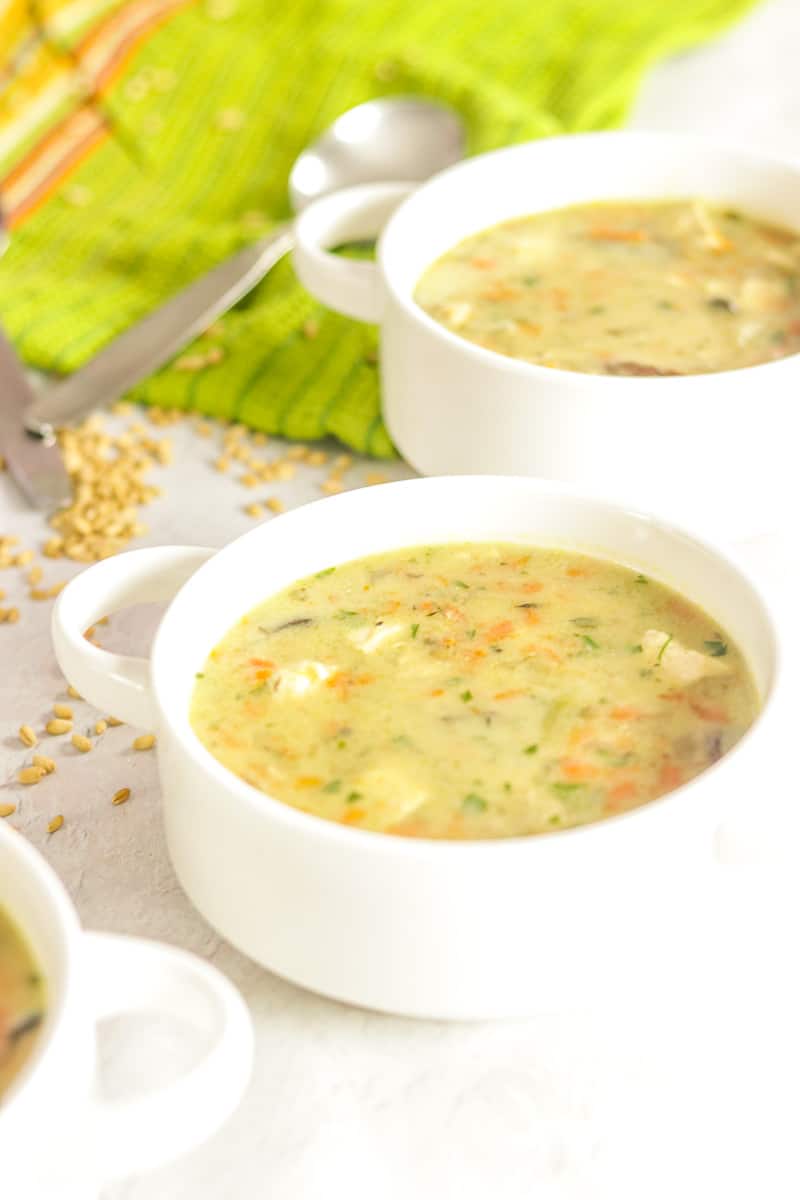 Make Ahead Meal
There are several reasons why this is the best chicken soup recipe.
One of those reasons is that this recipe is so versatile and is adaptable for those who meal prep, as most of the recipe can be prepped ahead of time, and then this Healthy Chicken Soup will be done in less than 30 minutes.
So what part of this recipe can be prepped ahead of time?
While you can make it with fresh chicken and just simmer it an extra 15 minutes, you can also make this by using previously cooked chicken, such as leftover roast chicken, rotisserie chicken or even just boil 2 chicken breasts the day before. Even canned chicken can be used.
Boil the wheat berries.
Chop the vegetables and store in refrigerator bags or containers until ready to use.
Then just follow the recipe!
This soup is a great FREEZER MEAL as it can be made ahead and frozen to be eaten later.
Variations
Can be made with raw or cooked chicken. If using cooked chicken, it is fast and easy and will take 15 less minutes to cook.
Any grain such as barley or wild rice can replace the whole wheat berries.
Any flavor of condensed soup you prefer can be used.
So now I've told you all the reasons why you should make this chicken soup at least once a week during the colder months, let's go over what you will need.
The Ingredients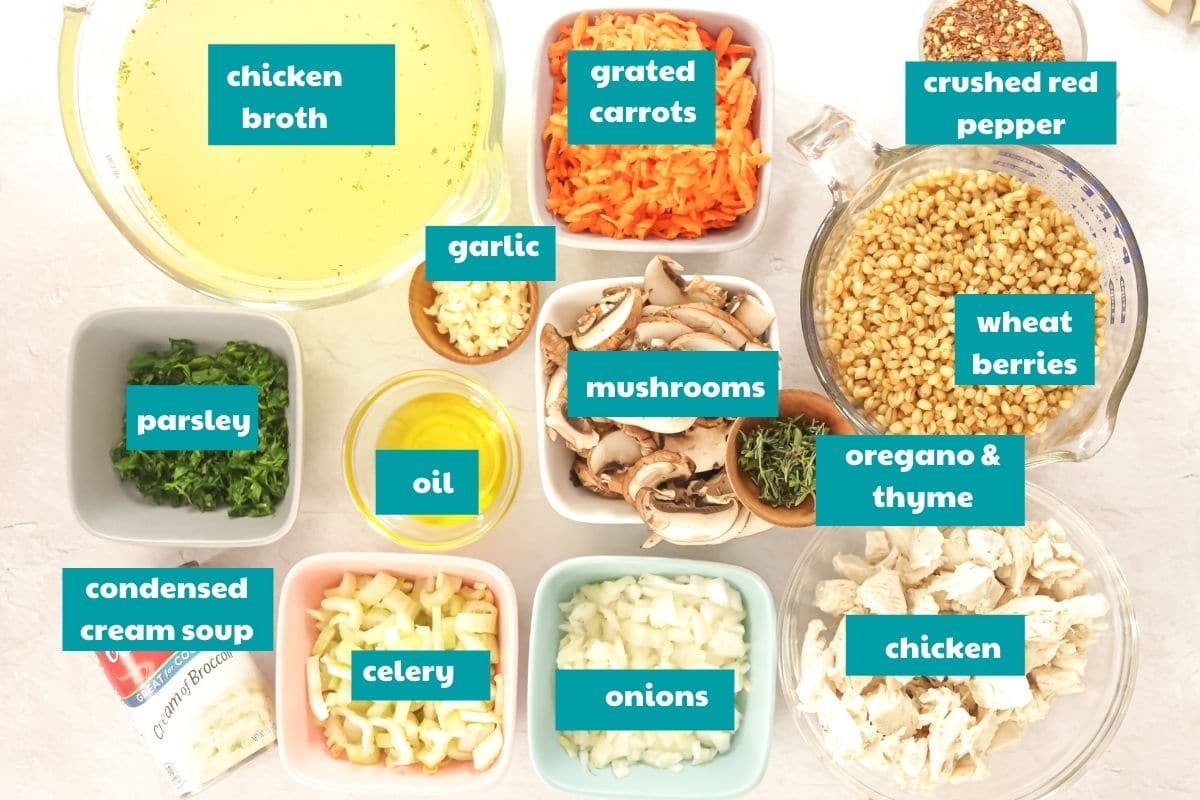 2 tablespoons oil
1 cup chopped celery
1 chopped onion
5 oz. thinly sliced mushrooms
garlic
chicken broth
carrots
fresh or dried herbs (oregano and/or thyme)
chicken
canned cream condensed soup
wheat berries
Stock up on the pantry items, so when you need them, they are there. Then all you need to worry about is purchasing the fresh ingredients.
Have you tried instacart yet? It's how I get all of my fresh grocery items delivered within 2 hours!
How to make Creamy Chicken Soup
Boil wheat berries and cook until tender.
Saute onions, garlic, celery and mushrooms.
Add broth, carrots and fresh herbs.
Add cooked chicken and wheat berries.
Add condensed soup and bring to a boil.
Add parsley and stir to combine.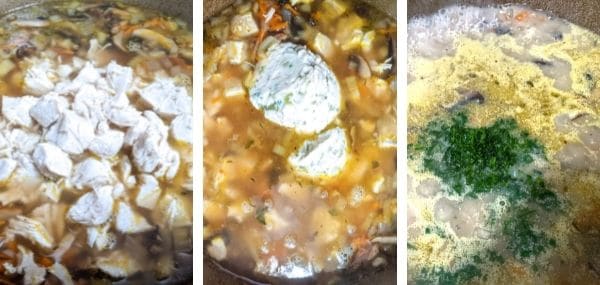 Simmer until well combined and desired consistency.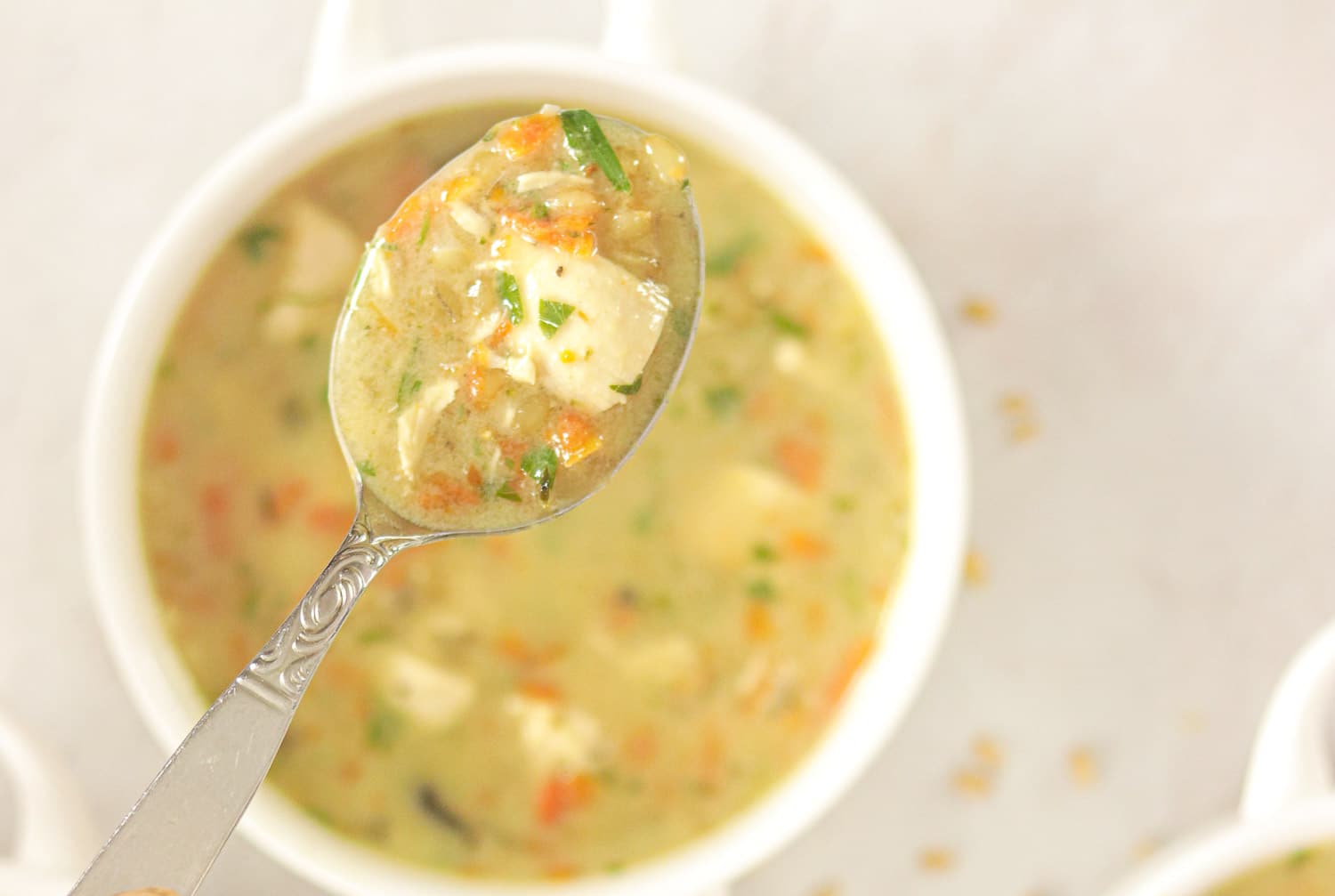 Hearty and filling soup!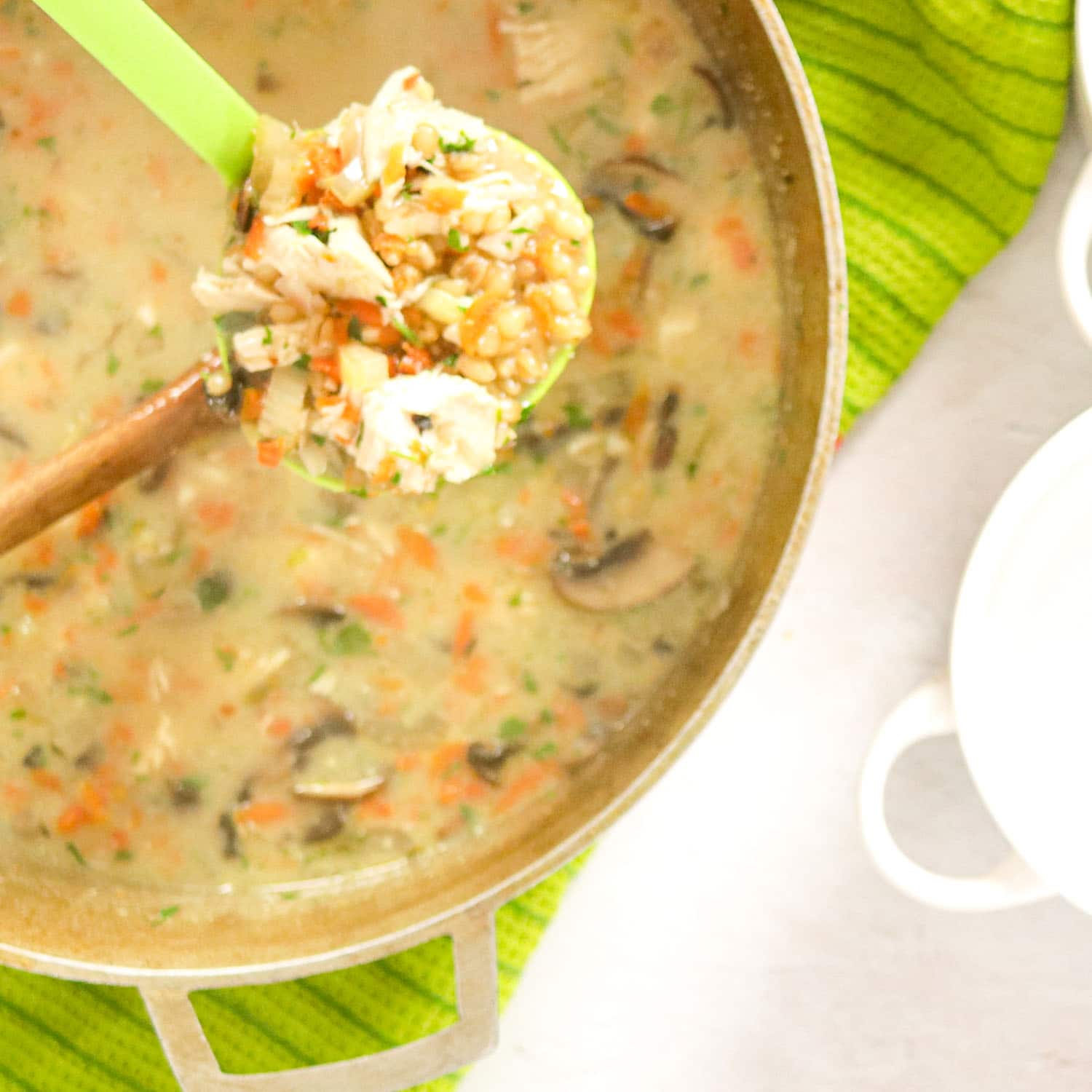 …perfect comfort food for winter…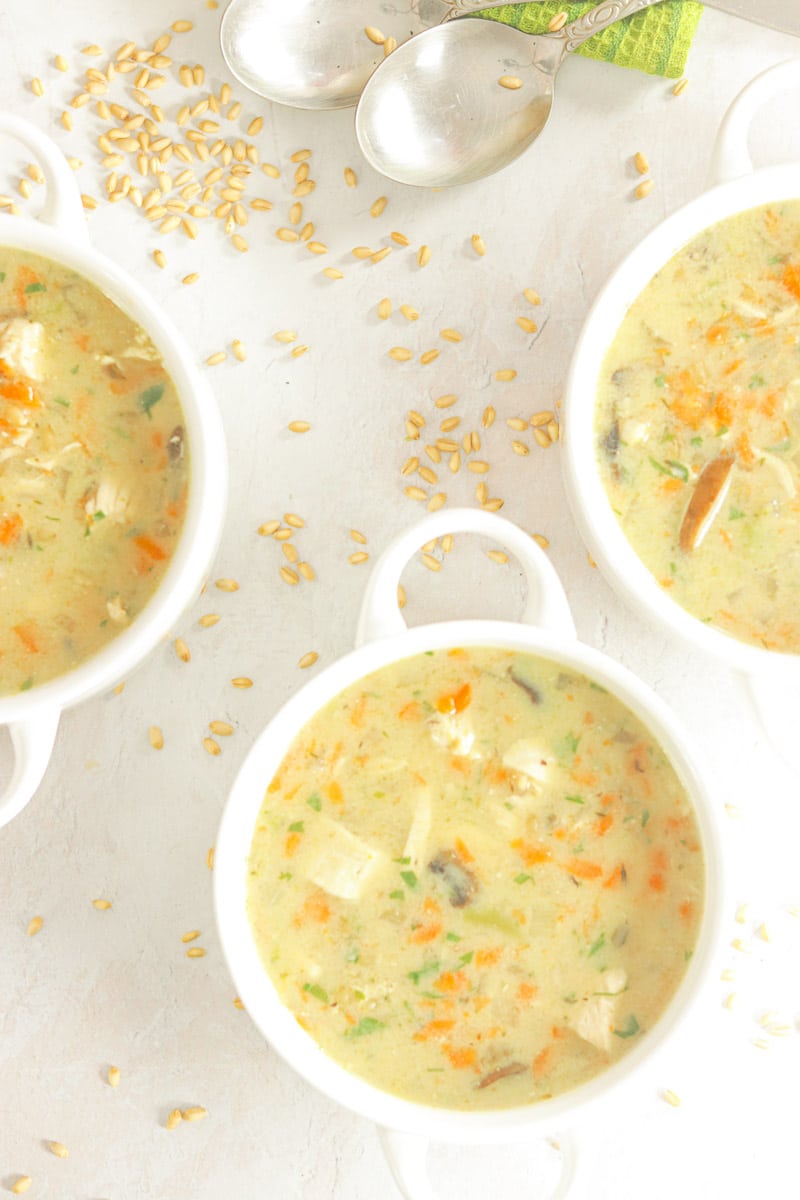 Note: originally published February, 2016
Creamy Chicken Soup with Wheat Berry
Ingredients
2

tablespoons

oil

1

cup

chopped celery

1

chopped onion

5

oz.

thinly sliced mushrooms

3

finely chopped garlic cloves

2

quarts

chicken broth

1

cup

grated carrots

2

teaspoons

fresh herbs

thyme and oregano

1/2

teaspoon

crushed red pepper

2

cups

diced chicken

cooked or raw

10 1/2

oz.

can cream condensed soup

I used cream of broccoli

3

cups

cooked wheat berries

1 1/2 cups uncooked

3

tablespoon

finely chopped parsley
Instructions
Cook wheat berries in a pot of boiling water until tender, about 30 minutes.

In a large pot, heat oil.

Add celery, onion, mushrooms and garlic. Saute until softened, about 5 minutes.

Add chicken broth, bouillon cube, carrots, thyme and pepper. Bring to a boil. Reduce to a simmer and cook for 30 minutes.

Add chicken and condensed soup. Simmer for 5 minutes.

Add wheat berries and cook until heated through, 2 minutes.

Add parsley and stir to combine.

Serve warm.
Notes
Can be made with raw or previously cooked chicken.
If using pre cooked chicken, cooking time will be reduced by 15 minutes.
Cooked wheat berries can be replaced with wild rice or barley.
Dried herbs can be used instead of the fresh herbs.
Nutrition
Calories:
293
kcal
|
Carbohydrates:
41
g
|
Protein:
14
g
|
Fat:
9
g
|
Saturated Fat:
2
g
|
Polyunsaturated Fat:
2
g
|
Monounsaturated Fat:
4
g
|
Trans Fat:
1
g
|
Cholesterol:
21
mg
|
Sodium:
1038
mg
|
Potassium:
422
mg
|
Fiber:
8
g
|
Sugar:
2
g
|
Vitamin A:
2944
IU
|
Vitamin C:
22
mg
|
Calcium:
60
mg
|
Iron:
3
mg
Did you try this recipe? Leave a comment below.
Please follow me on Instagram @chefmireille or tag me #chefmireille with your pics! I'd love to share them!
Don't forget to visit the RECIPE INDEX with over 1000 recipes from around the world including lots of Vegetarian Recipes and Gluten Free Recipes!