Last Updated on November 19, 2019 by Chef Mireille
Dominica – Nature Island of the Caribbean
Dominica is a volcanic island full of waterfalls and hot springs. Also the location where the Pirates of the Caribbean movies were shot!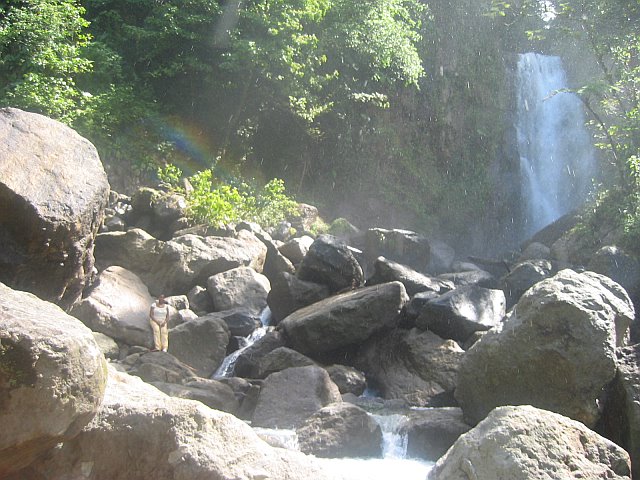 Dominica is not usually on one of the top Caribbean destinations, but it should be. Largely untouched still, you won't find another island full of natural beauty without huge hotels breaking up the nature!
It is a volcanic island, so it is definitely the place for nature enthusiasts. Full of waterfalls, hot springs and if you are up to it, you can go on the 8 mile hike from the nearest road to Boiling Lake, the second largest fumarole in the world. The largest, Frying Pan Lake, is in New Zealand. It is a cauldron of boiling water under the earth's surface.
Have you seen the Pirates of the Caribbean movies? Well, Dominica is where they were filmed.
Spices and fresh produce are abundant on the island. As soon as you step off the plane, you will notice the smell of cinnamon, nutmeg and vanilla in the air.
More than the average traveller, Dominica has a very special place in my heart. It is my grandmother's birthplace and I have some cousins that still live there. The one and only time I visited was in 2007.
To this day, it remains one of the few remaining unspoiled islands of the Caribbean. Despite its breathtaking beauty, you won't find Hiltons, Marriot's and Ritz Carlton's dotting its coastline. Instead, family run B&B's are more popular, making you feel more like you are visiting a close family friend, instead of a hired hand paid to keep you happy.
History
Christopher Columbus named the island after the day of the week he landed in November, 1493. Although he attempted, this was one island Spain could not colonize. When he arrived there was a large population of Kallinago, the native people of the island. Due to the rugged terrain of the island which they knew well, they were able to hide in the mountains and proved too challenging for the Spanish invaders. Instead, he wrote that there was nothing of value in the island and better to abandon it, much to the Kallinago's delight.
It is one of the few islands in the Caribbean whose native population was not killed by slave labor and diseases brought by the Spanish. There are still over 3000 Kallinago who have a protected area of the island, known as Carib Territory. However the island was colonized by the French and later the British.
This back and forth colonization is represented in the capital city of Roseau. Some parts of the city have more French architecture with beautiful verandas and other parts of Roseau have more British architecture.
The Carib Territory Guest House , renamed as the Kallinago Territory Guest House is run by the Kallinago chief and his wife. They prefer to use the term Kallinago, as the Carib name was given to them by the colonizers. Here you can enjoy the unspoiled nature of the island with solitary hikes or go on one of the private tours the chief will guide you on. Here you feel at home. As I wandered into the kitchen one day to grab a cup of coffee, the chief's wife was shelling fresh coffee beans which had just been harvested and roasted. After helping her shell the beans, I waited for a fresh pot and it was the best cup of coffee I have ever had. Smoky and sweet with the flavor of spices in the land, it did not even need any milk or sugar.
You can also visit their model village to learn about their culture and see how they lived before Columbus and then the French arrived.
Nature Lovers
For hiking enthusiasts, this is definitely a spot you must visit. Almost every major sightseeing stop like Trafalgar Waterfalls, Boiling Lake or The Emerald Pool involves a hike through breathtakingly beautiful jungle. I didn't make it to Boiling Lake, however you will still be able to see many of the beautiful waterfalls without that intensive hike.
Swimming in the Emerald Pool under one of these waterfalls was amazing and worth the hike to it! Even though it was raining a little (I was there at the tail end of the rainy season), it was still refreshing from the Caribbean heat and humidity.
While you are hiking, at least you can take a sip of the fresh spring water that falls down the mountains on the side of the roads.
and stop to take gorgeous photos….
Pirates of the Caribbean
This is where the Pirates of the Caribbean movies were filmed. There are even Pirates of the Caribbean tours that will take you to the major spots that were featured in the film.
Also not to be missed is a stroll out to Scotts Head, the point where the Caribbean Sea & the Atlantic Ocean meet.
Roseau is the capital city, painted in the vibrant colors of the Caribbean.
Every Saturday is Market Day, when everybody comes to the location that was previously the market for selling slaves, but today they are selling fresh fruits, vegetables and spices.
However, the most meaningful place to visit was a small fishing village on the southern tip of the island, Pt. Michel, where my grandmother was born. I loved walking along this small village where I enjoyed a delicious lunch of fresh caught fish.
I can imagine my grandmother as a child walking along this same coastline.
…and I also got to meet one of my grandmother's cousins…
World Creole Music Festival
I visited the end of October and if you are a music enthusiast, this is the time to visit when the World Creole Music Festival takes place annually to celebrate Creole music from France, Canada, Africa & the Caribbean.
However, it is also the tail end of the rainy season, so there may be a few rainy days, but at this stage not more than an hour or two a day. Be careful if you go into the mountains on a rainy day. You might get stuck there because fear of mudslides will prevent anyone wanting to bring you back down until the land dries.
Dominica Independence Day Festivities
Another reason to go at this time of year is that a month of festivities ends the first week of November, when they celebrate their Independence Day. Cultural days when people dress in traditional wear and festivals in the park with food, vendors and steel pan music are just a few activities you can enjoy this month.
Dominica Cuisine
Now let's talk about the food. It is a fusion of African, French and British culinary traditions with the abundant use of fresh spices and herbs. It's very rustic and simple but because of the quality of fresh produce, your taste buds will definitely be thanking you.
A typical breakfast might include saltfish (salted cod) with breadfruit and other root vegetables.
A typical lunch might include stew chicken, agouti (when you see what this animal looks like, you most likely won't want to try it unless you are truly an adventurous eater) or curry goat as the main course.
Crab Callaloo is one of the most popular dishes. Crab cooked in a callaloo (dasheen/taro root leaves) broth.
Want to try your hand at cooking some food from Dominica?
RELATED: DOMINICA STYLE SALTFISH & GROUND PROVISION
On your drive up to Kallinago Territory, don't forget to stop at Richard's Bakery, an outside bakery covered only with a tin roof, where two things are made – cassava (yuca) bread and kanke (cassava, coconut and spices steamed in banana leaves).
There are still so much more I can talk about the Nature Island of the Caribbean, but then this post would never end. Still untouched by western developers, if you want to visit one of the most beautiful Caribbean islands without crowded beaches and throngs of tourists to cause long lines at every destination, think Dominica – Nature Island of the Caribbean.
When To Go
You definitely want to make sure you avoid the island during hurricane season. They get hit quite regularly, but are now experts at rebuilding the island quickly after each hurricane.
However, you might have to hike around fallen trees, no matter when you go!
NOW I KNOW YOU'RE READY TO START PLANNING! LET ME HELP YOU PLAN YOUR NEXT DREAM VACATION. SCHEDULE YOUR TRIP PLANNING FREE CONSULTATION HERE!
ARE YOU READY TO TRAVEL? PLEASE HELP ME CONTINUE TO PROVIDE YOU WITH INFORMATIVE TRAVEL CONTENT BY SHARING THIS POST AND SHOPPING FOR YOUR FAVORITE AMAZON PRODUCTS!
PIN IT FOR LATER