Last Updated on May 14, 2021 by Chef Mireille
If all you is 24 hours in Singapore, follow this food guide to make sure you don't miss the Best Food in Singapore.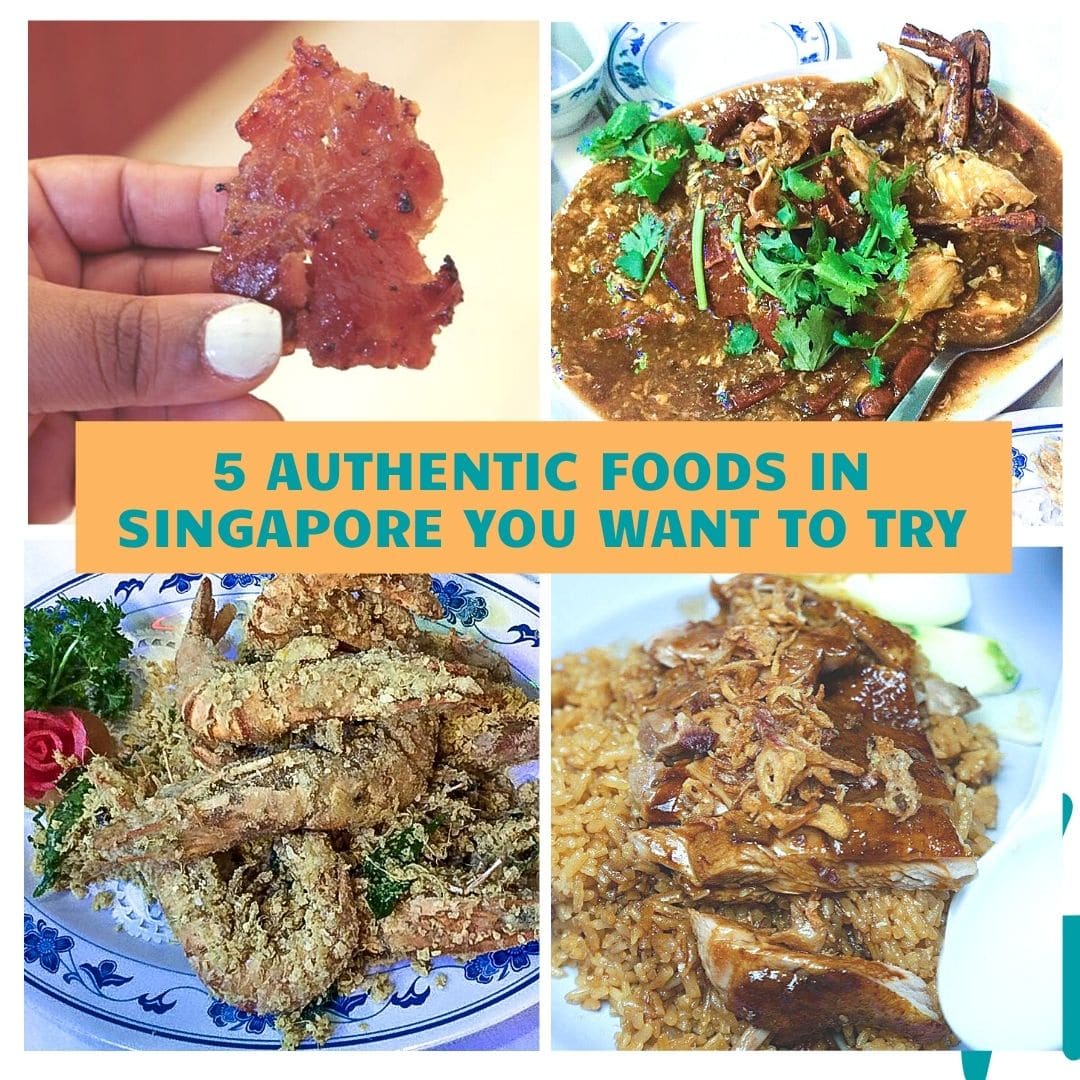 These are the 5 things YOU MUST EAT if you eat EVERYTHING! – This list is not Vegetarian friendly!
Singapore is a destination that should be included on any Asian itinerary if you are a foodie. It is the place where most Asian cuisines meet. Malay, Indonesian, Thai, Indian, Chinese and local delicacies. Additionally, it is an extremely multi cultural island. There is a British lane, full of pubs for Fish & Chips. On Haji Lane, you can get Turkish coffee and baklava. There's also a small Chinatown.
However, Singapore is one of the most expensive places to travel in Southeast Asia, so you may not be able to afford to spend many days there. Since it is a small island, it can be quite challenging to find affordable lodging. Here's a great guide to help you decide where to book your accommodations both luxury and budget while in Singapore.
Even if it's just 24 hours, here's a guide for 2 to eat your way through the island. For two, because each place I am mentioning, I am giving you two dishes YOU MUST TRY. Each of you order a dish and then share so you both get to try both dishes.
BAK KWA
Bak Kwa is basically jerky. However, this is not that hard dried out jerky that you practically rip out your teeth trying to get a bite. This is soft jerky full of smoky Asian barbecue flavors. This is the only jerky I will eat. In fact, I LOVED it so much I went in search of it when I came back to the US and was so happy to find a Bak Kwa shop here in NYC Chinatown. It's a decent substitute, but still not as good as the one I had in Singapore at Kim Joo Guan on South Bridge Road. Kim Joo Guan is a family business that has been making the Barbecue Pork Slice for 3 generations and are the absolute best on the island. Get some to go, but don't fill up eating it up. This is for your snack later because you need room in your tummy for the foods we are going to try at the Maxwell Hawker Center.
Selling food street side is not allowed in Singapore. Instead, you have hawker centers. Basically these are enclosed buildings with many food stalls for you to choose your favorite Asian street food treats, except you're not on the street! You can walk from Kim Joo Guan to the Maxwell Hawker Center. So what to try at Maxwell?
CHICKEN RICE
What's so special about chicken rice? I don't know, but it must be the broth the chicken is cooked in because it has so many layers of flavor and is so delicious. You can get two options – either the Roasted or Hainanese. The roasted may look more aesthetically appealing, but the Hainanese is definitely the most popular. Although there are many stalls at Maxwell that sell Hainanese Chicken Rice, the best is Tian Tian but be prepared to stand on line for a while!
If you prefer the roasted version, there are many stalls inside Maxwell for you to try it.
LAKSA
Malaysia, Indonesia and Singapore are all known for Laksa – a spicy shrimp/seafood and noodle soup. Each location has their own regional variation and the Singapore version does justice to its reputation!
Now stroll around for a while to let your food digest. Pick up some souvenirs in Chinatown. Visit the Masjid Sultan or one of the Hindu mandhirs. Shop for textiles and a cup of Turkish coffee in Haji Lane.
Now it's dinner time! Time to go to the Por Kee Eating House…Chinese food Singapore style! One of the best ways to find out where are the best places to eat and what to order is to ask a local. I found out about this place from a lady on the bus and she told me what to order. Without her suggestion, I probably would not have ordered the Cereal Prawns and boy would I have missed out!
CEREAL PRAWNS
Large head on prawns are coated with Corn Flakes – Yes I said Corn Flakes and then deep fried. These were so delicious with the crispy exterior and well seasoned tender shrimp meat on the inside!
CHILI CRAB
Singapore is known for this spicy dish and it's available everywhere. If you ask anyone what to try in Singapore, this is the first thing that will come from everyone's mouth and the version at Por Kee was fabulous and lived up to its reputation!
So if all you've got is 24 hours, you can still eat the best in Singapore!
RELATED – SINGAPORE AIRLINES REVIEW