Last Updated on November 17, 2021 by Chef Mireille
Lame Veritab Boulet is one of the most popular Breadfruit Recipes in Haiti. These Breadfruit Fritters are stuffed with salt cod and make a great appetizer for any occasion. Just by accident of invention, they are also easily adapted to GLUTEN FREE. It is a snack that everyone can enjoy.
Although I stuffed these with salt cod because well, just about all Caribbean people love it and why not spread our adoration of it so that everyone else can enjoy it too – it can be stuffed with just about anything.
It is a great use of leftover turkey, chicken, ham – just about anything you have around can be used for the stuffing.
These Haitian Breadfruit Fritters often sold by Haitian vendors are stuffed with salt cod and fried to golden deliciousness. You're going to think OMG – I have been missing out on this my whole life! Why haven't I heard of this before?
…and don't forget to check out all my Haitian Recipes here!
Are you looking for a new way to eat your breadfruit?
This post may include affiliate links.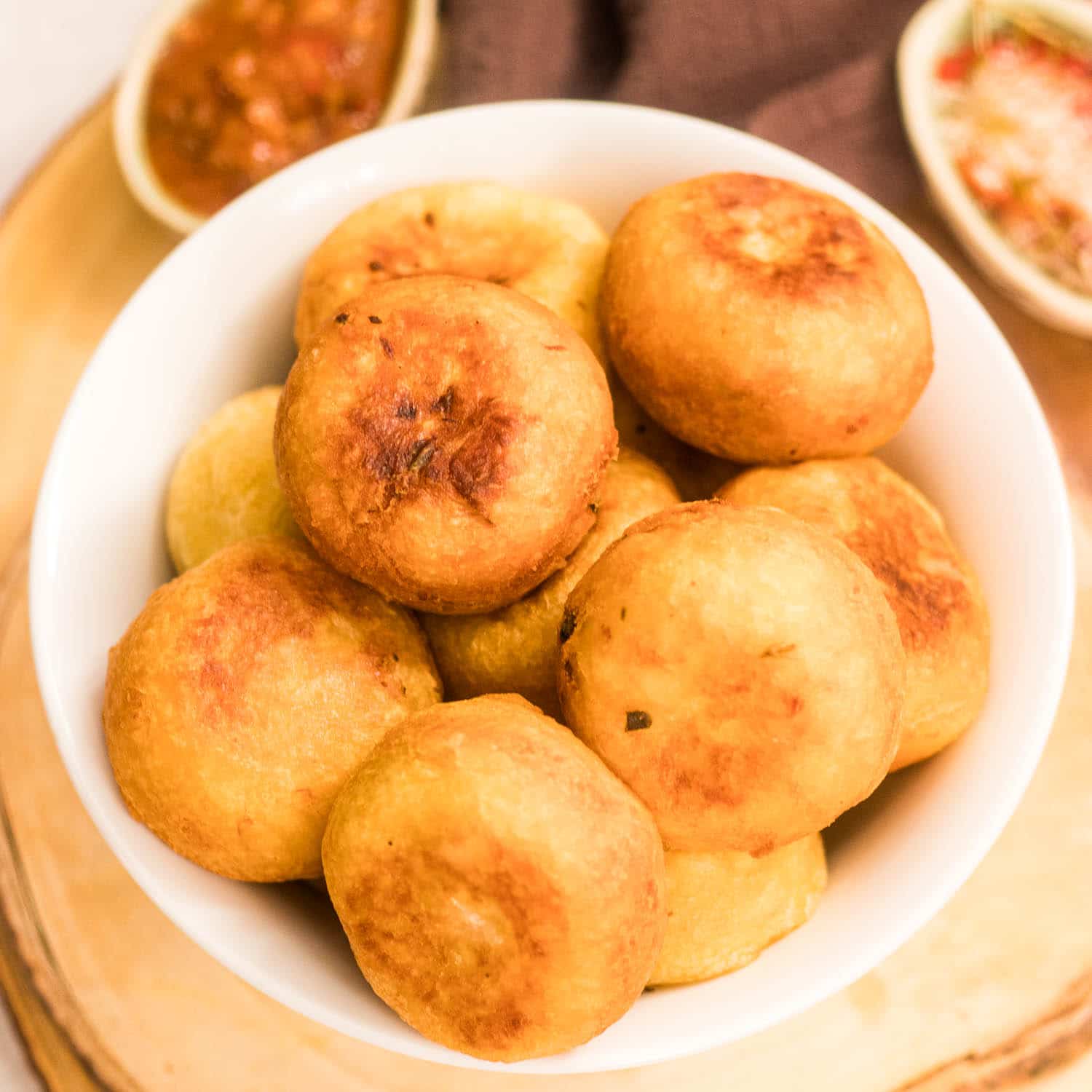 A collection of resources to reinforce multi subject learning with global recipes. For all of your kids who love to cook, reinforce geography, history, math and cross cultural learning!

Boullette is the French word for meatball used in many French or former French colonies around the world from Haiti to New Orleans. In Haiti, boulet has come to be the word used for just about anything that is fried into a round ball.
These can be called boulet or balls or Fried Breadfruit Fritters or Stuffed Breadfruit or Breadfruit Croquettes. Whatever you call them, they are one of the best Breadfruit Recipes you will ever try.
Lame Veritab (aka lam veritab) Boulet is really more of a fritter than a meatball with the primary ingredient of breadfruit.
Breadfruit is becoming more and more popular with people looking for interesting ways to use this unique fruit. In fact, my breadfruit recipes like Breadfruit Puffs and Breadfruit Tea Cake are among my most popular posts, which always surprises me.
In the same family as jackfruit and durian, breadfruit is very versatile as it can be used for both sweet and savory recipes.
Jackfruit has taken the world by storm, especially for vegans. Well it's time to add breadfruit to your repertoire.
…but first you might be wondering – What in the heck is breadfruit!!!
What a weird name? Is it a fruit or is it bread? Well the name is actually the literal meaning of a fruit that tastes like bread.
What is breadfruit?
Breadfruit is part of the mulberry family which also includes jackfruit and durian.
Although it is a fruit and when very ripe, it can be eaten as is right off of the tree, it is most often utilized in savory recipes.
It is most popular in the Caribbean, Africa, Southeast Asia, the Pacific Islands and Hawaii, where it is known as ulu.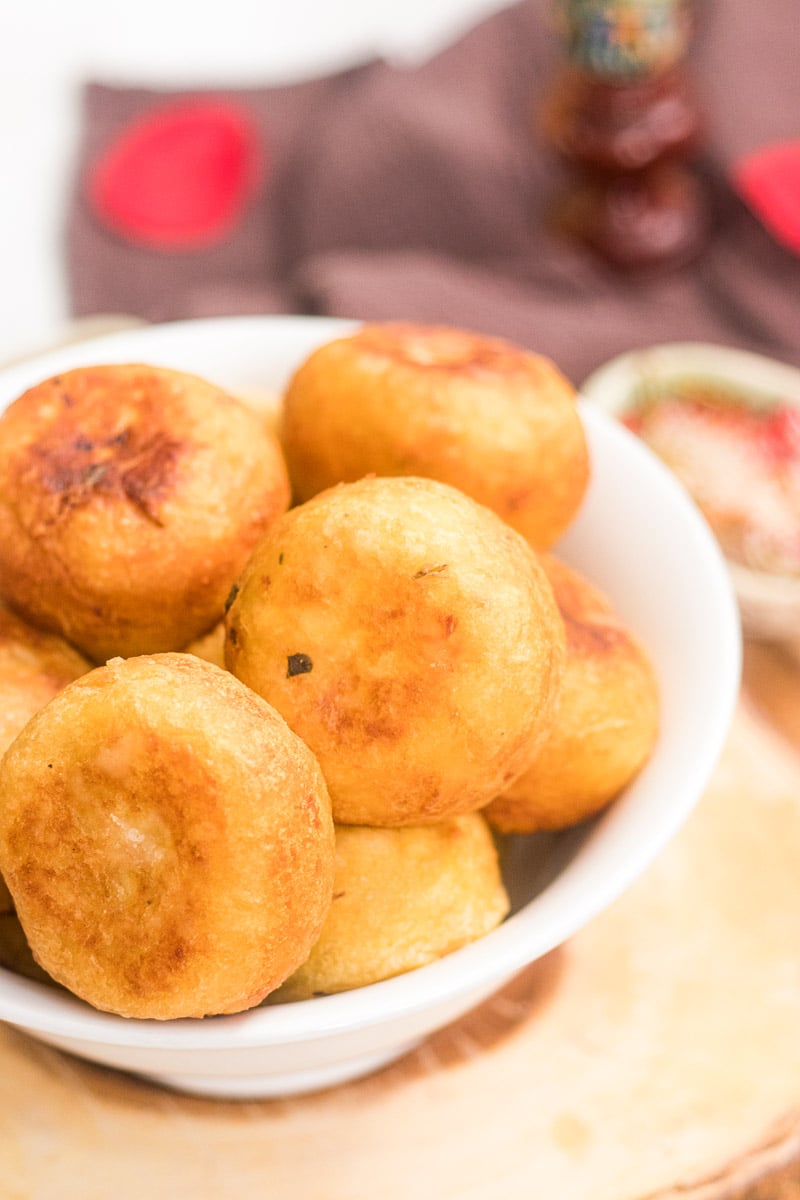 Breadfruit vs. Jackfruit
Size – Breadfruit can range in size from a cantaloupe to a large honeydew melon. However, jackfruit is a totally different fruit. Jackfruit at its smallest size is about the size of a watermelon but can grow to be the size of people, often weighing over 100 lbs.
Taste – Jackfruit is quite bland when green and is a great vehicle for flavorful sauces. Therefore, it has become a popular meat substitute for vegetarians. Breadfruit has a taste similar to bread or potato. Ripe jackfruit taste is similar to a mild mango, while ripe breadfruit tastes similar to pineapple.
Versatility – They can both be eaten raw when ripe or cooked when green. While green jackfruit is most often shredded and then cooked in flavorful sauces, breadfruit with its potato/bread like consistency can easily be roasted or fried into chips and can easily be transformed into a dough like batter for lots of fried treats.
Breadfruit is also often also used in curries and soups as it easily keeps its shape and won't disintegrate with heavy boiling.
Health Benefits of Breadfruit
Breadfruit is high in the good carbs. For this reason, it is very high in fiber and has a low glycemic index. 1 cup of breadfruit provides 40% of your daily fiber intake.
It's also very high in Vitamin C, Iron and Potassium. In fact, it has a higher per volume content of these than jackfruit does.
So you might ask with the more versatile breadfruit and the more health benefits, why isn't breadfruit as popular as jackfruit? Quite simply, not enough people know about it.
Sadly, it will probably take some celebrity to start talking about it and then all of a sudden everyone will start behaving like they just discovered gold and then practically overnight, it will start appearing on all supermarket shelves.
Until then, it's up to you to hunt it down, but I promise you it will be worth the effort!
Frequently Asked Questions
Ok, I think I've covered everything you ever wanted to know about breadfruit. Of course, if you have more, feel free to ask in the comments. Now it's time to get to the delicious recipe. Let's check the pantry to see what else you might need to get besides the breadfruit and the dried salted cod?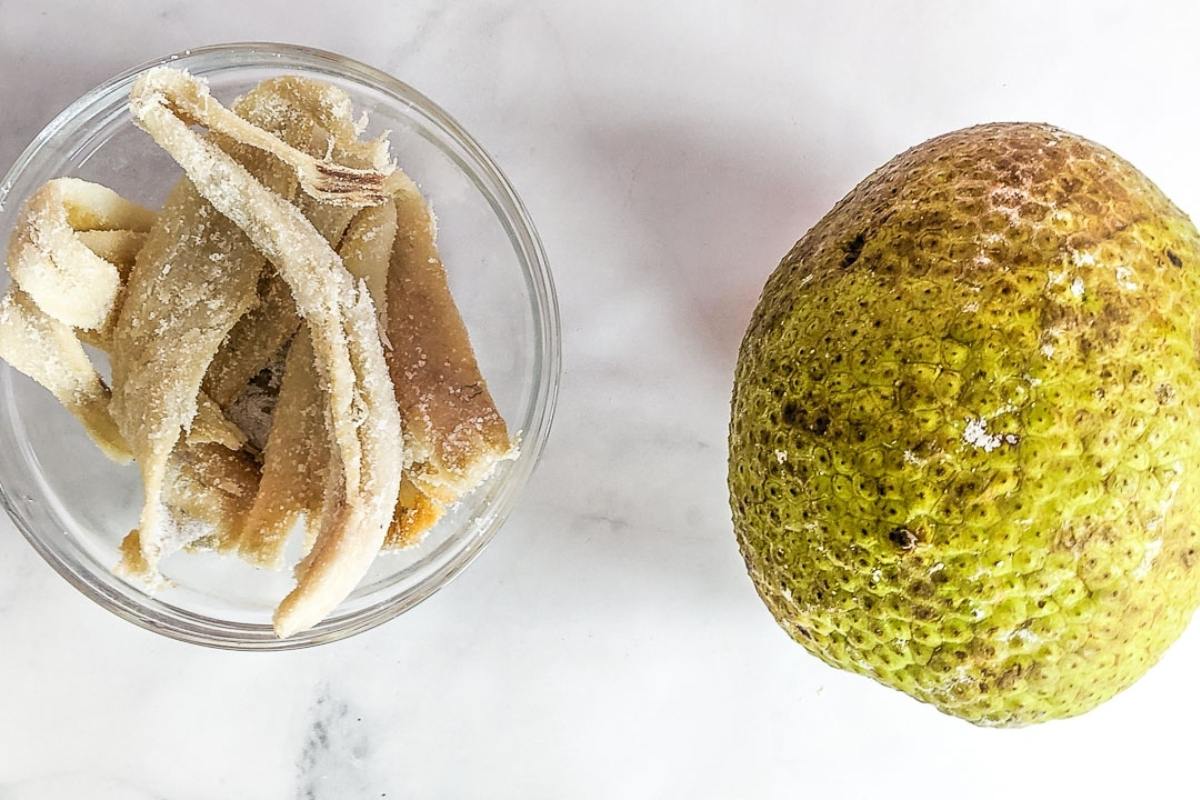 Ingredients for Breadfruit Fritters
onion
bell pepper
garlic
Scotch Bonnet hot pepper (habanero)
parsley finely chopped
lime juice
all purpose flour
vegetable oil or other neutral oil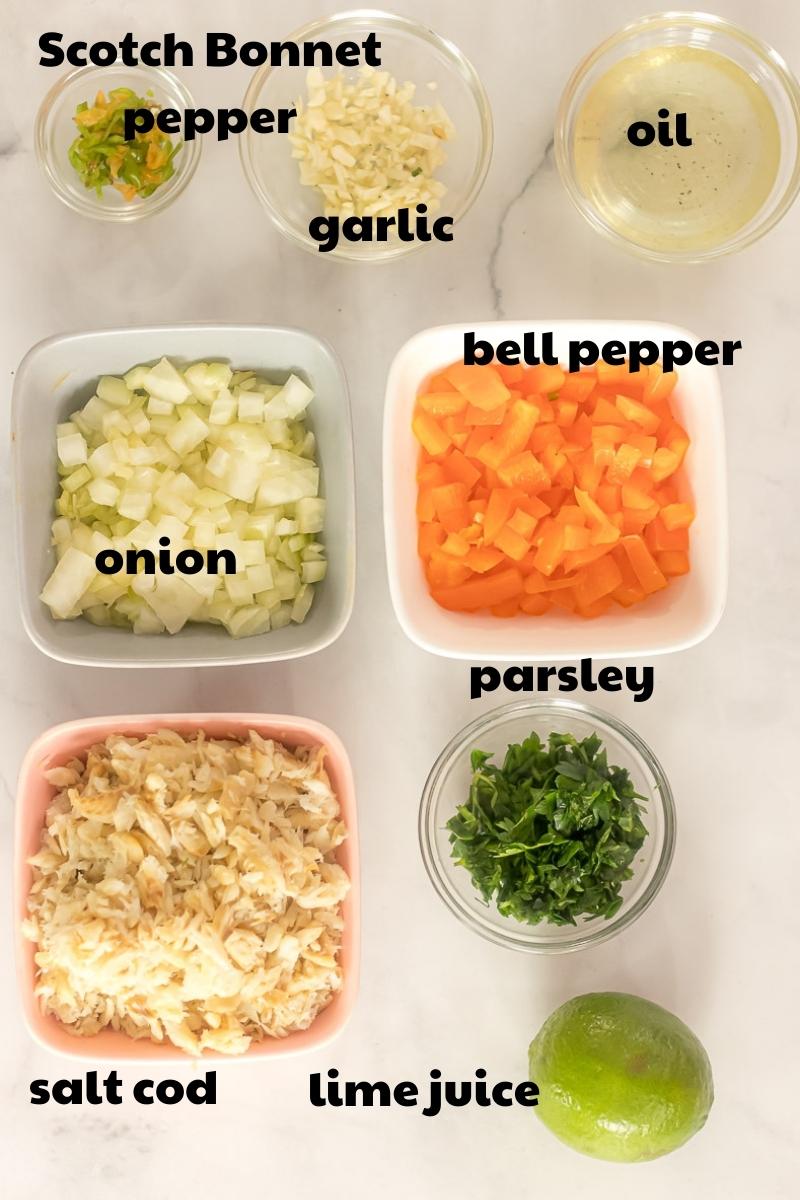 How to Make Breadfruit Fritters
Soak codfish and then boil it until it is able to be flaked.
Saute the salt cod with the onion, bell pepper and Scotch Bonnet.
Add parsley and lime juice and your filling is ready.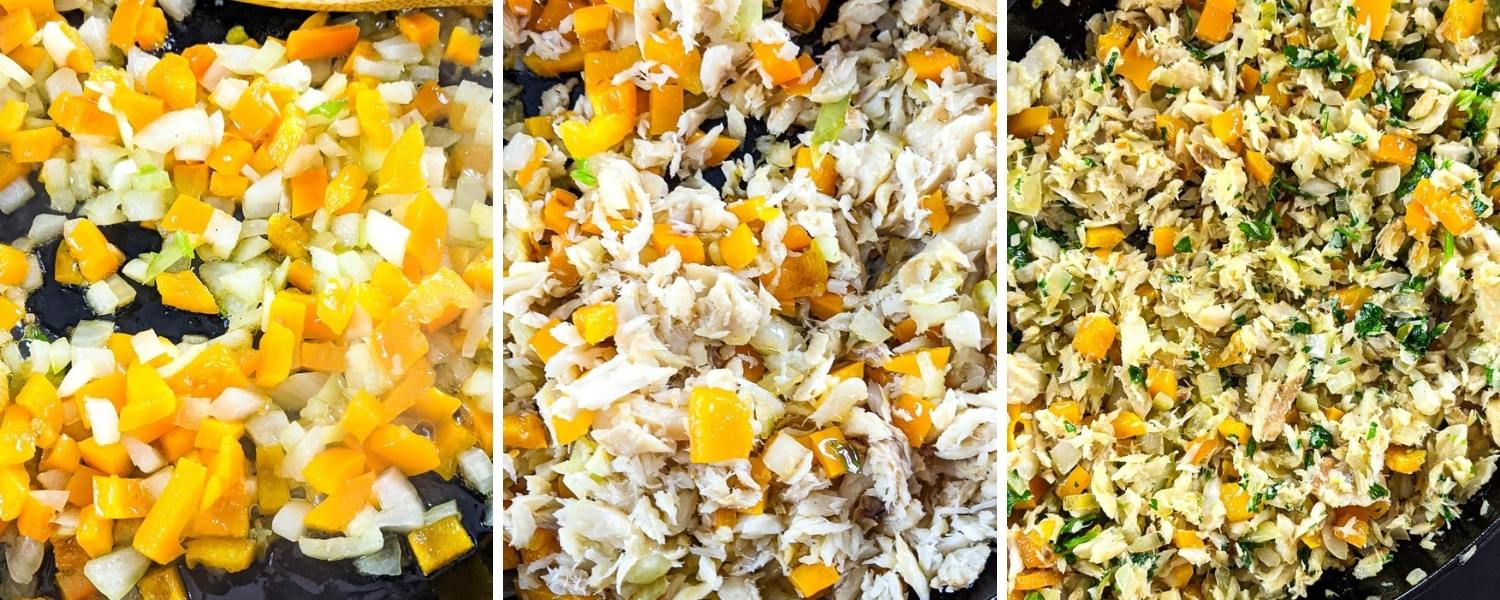 Peel and cut breadfruit into quarters. Remove the core and steam it in a covered pot with a small amount of salt until it is very soft.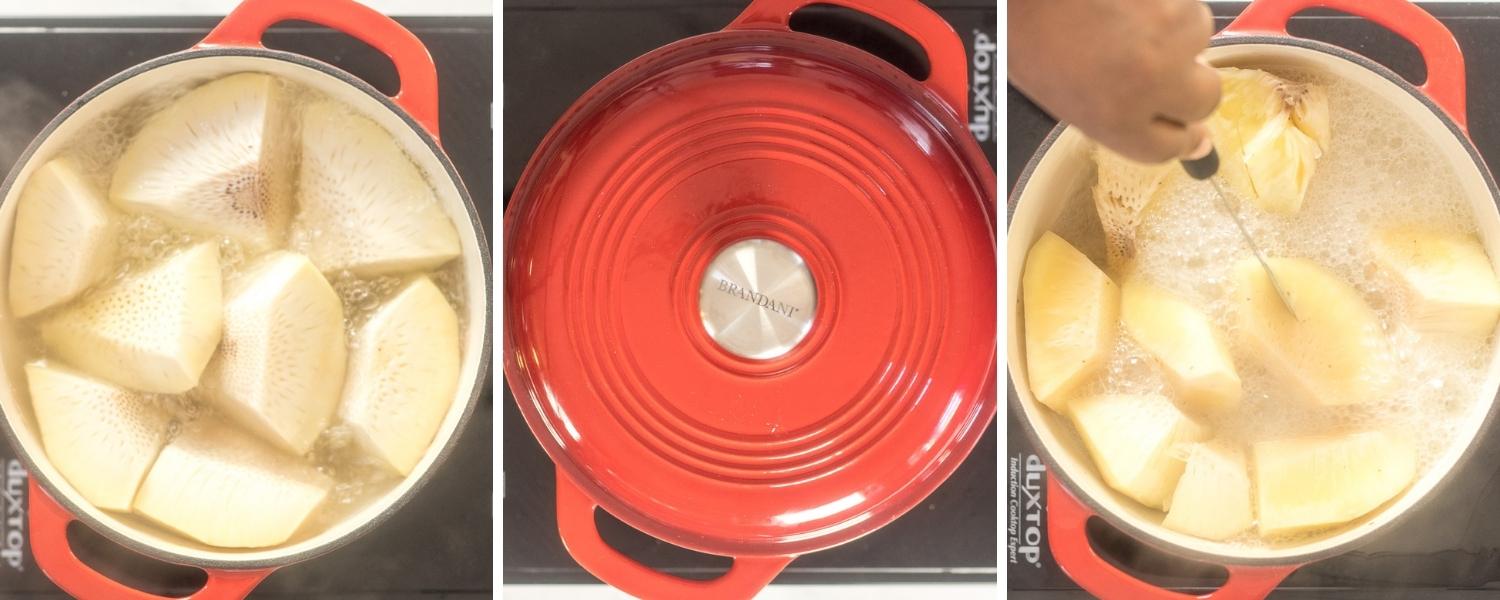 In a large bowl, mash the cooked breadfruit with a little of the cooking water until you have a sticky dough like consistency.
Now you're ready to stuff the breadfruit fritters with the codfish filling.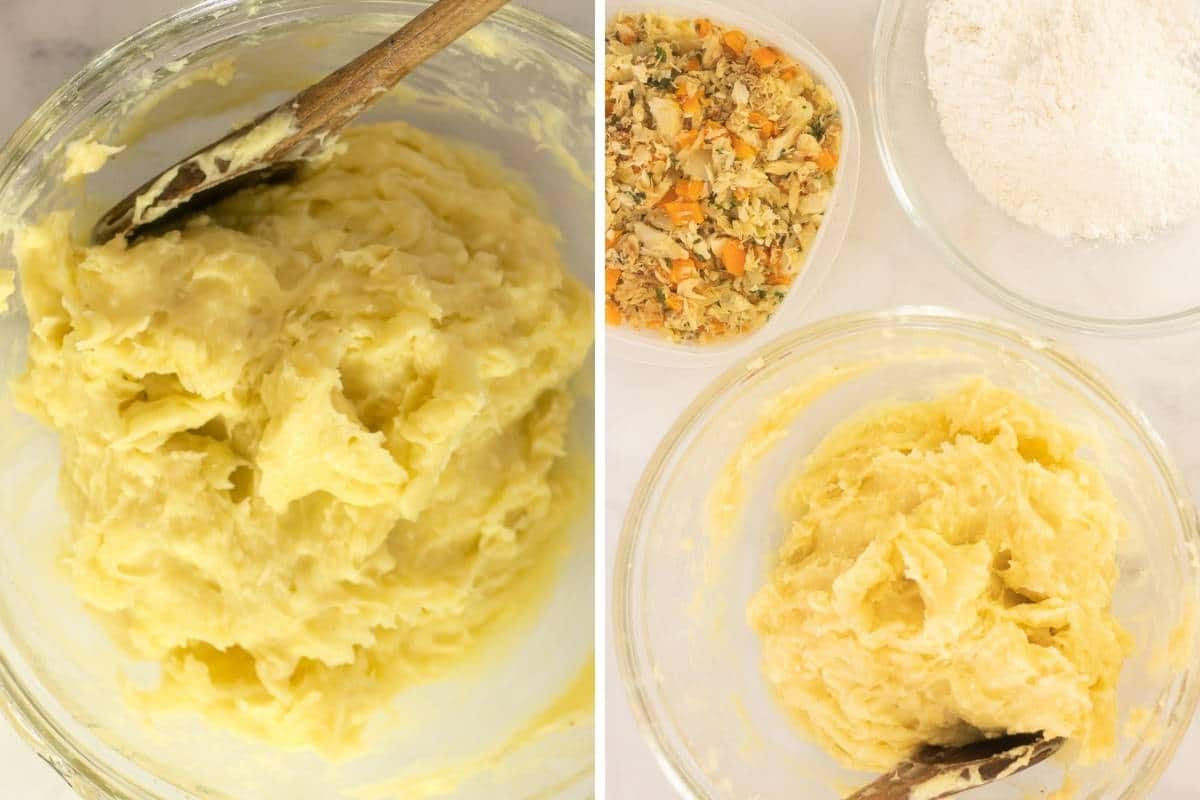 With floured hands, take a small amount of the breadfruit mixture and form into small patties in your hand.
Stuff it with a little of the codfish filling and seal it by wrapping the breadfruit around it.
Repeat until all the breadfruit has been utilized.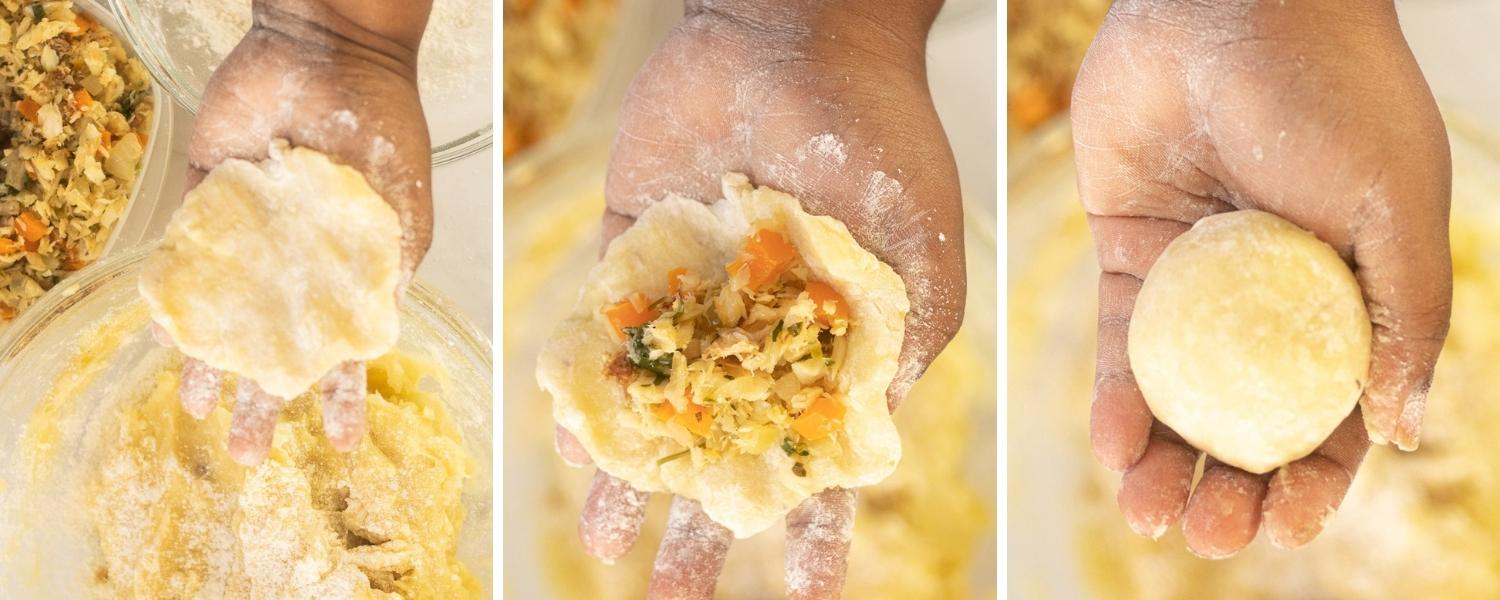 Fry in hot oil until golden brown on all sides.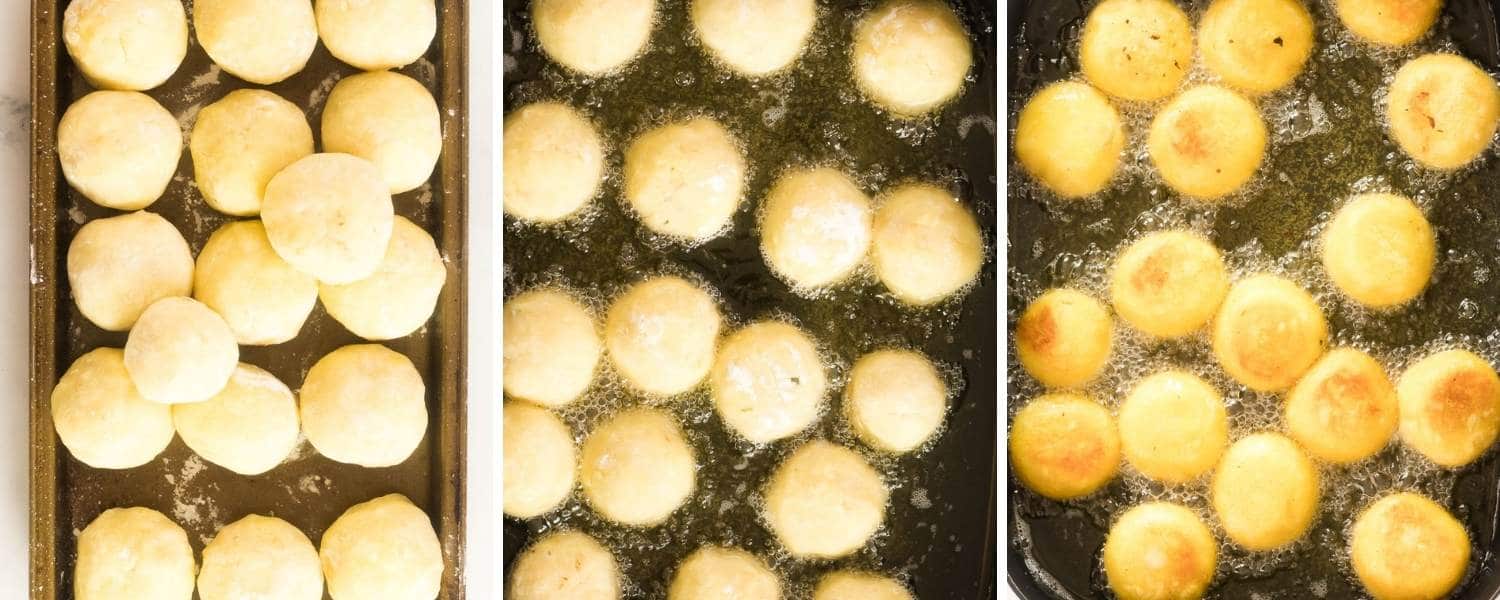 Place on paper towels to absorb excess oil.
Serve with sos ti malice (Haitian Creole Sauce) and pikliz (Haitian pickled relish).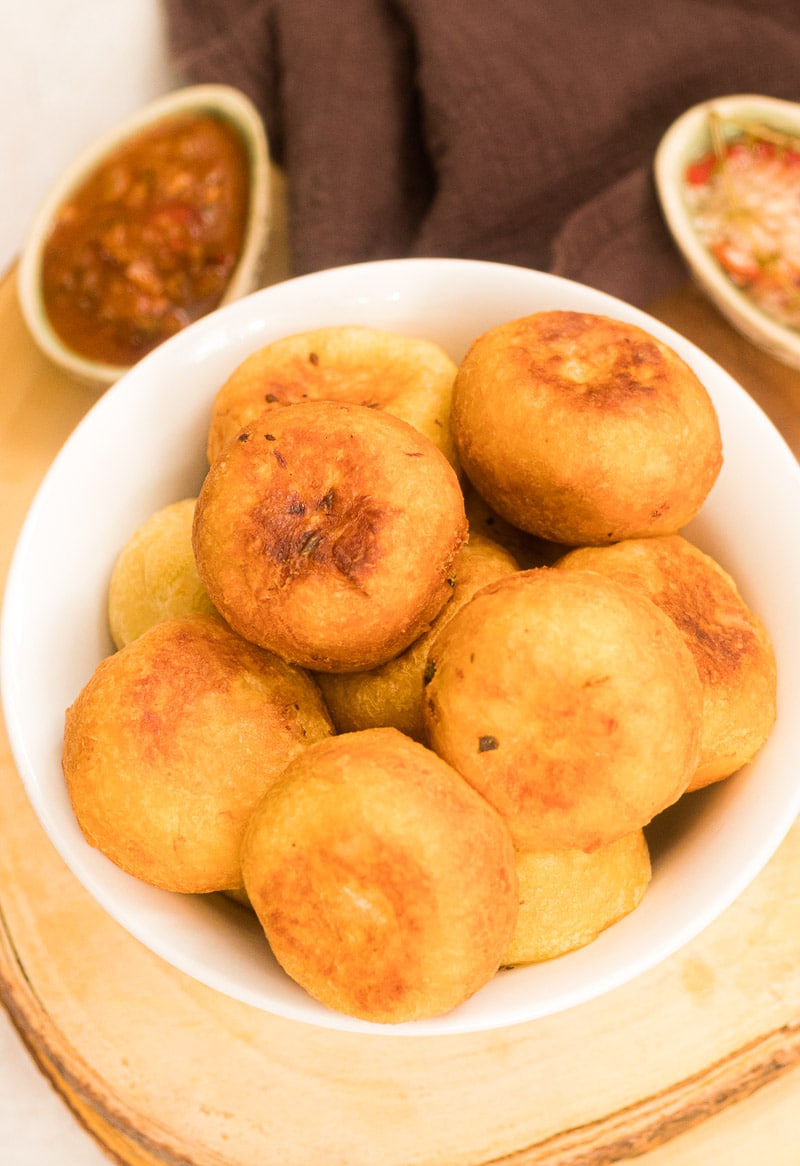 These are so scrumptious. I can promise you they will become your new favorite way of enjoying breadfruit. This excellent dish is great to serve at parties.
Haitian Fried Breadfruit Balls 
Ingredients
1

pound

dried salted cod

2

tablespoons

oil

1

small onion chopped

1

bell pepper chopped

2

cloves

garlic finely chopped

1

Scotch Bonnet pepper finely chopped

2

tablespoons

parsley finely chopped

1

tablespoon

lime juice

About ½ cup of all purpose flour

oil

for frying

breadfruit
Instructions
First, you have to prepare the salt cod.

Soak the cod in a pot of water for 2 hours.

Change the water and soak again for another 2 hours. Alternately, you can soak the fish overnight.

Change the water again and now boil the fish in the water until it is cooked and the fish flakes.

Remove the fish from the water and as soon as it is cool enough to handle, flake the fish by hand by rubbing it in between your fingers.

In a skillet, heat oil.

Add onion, bell pepper, garlic and Scotch Bonnet. Saute until vegetables are softened.

Add fish, parsley, lime juice and a pinch of salt. Mix and cook until thoroughly combined.

Peel the breadfruit and cut it into 4 pieces.

Remove the center core.

In a medium pot, add the breadfruit and enough water to just about cover the breadfruit.

Add a little salt to the water, about 2 teaspoons.

Cover the pot as you want the breadfruit to steam in the water.

Cook until the breadfruit is very soft, about 15 minutes.

Remove the breadfruit from the water, but reserve the water.

In a bowl, mash the breadfruit, adding a little of the cooking water as necessary to make a smooth batter.

Pound with a wooden spoon to remove any lumps until you have a sticky batter (almost like doughnut dough).

With floured hands, take a piece of the dough, about the size of a walnut.

Flatten the dough in between your hands, using a little more flour if the dough sticks to your hands.

Add about 1 ½ tablespoons of the saltfish filling in the middle and bring the breadfruit dough up around the salt cod to form a smooth ball.

Heat a pot with enough oil for deep frying.

Place the stuffed breadfruit balls in the hot oil and fry until golden brown on all sides.

Serve with sos and pikliz.
Notes
DO NOT SKIP pre soaking the fish. The salt must be soaked off in order for the fish to be palatable.
You can soak the fish the day before and then the next day it will be ready to make your Breadfruit Fritters.
Pick a breadfruit that is green, but it is ok if it is just starting to ripen with a few brown spots. However, make sure it is still firm to the touch.
These Fried Breadfruit Fritters can be stuffed with any kind of filling. You can use leftovers like roast turkey, ham or pork if you prefer
Nutrition
Calories:
98
kcal
|
Carbohydrates:
1
g
|
Protein:
18
g
|
Fat:
2
g
|
Saturated Fat:
1
g
|
Polyunsaturated Fat:
1
g
|
Monounsaturated Fat:
1
g
|
Trans Fat:
1
g
|
Cholesterol:
43
mg
|
Sodium:
1992
mg
|
Potassium:
414
mg
|
Fiber:
1
g
|
Sugar:
1
g
|
Vitamin A:
40
IU
|
Vitamin C:
1
mg
|
Calcium:
45
mg
|
Iron:
1
mg
Did you try this recipe? Leave a comment below.
Please follow me on Instagram @chefmireille or tag me #chefmireille with your pics! I'd love to share them!
Now I know you want to try some more Caribbean food! Check out my collection with over 100 Caribbean Recipes from the Caribbean diaspora!