Last Updated on November 9, 2021 by Chef Mireille
This Decadent Baked Mac and Cheese with evaporated milk, heavy cream and 5 cheeses is meant for special occasions. Holidays, birthdays and whenever you are ready for a celebration, this show stopper Baked Macaroni and Cheese has to be on the menu!
My Dutch Caribbean heritage stamped it's mark on my Baked Mac and Cheese which always gets 5 stars in my customer reviews when I make it for my personal chef clients. Coming from a cheese loving culture, I'm a bit of a snob when it comes to cheese, so mine is made with real cheddar and other cheeses instead of American cheese or Velveeta.
Growing up, those two ingredients were banned in my house. I think my Mom forever prejudiced me against them 🙂 She never considered them as real cheeses. Like I said, we are a bit of a cheese snob family.
For us, making Baked Macaroni and Cheese without some kind of good Dutch cheese like Edam or Gouda is practically sacrilege. Throughout the Caribbean, we call our baked Mac & Cheese Macaroni Pie because we prefer a denser baked mac & cheese.
I have taken inspiration from my Caribbean heritage in this version with the texture and the spices used. I know you are going to LOVE this Caribbean inspired mac n cheese recipe. It's a bit of a departure from the American classic macaroni version or southern baked mac, but I promise you this is the Best Baked Mac you will have and such a crowd pleaser!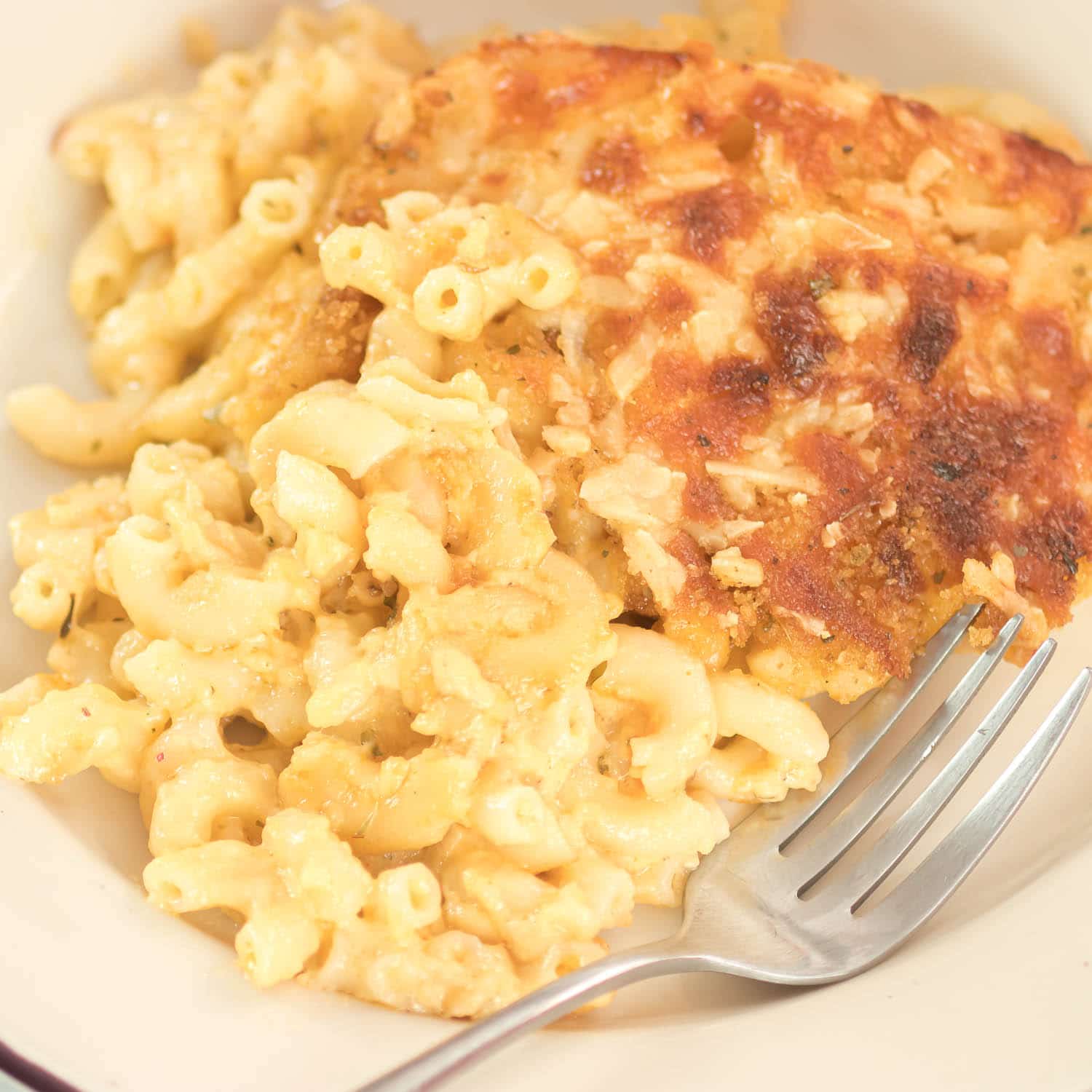 This post may include affiliate links.
There are a lot of 4 Cheese Baked Mac & Cheese Recipe…but 5 cheeses just elevated this to next level deliciousness!
However, before you get excited just want to clarify which version of Mac & Cheese you're getting here.
Mac and Cheese Versions
There are basically three kinds of Baked Mac & Cheese popular here in America.
First, there is the creamy luscious Mac & Cheese with all those Instagram ready cheese pull images with gooey stretchy cheese swimming in a creamy mac and cheese.
Then there is the classic Crispy Top Mac & Cheese in this version I am showing you. This is for those of us who love the sound of that Macaroni and Cheese crack when we dip our spoon in. The contrast of the crack with the soft macaroni that has absorbed all of the luscious cheese sauce creates complexities of both flavor and texture.
Then there is Macaroni Pie most popular in the southern United States and the Caribbean. This type is usually made with eggs which produced a denser Macaroni and Cheese, so that it can be sliced into squares.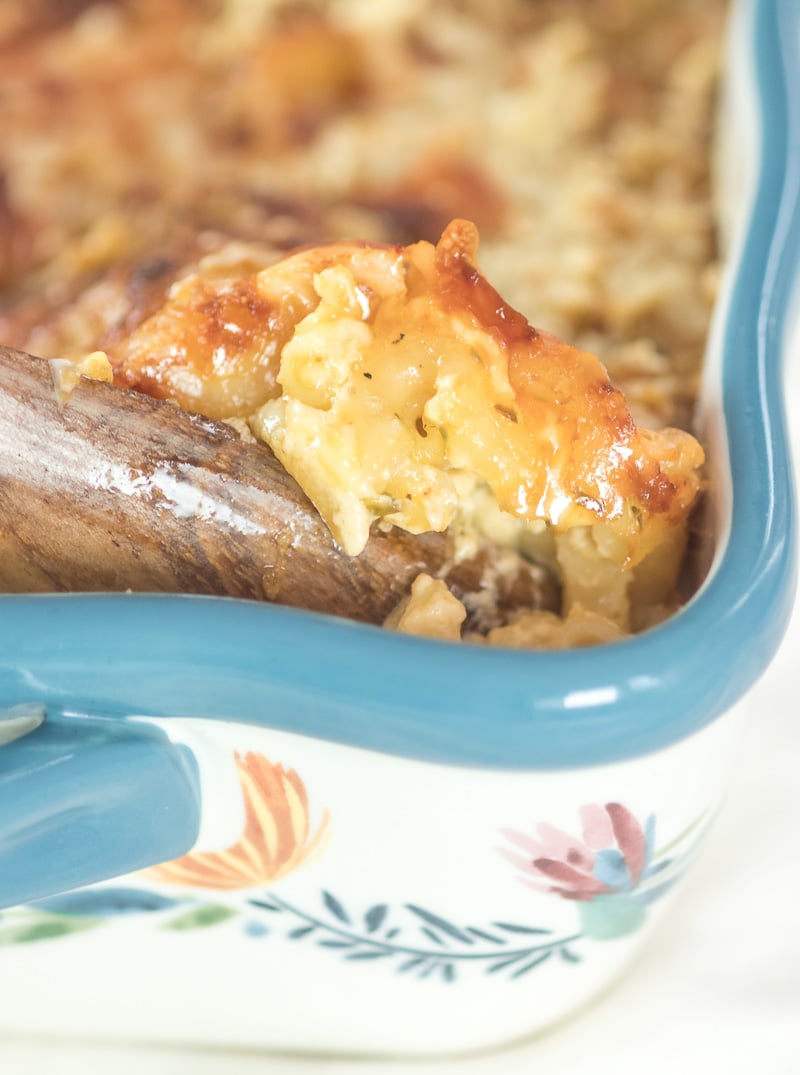 Recipe Notes
Cheese – You don't have to strictly stick to this combination of cheese, however you want to pick a variety of cheeses with different flavored profiles and make sure at least one of them is smoked as that creates an essential flavor element. Any variety of good melting cheese like fontina, havarti, provolone, edam and smoked mozzarella can be used. A little goat cheese can also be used to create a more creamy mac and cheese. One hard aged cheese like Parmesan, Romano or Manchego should be used for the flavor and not the melting capabilities.
Dairy – For this rich homemade macaroni and cheese, you want to use heavy dairy. This is not the time for skim milk or other light choices. Other alternatives to the evaporated milk and heavy cream include buttermilk, sour cream or creme fraiche in combination with whole milk.
Creamy Mac & Cheese – Blink and the creamy Mac & Cheese that you take out of the oven is going to absorb all the sauce and it won't look so creamy in just a few minutes. What I often do is make this in advance and then reheat it with some extra regular milk added for those who love their Mac & Cheese creamy.
Crispy Top – Not everyone likes a little char on top of their Mac & Cheese. You can skip the broiling step and the breadcrumbs if your prefer your Mac & Cheese more soft and creamy instead of a crispy top.
Grated Cheese – Grate the cheese yourself either using a box grater or a food processor with the shredding attachment. Store bought pre shredded cheese include preservatives which make them lose some of their melting capabilities.
Complete Meal – You can easily transform this into a one pot meal. Add vegetables or leftovers like chicken, turkey or roast ham to it. When we were kids, my Mom would often add sliced hot dogs and frozen vegetables to Stovetop Mac for an easy one pot meal.
Ingredients for 5 Cheese Baked Mac & Cheese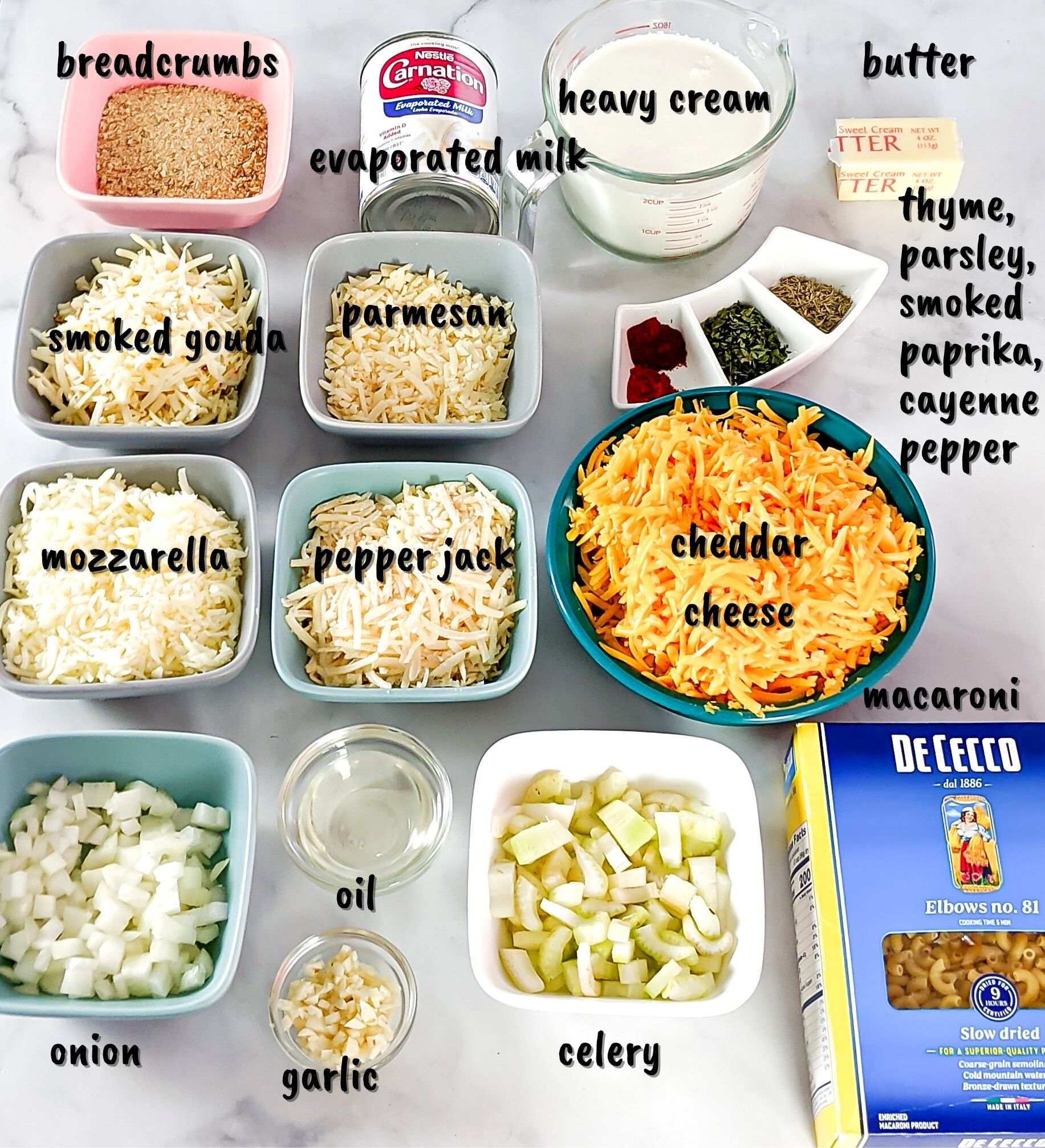 oil
onion
celery
garlic
macaroni
dried thyme
dried parsley
smoked paprika
cayenne pepper
evaporated milk
heavy cream
cheddar cheese
pepper jack cheese
smoked gouda cheese
mozzarella cheese
bread crumbs
Parmesan cheese
Have you tried instacart yet? It's how I get all of my fresh grocery items delivered within 2 hours!
How to make easy Baked Mac & Cheese
Saute the vegetables until softened and a little browned.
Boil the macaroni until al dente.
Add the butter and the spices with the sauteed vegetables to the cooked macaroni and mix until the butter has melted.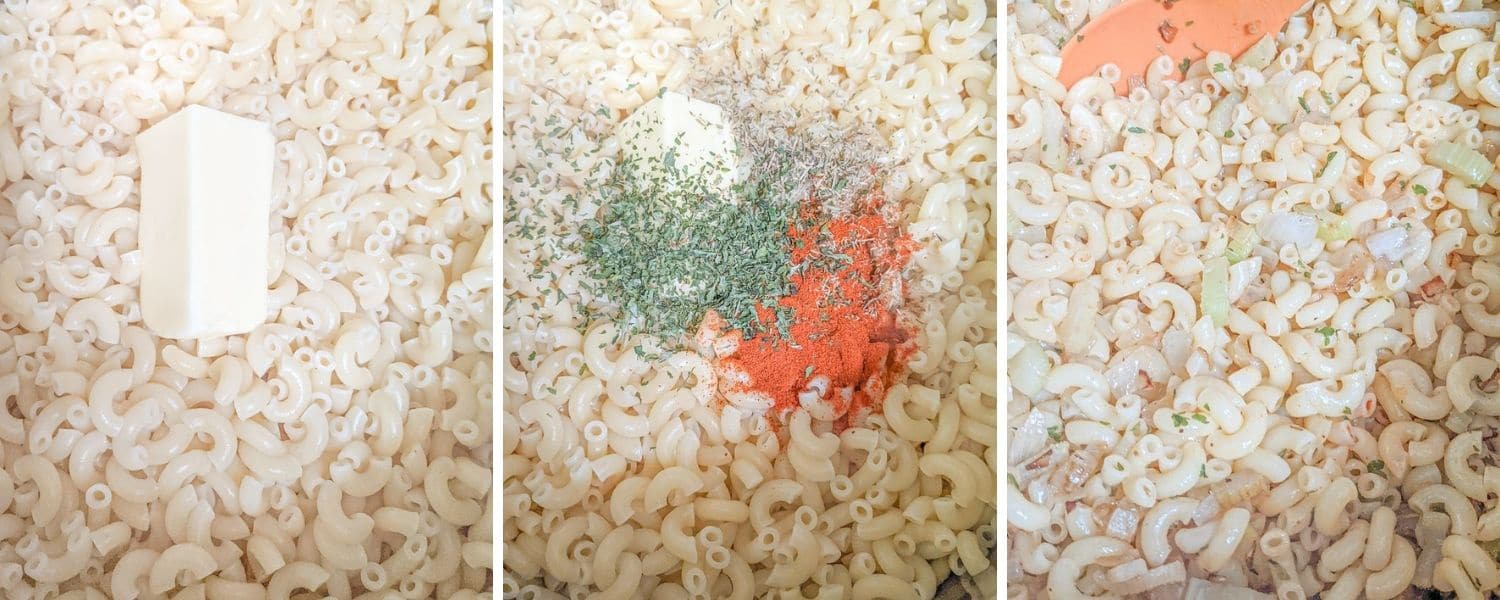 Make the cheese sauce by first heating the evaporated milk and the heavy cream. DO NOT BOIL.
Add the different kinds of cheese, except the Parmesan. Don't forget to save some of the cheddar cheese for the top.
Simmer on medium heat until the cheese is melted and you have a luxurious cheese sauce.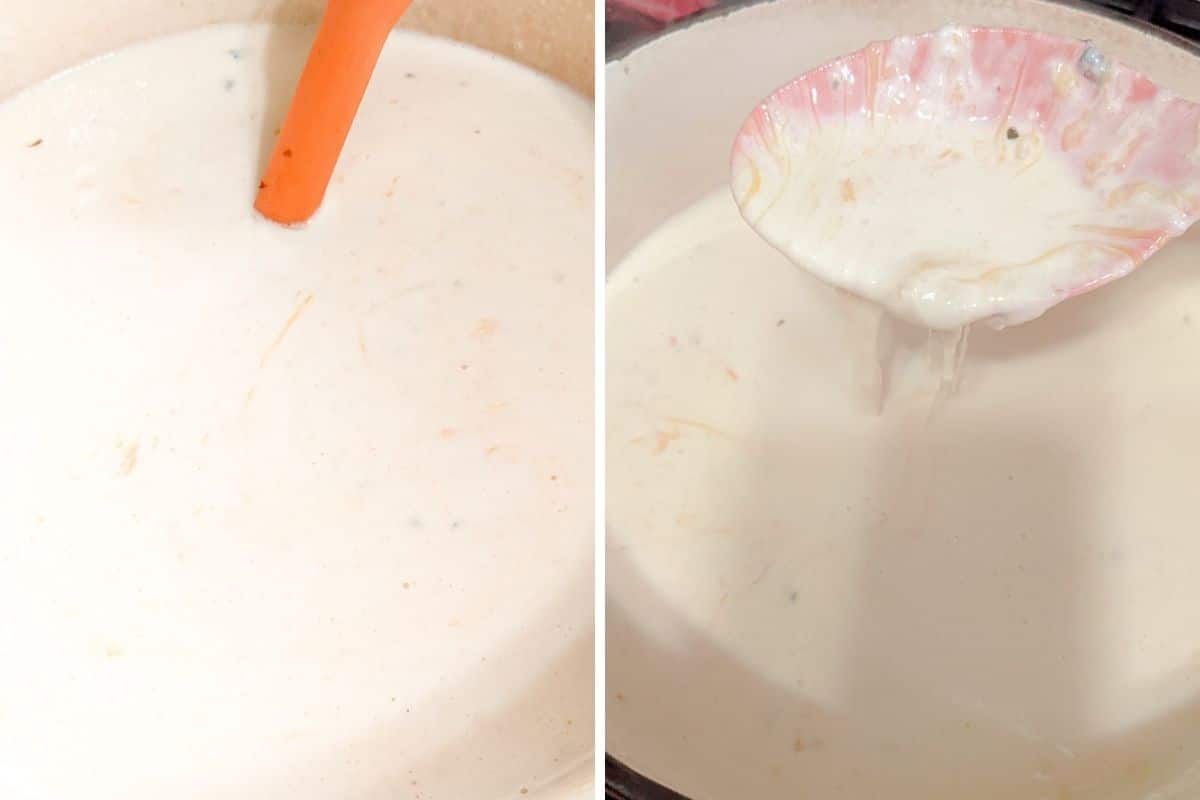 Add the cheese sauce to the cooked pasta mixture and mix well. If you prefer, you can skip the baking part and just serve this as a delicious Stovetop Mac
Transfer to a casserole dish.
Sprinkle reserved cheddar cheese on top.
Sprinkle breadcrumbs on top.
Sprinkle Parmesan cheese on top.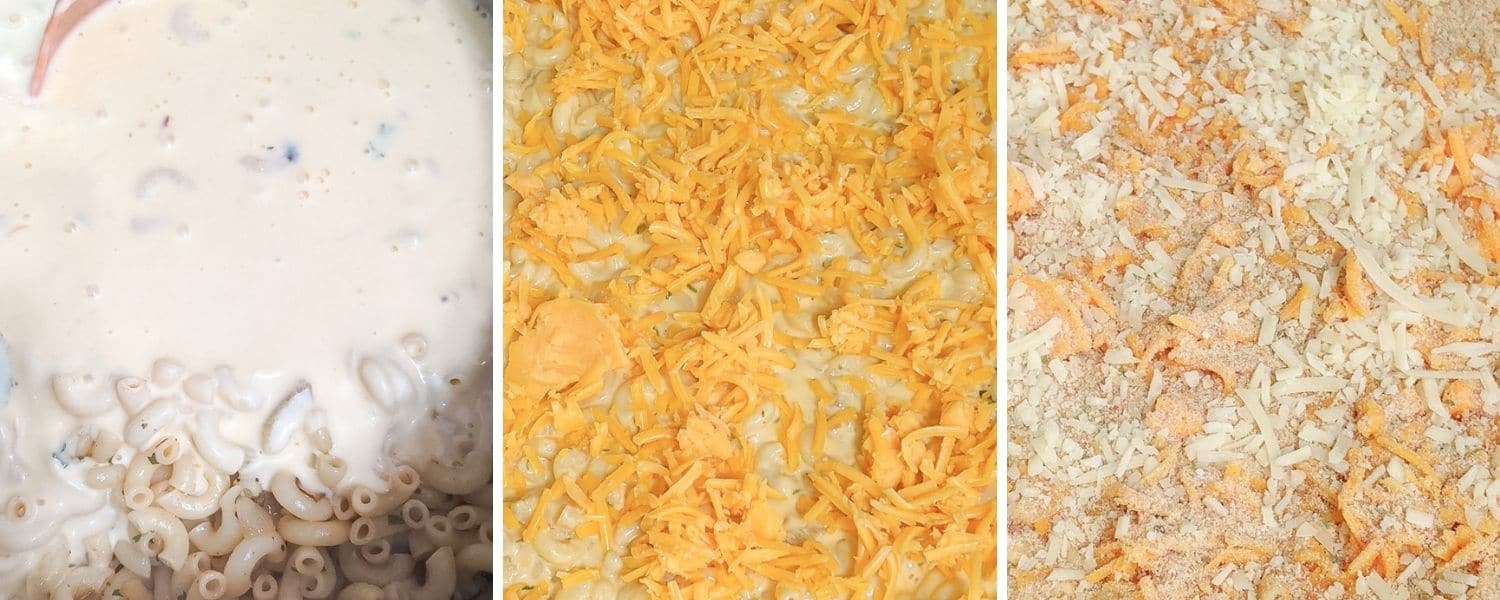 Bake in 350 F oven for 30 minutes.
If you are like your top crispy, put it in the broiler for another 3-5 minutes.
Frequently Asked Questions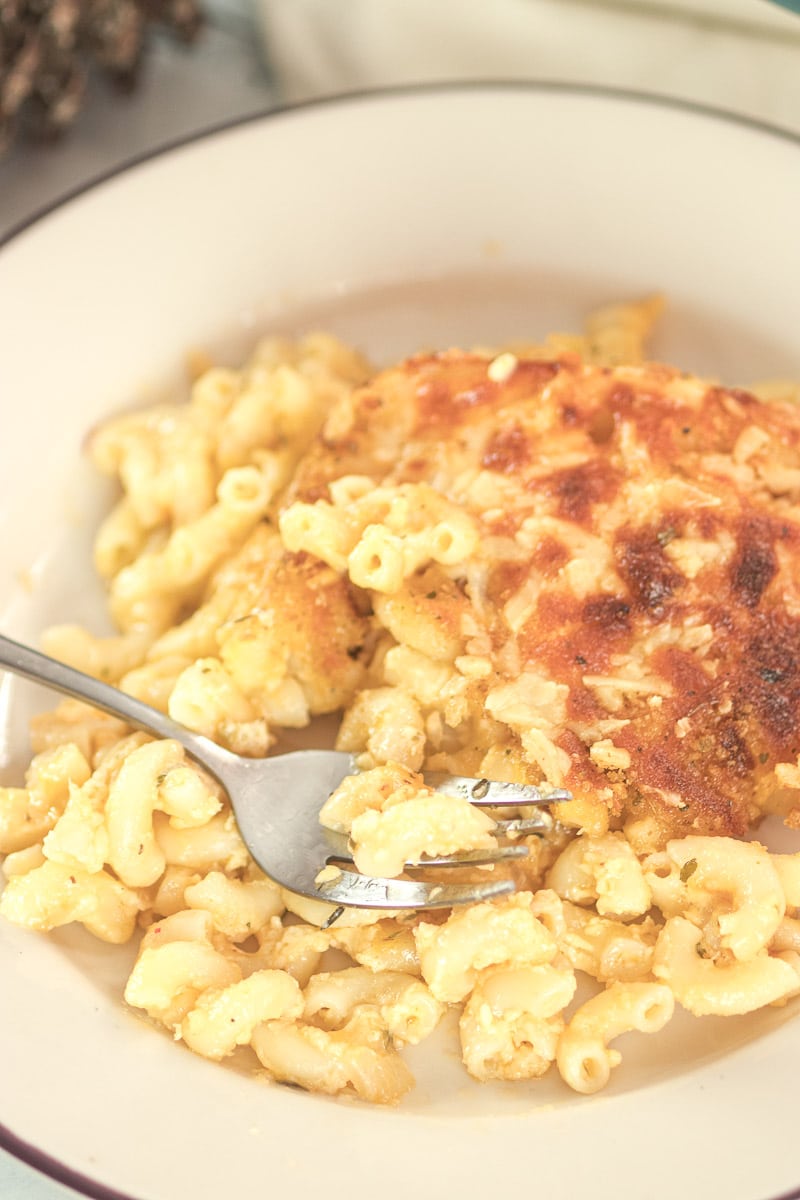 Since this is sure to become a family favorite as it is such a comforting meal, you might wonder why I suggest saving this for holidays and special occasions. Well, it does not skimp on fat and calories. While it is ok for a decadent treat once in a while, this is not something you want to make every week. Otherwise, you will slowly see your waistband increasing by the week!
If you are a cheese lover , you are going to love this version of the ultimate comfort food.
So are you ready to try the Best Macaroni & Cheese ever?
5 Star Baked Mac and Cheese
Crispy Top Macaroni and Cheese with Evaporated Milk and 5 Cheeses are for those love that Mac and Cheese "crack"
Ingredients
2

tablespoons

oil

1

onion

3

cloves

garlic

2

stalks celery

1

lb.

Macaroni

1

teaspoon

dried thyme

2

teaspoons

dried parsley

1

teaspoon

smoked paprika

1/2

teaspoon

cayenne pepper

2

cups

evaporated milk

2

cups

heavy cream

½

stick unsalted butter

1

lb.

cheddar cheese

grated

3 ½

oz.

smoked gouda

grated

4

oz.

pepper jack

grated

6

oz.

mozzarella

grated

½

cup

Breadcrumbs

¼

cup

freshly grated Parmesan cheese

and chopped into smaller pieces unless using a fine grater
Instructions
Preheat oven to 350 F.

Spray a 9×12 baking dish with non stick spray.

In a skillet, heat oil.

Add onion and celery.

Once the vegetables are softened, add garlic.

Saute until the garlic starts to brown. Set aside.

Bring a large pot of well salted water to the boil.

Add macaroni and cook pasta according to package instructions, until al dente – about 5 minutes.

Drain immediately.

Add butter with the thyme, parsley, smoked paprika and cayenne pepper

Toss well until butter is melted.

Add sauteed vegetables.

Toss well until all ingredients are well mixed.

In a saucepan, heat evaporated milk and heavy cream, but do not boil.

Add 12 oz. of the cheddar, smoked gouda, pepper jack and mozzarella.

Simmer on medium-low heat until the cheese mixture is melted.

Add the creamy cheese sauce to macaroni and mix well.

Transfer macaroni to prepared baking dish.

Sprinkle the remaining cheddar cheese on top.

Sprinkle breadcrumbs on top.

Sprinkle Parmesan cheese on top.

Transfer to oven and bake for 40 minutes.

Transfer to broiler and broil for 5 minutes.
Nutrition
Calories:
647
kcal
|
Carbohydrates:
39
g
|
Protein:
27
g
|
Fat:
42
g
|
Saturated Fat:
25
g
|
Polyunsaturated Fat:
2
g
|
Monounsaturated Fat:
13
g
|
Trans Fat:
1
g
|
Cholesterol:
137
mg
|
Sodium:
573
mg
|
Potassium:
344
mg
|
Fiber:
2
g
|
Sugar:
7
g
|
Vitamin A:
1420
IU
|
Vitamin C:
2
mg
|
Calcium:
656
mg
|
Iron:
1
mg
Did you try this recipe? Leave a comment below.
Please follow me on Instagram @chefmireille or tag me #chefmireille with your pics! I'd love to share them!
Don't forget to visit the RECIPE INDEX with over 1000 recipes from around the world including lots of Vegetarian Recipes and Gluten Free Recipes!