Last Updated on October 19, 2021 by Chef Mireille
African Cultural Learning can be reinforced with fun cooking activities in the kitchen. This FREE Kenya Resource Guide not only includes 3 menu options for the whole family to enjoy, but an easy printable that you can go over with your kids, reinforcing history, geography and other cultural learning – all about Kenya.
This is the 6th Resource Guide I have released, giving you easy ways to teach your families about different cultures. Mexico, Malaysia, Suriname, Sri Lanka, and Brazil are already available for you to download.
Sign up for Kids Korner and you will have access to all of these FREE DOWNLOADS.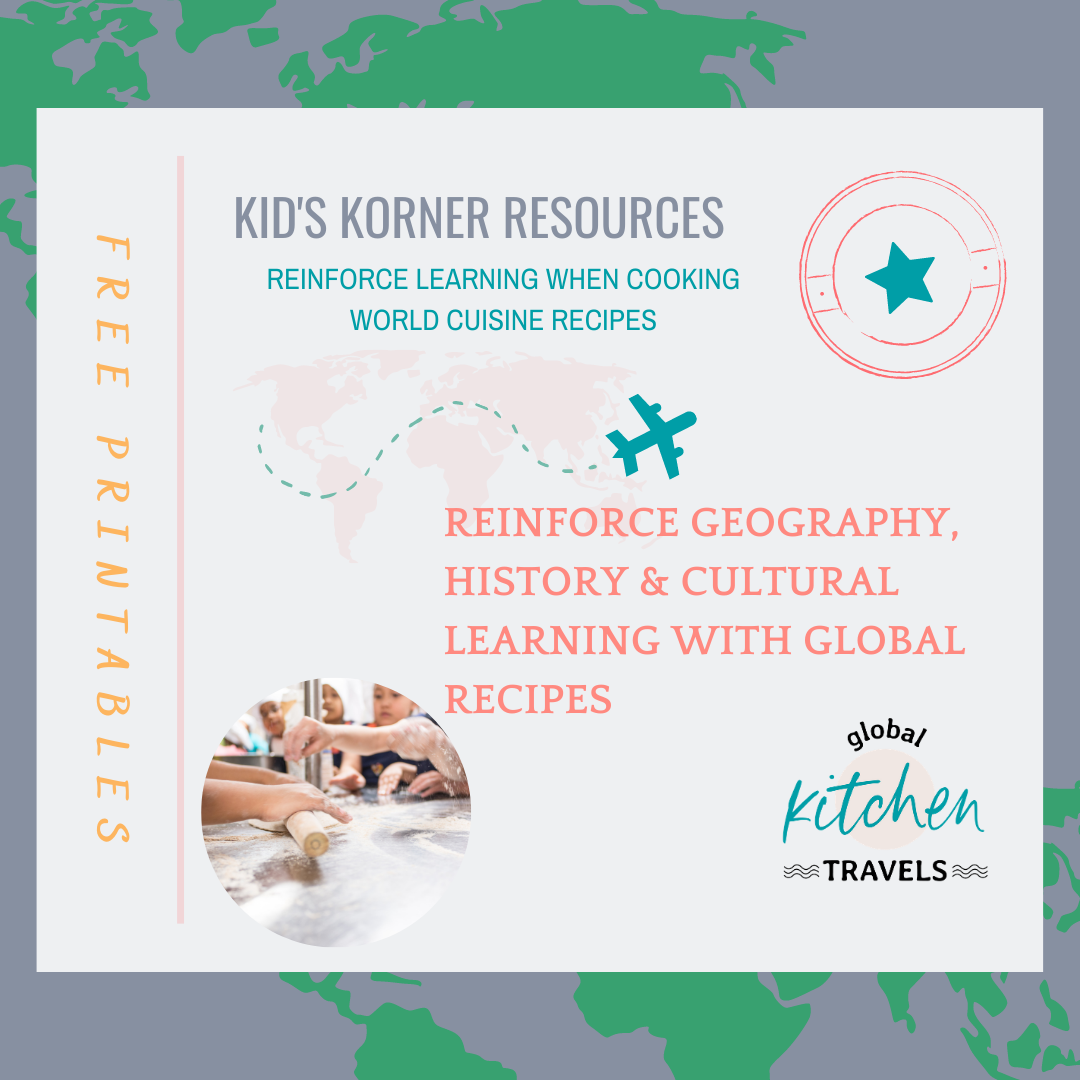 Although multicultural classrooms are common fare in many areas of the United States, lesson plans to reinforce multicultural education are rare and far between. Sure there may be a multi cultural classroom celebration for the big cultural holidays like Chinese New Year and Martin Luther King Jr. Day. However, the cultural heritage of many of the students is ignored as much of the American education system focuses on American and European history only.
Whether you are a homeschooling parent or not, giving your kids access to value added education resources to inspire a learning environment at home that is fun and engaging, but teaches cultural awareness and cultural diversity at the same time is one of the best ways to raise the next generation of global citizens.
These Resource Guides are a good idea to help teach your kids that even though they may meet people with different backgrounds, skin color, cultural traditions and different languages, people should be judges like MLK said "by the content of their character and not the color of their skin".
Kids will not only learn about being tolerant to different perspectives, but will also learn more about their own culture, if it's ignored in the mainstream education system.
Even if their classroom activities are not providing these resources, you can.
Importance of Diversity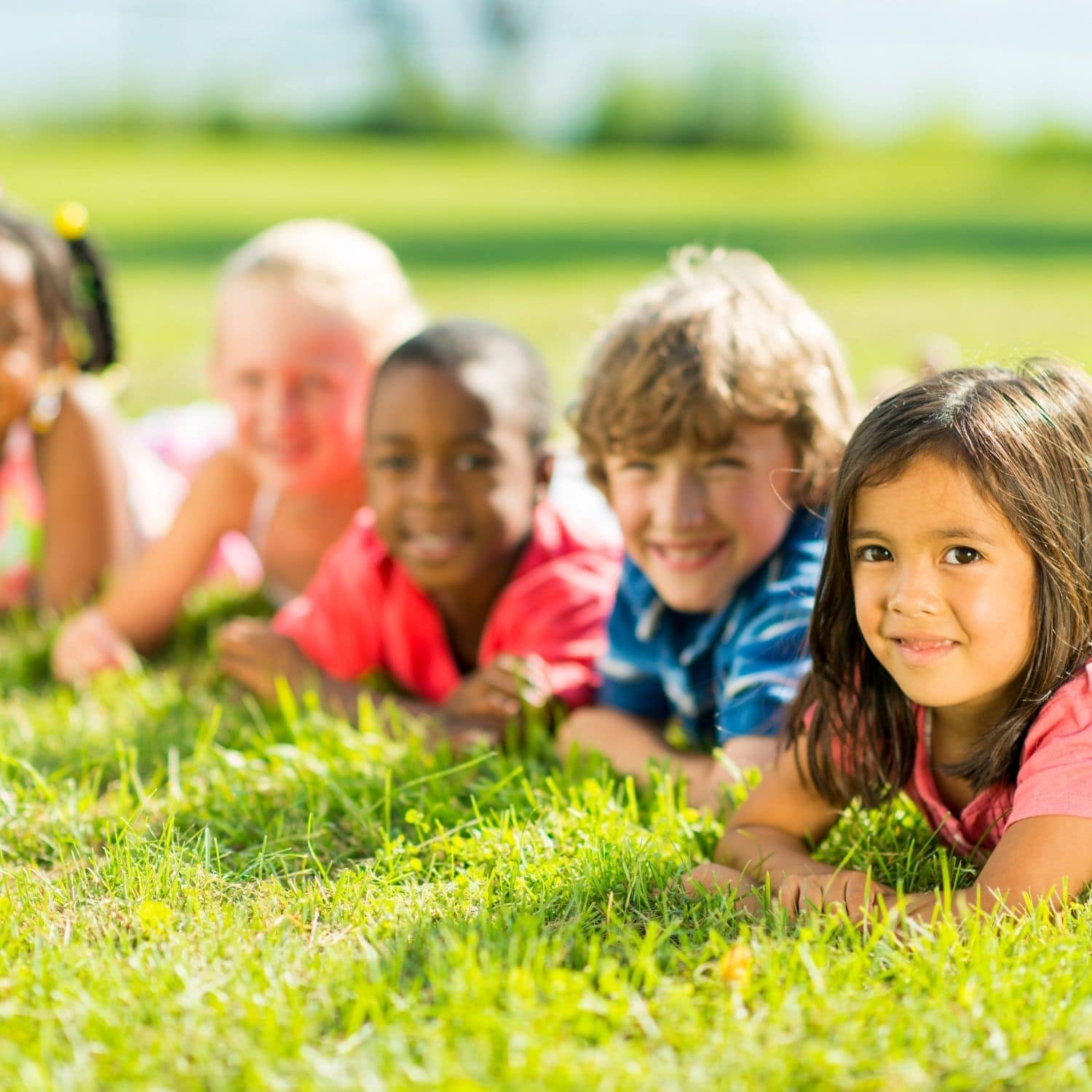 So why is learning about various cultures so important? Well, I am sure it won't come as a surprise to you to note that we are in challenging times. People are polarized on many different socio-political issues. In many circles, they've dug into their corners and the art of communication and commonality has been lost.
In my opinion, much of the reason for this is that there are way too many people who have not learned about being tolerant of cultural differences. Some people live in areas where everyone looks like them, speaks the same language and practices the same religion.
Perhaps not having the opportunity to travel, they don't have any reference for people who are different. The only exposure they have to learning about different countries and people of different cultural backgrounds is the media – which is often negatively biased and presents a far from accurate view of many world cultures.
These resource guides are a great way to teach your kids to think for themselves and not believe everything they see on TV about an unfamiliar culture. Even if they don't study in an inclusive classroom, you can make sure their home environment is.
Every culture has made contributions to the world we live in whether it is in art, science or history. Especially if you have kids who love to cook, reinforcing this history is a fun activity to introduce your kids to new cultures – while whipping up delicious foods in the kitchen.
Do your kids love to cook?
What better way to get them excited about learning about different cultures than to give them fun cooking experiments. They won't even realize how much they are learning.
Attach the Info Guide to the refrigerator. That way, when they have nothing to do while the food is simmering or baking, they can easily read the guide and learn more about the country they are cooking from.
What is in the Resource Guide?
one page information sheet that includes a few local language words and phrases, historical, geographical and cultural information.
online links for country specific recipes for breakfast, lunch and dessert with vegetarian options. Additional menu items available on the password protected page when you sign up for Kids Korner.
research page for the students to research answers to questions, using general online searches.
answer page to the research questions for parents to check.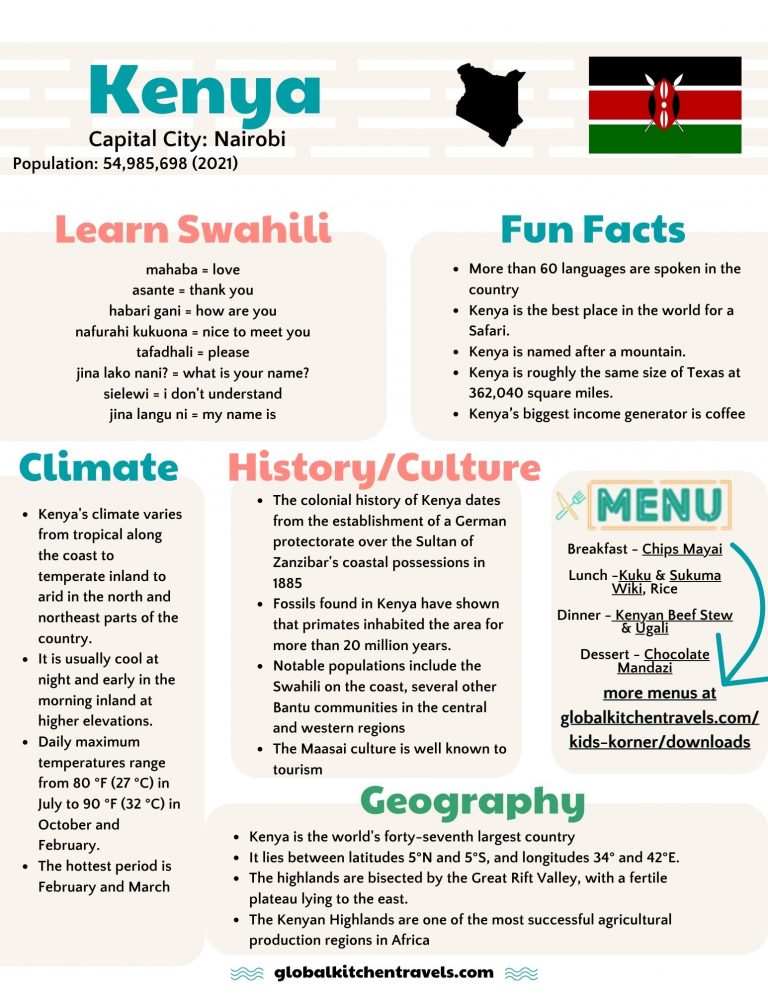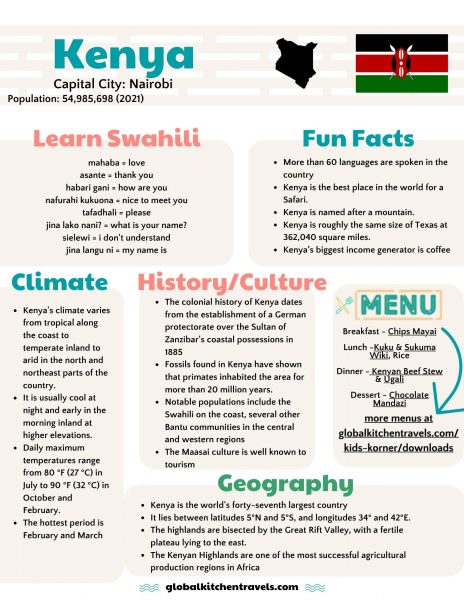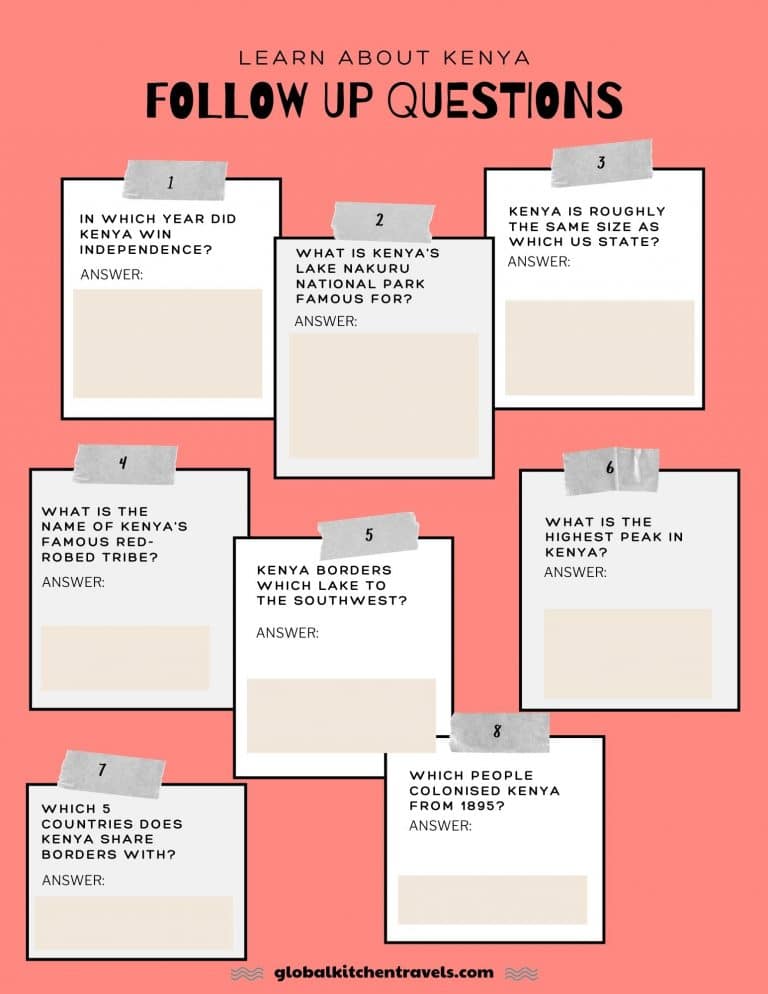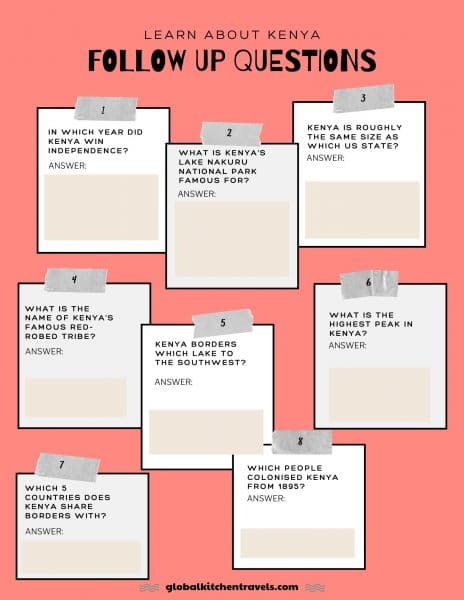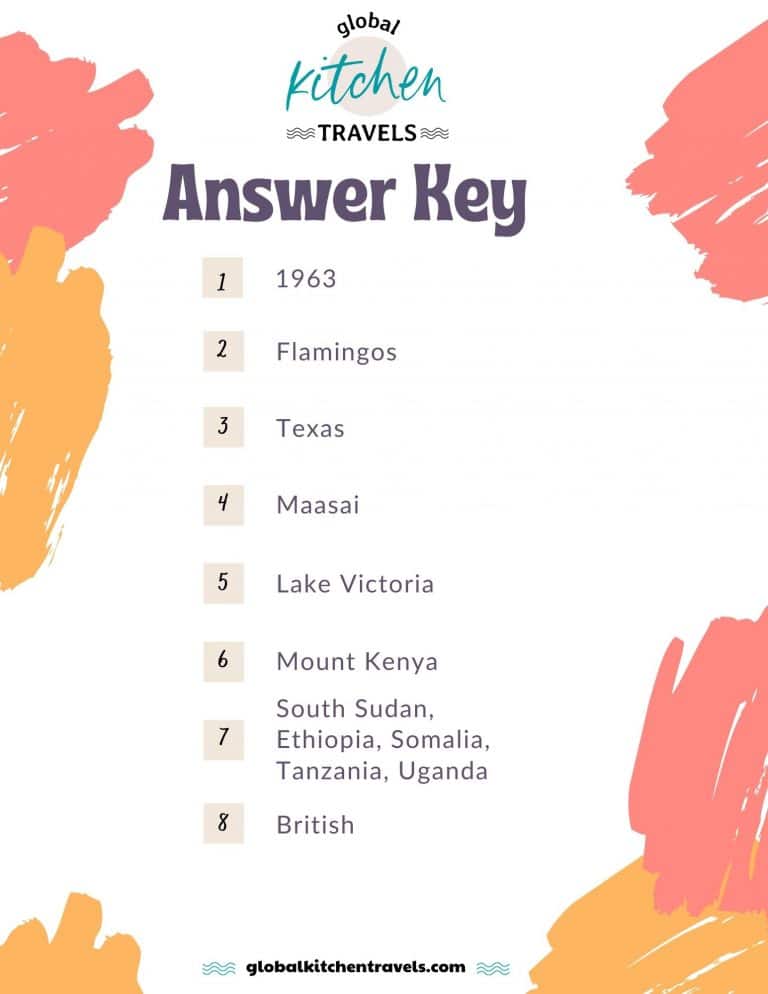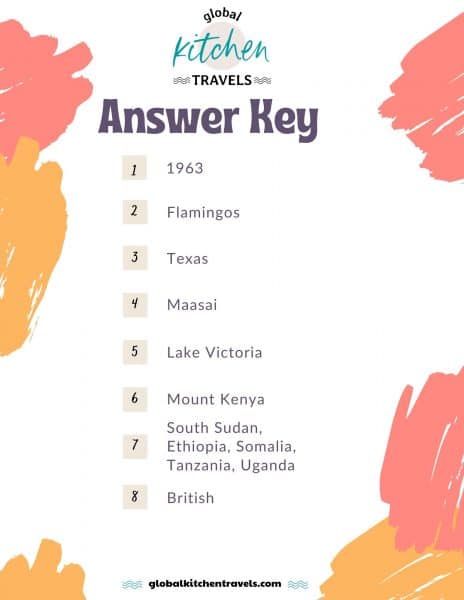 SIGN UP FOR ACCESS
Sign Up for Kids Korner and get access to this FREE Kenya Resource Guide and all the other countries already posted also!