Last Updated on August 30, 2020 by Chef Mireille
High Protein Caribbean Breakfast
Breakfast Dominican Style is power packed full of protein to give you that energy needed to handle the day.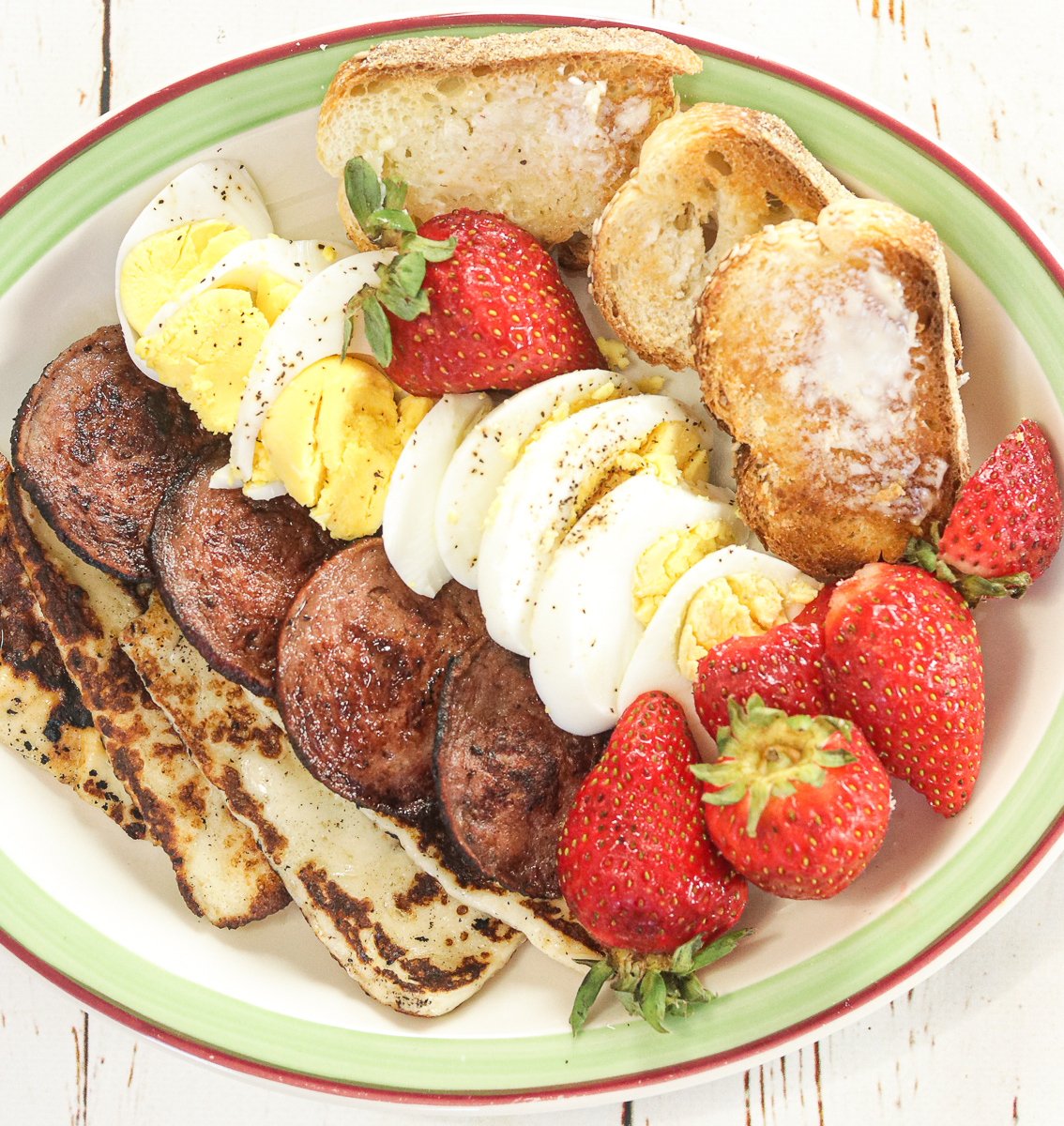 This post may include affiliate links.
My best friend's family since I was 8 years old is from the Dominican Republic so their cuisine is just as familiar to me as my own cultural cuisine. When I would sometimes spend the night at her house, she would still be sleeping and I would be with her Mom in the kitchen to see how she was cooking up our breakfast. Yes, I've been a foodie since childhood.
If you are following a high protein diet, you get a triple play of protein in this breakfast platter that is so quick and easy to put together. Eggs, Cheese and Meat all in one plate.
Maybe you are following a Keto or Paleo diet and looking for more ways to add protein in your diet. Here is a list of High Protein Foods to help you plan your high protein meals!
Specialty Ingredients
This week I have been presenting different cooking cheeses, that are sometimes overlooked in the protein diet with so many people always focusing on meat. Cooking Cheeses are a great way to get that protein in. Today I am using Queso de Freir, the Latin cooking cheese. If you can't find Queso de Freier, though not traditional, you can simply substitute one of the other cooking cheeses like halloumi or paneer.
I also used Dominican salami. Dominican salami is not like Italian salami. It is closer to ham and is not as oily as Italian salami.
Dominican Salami
So where can you purchase Dominican salami?
In NYC, corner stores are called bodegas. NYC is a diverse city and through the years certain cultures have monopolies over certain businesses. Of course, these are exceptions but generally speaking dry cleaners are run by Chinese, fruit and vegetable markets as well as nail salons are run by Koreans and bodegas are generally run by Dominicans or Puerto Ricans, although in recent years we now also have Arab run corner stores/bodegas.
Bodegas sell a little bit of everything – dry food supplies like cereal, canned soup, cookies, bread etc., household supplies, over the counter medicine, juice, beer and other junk food. Many of them also make sandwiches and sell cold cuts and cheese. A select few might also sell limited fresh produce and make breakfast egg sandwiches.
You can find Dominican salami in a Dominican bodega and some supermarkets that are in neighborhoods with large Dominican populations like Sunset Park in Brooklyn. Outside of NYC, I'm not sure so I would suggest substituting ham if you can't find Dominican salami.
Had enough of NYC culture? Ok let's get to the High Protein Breakfast – Breakfast Dominican Style recipe!
…but before we get there maybe you'd like to try some other delicacies from the Dominican Republic.
Domincian Dessert Recipes
To make this a truly traditional Dominican breakfast, it would be accompanied with boiled yuca/cassava or plantain and avocado. I am an avocado hater. Yes, I know it's a choice I have to defend practically on a daily basis especially with me being Caribbean but it is what it is. I thought this breakfast was filling enough without the yuca or plantain. After all, I am not a laborer going into the fields with my machete to cut down sugarcane. This is a perfect way to start the day without the extras if you live an urban life.
I often add tomatoes or fruit to add some freshness to it and the salami, cheese and egg was balanced perfectly with the tomato. It made the perfect bite of food.
About Dominican Republic
Before we get to the recipe, let's learn a little about the Dominican Republic.
Dominican Republic is 2/3 of the island of Hispanola. The other 1/3 of the island is the country of Haiti. Dominican Republic is a diverse country with descendants of African slaves, Spanish colonizers and the native Taino population.
The island is often referred to as Quisqueya by the locals. Quisqueya, sometimes spelled as Kiskeya is the Taino word for the island of Hispanola.
The island of Hispanola is located in the Caribbean approximately 800 miles from Miami. It is located in the hurricane belt, so if you are planning to visit, make sure you plan to do so outside of hurricane season.
If you would like to travel to Dominican Republic, the two most popular resort towns are Punta Cana and Puerto Plata. I visited Punta Cana many years ago and it is a great place for kayaking, snorkeling or just lying on the beach!
OK so here's how to make this easy shmeezy High Protein Breakfast – Breakfast Dominican Style or Desayuna Quisqueya.
High Protein Breakfast – Breakfast Dominican Style
Latin Caribbean Protein Packed Breakfast of eggs, salami, cheese, bread and fruit. A great meal for brunch.
Ingredients
2

eggs

4

slices

Dominican salami

3

slices

queso de freier

grape tomatoes

as desired

sriracha salt

as desired
Instructions
Place eggs in water and cook on high heat for 20 minutes.

Immediately cover with cold water to stop the cooking process.

As soon as they are cool enough to handle, remove shells and slice.

Sprinkle salt as desired on the eggs.

Spray a skillet with non stick spray.

Fry cheese until browned on both sides.

Fry salami slices until browned on both sides.
Notes
Sriracha salt is not traditional, but I like a little spice
Nutrition
Calories:
141
kcal
|
Carbohydrates:
1
g
|
Protein:
10
g
|
Fat:
11
g
|
Saturated Fat:
4
g
|
Trans Fat:
1
g
|
Cholesterol:
179
mg
|
Sodium:
470
mg
|
Potassium:
129
mg
|
Sugar:
1
g
|
Vitamin A:
238
IU
|
Calcium:
34
mg
|
Iron:
1
mg
Did you try this recipe? Leave a comment below.
Please follow me on Instagram @chefmireille or tag me #chefmireille with your pics! I'd love to share them!
Want to add some more Caribbean inspiration into your diet? Check out all the other Caribbean recipes here from Aruba to Trinidad and Puerto Rico!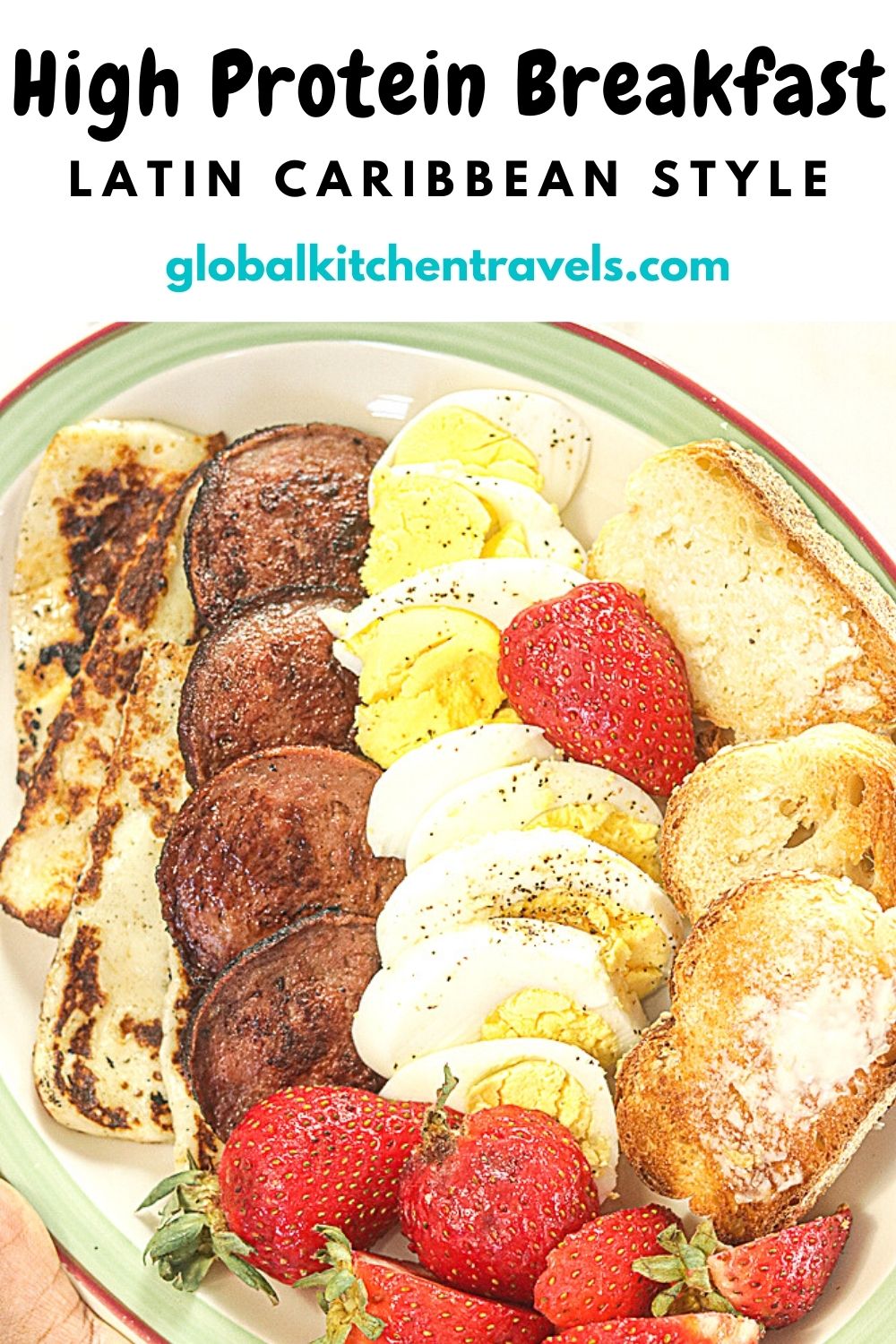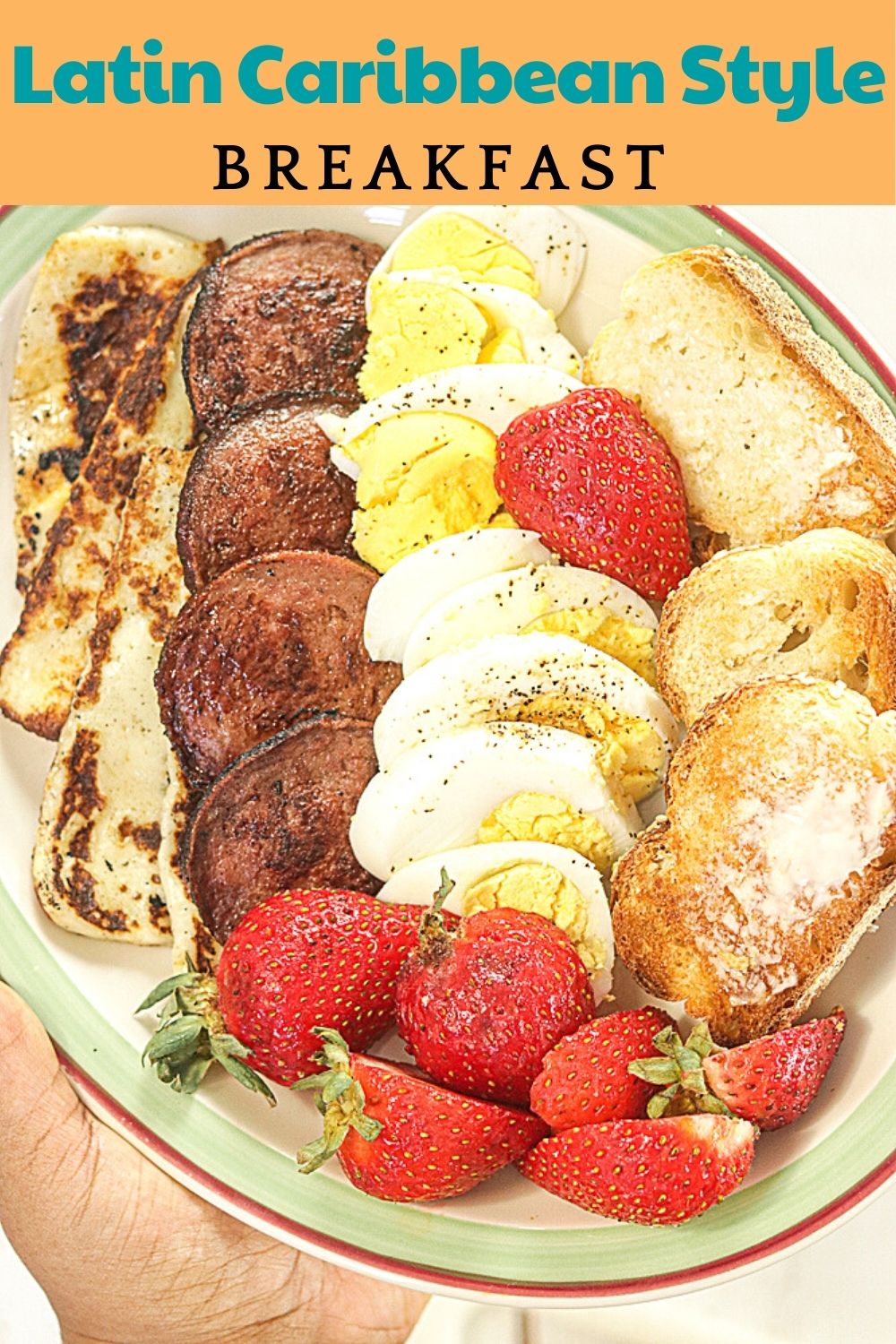 DO YOU YUM? SAVE IT BELOW!
Yum
Don't forget to visit the RECIPE INDEX with over 1000 recipes from around the world including lots of Vegetarian Recipes and Gluten Free Recipes!