Last Updated on January 12, 2020 by Chef Mireille
These classic Southern Buttermilk Biscuits are achieved by choosing the right ingredients at the right temperature. Learn the insider tricks for perfectly crusty and tender biscuits.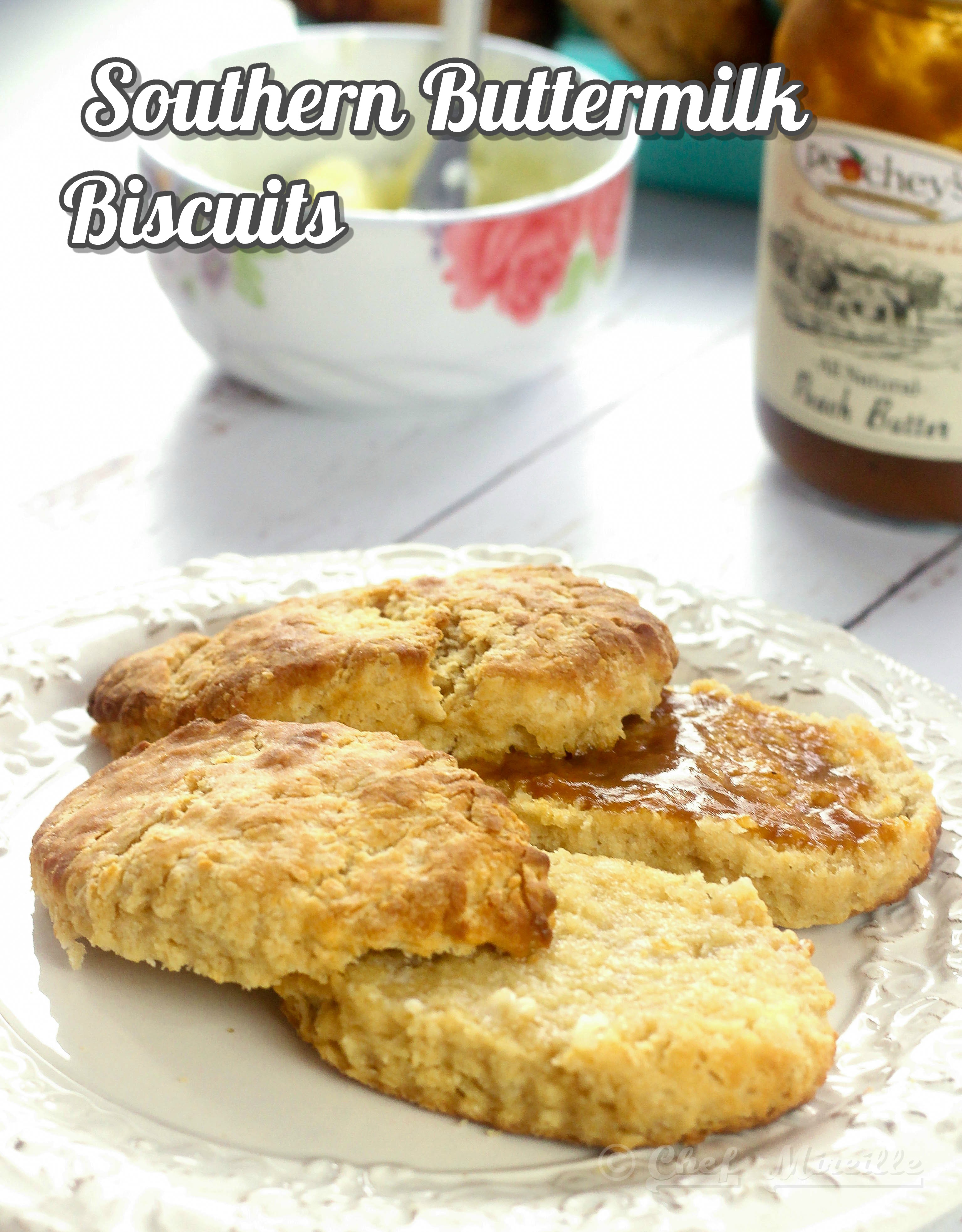 The American biscuit is a stepchild of the scone, having no relation to what those in the British diaspora call a biscuit, which is actually a barely sweetened cookie. That in America is what we call Tea Biscuits, which are very different from this American classic.
I have been making biscuits for years. I generally use the biscuit method we learn in culinary school. Gather all your dry ingredients in a bowl. Using a pastry blender, cut in cold shortening or butter which has been chopped. Add liquid and mix until just combined. Biscuits were always good, but didn't have that over the top southern goodness we love in biscuits.

This past summer I took a trip to Savannah and what do I purchase every trip I take – at least one cookbook! Even though I live in the same country, the United States has regional specialties like any other country. Although biscuits are known and eaten nationally, they were invented in the South. No one up north is eating biscuits and gravy for breakfast, although we do enjoy them with fried chicken. Biscuits are much more a staple item in the South.
The cookbook I purchased is called Learn to Cook 25 Southern Classics 3 Ways by Jenniger Brule. It's really cool the way the book is put together. It presents the traditional version of each recipe, but it then also presents a contemporary variation and a globally inspired variation – right up my alley, right!
I am currently working with a local restaurant in developing a breakfast service. I am developing some breakfast recipes for them. I wanted to develop a really awesome breakfast biscuit recipe, so I immediately went to the southern cookbook I had picked up. No matter how long you have been cooking, it's always important to be open to learn new techniques and methods. The book recommends everything being cold including the flour. I couldn't understand why I needed to freeze the flour for a bit.
This inspired me to do further research online and all the recommendations in the book for perfect biscuits was repeated on every site I found online that detailed tips for the best southern biscuits, so there had to be something behind it right. I still haven't figured out from my research exactly WHY it is so important that everything is cold, but it seems to work for the best biscuits.
Before you get to starting this recipe, stick your flour and butter in the freezer for an hour. You can even do it the night before, so that you can start your biscuits as soon as you wake up in the morning. The only other major difference than biscuits I've made in the past is to use frozen grated butter instead of chopped cold butter. This allows the butter to be more evenly distributed and stays cold while the biscuits are being put together.
Not only cuisine but also available cooking ingredients vary regionally. The book suggested using a soft wheat flour called White Lily. We don't have this flour up north but from what I can understand it comes from a young wheat, which has less protein than all purpose flour. My new staple for most of my baking, whole wheat pastry flour sounded like the perfect substitute. This flour has less protein than all purpose or regular whole wheat, allowing less gluten to develop which yields a more tender crumb. This is my adapted version of her recipe with ingredients that were available to me up north.
Here in the northern United States, biscuits are generally eaten with standard breakfast fare of eggs, bacon and hash browns. Also, they are often eaten with Fried Chicken. In the South, biscuits and gravy are a more common way of enjoying biscuits for breakfast. If you're not American, hope you enjoy this little slice of historical Americana!
Read the recipe carefully. Every step is very important from grating the butter to placement of the biscuits to making sure the oven is preheated.
Related Recipes
IN THE MAKING – HOW TO MAKE BUTTERMILK BISCUITS
Perfectly crusty top with soft and tender insides and great rise!
I had them with butter and some Peach Butter I picked up in Savannah by Peachey's Fine Foods.
Southern Buttermilk Biscuits
Ingredients
2

cups

whole wheat pastry flour

½

teaspoon

baking soda

2

teaspoons

baking powder

1

teaspoon

salt

6

tablespoons

frozen butter

1

cup

+ 2 tablespoons buttermilk
Instructions
Freeze the flour and butter for at least 1 hour.

Preheat oven to 475F. Most modern ovens have a bell that goes off once the oven has reached the temperature. Wait until the bell goes off to ensure the oven is preheated properly. Line a cookie sheet with parchment paper and spray with non stick spray.

Before we start the recipe, keep the buttermilk in the refrigerator until ready to add to the recipe. I suggest keeping it in the back of the refrigerator, which is the coldest part of the fridge.

In a large bowl, combine flour, baking soda, baking powder and salt. Mix to combine.

Grate the butter. Add it to the flour. Using a pastry blender, cut the butter into the flour until it resembles coarse crumbs.

Add buttermilk, reserving 1 tablespoons for the tops and mix until just combined.

Turn the dough onto a lightly floured surface. Sprinkle a little flour on top.

Gently roll the dough into a square about 3/4" high.

Using a biscuit/cookie cutter dipped in flour and cut biscuits out.

Place on prepared cookie sheet, with biscuits touching each other.

Brush tops with remaining 1 tablespoon of buttermilk.

Bake for 15 minutes, until tops are golden.
Did you try this recipe? Leave a comment below.
Please follow me on Instagram @chefmireille or tag me #chefmireille with your pics! I'd love to share them!
Do you know anyone else who likes learning about international food, culture, history and travel? Bring them over here to join the party! Don't forget to use those share buttons!
Start Here to find out how the Schizo Chef can help you with your cooking, travel and other needs!
If you like this recipe, PLEASE LEAVE A COMMENT & SUBSCRIBE!
This is part of the Bake-a-thon 2017
[inlinkz_linkup id=740397 mode=1]