Last Updated on November 24, 2020 by Chef Mireille
Versunkener Apfelkuchen – German Sunken Apple Cake is a show stopper dessert fit for any special occasion and done in under an hour. The perfect holiday dessert or when you need a quick sweet treat!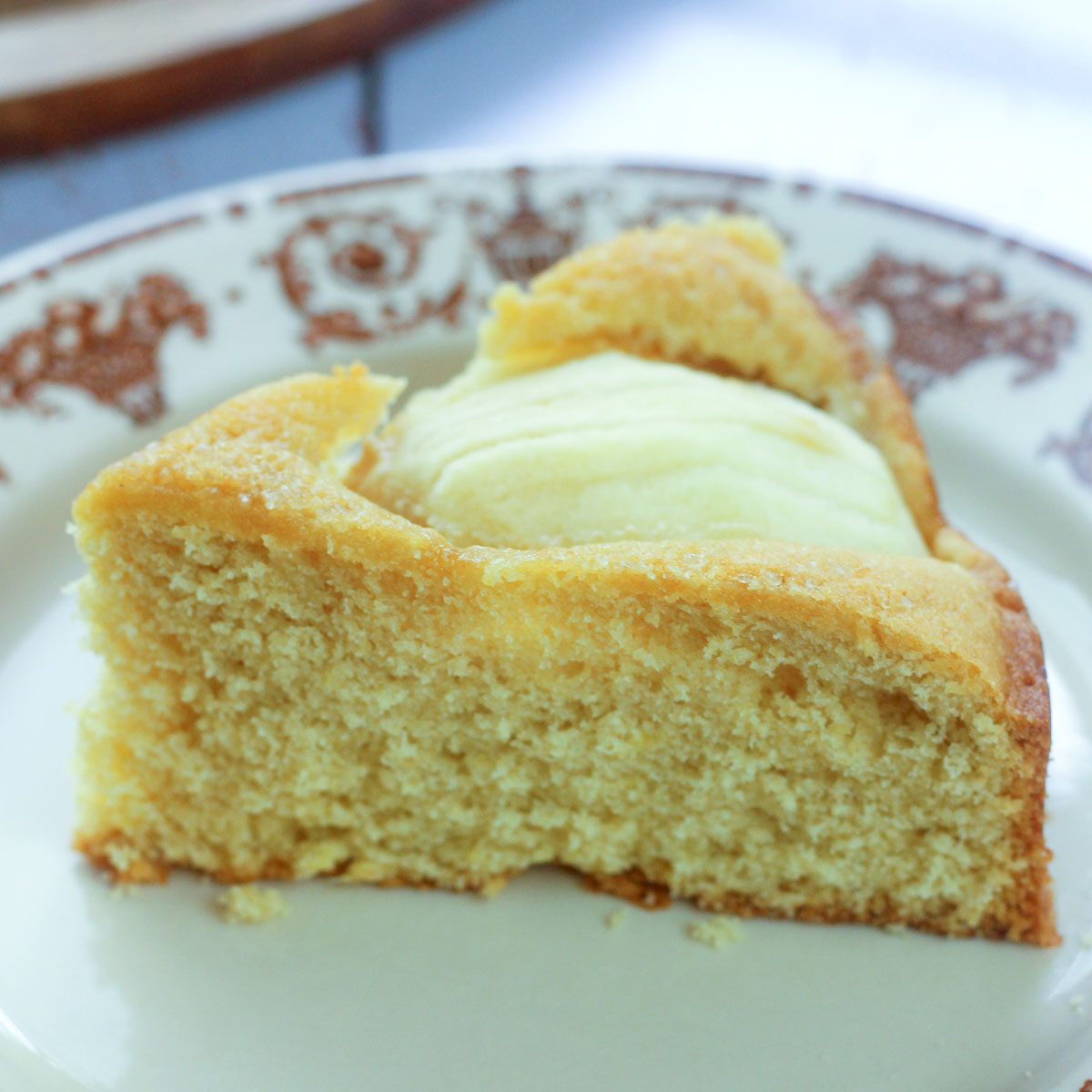 This post may include affiliate links.
Are you a baker or a decorator or both? Cake decorating is an art that takes both practice to develop these skills and patience. With time, I could probably develop the first. However, patience is a virtue I am low on.
Can you bake a mean cake that maybe doesn't always look as good as it tastes without the pretty decorations? Well, you are not alone!
I don't consider myself the most artistic of bakers. Sure I can bake cakes, cookies and pastries, but have you noticed the lack of frosted cakes here? I try to get away with it by making glazes that I can just pour over the cakes – way simpler.
What if I could introduce you to a cake that would wow your guests but is super easy and simple – No difficult techniques like fluting pastry and done in under an hour? This German Sunken Apple Cake fits the bill.
What's great is this cake is the decoration itself. All it needs is a little powdered sugar on top if you like and decorating done!
So when you need a show stopper cake for holidays like Christmas right, this German Sunken Apple Cake is perfect!
If you still haven't baked up your Christmas desserts, consider this cake. With basic ingredients but a WOW look to the end product, this is the cake for every special occasion.
If you'd like, you can garnish it with some powdered sugar when it comes out of the oven, but so not necessary.
Here are a few other showstopper cake recipes you might like to try!
PICK YOUR OWN FRESH PRODUCE
Pick your own fresh berries and other seasonal produce at your local UPICK Farms with locations all over the USA!
Cake Recipes
Easy Weekday Cake
As many of you know, my family is originally from the Dutch Caribbean and half my extended family now lives in the Netherlands, 3 generations in!
With the Netherlands and Germany as neighbors, many of the recipes and especially delicious cakes and desserts, easily get enjoyed over the border! Cakes like these are often referred to as Mittwochskuchen or midweek cakes. They are so quick and easy to put together they can easily be made during the week.
When I visit my family in the Netherlands, this cake often makes an appearance for our evening snack, usually had about 2 hours after dinner with a cup of tea.
This is the perfect cake to serve for a weekday birthday or really just when you want to whip something sweet and delicious but don't want to spend yours in the kitchen.
What should you serve German Sunken Apple Cake with?
fresh whipped cream
vanilla ice cream
So let's see what we need…
Ingredients
3 apples
1 lemon
butter
eggs
TO REMEMBER
Butter needs to be room temperature, so take it out in advance to make this cake as soon as you're ready!
Suggested Tools:
This is a fork and knife cake, so definitely fit for those fancy shmancy occasions!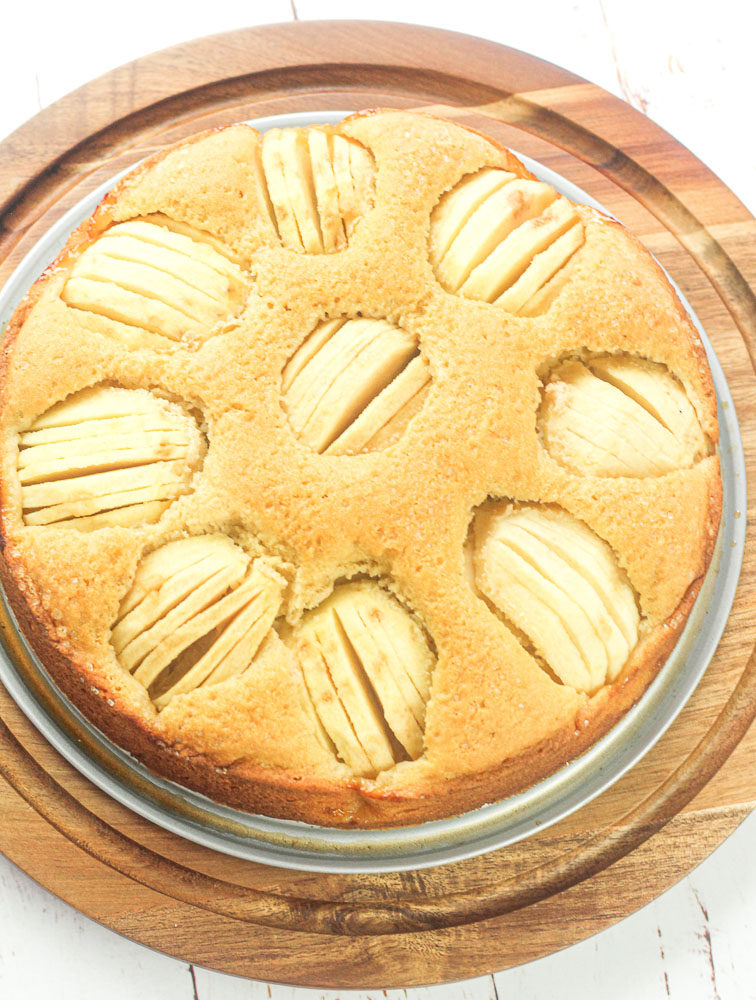 Such a delicious and pretty cake needing no fancy decorations.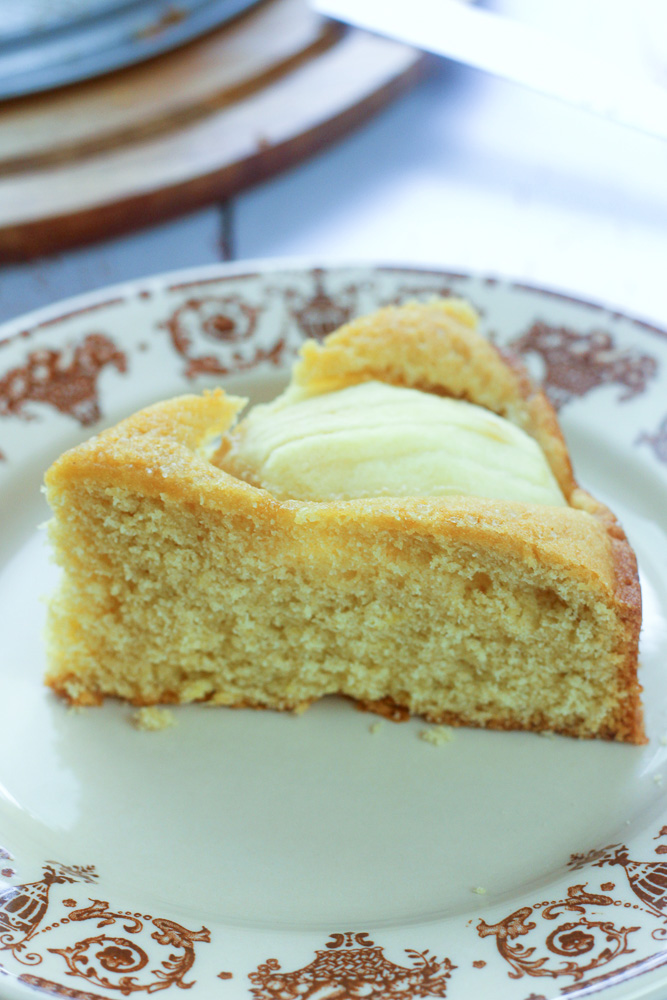 Versunkener Apfelkuchen – German Sunken Apple Cake
Instructions
Preheat oven to 350 F. Spray a springform pan with non stick spray.

Slice the apples ¾ of the way through, leaving the base attached. Toss apples the lemon juice.

In the bowl of an electric mixer, beat butter and sugar until light and creamy.

Add vanilla extract and lemon zest. Mix until combined.

Add eggs one at a time, mixing well after each addition.

In a medium bowl, combine salt, flour and baking powder. Mix to combine.

Add dry ingredients to batter in 2 batches, mixing well after each addition.

Add milk and mix until thoroughly combined.

Transfer batter to prepared pan and spread in an even layer.

Place apples on top of the batter, pressing slightly into the batter.

Sprinkle demarara sugar on top.

Bake for 45 minutes, until a tester inserted comes out clean.

Cool in the pan for 10 minutes.

Remove the outer shell of the springform pan.

Garnish with powdered sugar on top, if desired.
Did you try this recipe? Leave a comment below.
Please follow me on Instagram @chefmireille or tag me #chefmireille with your pics! I'd love to share them!
DO YOU YUM? SAVE IT BELOW!
Yum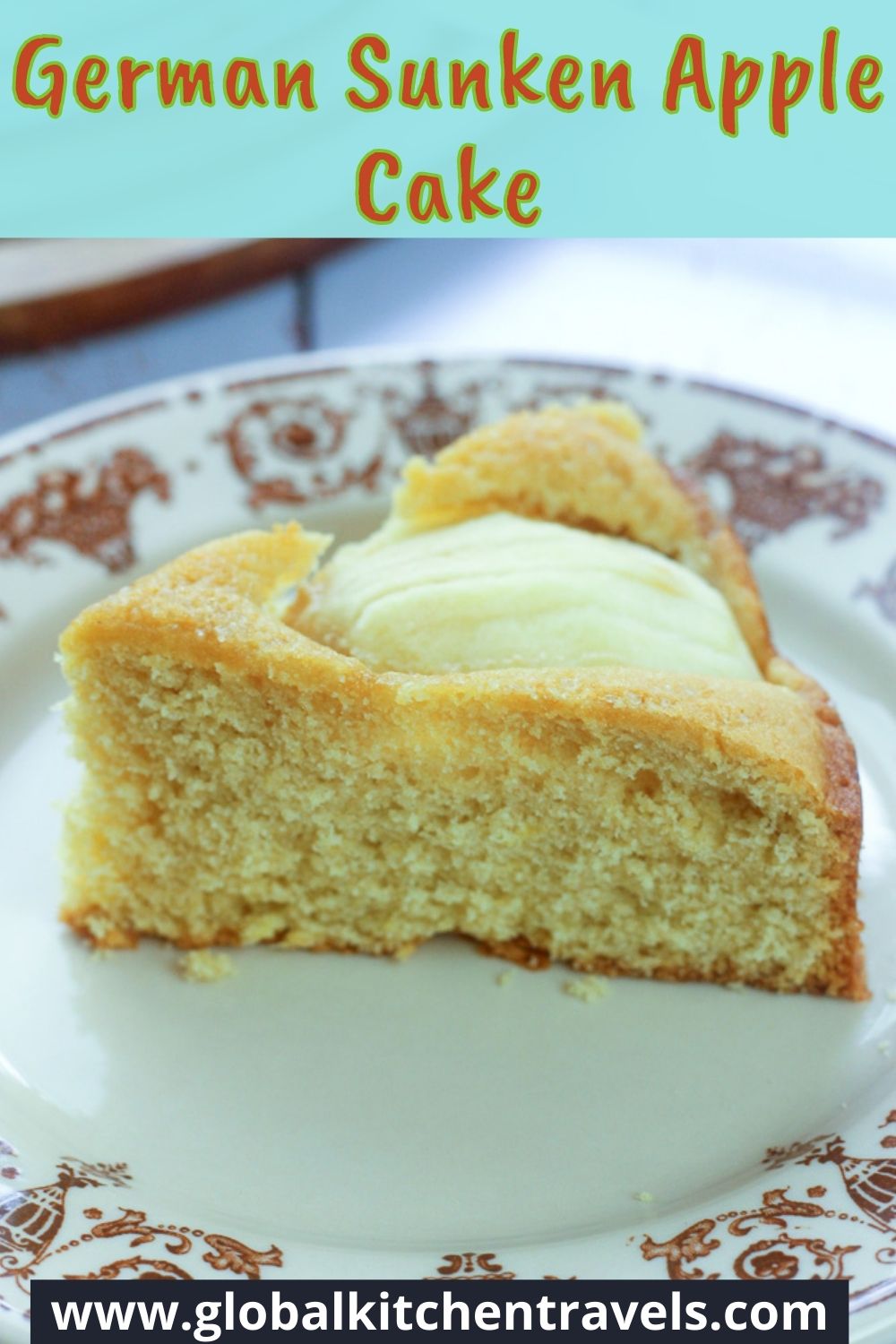 Don't forget to visit the RECIPE INDEX with over 1000 recipes from around the world including lots of Vegetarian Recipes and Gluten Free Recipes!