Last Updated on January 12, 2020 by Chef Mireille
Moroccan Creamy Tomato Soup made from Farmer's Market heirloom tomatoes and Moroccan spiced bring varietal flavor into a classic soup.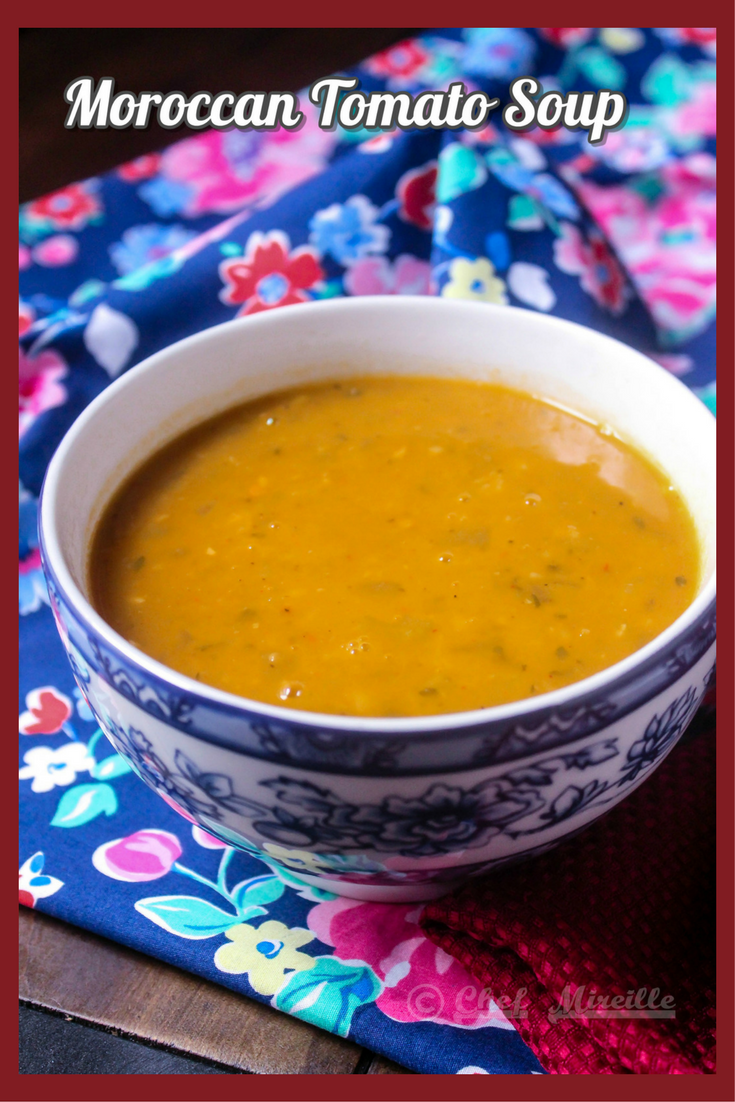 This recipe has been sitting in my drafts since the summer just waiting for the right time to post it -even the whole introduction was typed up. When the BM theme of Moroccan was posted, it was finally time to post this delicious soup and the perfect time of year for it too!
I took two trips in as many weeks eating a lot of rich and fattening foods from Savannah & Philadelphia. Shrimp and Grits with eggs and biscuit for breakfast and snacking on salt water taffy in Savannah, Amish snack foods like homemade fudge and chocolate covered pretzels in Philadelphia haven't been kind to my waistline. Upon returning home to NYC, I decided I needed to jump start a change in my diet.
A diet works best when it is not something temporary but a life change that you can live with forever. I know I don't have the discipline to go 100% paleo (I like bread too much), but I can try a semi paleo diet, largely reducing the quantity of carbs and sugars I consume. To that goal, I have decided to make soup as dinner as often as I can. The varieties can be endless so I will never get bored and with all the liquid, they can be quite filling, curbing my need to snack on carbs.
As soon as I came back from Philly, I made a visit to NYC's larges farmers market at Union Square. At this time of year, peppers, corn and tomatoes and raining rainbow colors at the market. At one stand, they were offering free tasting samples of their different tomato varieties. Knowing what they taste like inspired me to make a tomato soup with different tomato varieties.
I used one tart green tomato with two sweet green tomato varieties in this soup for a balance of flavors. Farmers Market zebra and black pineapple tomatoes were super sweet, although mostly green in color. Visit your local Farmers Market and see what varieties of heirloom tomatoes they have and try making a new version of tomato soup.
I went Moroccan with the spices used and this made a great light dinner to try to shed my vacation pounds!
Heirloom Tomatoes

This soup is perfect to enjoy on a cold winter day!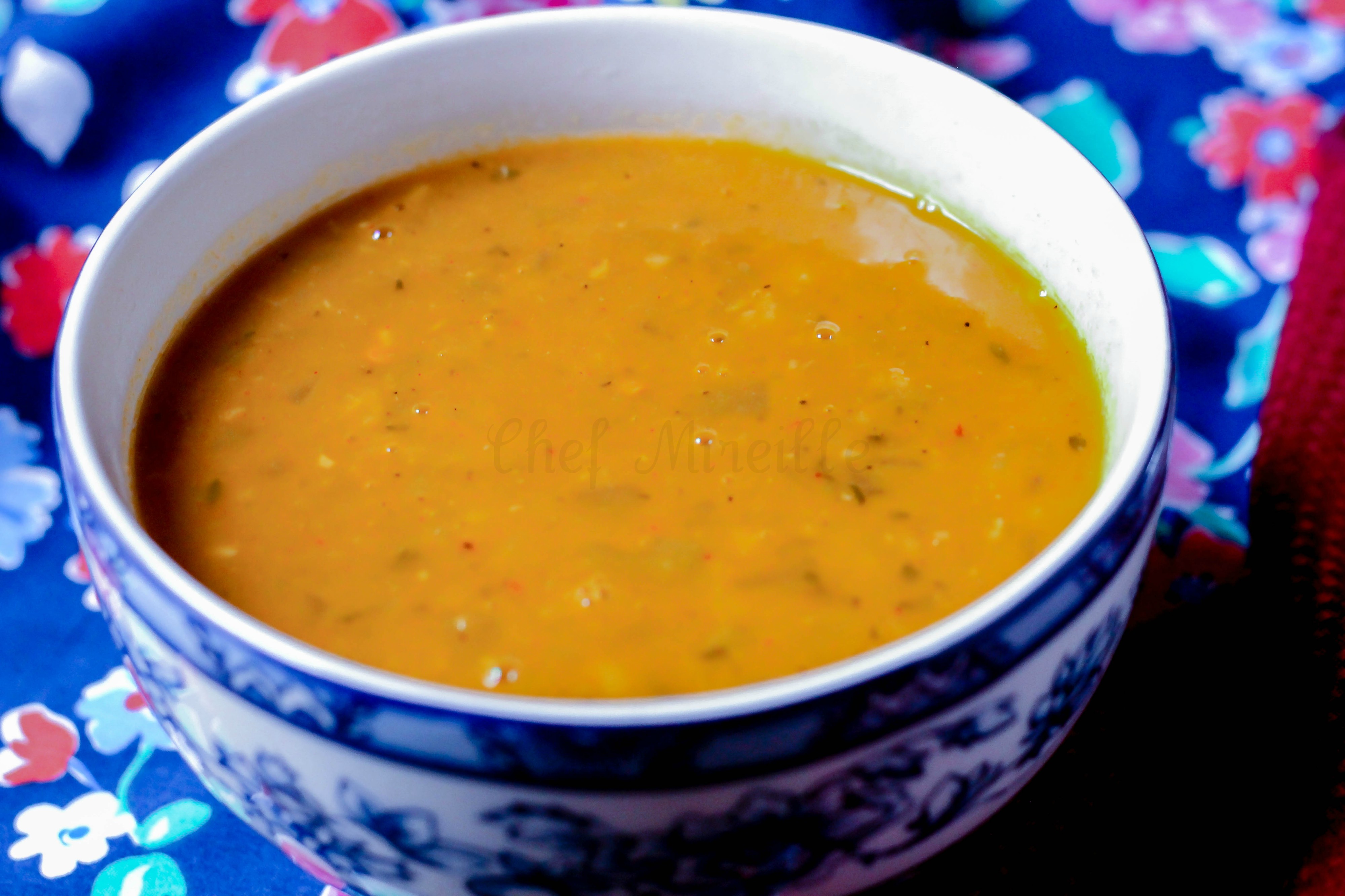 Enjoy with crusty bread. Try these bread recipes!
Bread Recipes
Moroccan Creamy Tomato Soup
Ingredients
1

lb.

zebra tomatoes

12

oz.

tart green tomatoes

20

oz.

black pineapple tomatoes

2

tablespoons

oil

2

stalks celery

chopped

1

teaspoon

minced roasted garlic

1

tablespoon

grated ginger

1

chopped onion

1

teaspoon

smoked paprika

½

teaspoon

ground cumin

1

teaspoon

parsley

1

teaspoon

harissa

Salt and black pepper

to taste

2

tablespoons

heavy cream

1

tablespoon

honey
Instructions
Chop tomatoes into quarters and halves depending on size. Combine in a pot with 3 cups water. Bring to a boil. After it comes to a full boil, boil for 5 minutes.

Transfer tomatoes with all the liquid to a blender. Let it cool for 5-10 minutes, until there is no more steam.

While it is cooling, chop your vegetables.

In a pot, heat oil. Add celery, garlic, ginger and onion. Saute until vegetables are softened.

Add tomato liquid and bouillon. Add paprika, cumin, parsley and harissa. Bring to a boil. Reduce to a simmer and cook for 20 minutes.

Add salt and pepper, heavy cream and honey. Stir to combine and simmer for 5 minutes.
Notes
With the honey, this soup is not 100% paleo, but I think it is needed to cut the acid of the tomatoes and if I am skipping dessert, this falls within the semi-paleo guidelines I have set for myself.
Did you try this recipe? Leave a comment below.
Please follow me on Instagram @chefmireille or tag me #chefmireille with your pics! I'd love to share them!
Do you know anyone else who likes learning about international food, culture, history and travel? Bring them over here to join the party! Don't forget to use those share buttons!
Start Here to find out how the Schizo Chef can help you with your cooking, travel and other needs!
If you like this recipe, PLEASE LEAVE A COMMENT & SUBSCRIBE!
Check out the Blogging Marathon page for the other Blogging Marathoners doing this BM#78