Last Updated on May 20, 2020 by Chef Mireille
Tomato Chayote Chicken Soup makes the perfect bowl of soup on cool winter nights. A healthy and complete bowl.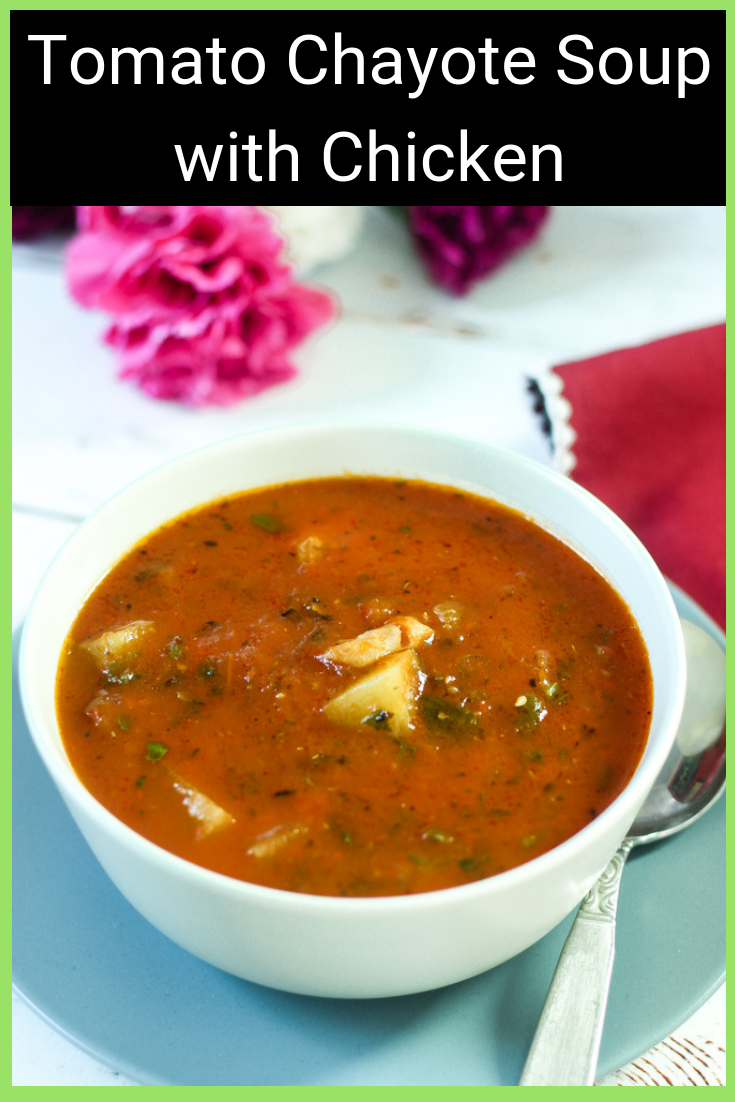 This soup was taken from a cookbook I have on Middle Eastern & African Cooking, however I made a number of changes to the original recipe as I found it a little bland.
Chayote is a vegetable that has many different names even in English, depending on what country you are in. Most Americans and Mexicans call it chayote, Jamaicans cal it cho-cho, Africans and some Caribbeans call it christopene and in New Orleans & the French Caribbean it is called mirliton. Whatever you call it, it is one of my favorite vegetables to include in soups. It is a member of the squash family and will absorb other flavors rapidly.
However, it does have an enzyme that many people have a skin allergy to, including me. This is why it is sold in individual plastic bags. Just wear gloves when preparing the vegetable. Once it is cooked, there won't be any problems eating this delicious vegetable.

It's definitely the time of year for chicken soup. Here are some other varietal chicken soups you might enjoy!
Chicken Soup Recipes
This soup is the perfect comfort food now with cool temperatures.
It is a healthy complete meal!
Tomato Chayote (aka christophene) Soup
This simple soup is healthy and is perfect to enjoy in any season!
Ingredients
8

oz.

skinless and boneless chicken thighs

1

finely chopped garlic cloves

1/2 

teaspoon

salt1/2 teaspoon black pepper

1/8

teaspoon

freshly grated nutmeg

2

tablespoons

oil

1

chopped small onion

2

chopped small green chile

or 1 serrano pepper

2

cups.

canned crushed tomatoes

1

peeled

cored and diced chayote/christophene

1/2

teaspoon

sugar

1/2

teaspoon

dried thyme

1

teaspoon

dried oregano

1/4

teaspoon

garam masala
salt

to taste

1/4

cup

finely chopped parsley
Instructions
Season chicken with garlic, salt, pepper and nutmeg. Leave to marinate for 1/2 hour.

In a large pot, heat oil. Add onion and cook until onions soften.

Add chicken and stir fry for 5 minutes, stirring occasionally.

Add tomatoes, 1 cup water, chile, chayote, sugar, thyme, cayenne, oregano and garam masala. Bring to a boil. Reduce to a simmer and cook for 15 minutes.

Add parsley and adjust salt as needed. Cook for 1 more minute.
Did you try this recipe? Leave a comment below.
Please follow me on Instagram @chefmireille or tag me #chefmireille with your pics! I'd love to share them!
Don't forget to visit the RECIPE INDEX with over 1000 recipes from around the world including lots of Vegetarian Recipes and Gluten Free Recipes!