Last Updated on December 5, 2020 by Chef Mireille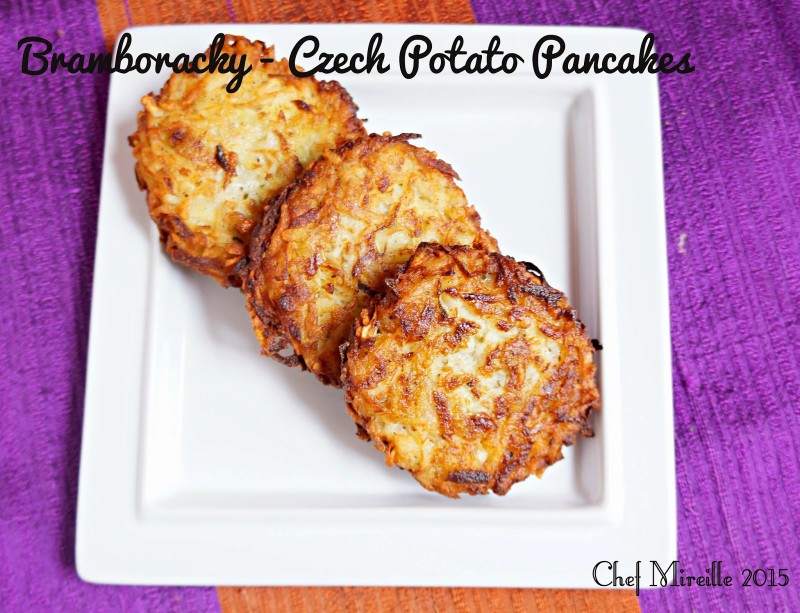 This post may include affiliate links.
Growing up in NYC with its large Jewish population, I have grown up eating Potato Latkes with Applesauce my entire life. So what are Potato Latkes?
Basically, they are potato pancakes. However, they are made differently depending on the season. During the Spring Jewish holidays like Passover when leavened flour is not allowed to be consumed, they are made flourless.
There are two ways to make these crepe like latkes. Either use no grain which requires some technique to cook them up right. Otherwise, crushed matzah crackers are used to bind the Potato Latkes.
Latkes are also popular around Hanukkah which is fast approaching. Hanukkah Latkes are a little different. They can be made with flour, as there are no dietary leavening rules during this season.
History of Latkes
However, either of these latkes bare little resemblance to ancient latkes as potatoes did not arrive in Europe until the 16th century and it would be another 300 years before they were cultivated en masse throughout Europe.
Latkes actually started in Italy in the 14th century and were made mostly of cheese and buckwheat or rye. Like many foods, as latkes traveled to different countries, they were adapted to local ingredients and customs.
Even the Jewish histories associated with latkes vary from region to region. This is why Sephardic Jews (Mediterranean countries) often follow different dietary rules for holidays than Ashkenazi Jews (northern Europe).
On some holidays, one of these groups of Jewish people may be allowed to eat dairy, while others will not.
Throughout Europe, there are various versions of these traditional Potato Latkes. Latkes have been incorporated into the larger cuisines of these countries, Jewish or not.
The main variation used in the different versions of latkes are the herbs used to flavor them.
The Czech version here is known as Bramboracky and flavored with marjoram, the sweeter cousin or oregano. This is a departure from parsley used in the German version, the most common version we get here in America.
Czech Bramboracky can be served with mayonnaise, sour cream, ketchup, fruit preserves, yogurt or applesauce. The neutral flavors adapt well to almost anything that is added on top.
TO REMEMBER
You can use different herbs as you prefer like parsley, oregano, thyme, dill or dried mint.
These latkes require only a few ingredients.
The Ingredients
potatoes
onion
freshly ground nutmeg
egg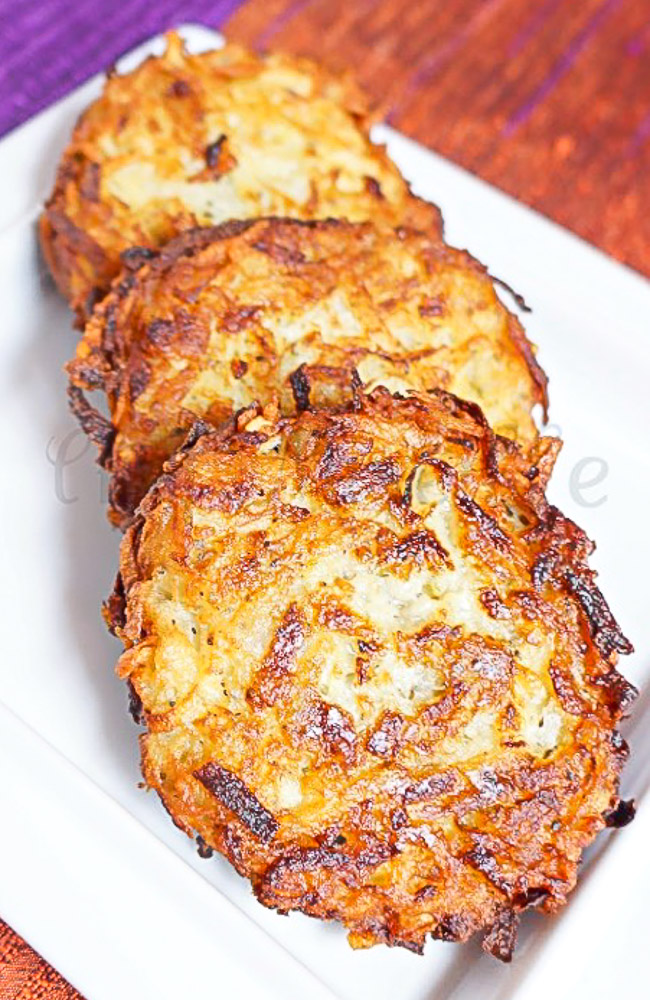 Potato Latkes
Bramboracky are Czech style Potato Latkes – a delicious appetizer for any holiday meal!
Instructions
Combine potatoes and onion in a piece of cheesecloth or clean

tea

towel. Squeeze out all of the liquid.

In a large bowl, combine potatoes, onion, marjoram, nutmeg, salt, pepper, egg and flour. Stir well to combine thoroughly.

In a skillet, heat enough oil for shallow frying. Using a few tablespoons for each pancake, form into 2″ patties and place in the hot oil.

Cook on medium heat 2-3 minutes on each side, until golden brown. Drain on paper towels.

Serve hot.
Notes
You can make variations of these Potato Latkes by using different herbs like oregano, parsley, thyme or dill.
Nutrition
Calories:
20
kcal
|
Carbohydrates:
2
g
|
Protein:
1
g
|
Fat:
1
g
|
Saturated Fat:
1
g
|
Cholesterol:
27
mg
|
Sodium:
204
mg
|
Potassium:
10
mg
|
Fiber:
1
g
|
Sugar:
1
g
|
Vitamin A:
40
IU
|
Calcium:
4
mg
|
Iron:
1
mg
Did you try this recipe? Leave a comment below.
Please follow me on Instagram @chefmireille or tag me #chefmireille with your pics! I'd love to share them!
DO YOU YUM? SAVE IT BELOW!
Yum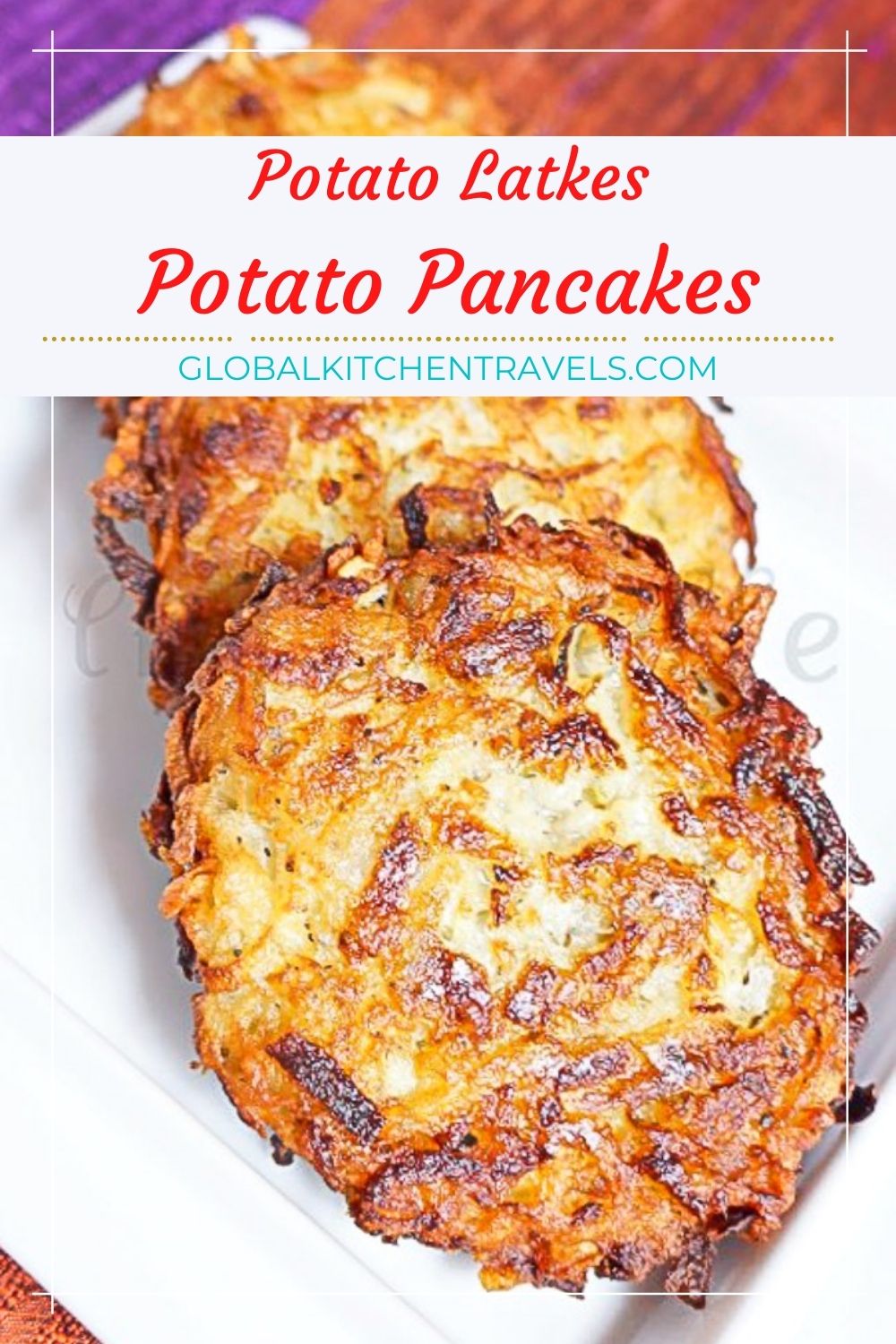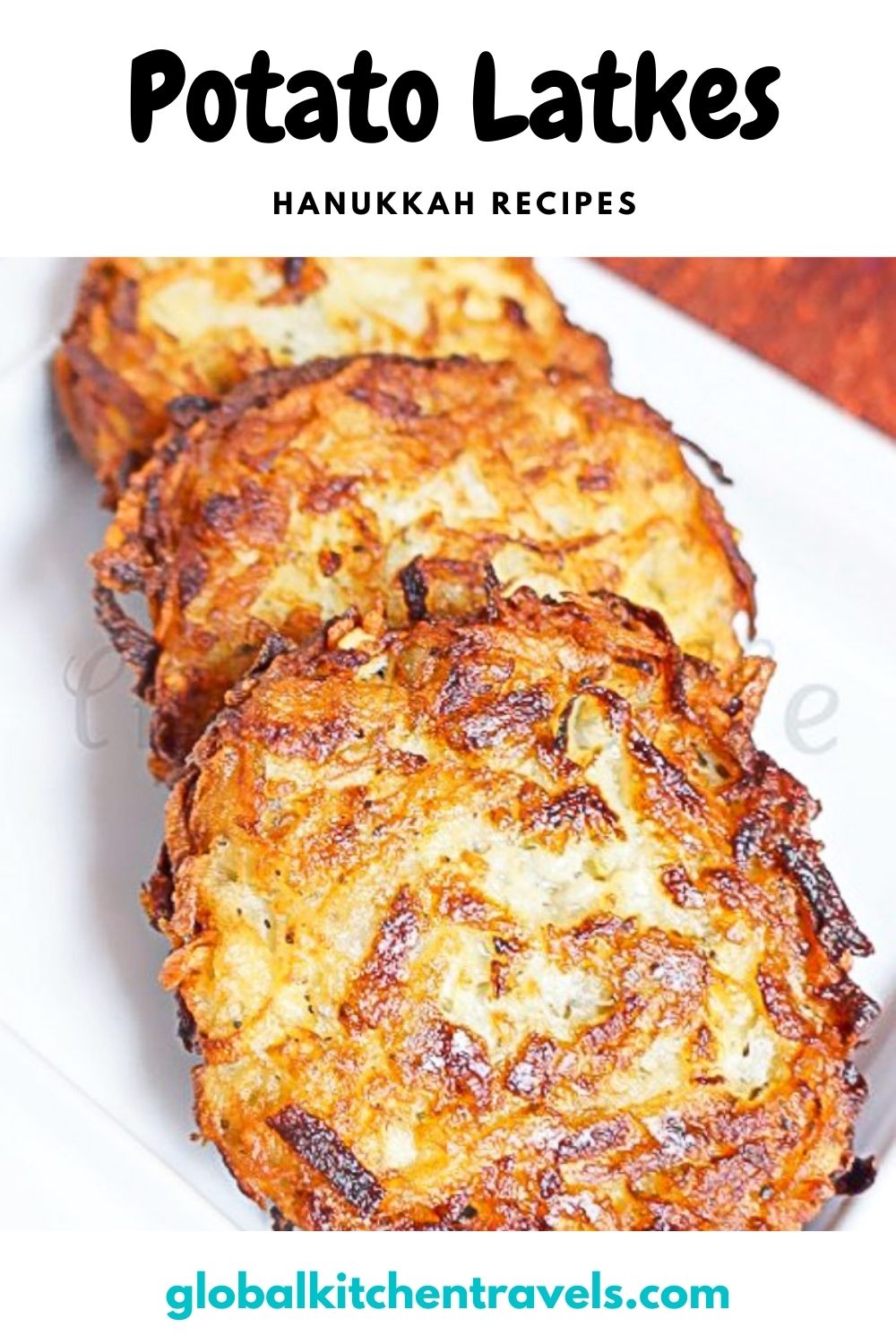 Need more culinary inspiration? Check out the Recipe Index with over 1500 Recipes from Around the World with lots of Vegetarian 🥕🍆🍅and Gluten Free Recipes!