Last Updated on April 10, 2018 by Chef Mireille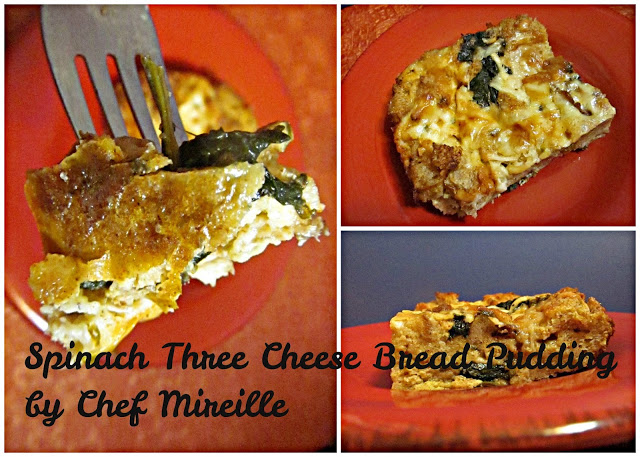 After a visit to my favorite cheese shop last week, East Village Cheese, I picked up some artisinal treats at dirt cheap prices. Who can resist taleggio at only $3.99/lb? Taleggio is a soft, creamy butter consistency Italian cheese with a tangy, nutty flavor. I love this cheese shop, where I can get gourmet cheeses at affordable prices.
Brie or fontina, which are more readily available, can be substituted.
Sweet bread pudding is a popular traditional dessert in many countries, however in recent years, savory bread puddings have started to make appearances. This is a versatile dish as you can add many things to it, even meat and vegetables, making it into a one pot meal. Since tallegio has a tangy flavor, I balanced it with milder cheeses, so that it does not overpower the other components in this pudding
Spinach Three Cheese Bread Pudding
Serves 8
Ingredients:
1 pound bread, chopped (choose a good quality crusty bread, like baguette or Portuguese)
1 tablespoon olive oil
2 cloves garlic, finely chopped
4 cups baby spinach leaves, firmly packed
1 poblano chile, chopped
6 eggs
2 cups milk
2 teaspoons salt
2 teaspoons paprika
3/4 teaspoon nutmeg, freshly ground
2 teaspoons dried parsley
1/3 cup tallegio
1 cup asiago, grated
2 cups pepper jack cheese, grated
Leave the bread in an open, shallow container for several hours or up to 2 days, so that it will harden and become stale.
Preheat oven to 375 F.
In a skillet, heat olive oil. Add garlic and chile. Saute for 1 minute. Add spinach and a pinch of salt. Cook until spinach is wilted.
Combine the grated cheeses together and mix well.
In a large bowl, whisk eggs well. Add milk, salt, paprika, nutmeg and parsley. Mix well.
In a large 9×13 casserole dish, place half of the stale bread cubes. Top with half of the spinach. Now add half of the grated cheeses and then half of the tallegio. Now add half of the milk-egg combination. Press down so that the ingredients are compacted and there is no air. Repeat.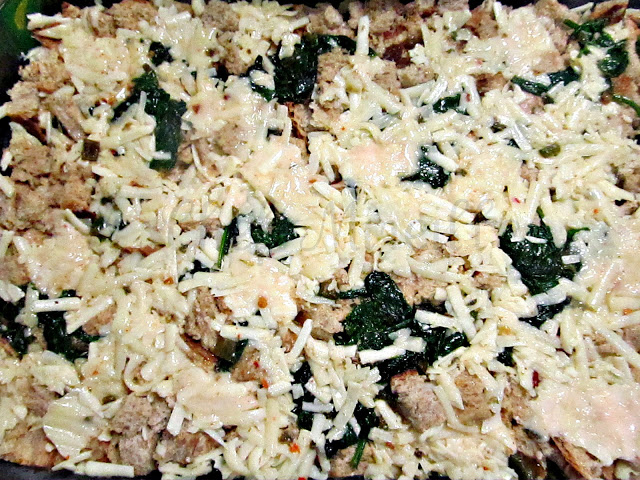 Bake for 45 minutes, until golden brown.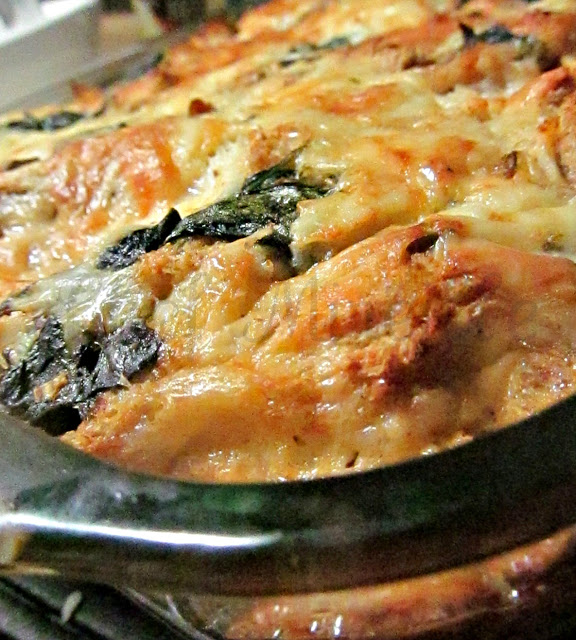 Crusty top and soft inside with the nutty, salty cheese flavor, this came out rich, creamy and delicious. I would suggest pairing it with a simple green salad.
Check out the Blogging Marathon page for the other Blogging Marathoners doing BM#30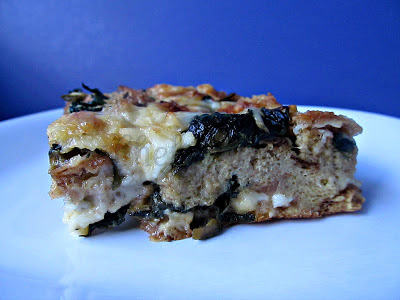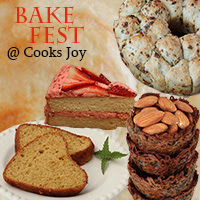 …linking to Bake Fest hosted by Amrita
LIKE THIS RECIPE? LEAVE A COMMENT..I LIVE FOR THEM!
Chef Mireille