Last Updated on April 25, 2021 by Chef Mireille
Jicama Pico de Gallo
This regional pico de gallo is perfect to put on your tacos but can be a salad all on its own also.
Add this delicious varietal Pico de Gallo with all your Mexican Food. More Mexican Recipes found here!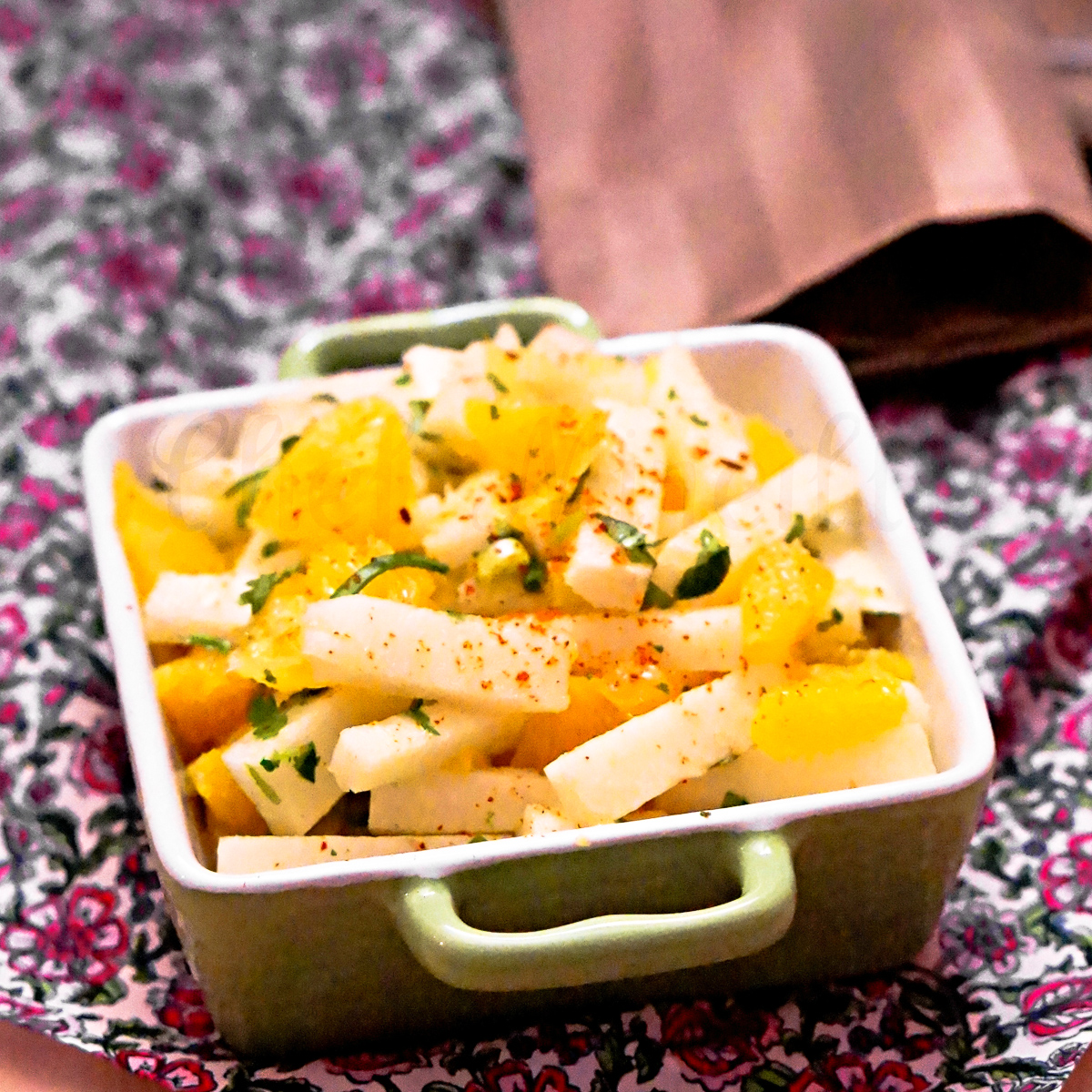 Mexican food and pico de gallo is like apple pie and ice cream. However, if you're like me, you probably at one time thought there was only one kind of pico de gallo. That mixture of raw onion, tomato, jalapeno and lime juice.
If you went to culinary school in the US, this is one of the first things you learn to make to practice your knife skills.
Anyone who goes to culinary school will remember pico de gallo for the rest of their lives either with fondness or hatred. After many days of practicing all the different knife cuts from julienne to brunoise, you FINALLY get a chance to make an actual recipe and are super excited. After all, it's your very first culinary school recipe. Pico de gallo is used to see if you've learned what you just spent days practicing – the instructor will measure your onion and tomato dices against each other as you stand by and wait in anticipation.
You will remember it fondly if your knife cuts were evenly shaped the first time and then you were super proud of yourself. You will hate this recipe for the rest of your life if you were one of the students whose squares of onion and tomato were not evenly sized and shaped and the instructor made you do it over and over and over and over again until you got it right. I'm kind of neutral with pico de gallo. I think I only had to make it twice.
However, I learned that in Mexico this is usually referred to as salsa mexicana. There are many regional varieties of pico de gallo throughout Mexico, using local regional produce. In many parts of Mexico, pico de gallo is more of a spiced fruit salad.
This Jicama Pico de Gallo is especially popular in Mexico City.
So fresh and delicious – perfect on hot summer days!
It's delicious on its own as a salad, but I can imagine this over some fish tacos. Without even knowing about this salad, I previously posted some Fish Tacos with pickled jicama – quite similar. It just shows how much fish and jicama compliment each other.
What can you have your Jicama Pico de Gallo recipe with? Here are some more Mexican Recipes you might want to check out!
Mexican Recipes
Jicama Pico de Gallo
This regional pico de gallo is perfect to put on your tacos but can be a salad all on its own also.
Ingredients
1

jicama

peeled and cut into small slices

2

oranges

supremed and diced

1

scallion

finely chopped

1

tablespoon

cilantro

finely chopped

1

tablespoon

lime juice

salt

to taste

cayenne pepper

to taste
Instructions
Combine all ingredients and toss well. Leave to rest for at least 15 minutes for flavors to develop.
Did you try this recipe? Leave a comment below.
Please follow me on Instagram @chefmireille or tag me #chefmireille with your pics! I'd love to share them!
DO YOU YUM? SAVE IT BELOW!
Yum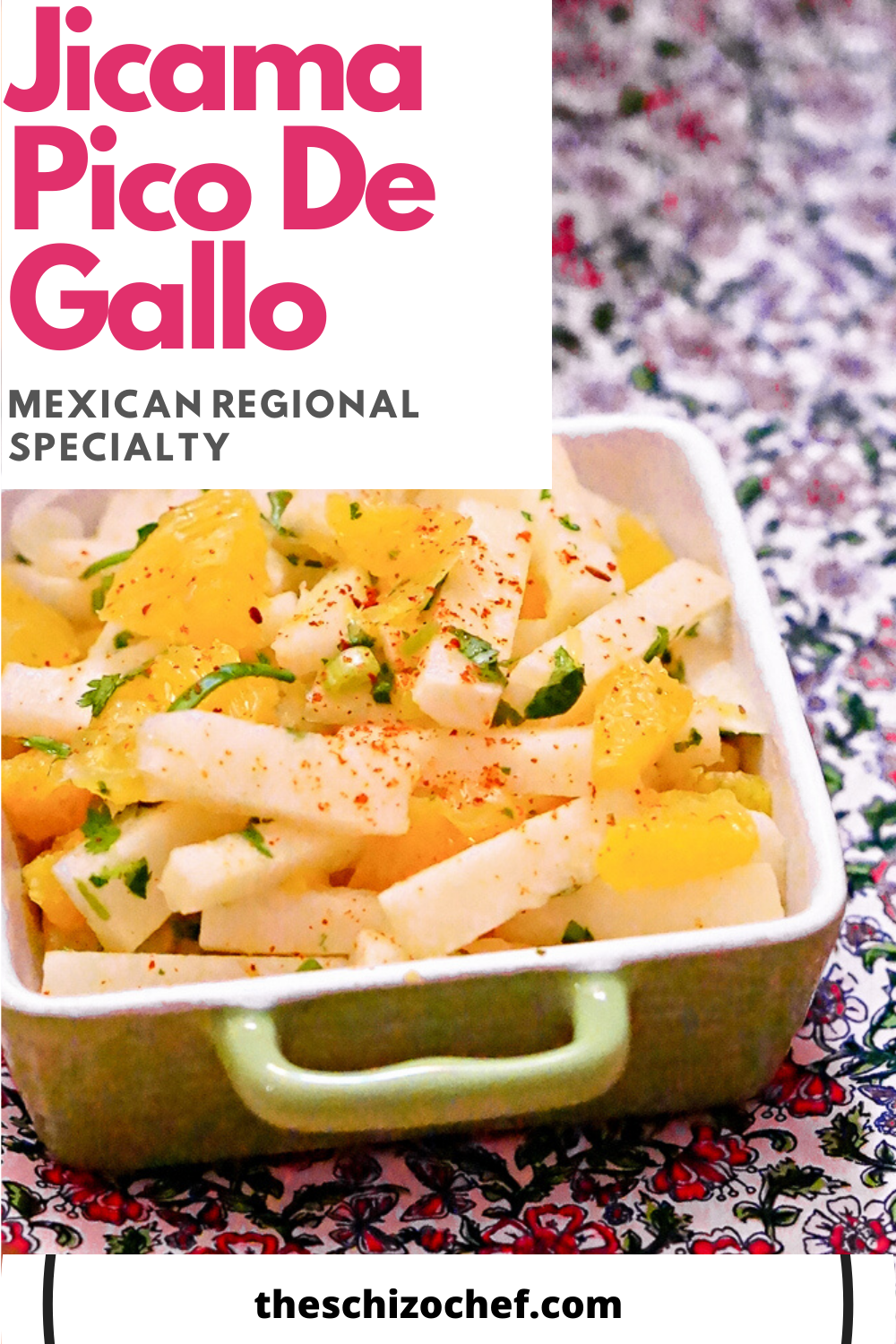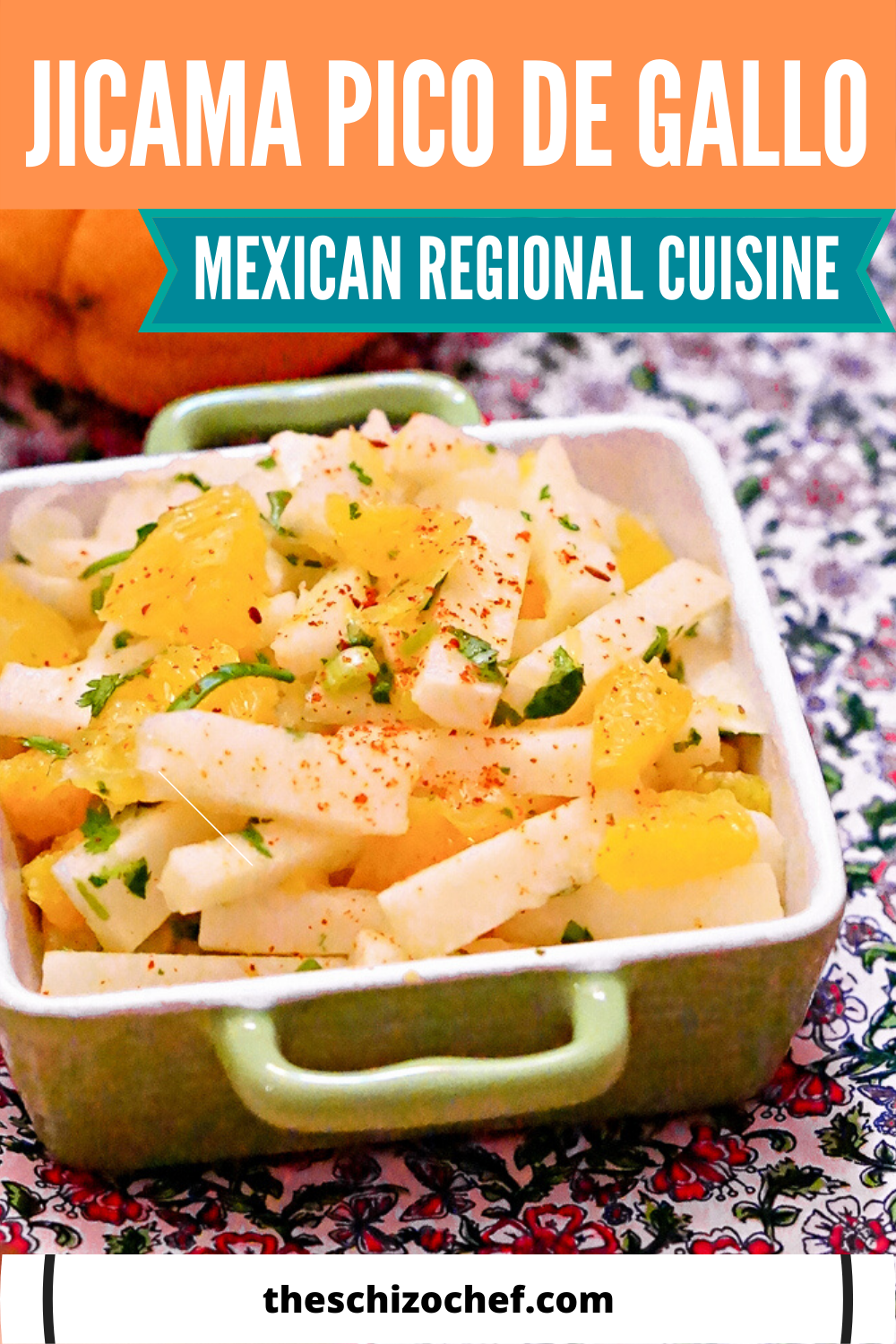 Don't forget to visit the RECIPE INDEX with over 1000 recipes from around the world including lots of Vegetarian Recipes and Gluten Free Recipes!
This post may include affiliate links.