Last Updated on December 14, 2020 by Chef Mireille
From the moment I started participating in the monthly Blogging Marathon, hosted by Srivalli of Spicing Your Life, one of the first bloggers that reached out to me via her comments on other posts was Aarthi. I started following her blog in my Google Reader and she is probably my most regular commenter, outside of BM and I appreciate all of her comments because she doesn't do so just for the sake of it, but when she finds a recipe particularly interesting or intriguing. To be quite honest, I had signed up for the BM, without realizing that all of the bloggers in the group are Indian and except for 1 or 2, vegetarian; neither of these communities am I a part of. I wasn't sure how welcome I would be in the group, but I had already signed up so decided to do it anyway. Her support as well as the others during the BM has been great and I was so wrong to think I might not be welcome in the group!
Her recipes are also innovative and varied, as well as being very detailed in her photos and I have more recipes of hers saved in my Reader than I can count, however, I have not had the chance to try any of them yet. When I found out she was getting married soon, I was so happy for her and was glad to participate in the virtual bridal shower that we BM are giving for her, via doing one of the recipes from her blog. Now the only decision was which recipe to do.
Initially, I was planning on doing her Strawberry Ice Cream recipe; a detailed methodology that does not require an ice cream machine, however, it is an all day process, having to remix the ice cream every few hours. I was all set to put aside a whole day, just for this recipe.
However, I had done a mini-Thali meal for my friends while the BM was running that included mostly everything – a fried appetizer, a vegetable dish, a non-veg dish, rice, podi, chutney, dessert- except a roti. After the rice was finished, I still had some leftover food after the giveaways and I needed some kind of grain to eat the food with. I immediately thought I would use the opportunity to do one of the rotis from her space. She has quite a selection of dosas, pooris, parathas and naans to choose from. I settled on Missy Roti.
Missy Roti is the most common one I buy already made from the Indian/Pakistani markets here in NY. I love the spices and often enjoy it for breakfast with some scrambled eggs or stir-fried paneer. I now had the opportunity to make it myself and being not as delicate as dosa, I knew it would not be as labor intensive and could probably perform the recipe pretty easily.
Good Luck and Congratulations Aarthi..wishing you a life of wedded bliss…your soon to be husband is a lucky guy!!!
I went ahead and made this Missy Roti from Aarthi's blog
Ingredients:
5 medium potatoes, cut into pieces (I cut each potato into about 8 pieces)
1/2 onion, sliced
2 green chiles, thinly sliced
1/2 red onion, sliced
1 teaspoon cumin seed
1 teaspoon red chile powder (cayenne)
1 teaspoon ground turmeric
1 tablespoon ground coriander
1 teaspoon ground aamchur (mango powder)
1 teaspoon black powder
salt, to taste
2 tablespoons oil
cilantro, chopped, for garnish
Add cut potatoes into salted water and boil for 15 minutes. Drain and set aside.
Heat oil in a kadai (I used a non-stick wok). Add cumin seeds, chiles and onions. Saute for a few minutes.
Add dry spices and mix well.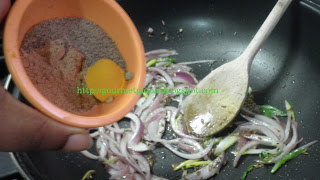 a la Aarthi…she always has a photo like this
Add potatoes and toss to coat well.
Cover and cook on very low heat for 20 minutes, stirring frequently.
Although she suggests having it with rice, I had it with her Missy Roti
I truly treasure the friendships gained through blogging and especially BM!!!
Chef Mireille
https://www.globaltasteinc.com
Like me on FACEBOOK!
Follow me on TWITTER!