Last Updated on April 12, 2021 by Chef Mireille
Mizuna lettuce is a green leaf lettuce with a slight peppery taste. Fresh and vibrant, they make a delicious base for summer salads.
With its peppery notes, combining it in salads with a little sweetness like the Apples and Spiced Candied Almonds in this salad provides a great combination of flavors and complexity to this salad.
It's a great side salad to serve at your summer barbecues and picnics.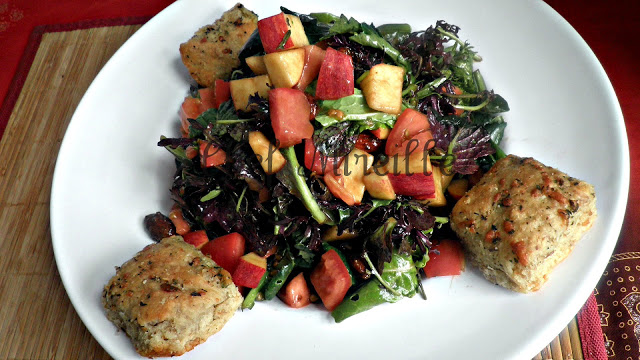 A few days ago I was at the Union Sq. Farmers Market, here in NYC. It is our largest Farmer's Market, with farmers coming from as far away as Pennsylvania to sell their farm fresh produce, flowers, baked goods, meats, dairy and even yarn goods. It operates Mondays, Wednesdays, Fridays, and Saturdays from 8am-6pm, 12 months of the year…come rain or shine!
I was buying some kale and spinach for a client I was going to cook for and the vendor I was purchasing from had such a large variety of salad greens.  We all have our comfort zone and tend to purchase the same things most of the time, myself included. I'm a Romaine girl.  
However, I was drawn to one box he had full of purple and green, so I asked him what it was.  He said it was a Mizuna mix and it was a spicy lettuce.  He offerrred me to try it.  Since there was water all over his stuff, I could tell his greens had been washed so I did. It was so nice and peppery.  It tasted like it had been sprinkled liberally with black pepper.  This was yummy and something I could make a delicious salad with.  This green originates from Japan and you can find more information about it here.
I didn't want to add to much stuff to the salad to take away from the delicious spice of the green, but I decided some sweetness would complement the pepper well, so I made some spiced nuts, fruit and a preserve based dressing and made a delicious salad!
First, let's make the spiced almonds. These will keep well for a week at room temperature and for a month, in the refrigerator. They serve as a great snack on their own also!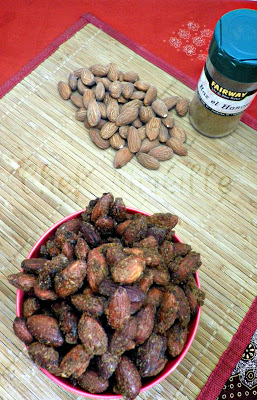 Spiced Almonds
2 tablespoons butter, softened
2/3 cup firmly packed brown sugar
1 tablespoon Raz el Hanout (this is a Morroccan spice blend that has both sweet and savory spices – you can substitute Baharat or Five-Spice Powder)
3 tablespoons liquid egg white (or the egg white from 1 egg)
1 tablespoon water
1 1/2 cups almonds
Preheat oven to 350 F.
Combine butter, sugar and Raz al Hanout in a bowl and mix well.
In another bowl, beat egg white and water until frothy. Add to sugar mix and stir to combine.
Add nuts and mix well, until thoroughly coated.
Line a baking sheet with a Silkpat (available at baking supply stores) or parchment paper.
Pour mix onto into and place in oven for 15 minutes. The egg whites may have separated. Mix back into the nuts. Stir and mix well. Bake for another 10 minutes.
Mix well and let cool.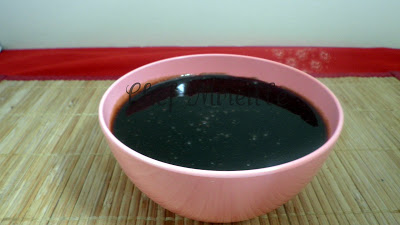 Apricot Balsamic Dressing
1/3 cup apricot preserves
3/4 cup balsamic vinegar
1 tablespoon Dijon mustard
1 1/2 teaspoons salt
1 1/2 cups olive oil
In a bowl, combine preserves, vinegar, mustard and salt and mix well.
Using a whisk, slowly drizzle in the oil, while whisking constantly to form a homogenous dressing.
Mizuna Apple Almond Salad
1 apple, cored and chopped, tossed in lemon juice to prevent oxidation (browning)
4 cups Mizuna leaves
1 tomato, chopped
1/2 cup spiced nuts
3 tablespoons Apricot Balsamic Dressing, or more, according to preference
Mix all ingredients in a bowl and toss. Served with these Herbed Oat Rolls…a delicious light lunch. You can easily add some cooked chicken breast if you like, which the dressing will complement well.
The next time you go to the market for some salad greens, step out of your comfort zone and try something new!
This salad is a great balance of flavors with the peppery greens, sweet and tart salad dressing, spicy nutty crunch from the nuts and the apples provide texture and freshness.