Last Updated on May 19, 2020 by Chef Mireille
Putong Ube – Gluten Free Purple Yam Steamed Rice Cakes are steamed rice cakes commonly eaten in the Philippines for breakfast. They come in many flavors and purple yam is one of the best!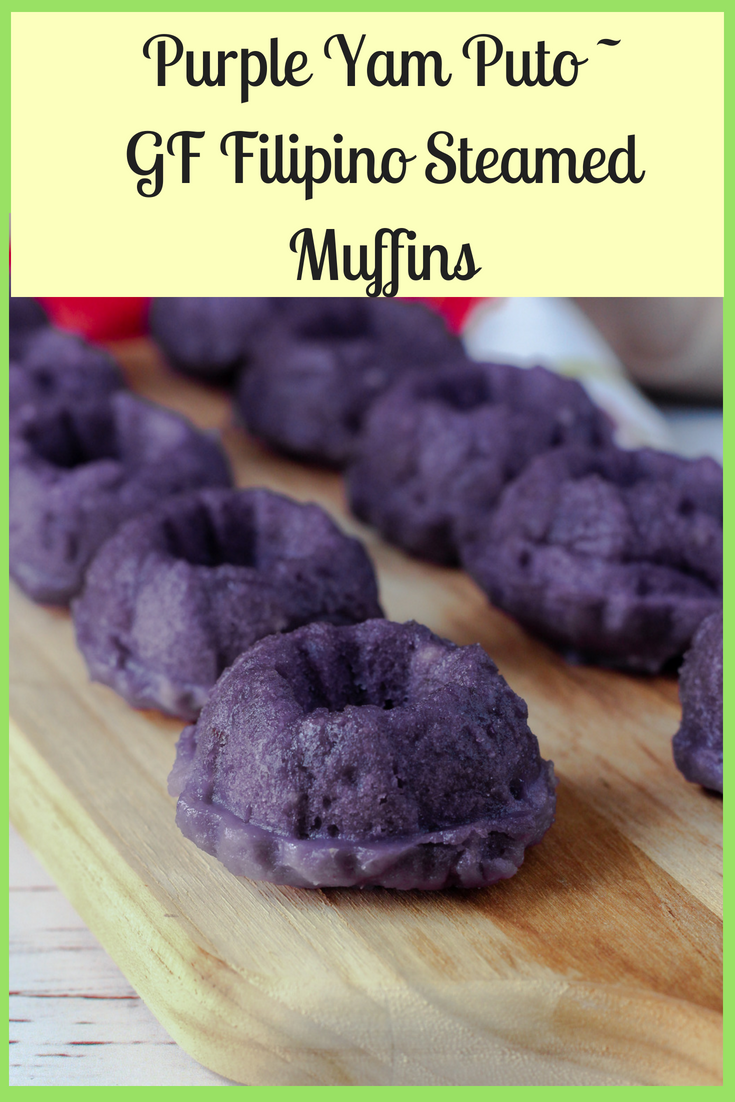 This post may include affiliate links.
I have a few favorite ingredients that I utilize every chance I get. My favorite foods include plantains, mango, pumpkin, halloumi…and my most recent discovery is Purple Yam. These delicious Filipino sweet yams flavor many of their sweet dishes.
Puto are popular steamed muffins served in the Phillipines. While I have already done the basic coconut version here and the pandan version here, puto come in a variety of flavors like muscovado, cheese and of course the ubiquitous purple yam..
Any of my regular readers should know by now my love of the Filipino purple yam, known as ube. I've done Ube Donuts, Helayang Ube & Ube Ice Cream. Here I have done the ube variety of puto.
As it's rare to find fresh purple yam here in the United States, I usually utilize frozen purple yam. However, you can also utilize purple yam powder.
Filipinos like sweet things for breakfast like Champorado and this is another popular breakfast item in the Phillipines, although it works just as well for dessert.
Whereas American sweets mostly use vanilla extract for flavoring, in Southeast Asian countries like Malaysia, Indonesia, Vietnam, the Phillipines and even Sri Lanka, pandanus is used. These are the leaves of the screwpine tree. You can find pandan/pandanus/bai toey leaves in the frozen section of Asian supermarkets. It's usually right near the purple yam.
In the Philippines, they sell puto molds. I have looked far and wide, but these are unavailable here in the US. The first time I made these I used silicone muffin molds, but then I traveled to Southeast Asia and went on a search for puto molds.
Although they have different names, there are similar cakes made in Indonesia and Malaysia. I found Kue Pukis molds in Malaysia on Penang Island. That is how I got these cuter shapes the second time making these! I still had to use some of the silicone muffin molds as I ran out of kue molds.

IN THE MAKING – MAKING PUTO
Putong Ube – Gluten Free Purple Yam Steamed Rice Cakes
Putong Ube – Gluten Free Filipino Steamed Rice Cakes are gluten free steamed muffins popular for breakfast in the Philippines
Ingredients
Instructions
Sift rice flour,  baking powder, sugar and salt in a large bowl.

In a small bowl, whisk the coconut milk and butter. Add ube and whisk well. The color will be a light gray with a slight purplish tinge. So that people will definitely know you used ube, add some violet food coloring, if desired.

Add this to the sifted dry ingredients and mix until just combined. Add pandanus extract and mix again.

Add water to a wok and bring to the boil. Add metal rack and bamboo steamer. Add just enough water to touch the bottom of the steamer. Place pandan leaves in the water.

Spray silicone muffin cups with non stick spray. Add puto batter and fill cups 3/4 full. Add to steamer.

Reduce heat to a high simmer, cover and cook for 25-30 minutes.
Notes
If you have a multiple tier steamer, add an additional 5 minutes for each tier. If not, you will have to cook it in batches using the single steamer.
Did you try this recipe? Leave a comment below.
Please follow me on Instagram @chefmireille or tag me #chefmireille with your pics! I'd love to share them!
You might also like
DO YOU YUM? SAVE IT BELOW!
Yum
Don't forget to visit the RECIPE INDEX with over 1000 recipes from around the world including lots of Vegetarian Recipes and Gluten Free Recipes!