Last Updated on June 3, 2015 by Chef Mireille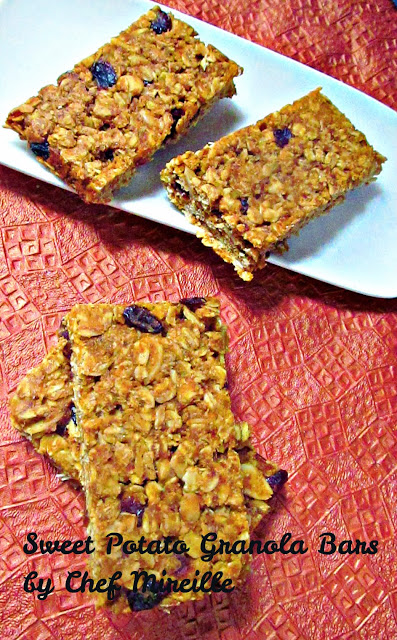 Blogging Marathon #34
Theme: Desserts with Vegetables
There is much conversation on what's called a sweet potato and what's a yam. Depending what part of the country you are from, these terms are used interchangeably. To avoid confusion, I used the orange fleshed sweet potatoes/yams in this recipe.
Sweet potatoes are very healthy and you should try to include them in both savory and sweet preparations. A serving of sweet potato has 438% of your daily Vitamin A. A regular potato only has 1%. Additionally, it is high in Vitamin C and also includes calcium and iron.
The canned mango pulp used in this recipe can be purchased at Indian markets like Patel Brothers or International markets like Kalustyans or Sahadis (in the NY area). The sweet potato was picked up from the Union Sq. Farmer's Market.
Sweet Potato Granola Bars
Yield: 21 bars
Ingredients:
6 cups oats (I used Quaker Old Fashioned Oats)
1 cup dessicated coconut
1/2 teaspoon salt
4 tablespoons butter, melted
1/4 cup peanut oil
1 cup firmly packed brown sugar
1/2 cup honey
1 1/4 cup sweet potato, peeled, boiled and mashed
3/4 cup canned mango pulp
1 tablespoon vanilla extract
1/2 cup wheat germ
1/2 cup sliced almonds
1/2 cup golden raisins
1/2 cup dried cranberries
Preheat oven to 350 F.
In a large bowl, combine oats, coconut and salt. Mix.
In a small bowl, combine melted butter and oil. Mix. Add to oats mixture and mix well until thoroughly incorporated.
Transfer to 2 cookie sheets and spread in an even layer. Place in oven for 15 minutes, tossing the oats halfway through the baking time, until they are golden and toasted. When it is done, lower the oven temperature to 325 F.
While it is baking, combine sugar, honey, sweet potato, mango pulp and vanilla extract in a saucepan. Cook for a few minutes until sugar melts and everything is well incorporated.
Transfer to a bowl and using an immersion blender, puree to break up any sweet potato chunks.
Transfer toasted oats to a large bowl and combine with all of the other ingredients, including the sweet potato mixture. Mix really well until everything is well moistened.
Spread a silpat on a baking sheet and spray with non stick spray.
Transfer the oats mixture to the cookie sheet and spread in an even layer.
Bake for 25-30 minutes, until golden brown.
Leave to cool thoroughly for 2-3 hours.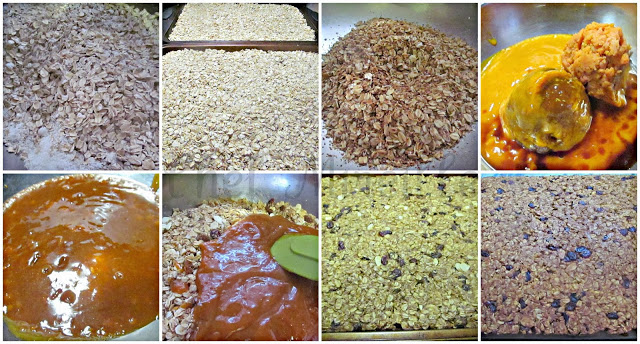 Flip over and peel off silpat. Slice into bars.
Instead of giving your kids treats loaded with sugar, butter and chocolate as a treat, consider this healthy bar with just a bit of sweetness – this can do triple duty as a sweet treat, breakfast or an energy bar on those long hikes.
These came out soft and chewy, but not gooey and everyone I shared them with loved them. I guarantee you will not be disappointed if you try these!
Check out the Blogging Marathon page for the other Blogging Marathoners doing BM#34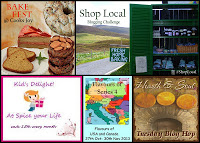 …linking to Kid's Delight hosted by Pradnya, Shop Local, Hearth & Soul, Flavors of USA/Canada & Bake Fest
LIKE THIS RECIPE? LEAVE A COMMENT..I LIVE FOR THEM!
Chef Mireille