Last Updated on June 3, 2015 by Chef Mireille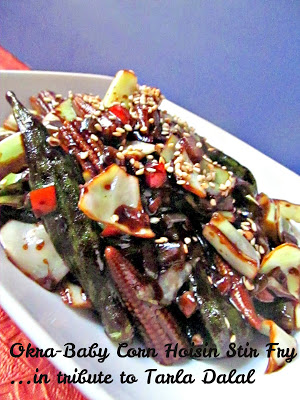 Tarla Dalal passed away last week. Like any average American, two years ago I probably would've said Tarla who? However, she is a legend in India. She started her career by teaching cooking classes out of her Mumbai home in 1966. She published her first cookbook in 1974 and would go on to publish more than 100 cookbooks and host cooking TV shows. Her website is an arsenal of recipes, of which I've already done Cabbage Foogath and Dal Baati.
America has Maddhur Jaffrey and India had Tarla Dalal. Both of them are knowledgeable chefs teaching recipes from all of the regional cuisines of India, as well as International recipes. Tarla Dalal specifically also has many Chinese, Mexican, Thai and Italian recipes on her website here.
Today, in tribute to Ms. Dalal, the BM group are all posting one of her recipes. Here is one of her Chinese recipes I chose to do, with just a few minor changes due to what I had on hand.
Okra & Baby Corn Stir Fry
Ingredients:
Serves 4
5 oz. okra, split in half lengthwise
1/2 cup canned baby corn, halved widthwise
1 small onion, diced
1 red chile, finely chopped
1 cup green cabbage, chopped
1 tablespoon hoisin sauce
1 tablespoon soy sauce
2 teaspoons green chili sauce
1 teaspoon cornstarch, dissolved in 1/4 cup water
1 teaspoon oil
salt, to taste
oil, for frying
1 tablespoon toasted sesame seeds, for garnish
In a small bowl, combine hoisin sauce, soy sauce and chili sauce and mix.
Heat enough oil for deep frying. Add okra and fry until golden brown. Drain on paper towels.
Heat oil in a wok. Add onion and cook for 1-2 minutes, until softened.
Add cabbage and chile and stir fry for another few minutes, until cabbage softens.
Add hoisin sauce mixture and salt. Mix well.
Add cornstarch mixture and cook until sauce thickens and vegetables are well coated.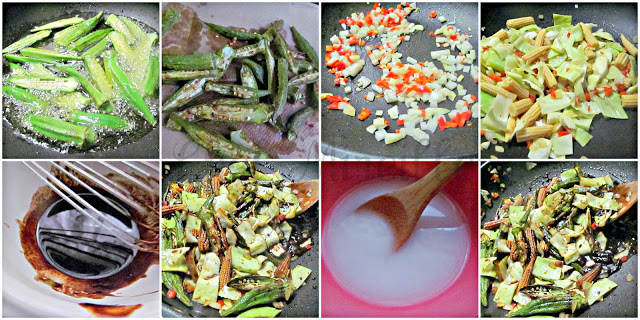 To serve, sprinkle sesame seeds on top and enjoy with rice or noodles.
LIKE THIS RECIPE? LEAVE A COMMENT..I LIVE FOR THEM!
Chef Mireille