Last Updated on May 20, 2020 by Chef Mireille
Pumpkin Pork Chops is a delicious dinnertime recipe with multi layered flavors. Made with a pumpkin jam and caramelized onions, it has a complex flavor profile.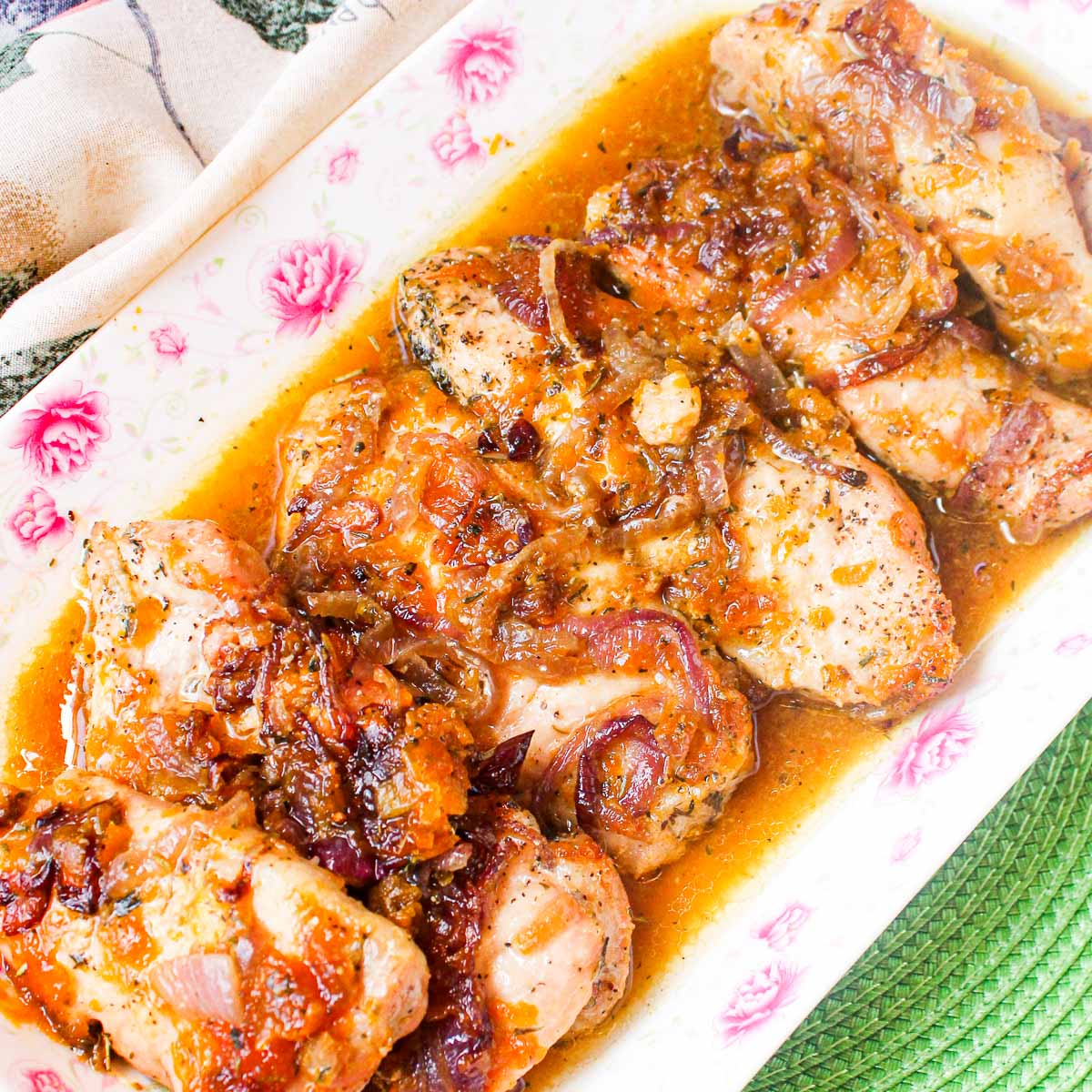 DISCLAIMER: This website includes affiliate links. You don't pay a penny more, but I earn a small commission to keep this site going with delicious content!
Why do so many people love Thai food? Because it's got a little bit of everything – a little salty, a little sweet, a little spicy, a little pungent, etc. so why don't we adapt these multi layered flavors to other cuisines. Why must Thai's be the only one to enjoy good food? In these Pumpkin Pork Chops, sweetness is added by using homemade Pumpkin Jam. I promise you they are not to be missed!
Ever since I made this Pumpkin Jam a few years ago, it's been one of my most popular jams. I usually make a few jars around the holiday time to give away as gifts and I now get many requests for this jam. But jam doesn't just have to be for toast. It can also compliment savory dishes very well.
With a little sweetness and herbaceousness added, these savory Pumpkin Pork Chops has more than the one note often found in standard American cuisines. Instead, it has the multi layered flavor profile common in Asian cuisines.
With sweet pumpkin jam, caramelized onions and dried herbs, it hits every note. Feel free to add a little cayenne pepper for some heat, if so desired.
Don't forget to check here to get the Pumpkin Jam recipe first!
RECIPE INDEX
NEED MORE INSPIRATION? CHECK OUT MY RECIPE INDEX WITH OVER 1000 INTERNATIONAL RECIPES FROM AROUND THE WORLD