Last Updated on January 12, 2023 by Chef Mireille
Ethiopian Collard Greens will become your new go to collard greens recipe. This meatless Collard Greens recipe is elevated to a whole new level with homemade Niter Kibbeh (Ethiopian Spiced butter). This clarified butter not only pushes levels up Gomen Wat, but it will add flavor to all your cooking. Add it to all your rice and vegetable dishes, fry your meat in it. Niter Kibbeh will become your new go to cooking medium.
After making Gomen Wat, you will no longer have to convince your family to eat their healthy greens. They will dive into this authentic Ethiopian veggie side dish with all their hearts. It is one of the most popular and common Ethiopian side dishes.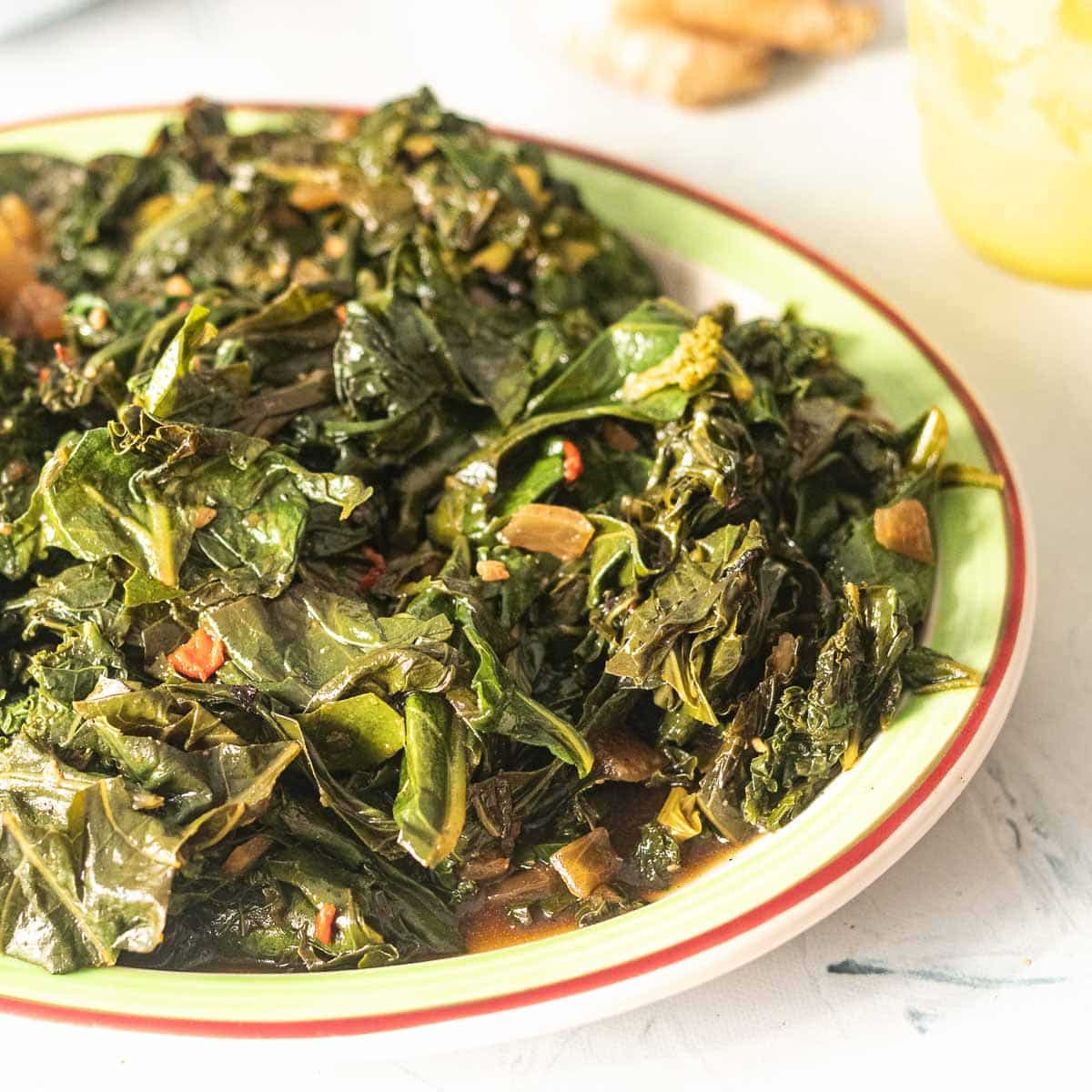 Table of Contents
Ethiopian is one of the most popular African cuisines in the West. If you are yet to try it, I promise you will not be disappointed. However, before you get started on your Ethiopian food journey, there are two backbones of Ethiopian cooking you first need to have in your pantry.
No, I am not going to send you on a search for an African market in your city. These two pantry items can easily be made at home yourself.
Niter Kibbeh is a vital cooking fat for almost any dish in Ethiopian cuisine. This Ethiopian butter is a clarified butter similar to Indian ghee made by removing the milk solids so that it is a lactose free cooking medium. However in this Ethiopian version, it is infused with aromatics like onion, garlic and ginger as well as spices.
Berbere Spice Mix is a spice mix integral to Ethiopian cooking although it is not present in this dish. However, if you plan to add authentic Ethiopian dishes to your repertoire, this is another pantry item you should always keep on hand.
Having these two items always in stock will allow you to be able to make a variety of Ethiopian dishes at a moment's notice.
Gomen Wat is a recipe most often made with collard leaves, however it can also made with green cabbage or kale. Just about any variety of green leafy vegetables can be used in this traditional Ethiopian side dish.
Ingredients
fresh collard greens
Niter Kibbeh
onion
garlic
ginger root
smoked paprika
cardamom seeds
ground cumin
ground coriander
Scotch Bonnet pepper (habanero chili pepper)
How to Wash Collard Greens (and trim them)
Wash each leaf individually.
Fold over each collard green leaf in half vertically.
Cut the leaf along the center spine, discarding the center spine of the leaf.
Frequently Asked Questions
Are collard greens healthy?
Collard greens are a very healthy green leaf vegetable high in fiber, iron and Vitamin K. It's what you add to it that often diminishes it's nutritional value. With only the Niter Kibbeh and no smoked meat which is common in the cuisines of the southern United States, this is a pretty healthy collard greens preparation.
How long does Collard Greens last in the Refrigerator?
Leftover cooked collards should be stored in the refrigerator and ideally should be consumed within 5 days of cooking.
Can Gomen Wat be made vegan?
Some people make Niter Kibbeh with coconut oil instead of butter. You can then make your collard greens with this Vegan Niter Kibbeh. For another vegan version, you can also just use olive oil. However, it will not have that authentic flavor profile.
How to Make Ethiopian Collard Greens
Wash your collard greens. Trim them and chop them.
In a large skillet or pot, melt the spiced ghee.
Add onion and saute on low heat until the onions are very soft.
Add garlic, ginger, Scotch Bonnet and spices.
Fry for a few minutes to open up the flavor of the spices.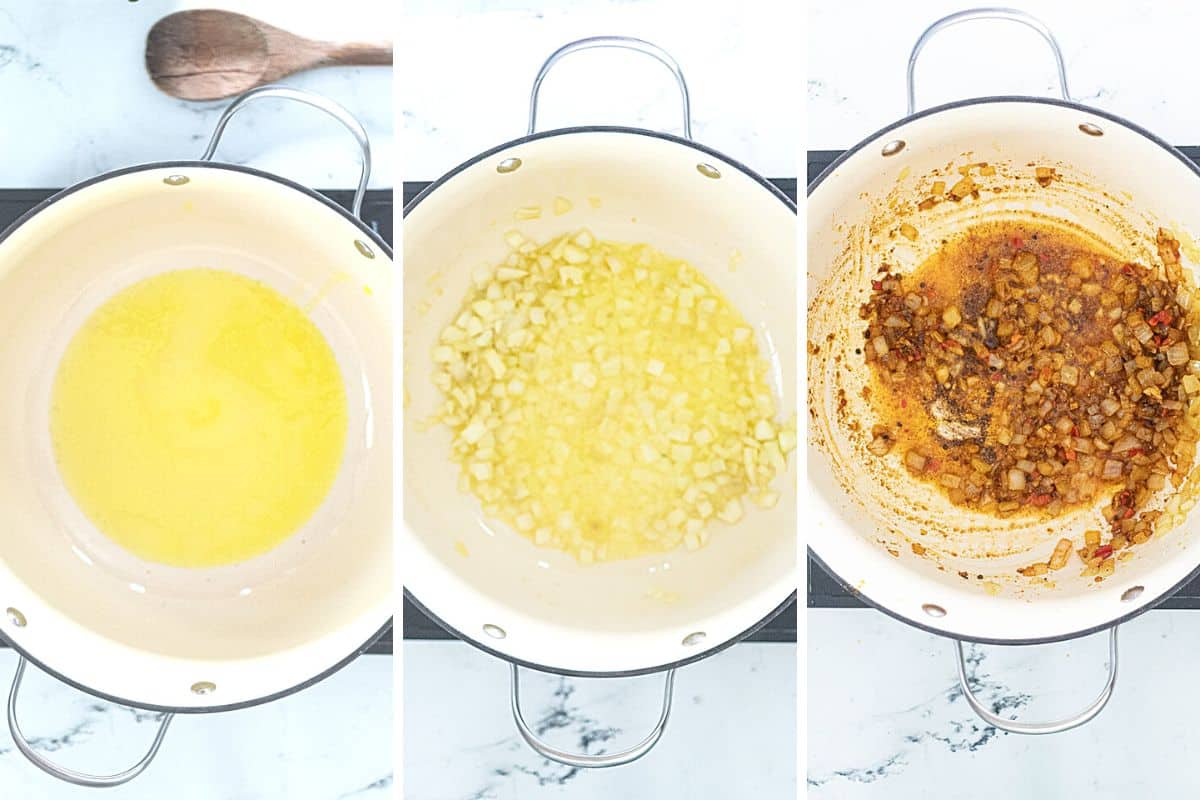 Add collard greens and cook on medium heat, covered, for 10 minutes.
Add salt and adjust seasoning, as needed.
Make it a Meal
So now you may be wondering what to serve with Ethiopian Collard Greens
Doro Wat and Mesir Wat (red lentils) are a very common combination. All of this is usually served on Injera Bread – a n Ethiopian flatbread made from teff flour. I'm not a fan of Injera but that is no reason to disparage a whole culture as cuisine is the best representation of any culture. I just enjoy all my Ethiopian recipes with rice.
You can also try it with Asa Tibs – Ethiopian Fried Fish.
You can also skip the Doro Wat if you want only Vegetarian dishes. Misir Wat, Gomen Wat and Injera or rice make a delicious and hearty meal on their own.
This makes the perfect Ethiopian meal!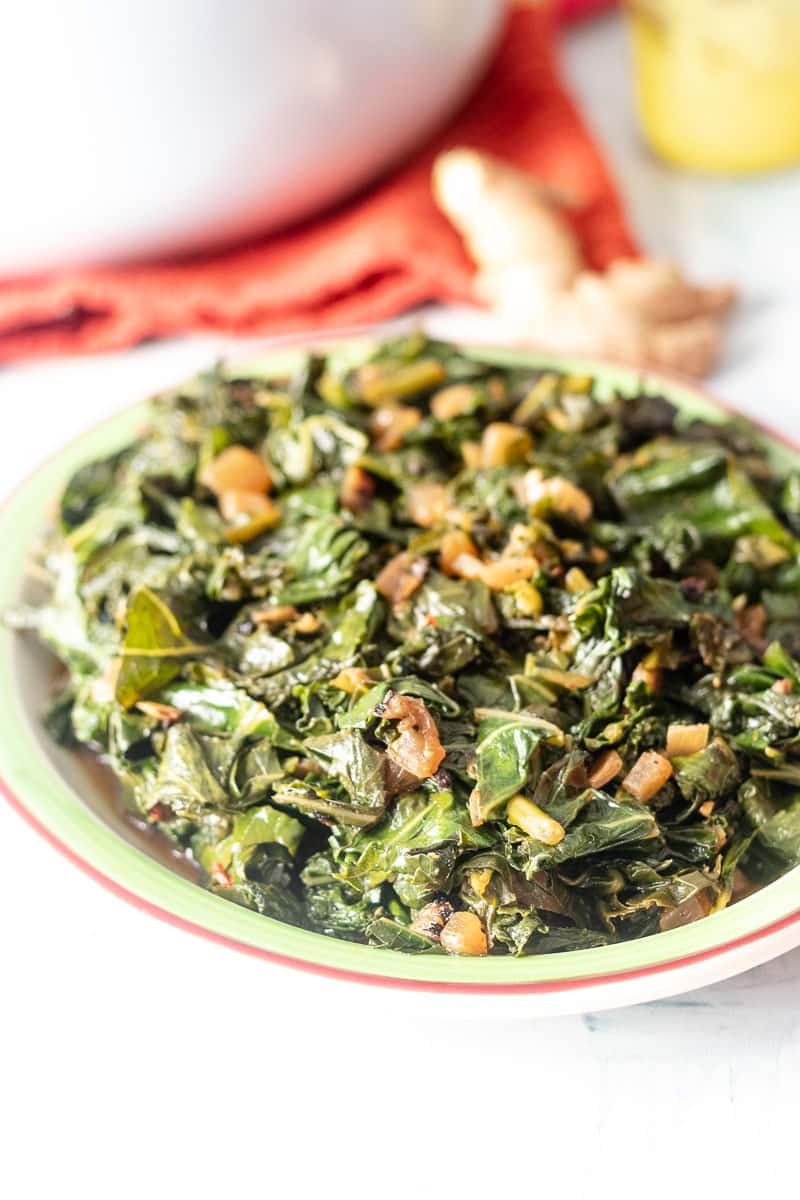 Discover more African Diaspora Recipes here!
Ethiopian Gomen Wat Recipe
Gomen Ethiopian Style Collard Greens is a simple Vegetarian side dish without meat but so full of flavor due to the rich and luxurious Niter Kibbeh.
Instructions
In a large saucepan or pot, melt the Niter Kibbeh.

Add onion and saute on medium low heat until the onions are very soft, about 5-8 minutes.

Add garlic and ginger and cook for 1 minute.

Add smoked paprika, cardamom seeds, cumin, coriander and Scotch Bonnet pepper. Cook for a few minutes to bloom the spices.

Add collard greens and give it a stir.

Cover pot and cook on medium heat for 10 minutes.

Add salt and stir to combine.
Notes
Gomen Wat can be made with any combination of collard greens, kale, mustard greens and/or green cabbage.
Nutrition
Calories:
155
kcal
|
Carbohydrates:
10
g
|
Protein:
4
g
|
Fat:
12
g
|
Saturated Fat:
7
g
|
Polyunsaturated Fat:
1
g
|
Monounsaturated Fat:
3
g
|
Cholesterol:
29
mg
|
Sodium:
22
mg
|
Potassium:
323
mg
|
Fiber:
6
g
|
Sugar:
2
g
|
Vitamin A:
5954
IU
|
Vitamin C:
45
mg
|
Calcium:
281
mg
|
Iron:
1
mg
Did you try this recipe? Leave a comment below.
Please follow me on Instagram @chefmireille or tag me #chefmireille with your pics! I'd love to share them!
Don't forget to visit the RECIPE INDEX with over 1000 recipes from around the world including lots of Vegetarian Recipes and Gluten Free Recipes!