Last Updated on November 19, 2019 by Chef Mireille
Cafe Loki – Traditional Icelandic Cuisine in Reykjavic –
One restaurant you must try in Iceland – home of the famous Rye Bread Ice Cream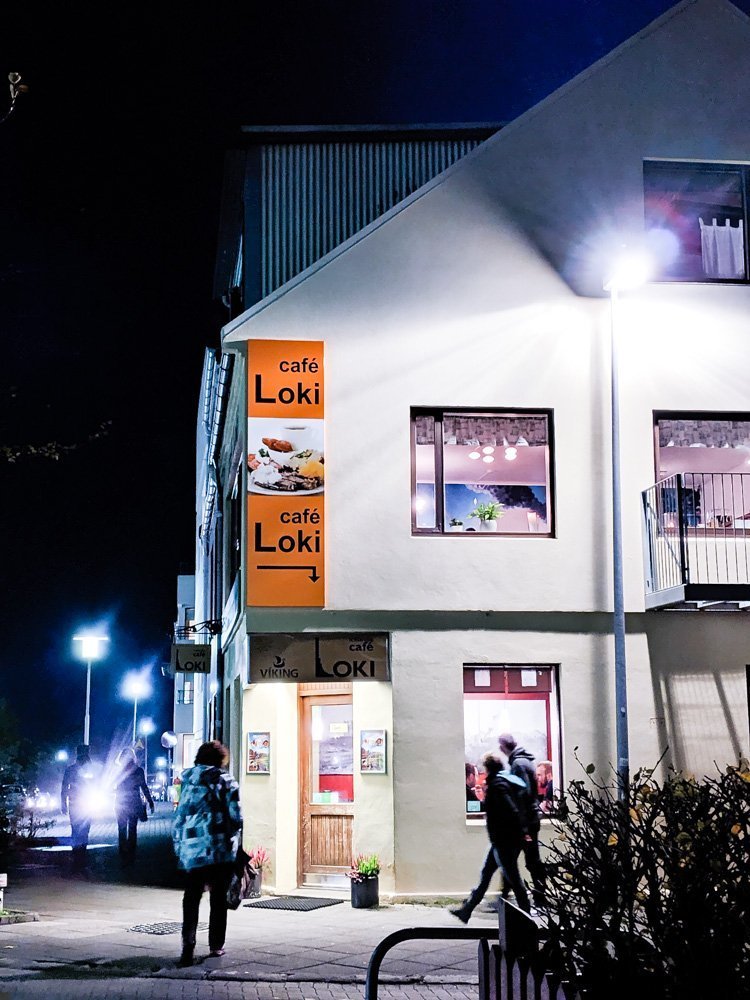 Many people only spend a day or two in Reykjavic when visiting Iceland. Some use it as a base as they schedule different day tours. Others rent cars so they can drive around at their own pace to explore all of the natural wonders Iceland has to offer.
Even if you just spend one day in Reykjavic, Café Loki is the one restaurant I would say you should not leave without eating at.
WHERE IS CAFE LOKI
It's easy to get to as you most likely plan to visit Hallgrimskirkja Church, the iconic structure of the Reykjavic skyline, where you can go up to the tower to get some awesome views of the city. After visiting the church, Café Loki is located right across the street at Lokastigur 28.
It is a small café, with just a few tables and more comfortable seating against the back wall with throw pillows. There is also additional seating on the upper level. It is a great place to enjoy a quick bite to eat, with a great view of Hallgrimskirkja Church.
WHY IS CAFE LOKI SO SPECIAL?
Let's start with what makes this restaurant so special – Rye Bread Ice Cream. The only place I found in Reykjavic that serves this specialty. The ice cream is laced with toasted rye bread that gives the ice cream a coffee like flavor. It is served topped with whipped cream and caramel. It's almost like a Caramel Macchiato in ice cream form. The toasted bread gives the ice cream a cookies n cream kind of texture.
However, before we get to dessert, there are some other things on the menu worth some honorable mention.
RELATED POST: WHERE & WHAT TO EAT IN REYKJAVIC
CAFE LOKI MENU
The menu has a little bit of everything no matter what you are in the mood for, soup, entrees, open faced sandwiches, pastries and more. There is also a small bar, where you can get a variety of drinks.
Café Loki specializes in traditional Icelandic cuisine. However, they do have a Vegetarian option with modern ingredients like quinoa.
Now you know if you've been to Iceland, soup is the backbone of their cuisine. Café Loki offers the traditional Lamb Soup. I had this soup on a cool fall evening and it was just what was needed to warm one from the inside out. With simple basic ingredients – lamb, onions, carrots, & potatoes – however well seasoned with herbs, the soup was so delicious.
I went to Iceland with my Mom, who is one of the pickiest eaters in the world and does not usually like anything without a lot of spice, She absolutely LOVED the lamb soup, so that says A LOT!
There are lots of traditional fish dishes, but I am not a big fan of smoked and pickled fish. If you have ever been to a Jewish Deli, you will feel right at home with this menu. They did also have 2 dishes that included fresh fish.
I went with the very traditional Plokkfiskur, a mashed fish gratinee. Fish in a creamy, cheesy casserole. This is Iceland's version of an au gratin. This was so good. I really was not expecting it to be that delicious, but I wanted to try something new to me and traditional. If you are only going to order one dish, I prefer this one over the Lamb Soup, as delicious as the soup was!
After the Plokkfiskur and the Lamb Soup, we were so full, we had no room to try the Rye Bread Ice Cream, which was my main reason for wanting to visit Café Loki.
So if you are travelling with a companion, I would suggest ordering one entrée and sharing it, so that you have room to try the ice cream, if you don't have the time to come back to Café Loki for another visit!
However, I knew I would be back to try the Rye Bread Ice Cream. After one night where we splurged at Public House. That was one night my Mom treated me while we went to town on tapas and cocktails. However, when we decided we had maxed our budget, we left although we were still hungry. Asian styled tapas can only fill you up so much!
An easy walk back to Café Loki and I got to FINALLY try the Rye Bread Ice Cream, Hot Chocolate and Asterpunger, also known as love ball.
As described above, the Rye Bread Ice Cream delivered on the hype. The hot chocolate was thick and rich, real chocolate melted and simmered with milk and sugar – perfectly balanced with the right ratio of chocolate to milk. Asterpunger is a type of doughnut flavored with cardamom. Mildly sweet, it was the perfect compliment to our dessert!
It was so delicious with its light and airy doughy layers!
WHAT I DIDN'T TRY
Although smoked fish just isn't my thing, I am sure those dishes would be just as delicious as everything else I enjoyed.
Hakarl & Brennivin – Hakarl is a fermented shark that is very traditional in Iceland. However, it is very strong and pungent. When I see people like Andrew Zimmern of Bizarre Foods and Anthony Bourdain cringe at Hakarl, I didn't think I would feel I missed anything without trying it.
In fact, it is so strong you need a shot of Brennivin (Icelandic vodka) to wash it down with!
However, if you have the nerve, the Icelandic Braveheart is just for you, which includes hakarl, a shot of Brennivin, dried fish & rye bread.
CAFE LOKI PRICES
Café Loki is a reasonably priced restaurant, by Reykjavic standards. However, remember you are in the most expensive city in the world.
So you have a price point, here is what you can expect to pay approximately in USD!
Plokkfiskur – $23
Lamb Soup – $18
Vegetarian Plate $20
Icelandic Braveheart – $20
Hakarl & Brennivin – $13
Rye Bread Ice Cream – $7
Astarpunger – $3
---
If you want to experience local Icelandic cuisine, don't leave Iceland without trying Café Loki's traditional menu.
Don't forget to visit the RECIPE INDEX with over 1000 recipes from around the world including lots of Vegetarian Recipes and Gluten Free Recipes!